2019-20 High School Confidential: Week 6
Welcome to Year 4 of High School Confidential, an award-winning project made possible by aspiring student journalists from every corner of our circulation area. Each Wednesday through May, they'll tell us what's happening in their hallways at news-gazette.com.
Once a week, we'll hand over our Snapchat account (News-Gazette) to our correspondents for behind-the-scenes tours.
On Tuesday, Academy High junior Megan Wiarda (Instagram: mwiarda_10_24; Snapchat: m_wiarda) took us behind the scenes for a field trip to Springfield. The Mattoon native is glad she decided to attend the relatively new Champaign school: "There are a lot of amazing opportunities that are offered to me. It is also different from a normal high school and there is more flexibility to my schedule."
On to this year's panelists:
Academy - Megan Wiarda
ALAH - Kenli Nettles
Arcola - Patty Rodriguez
Armstrong-Potomac - Emily Rogers
Bement - Braden Fogerson
BHRA - Gabe Martinez 
Blue Ridge - Kalyn Warner
Centennial - Hailey Choi
Central - Julia Wilson
Chrisman - Lindsey Franz
Cissna Park - Abbi Kaeb
Danville - Leilani Islam
DeLand-Weldon - Tori Billingsley
Fisher - Sidney Sievers
G-RF - Chelby Hall
GCMS - Sierra Hileman
Heritage - Lynnae Struck
Hoopeston - Erin Anderson
Judah Christian - Brayden Riesberg
Mahomet-Seymour  - Rachel Myers
Monticello - Addison Wichus
Monticello - Mary Grace Ross
Oakwood - Maecii Barabas
PBL - Emma Schuler
Rantoul - Veronica Duddleston
St. Joseph-Ogden - Mallory Ames
St. Thomas More - Noelle Schacht
Salt Fork - Autumn Lange
Schlarman - Farrah Anderson
Tuscola - Emma Zimmer
Uni High - Samaia Jones 
Uni High - Erin Minor 
Unity - Kimberly Pruetting
Urbana - Molly Sweeney 
Villa Grove - Grace Hutchison
Westville - Emma Myers
On to this week's report: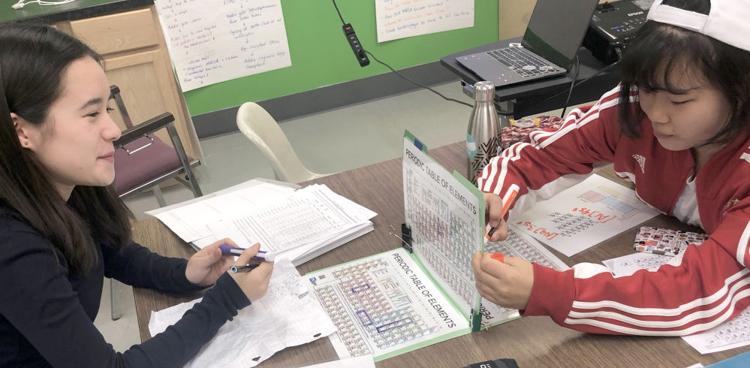 Academy High
Sophomores played a version of Battleship with periodic tables during chemistry. Pictured: Eve Freund and Grace Kahler. — Megan Wiarda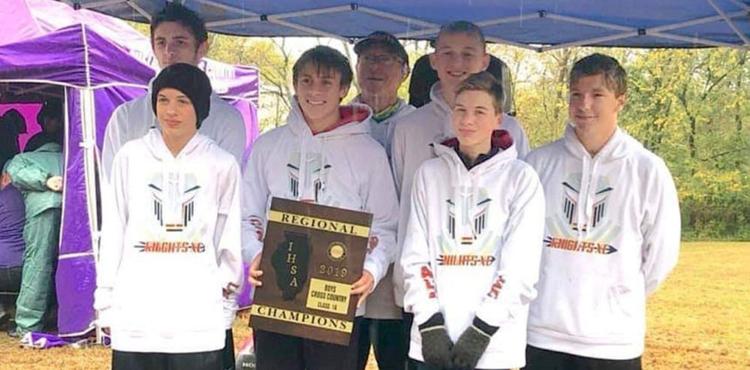 ALAH
For the first time in school history, cross-country won a regional title. Layton Hall, a junior, was the individual winner (15:29) and freshman Logan Beckmier finished third. — Kenli Nettles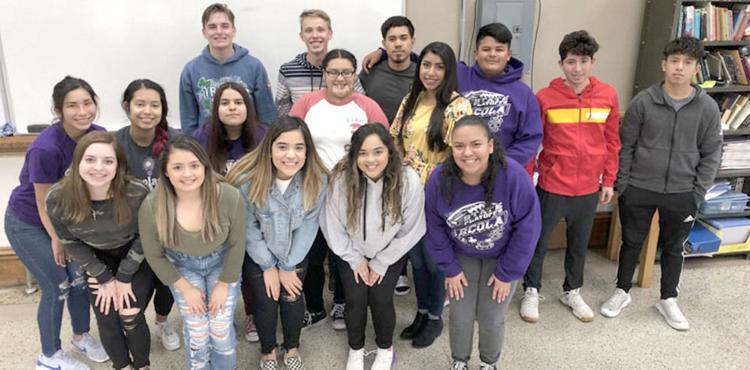 Arcola
Spanish IV students are creating a website to inform Arcola's vast Hispanic community. Pictured, left to right (back row): Benjamin Crane, Braedyn Edwards, Jorge Macias, Jose Vásquez, Kevin Garza and Luis Cabrera; (middle row): Rocio Gomez, Elisa Gonzalez, Mireya Tamez, Kendra De La Garza and Chela Leal; (front row) Daniela Garcia, Fabiola Jaramillo, Patty Rodríguez and Areli Guerra. — Patty Rodriguez
Armstrong
Student Council hosted a Halloween party for the 13-and-under crowd. — Emily Rogers

Bement
Cross-country competed in sectionals to finish its fifth season. Pictured, left to right: Aidan Marshall, Curtis Kalk, David Durbin, Jacob Stoerger, Jessee Quick, Trinity Stroisch, Halee Schimansky and coach Andrew Brown. — Braden Ferguson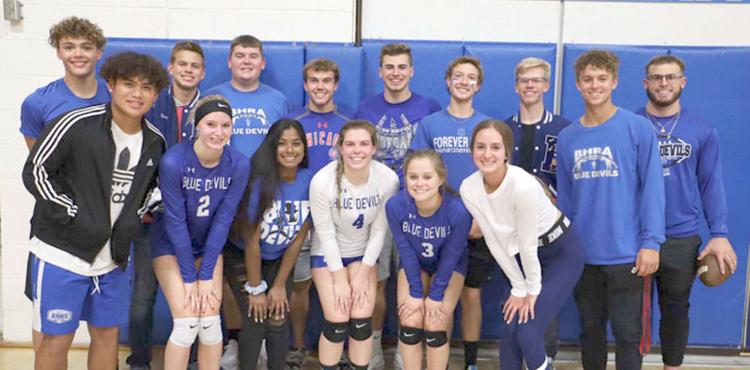 BHRA
Boosted by energetic fans, the volleyball team beat Oakwood for Vermilion County title. Pictured (courtesy Deanne Clapp): players Emma Clapp (4), Sarah Story (2) and Ashlynn Griffen among the fans. — Gabe Martinez
Blue Ridge
Varsity and JV volleyball teams won on Senior Night, parents gathering with seniors afterward to celebrate. Pictured: Meah Carter, Mackenzie Drewes, Georgia Manuel and Maddy Rosenbery. — Kalyn Warner
Centennial
Volleyball celebrated Senior Night with a win against Chatham Glenwood. Pictured, left to right: Angela Maligaya, Kanay Benschneider, Jonah Wilson and Alara Mosley. — Hailey Choi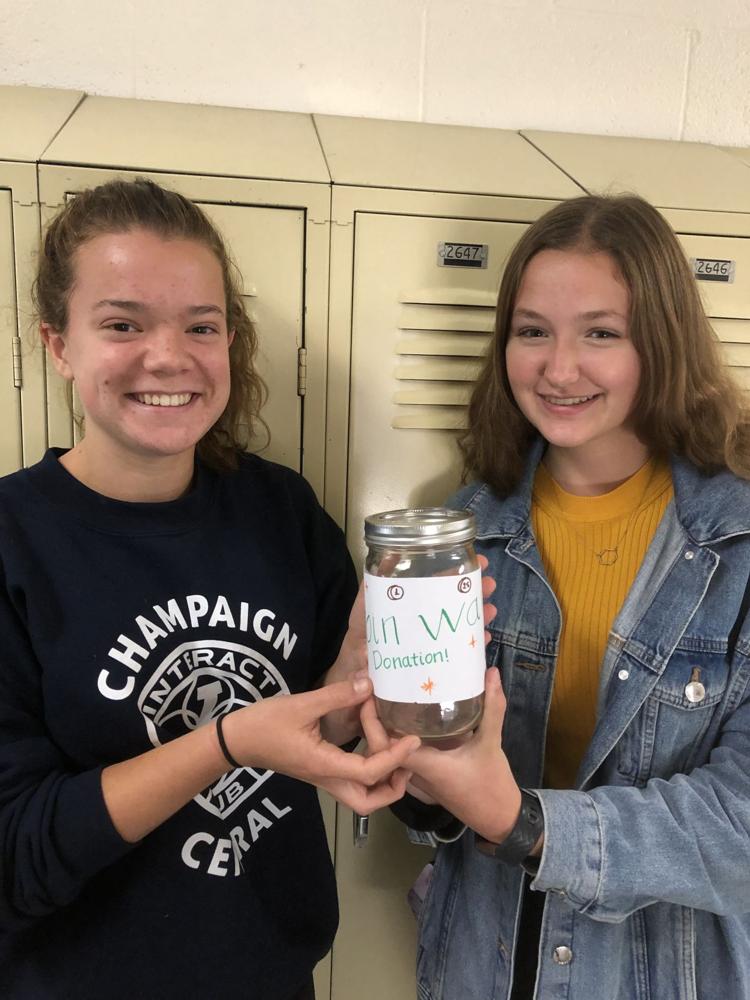 Champaign Central
Interact Club officers Molly Prom and Anya Shannon pose with a jar from this year's Coin War. The seventh-hour class that collects the most coins toward breast cancer research wins doughnuts. — Julia Wilson
Chrisman
Each year on the two weekends before Halloween, students help with the Scare on the Square Haunted House above Chrisman's library. Donated funds go to the library in return. — Lindsey Franz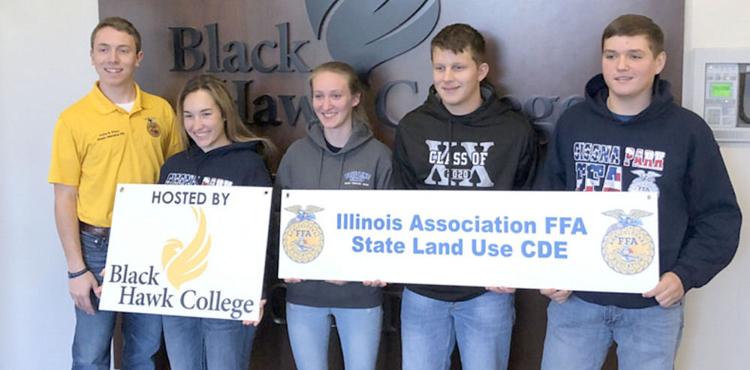 Cissna Park
Four Future Farmers of America members competed in State Soils Judging in Galva, placing eighth as a team. Pictured: KayLee McWethy, Nora Kaeb, Will Petry and Carter Ferguson with an FFA representative. — Abbi Kaeb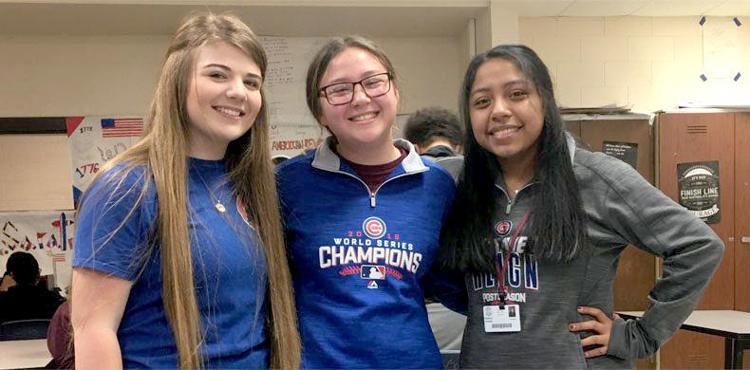 Danville
The late Katy Aguirre, a 2014 Danville High grad who passed way Oct. 21, was remembered by students who wore "Cubs and Crocs" in memory of her. Pictured, left to right: Madison McMasters, Leilani Islam and and Roselyn Ramos. — Leilani Islam

Fisher
Cheerleaders hosted a fundraiser for St. Jude Children's Research Hospital by having a 50/50 raffle and holding a clinic for grade-schoolers. They surprised clinic participants by dressing up as Disney characters. — Sidney Sievers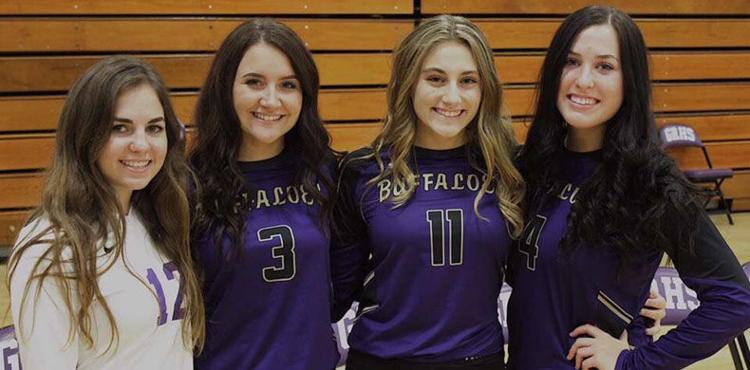 Georgetown-Ridge Farm
Volleyball celebrated Senior Night with a win against Chrisman. Pictured, left to right: Sydnie Spires, Gracie Liles, Whitny Harper and Taylor Stal. — Chelby Hall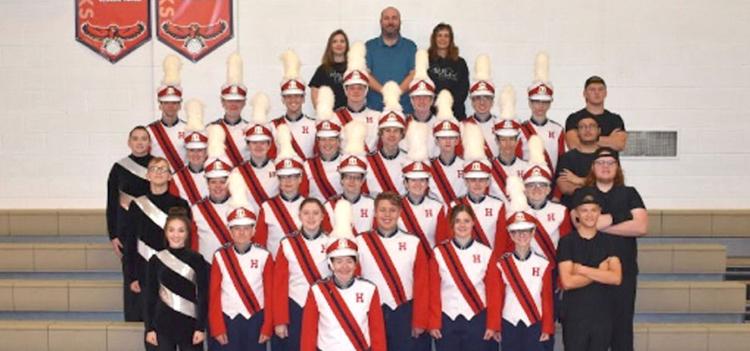 Heritage
Marching band concluded its season with a first-place finish at Effingham (pictured: drum major Jada Davis and band director Justin Lee). The Hawks also competed at Danville (best visual, best percussion) and placed fourth at Metamora. — Lynnae Struck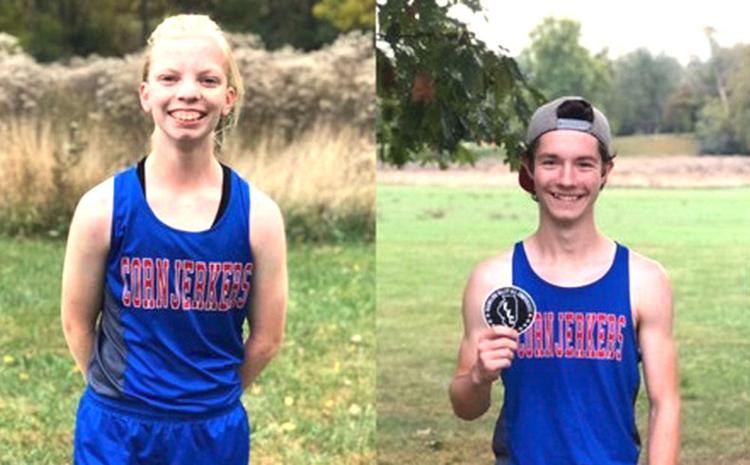 Hoopeston Area
Despite rainy conditions at Tuscola, Allison Pickett and Michel Helmuth advance to cross-country sectionals in Effingham. They are coached by Erika Seidel. — Erin Anderson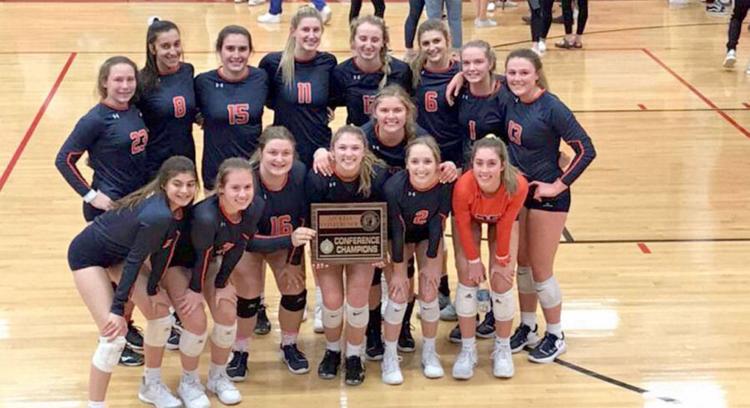 Mahomet-Seymour
Volleyball won the Apollo Conference for the first time in 13 years. Pictured, left to right, top row to bottom: Caylee Folken, Sophie Zerrouki, Ashley Wheeler, Amber Yeakel, Ainsley Ranstead, Makayla Rosenbery, Haylie Orton, Lauren Minick, Alyssa Holt, Ashlyn Webb, Caitlin Thomason, Ellie Beach, Kayin Garner, Delaney Wheeler and Josie Hess. — Rachel Myers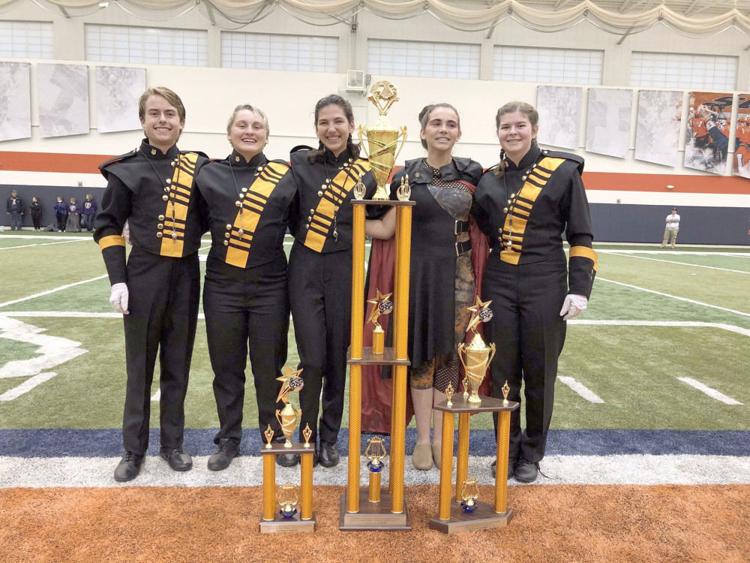 Monticello
Marching band won the Class 3A competition at Saturday's competition at the University of Illinois while receiving Best General Effect and the IMBC Governor's Grand Champion award (1A-3A). Pictured, left to right: Ben Keating, Piper King, Samantha Zocher, Anna Peterson and Macy Vogt. — Mary Ross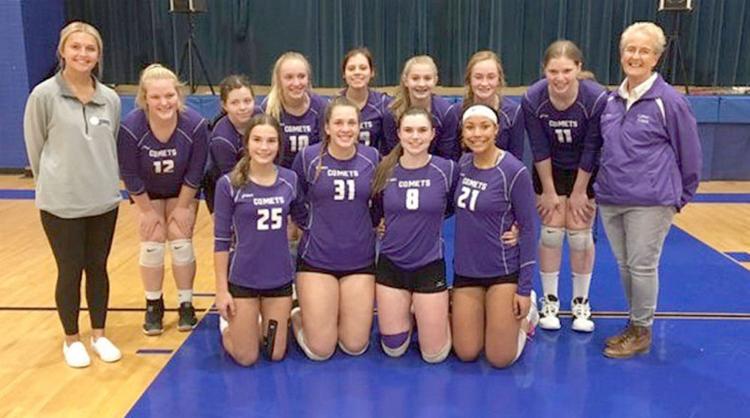 Oakwood
Volleyball won a conference title, football earned a home playoff game and senior Grace Davis advanced to cross-county sectionals (following a team Vermillion County title). — Maecii Barabas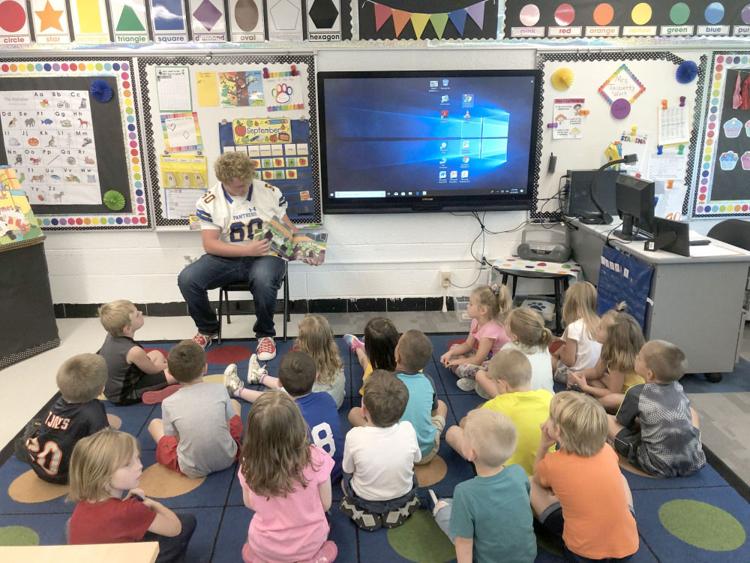 Paxton-Buckley-Loda
Players on the playoff-bound football team make weekly visits to Clara Peterson Elementary School to read and do activities with the younger crowd. Pictured: Tate Graham with Anna Talbert's kindergarten class. – Emma Schuler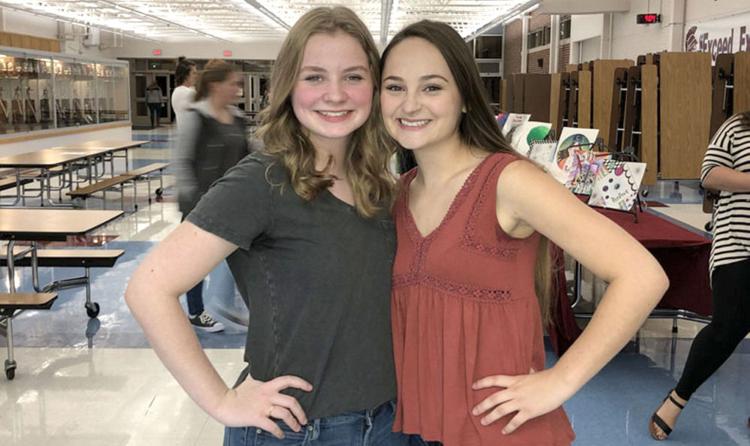 St. Joseph-Ogden
Emmy Houston (Left) and Kristen Costa (Right) were leads in the play, Trap. The cast performed twice last weekend and entertained a large group of students and community members. — Mallory Ames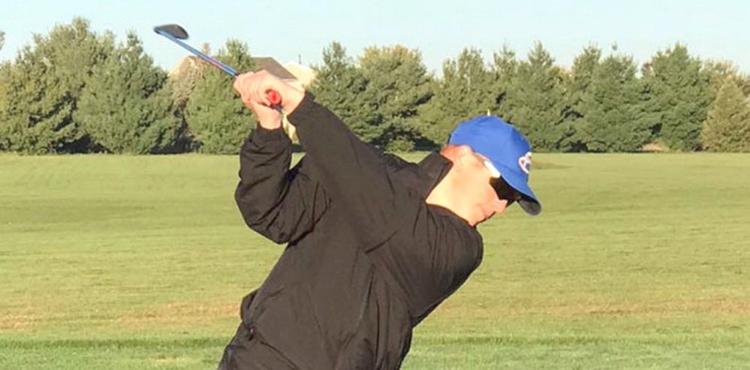 Schlarman
Junior Gabe Huddleston, cheered on by community members and teammates, placed 38th at IHSA state golf in Bloomington. — Farrah Anderson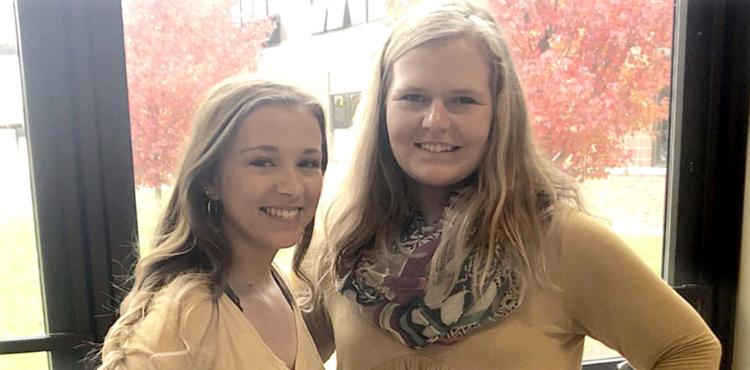 Tuscola
Seniors Emma Zimmer (left) and Kelsey Slaughter (right) received SAR (Sons of the American Revolution) and DAR (Daughters of the American Revolution) awards. Staff members pick students who are reliable, trustworthy, helpful and strong academically. The seniors will be recognized at a DAR/SAR lunch in February. — Emma Zimmer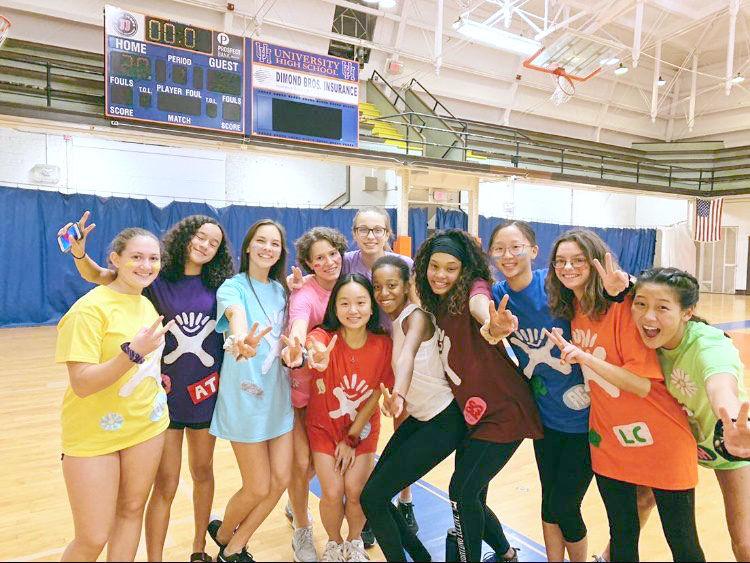 Uni High
Saturday's 10th annual Habitat for Humanity dodgeball tournament raised funds for a Habitat affiliate in Clarksdale, Miss., where a group of Uni students travels for a week of volunteering each year. It includes rivalry games (such as cats vs. dogs, swim team vs, girls' cross-country team) as well as bracketed play. Awards included the tournament winners, a costume contest and a new spirit award. Pictured: the swim team dressed up as Hydro Flask water bottles. Pictured: Bronywn Garrett, Andrea Torelli, Jenna Purnell, Stefania Dzhaman, Angelynn Huang, Zoey Muller-Hinnant, Samaia Jones, Reed Broaders, Alice Gao, Sophia Torrellas and Sally Ma. — Erin Minor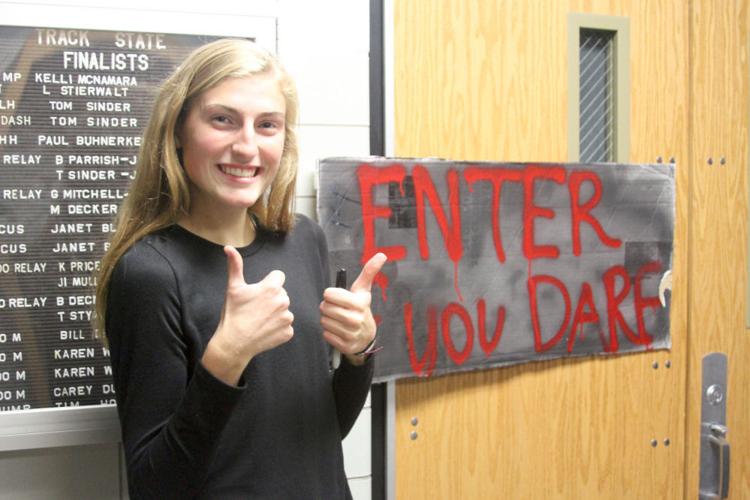 Unity
With Halloween around the corner and to kick off Unity's annual Thanksgiving Food Drive, student council and other participating students have set up a haunted house (pictured: Kylie Decker). To fund the food drive, admission was any monetary donation or one non-perishable food item, then children and adults alike could enjoy the spooky fun. — Kim Pruetting
Urbana
On Thursday, 70 students participated in a meeting mapping out opportunities to be involved in government at the school board level. — Molly Sweeney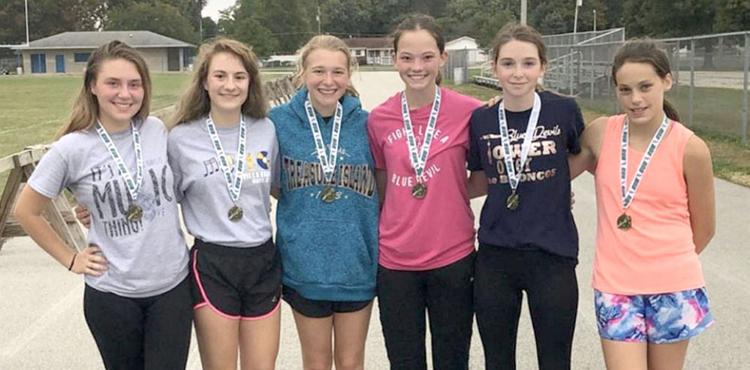 Villa Grove
Led by Kyleigh Price, the girls' cross-country team placed eighth at regionals. Pictured, left to right: Regan Blanton, Allison Kneer, Kate Eisenmenger, Madison Logan, Emma Buesing and Price. — Grace Hutchison
Westville
Football won back the Coal Bucket on Senior night. Pictured: senior football players and cheerleaders. Pictured: senior football players and cheerleaders (top row, left to right) Rilynn Jacobs, Jaylie Wills, Mekenzie HIgh, Jaiden Porter and Antonio Munoz; (bottom row, left to right) Dalton Rolinitis, Raef Burke, Dawson Pruitt and Nathan Nipper. — Emma Myers