2019-20 High School Confidential: Week 17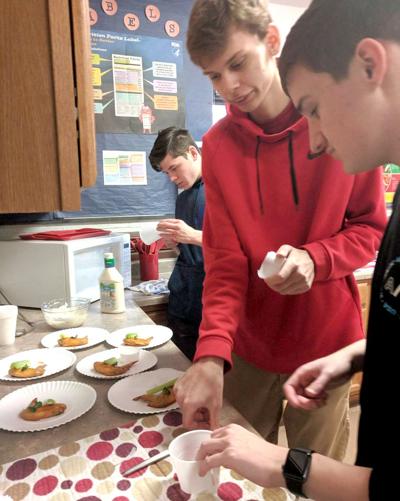 Welcome to Year 4 of High School Confidential, an award-winning project made possible by aspiring student journalists from every corner of our circulation area. Each Wednesday through May, they'll tell us what's happening in their hallways at news-gazette.com.
Once a week, we'll hand over our Snapchat account (News-Gazette) to our correspondents for behind-the-scenes tours.
This week, DeLand-Weldon's Tori Billingsley will show us around her tiny but mighty Piatt County school.
This year's crew:
Academy - Megan Wiarda
ALAH - Kaylee Yeakel
Arcola - Patty Rodriguez
Armstrong-Potomac - Emily Rogers
Bement - Braden Fogerson
BHRA - Gabe Martinez 
Blue Ridge - Kalyn Warner
Centennial - Hailey Choi
Central - Julia Wilson
Chrisman - Lindsey Franz
Cissna Park - Abbi Kaeb
Danville - Leilani Islam
DeLand-Weldon - Tori Billingsley
Fisher - Sidney Sievers
G-RF - Chelby Hall
GCMS - Sierra Hileman
Heritage - Lynnae Struck
Hoopeston - Erin Anderson
Judah Christian - Brayden Riesberg
Mahomet-Seymour  - TBA
Milford - Tiffany Schroeder
Monticello - Addison Wichus
Monticello - Mary Grace Ross
Oakwood - Maecii Barabas
PBL - Emma Schuler
Rantoul - Veronica Duddleston
St. Joseph-Ogden - Mallory Ames
St. Thomas More - Noelle Schacht
Salt Fork - Autumn Lange
Schlarman - Farrah Anderson
Tuscola - Emma Zimmer
Uni High - Erin Minor 
Unity - Kimberly Pruetting
Urbana - Molly Sweeney 
Villa Grove - Grace Hutchison
Westville - Emma Myers
On to this week's report: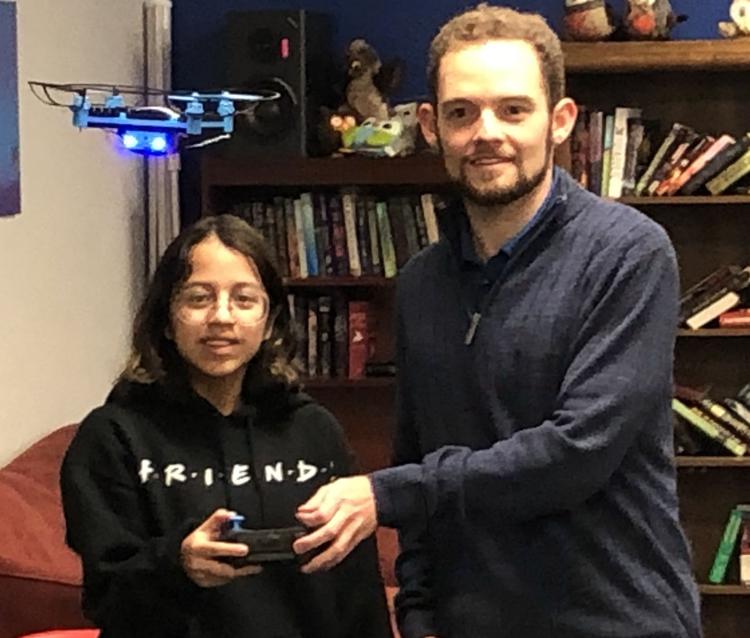 Academy
Freshmen in a drone class are learning from Benjamin Khachaturian of the University of Illinois. Pictured: Sierra Freund and Khachaturian during buddy flying. — Megan Wiarda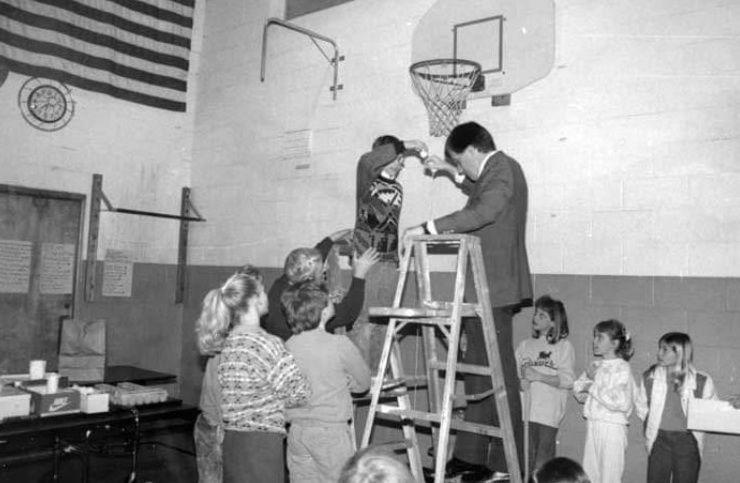 ALAH
Harry Bell, a former teacher and principal, passed away Jan. 29. Mr. Bell was the principal at the Arthur Grade School for many years. After he retired, he spent the next couple of years substitute teaching. He touched many lives for generations and has had a positive influence on everyone around him. — Kaylee Yeakel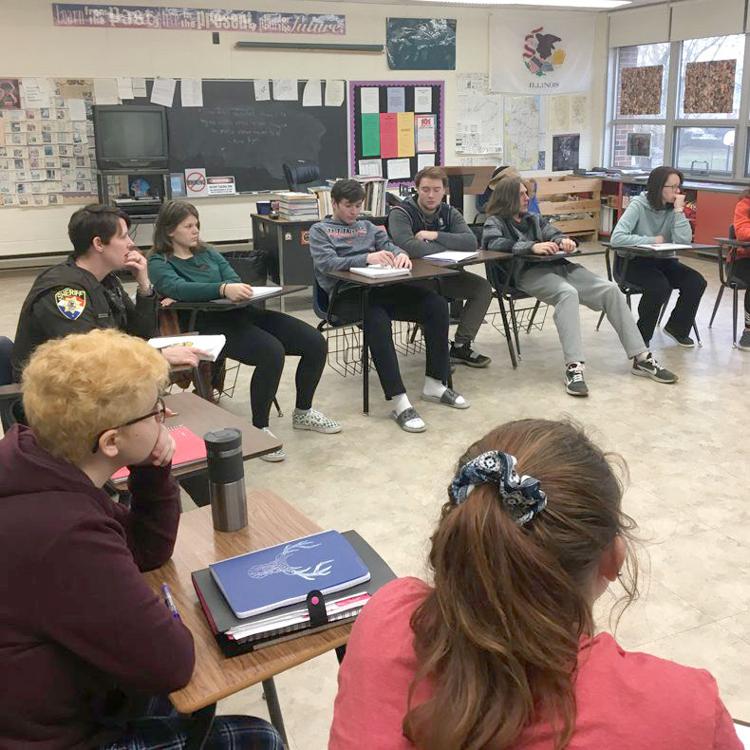 Bement
Deputy Lindsey Bross of the Piatt County Sheriff's Department taught Bement's social problems class what to expect as a police officer. Students were also able to ask questions about how to limit crime and violence effectively. — Braden Fogerson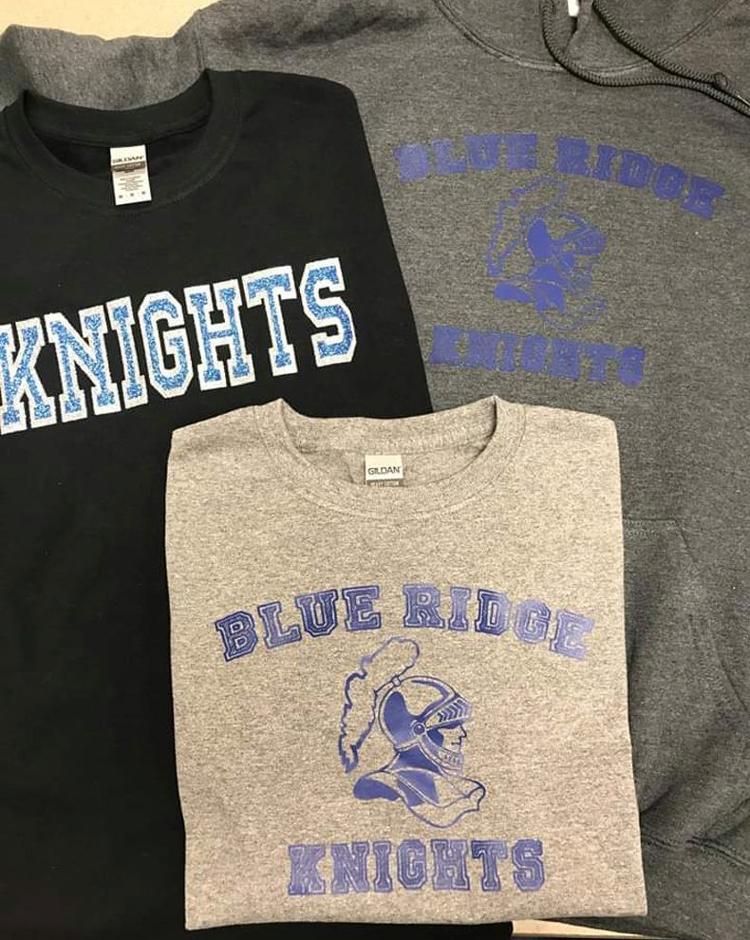 Blue Ridge
Life Skills and Young Adult classes created T-shirts and made them available to the Blue Ridge community. Key Club is sponsoring a Keep-Warm-Drive, collecting hats, gloves and scarves to donate to those in need. Seniors Brenden Flannell and Gabe Jenkins are part of the Central IL CEO program, and helped to create "Furry Scurry", a 5K/1 Mile Run in support of CEO and the Second Chance for Pets Adoption Inc. — Kalyn Warner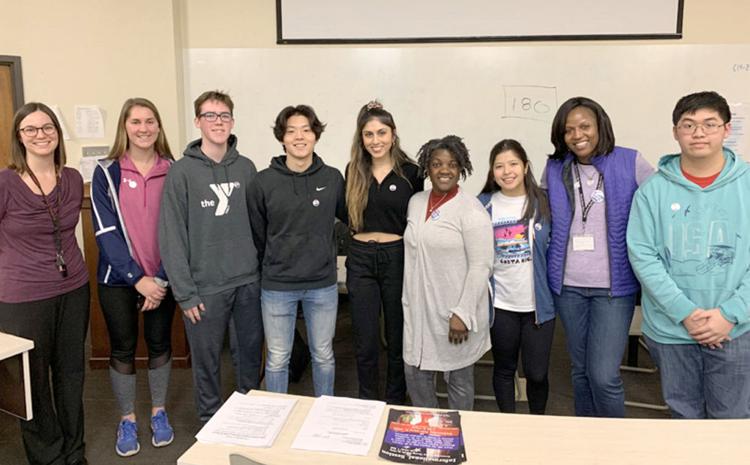 Centennial
The League of Women Voters visited to register students during history classes. Included in the picture: teacher Emma Delgado and students Lia Potter, Thomas Byrne, Gyumin Lee, Rui Bhosale, Dennielle Monge-Vargas and Johnny Nham. — Hailey Choi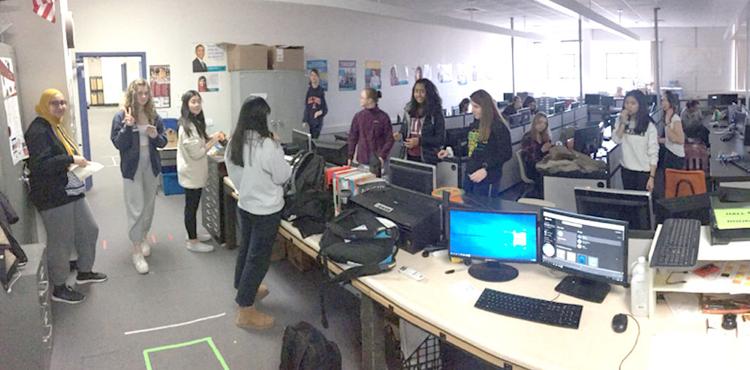 Central
The school's Girls Who Code club, which meets on Thursdays, empowers young women to become involved in STEM fields. Picture courtesy Jackie Pranada. — Julia Wilson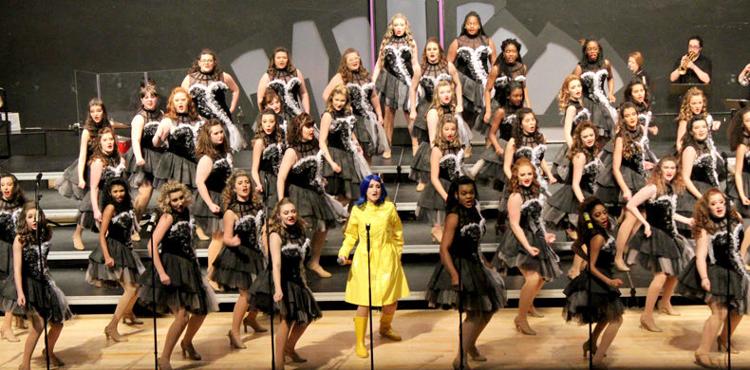 Danville
The annual Prima Vista show choir competition was a hit, tickets scooped up by an energized audience. Pictured: the Contempts. — Leilani Islam
DeLand-Weldon
The annual read-a-thon competition started Feb. 1. Prizes will be awarded for first, second and third place based on minutes read. — Tori Billingsley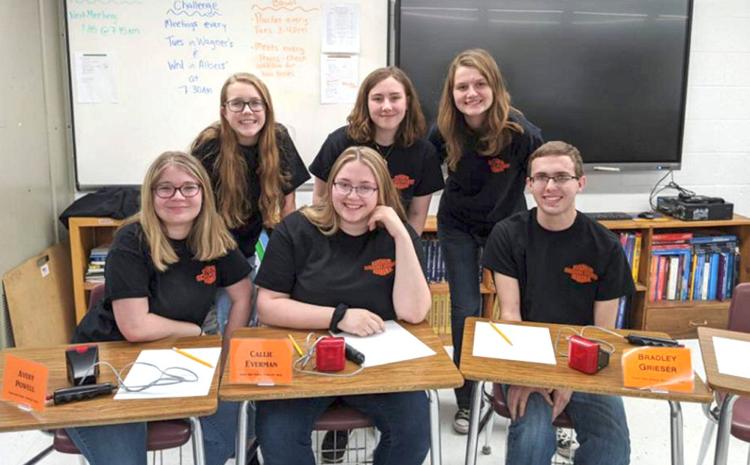 Fisher
The Scholastic Bowl team is off to a 10-1 start. Pictured (back): Avery Powell, Kaitlyn Parks, Shelby Zahnd; (front) Felicity Schaffer, Callie-Ann Everman and Bradley Grieser. — Sidney Sievers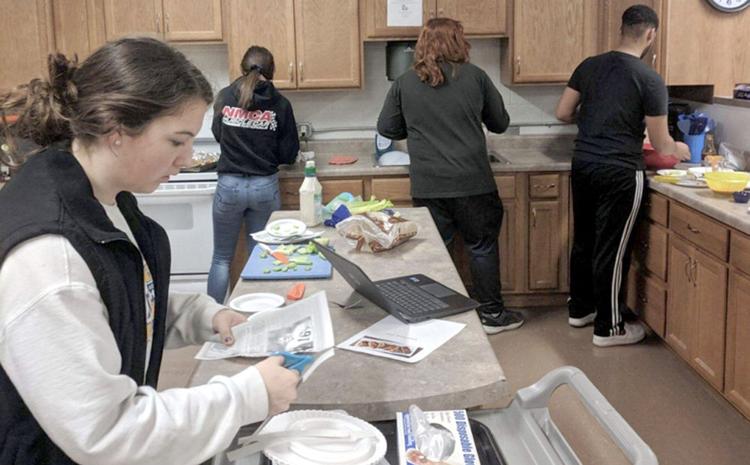 Heritage
Jocslyn Mohr's Advanced Foods class had a food challenge Friday. Seniors Noelle Woodmansee and Storm Runyan took first place with their dish, "Say Aloha to Victory." — Lynnae Struck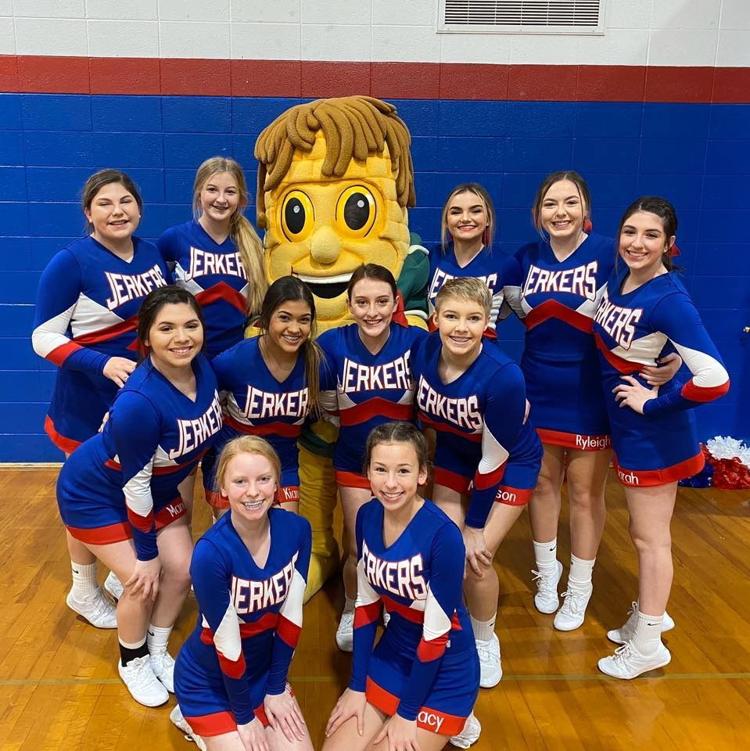 Hoopeston Area
Cheerleading competed at the first IHSA Sectional in school history and placed seventh: Emma Rayls, Mmakenzie Tate, Alyssa Marshall, Kylie Pickett, Ryleigh Wardell, Sarah Lukas, Mandy Solis, Kiara Colunga, Brooke Lemon, Madison Foster and Macy Hayes. Photo by Jordan McFadden. — Erin Anderson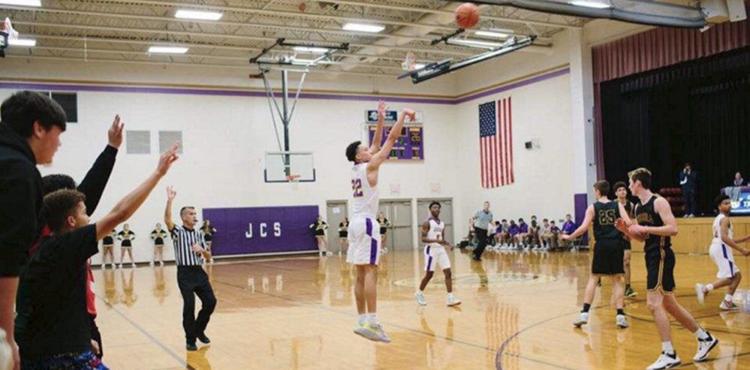 Judah Christian
Senior Noah Jackson reached 1,000 career points in Friday's game against Cornerstone, the crowd cheered his accomplishment. Said Jackson: "1,000 has always been a goal of mine, so I just worked hard to get there." — Brayden Riesberg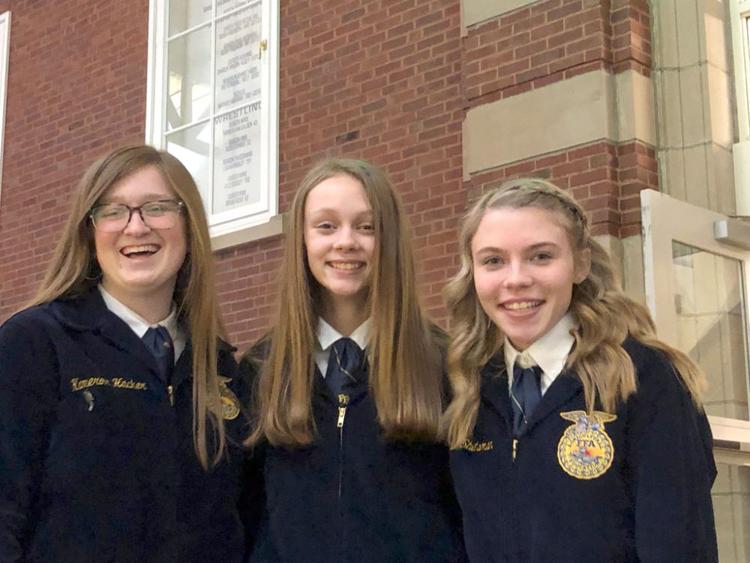 Mahomet-Seymour
FFA members Taylor Dietz, Kameron Hacker and Kallie Stutsman competed at public speaking sectionals, Stutsman winning creed and advancing to districts.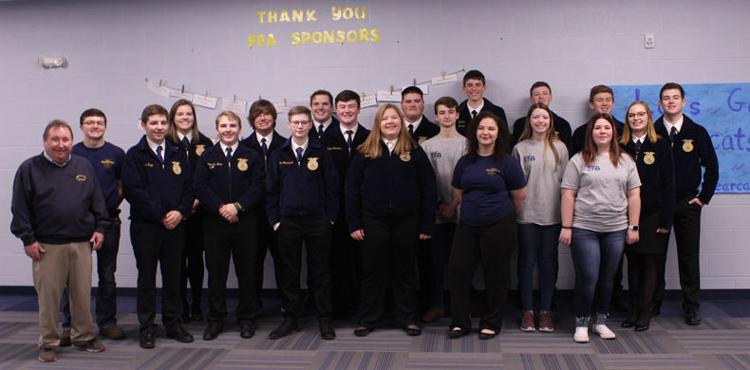 Milford
On Saturday, Milford FFA A raised an all-time high at its 7th annual Alumni Auction. There were over 170 items which cleared around $40,000. — Reyse Mussard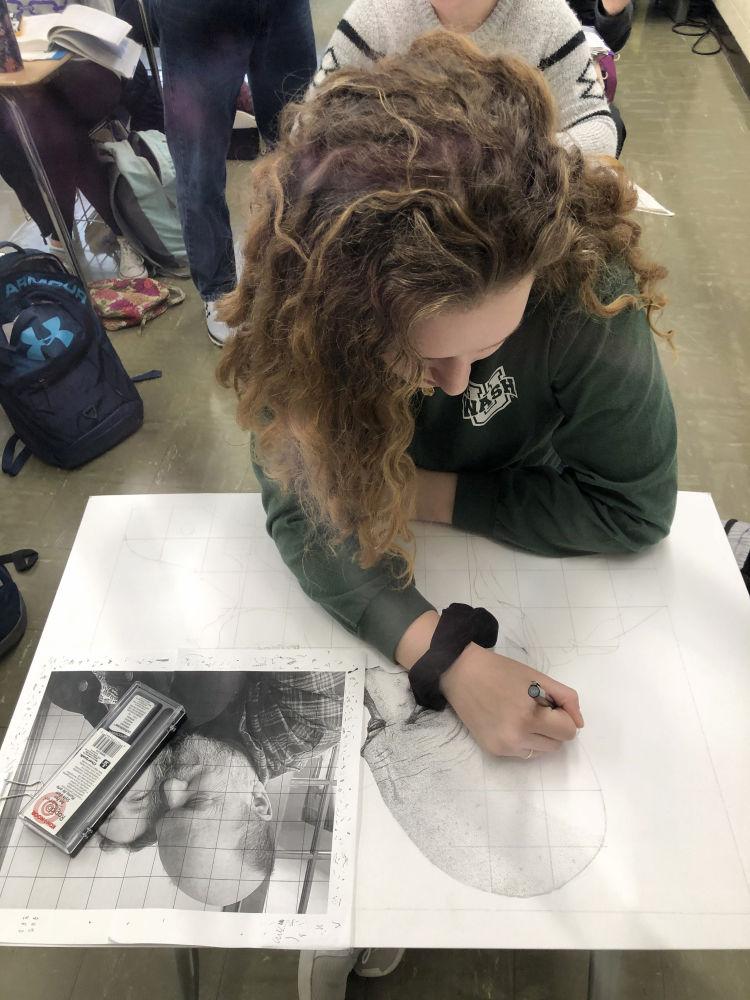 Monticello
Senior Cassidy Marcum works on her pointillism project for Art 12. She chose to do a portrait of her parents. — Mary Ross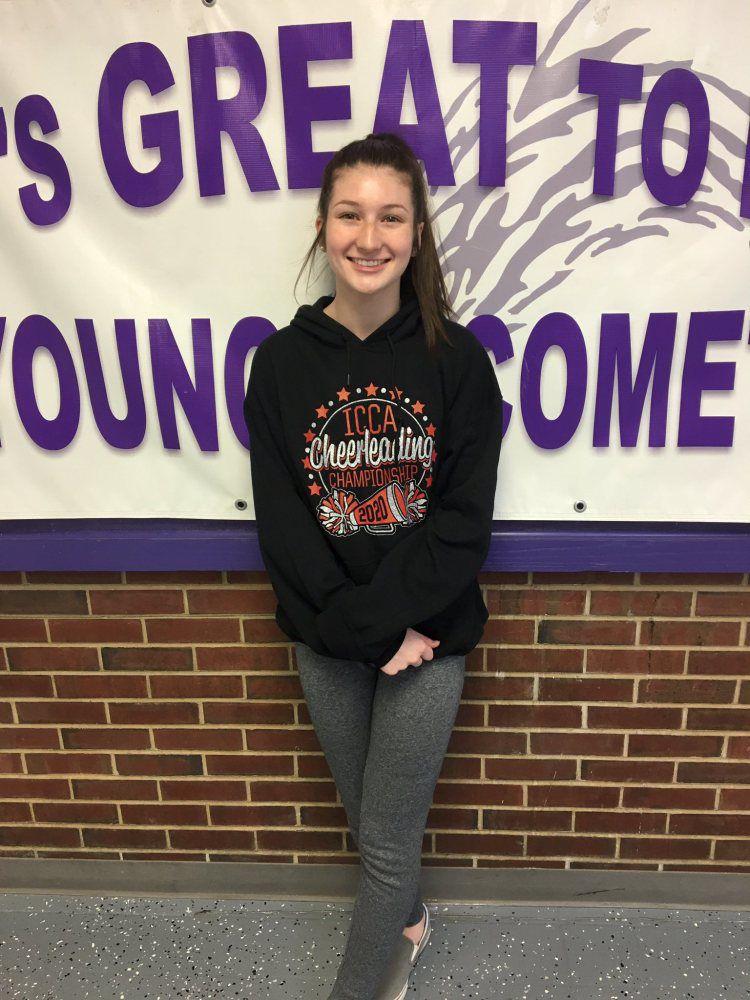 Oakwood
Allie Plotner was named the school's February Athlete of the Month.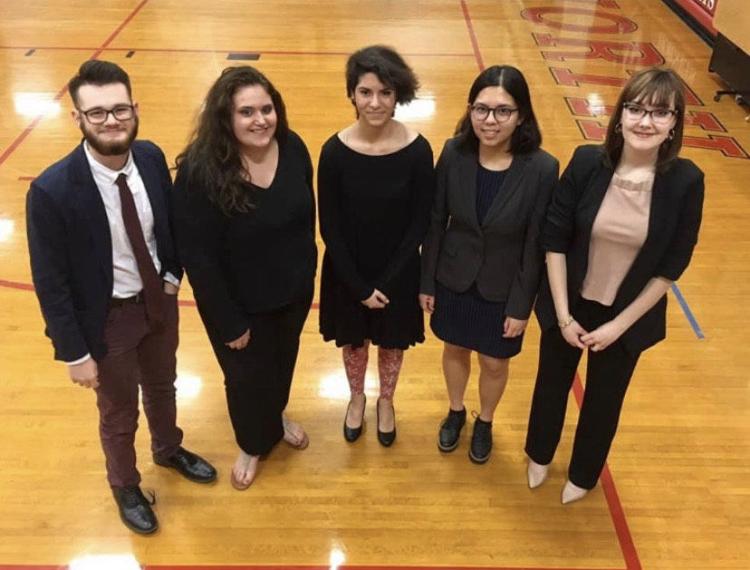 Paxton-Buckley-Loda
Speech Team competed at Heyworth. Four students made it to finals in JV Prose, JV Dramatic Duet and Varsity Oratorical Declamation. Pictured: Braedon Arnett, Madison Backues, Bella Gosett, Reese SanDiego and Maggie Neff. — Emma Schuler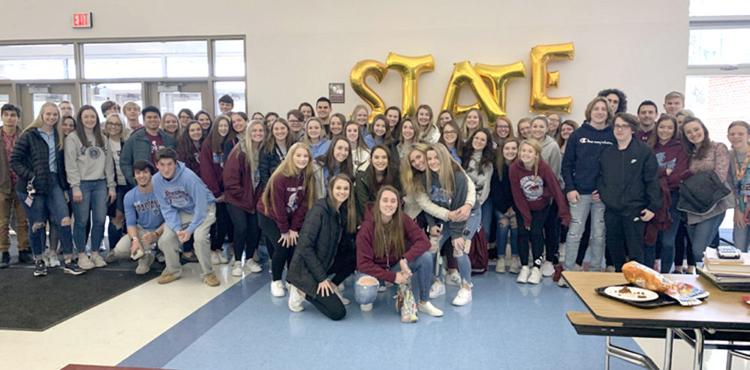 St. Joseph-Ogden
St. Joseph-Ogden High School students piled on two fan busses on Friday to support the High School Dance Team as they performed their contemporary routine at the IHSA State Competition. — Mallory Ames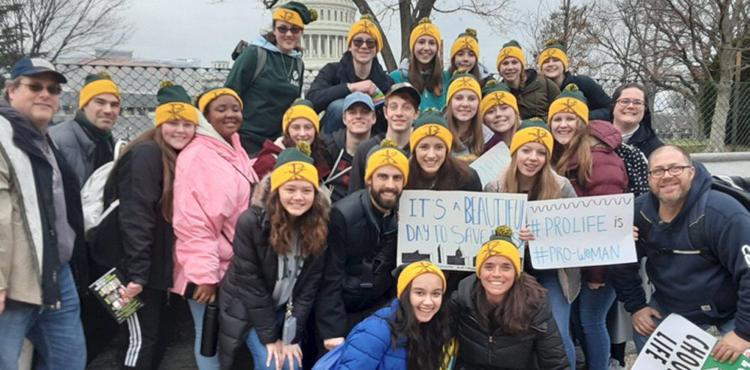 St. Thomas More
A group of students from all grade levels made a pilgrimage to Washington, D.C., and participated in the March For Life in late January. — Noelle Schacht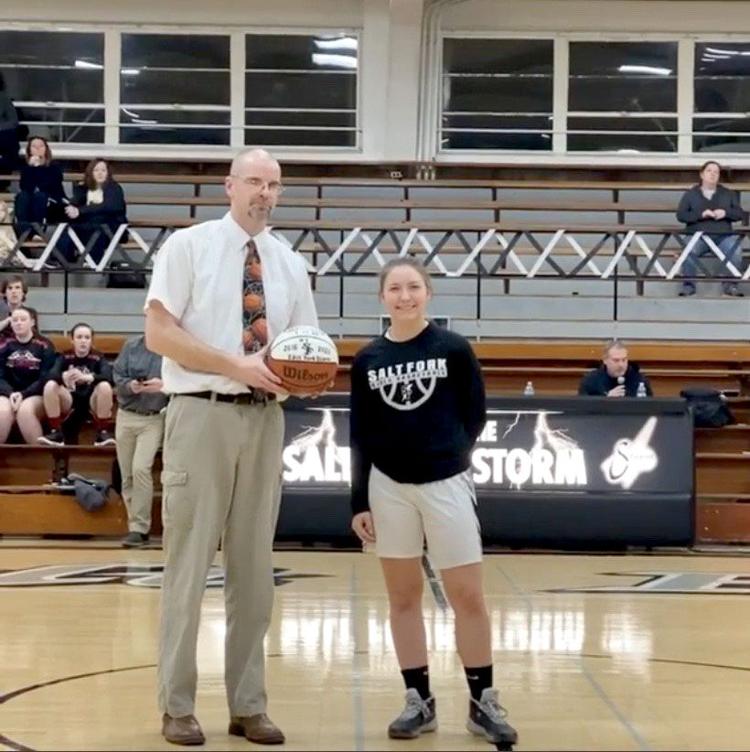 Salt Fork
Kayleigh Davis, a senior starter for the girls' basketball team, was presented her 1,000-point basketball by coach Brian Russell. The four-year player reached the milestone in the third-place game at the Vermilion County tournament. — Autumn Lange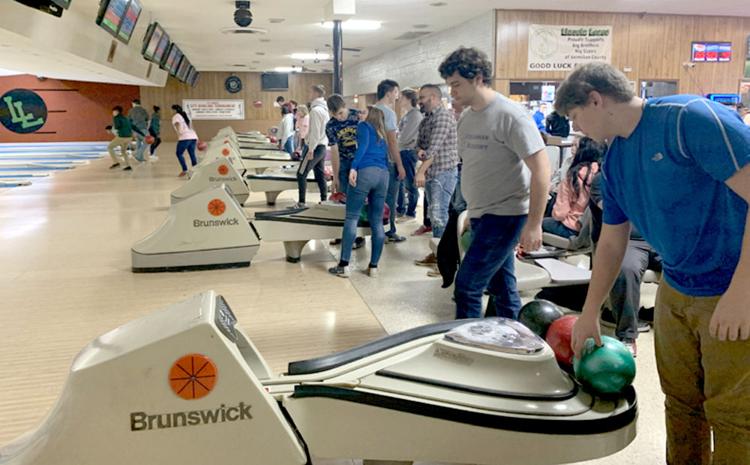 Schlarman
Junior Seth Bennett (right) and senior Michael Welsch (left) prepare to bowl at Lincoln Lanes on Friday. The bowling trip was part of Catholic Schools Week, as students celebrated with jean day, bingo, enrichment days and field trips including bowling and a movie at the historic Fischer Theatre in Danville. — Farrah Anderson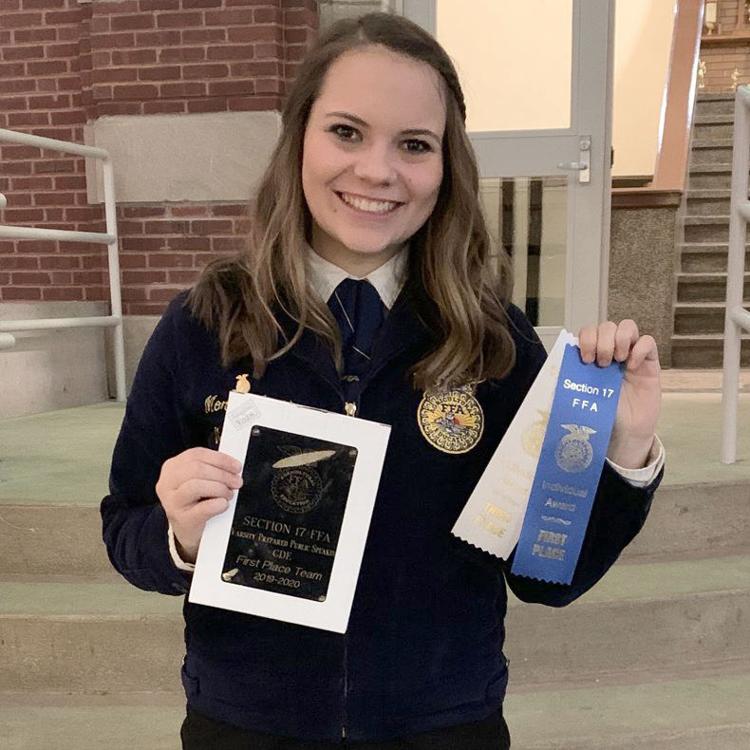 Tuscola
FFA member Morgan Jones won Varsity Prepared Public Speaking at the Section 17 public speaking contest in Monticello last Wednesday, advancing to district level in April. — Emma Zimmer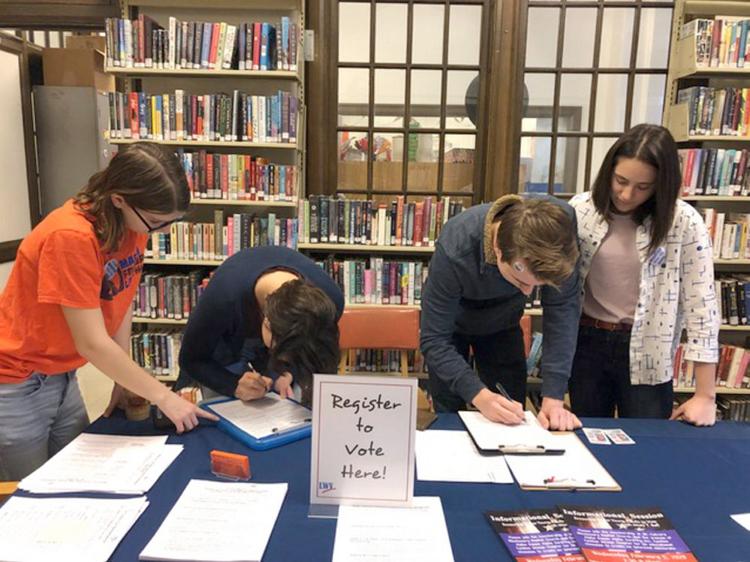 Uni High
Last Wednesday, Uni students held a voter registration drive in coordination with Champaign County's League of Women Voters. Student volunteers took voter registration training courses in advance of the drive and assisted peers in filling out registration forms. Over 30 students filled out forms that were then delivered to the Champaign County Clerk's office.Students were also provided information about the Illinois primary, what to expect the first time they go to the polls, and where to find reliable information about candidates. Pictured: Erin Minor, Zona Hrnjak, Sam Atkinson and Anya Kaplan-Hartnett. — Erin Minor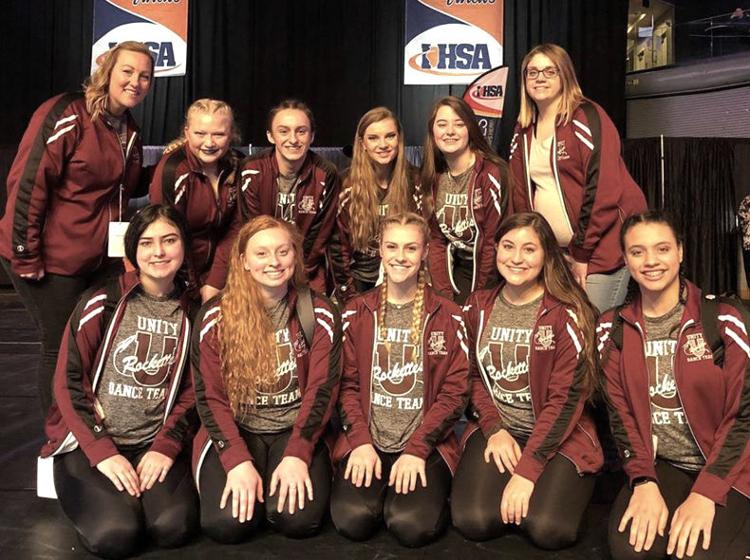 Unity
On Friday, Honor Roll students and their families were invited to partake in a homemade meal. That afternoon, much of the student body joined the dance team at state, cheering them on to Saturday's second round. Pictured: (first row) Amanda Musson, Cassidy Price, Anthony Chaney, Emily Wease, Natalie Weller and Hunter Hettinger; (second row) Sydney Oates, Tori Patton, Anna Anderson, Dominica Battaglia and Keira Pruitt-LeFairve. — Kim Pruetting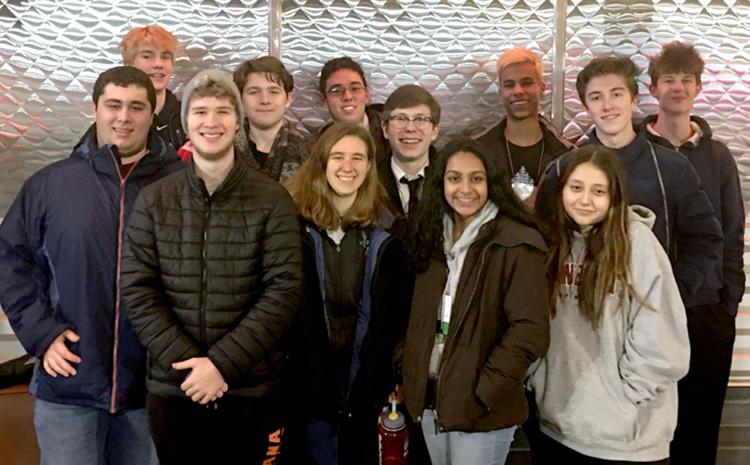 Urbana
Last weekend, 12 students traveled to Peoria for the Illinois Music Education Conference (IMEC). Nine students were selected as performers in an All-State Ensemble, and three were selected as composers in the IMEC Composition Track Conference. Pictured left to right: (back row) Zach Menard (Cello), Alex Shaffer (Contra-Alto Clarinet), Masato Keeley (Cello), Max Ando (Trumpet), Willem Alleyne (Bassoon), Sam Larsen (Composer), Owen Robinson (Horn); (front row) Dimitri Glaros (Composer), Andrew Mancuso (Trumpet), Olivia Rosenstein (Flute), Sanjana Paul (Clarinet) and Alyssa Allen (Composer). — Molly Sweeney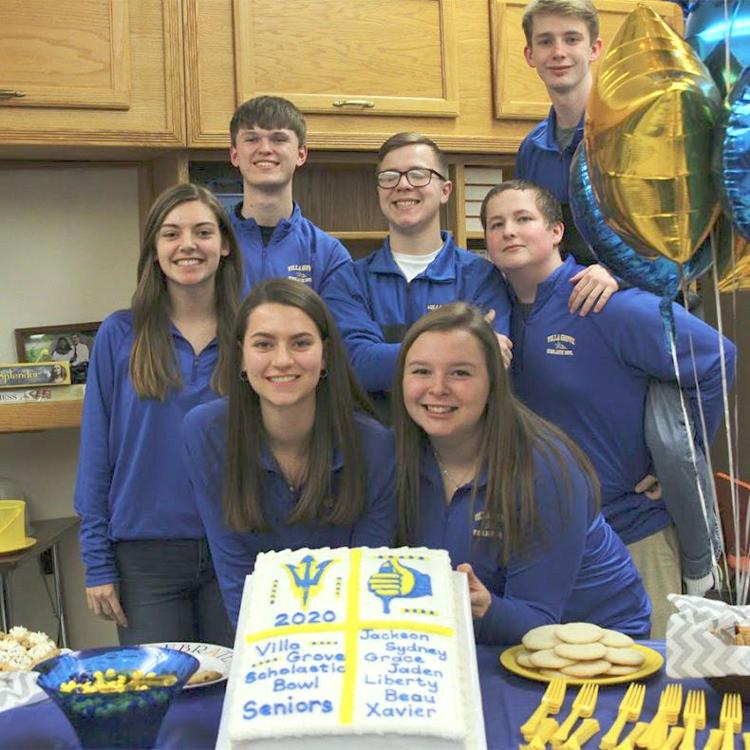 Villa Grove
The unbeaten Scholastic Bowl team celebrated Senior Night and continued its winning streak. Pictured left to right: (back row) Jaden Grimm; (middle row) Jackson Wiessing, Beau Beesley, Xavier Click; (front row) Liberty Watson, Grace Hutchison, Sydney Eisenmenger. — Grace Hutchison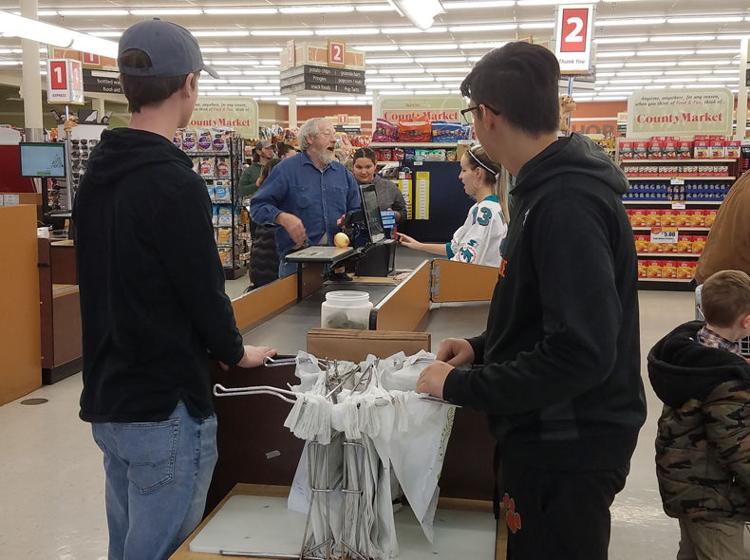 Westville
A few of the Traveling Tigers bagged groceries at County Market to help raise money for their trip to Italy and Greece in 2021. — Emma Myers