2019-20 High School Confidential: Week 11
Welcome to Year 4 of High School Confidential, an award-winning project made possible by aspiring student journalists from every corner of our circulation area. Each Wednesday through May, they'll tell us what's happening in their hallways at news-gazette.com.
For Thanksgiving break, we gave our panelists the week off. That didn't stop some of them from delivering bonus reports.
This year's crew:
Academy - Megan Wiarda
ALAH - Kenli Nettles
Arcola - Patty Rodriguez
Armstrong-Potomac - Emily Rogers
Bement - Braden Fogerson
BHRA - Gabe Martinez 
Blue Ridge - Kalyn Warner
Centennial - Hailey Choi
Central - Julia Wilson
Chrisman - Lindsey Franz
Cissna Park - Abbi Kaeb
Danville - Leilani Islam
DeLand-Weldon - Tori Billingsley
Fisher - Sidney Sievers
G-RF - Chelby Hall
GCMS - Sierra Hileman
Heritage - Lynnae Struck
Hoopeston - Erin Anderson
Judah Christian - Brayden Riesberg
Mahomet-Seymour  - Rachel Myers
Milford - Sam Conley
Monticello - Addison Wichus
Monticello - Mary Grace Ross
Oakwood - Maecii Barabas
PBL - Emma Schuler
Rantoul - Veronica Duddleston
St. Joseph-Ogden - Mallory Ames
St. Thomas More - Noelle Schacht
Salt Fork - Autumn Lange
Schlarman - Farrah Anderson
Tuscola - Emma Zimmer
Uni High - Samaia Jones 
Uni High - Erin Minor 
Unity - Kimberly Pruetting
Urbana - Molly Sweeney 
Villa Grove - Grace Hutchison
Westville - Emma Myers
On to this week's report:

Armstrong
Armstrong's Homecoming court includes (pictured)" Ayden Koening, Marshall Gudauskas, Aidan Fitzsimmons, Natalie Schluter, Jonathon Hudson, Luke Gordon, LeAnne Rogers, Kalyssa, Gaven Lomax, Emily Rogers, Cheyenne Cade, Katelyn Luecke and Cassidy Nelson. — Emily Rogers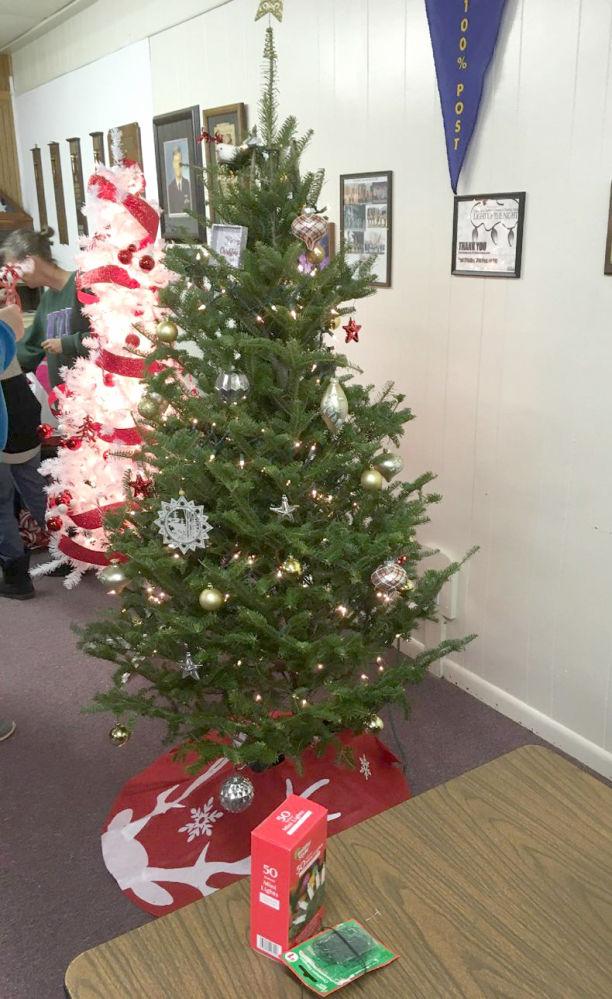 Blue Ridge
Several school clubs joined in on Christmas tree decorating at the VFW to send joy to families who can't afford to buy a tree this holiday season. — Kalyn Warner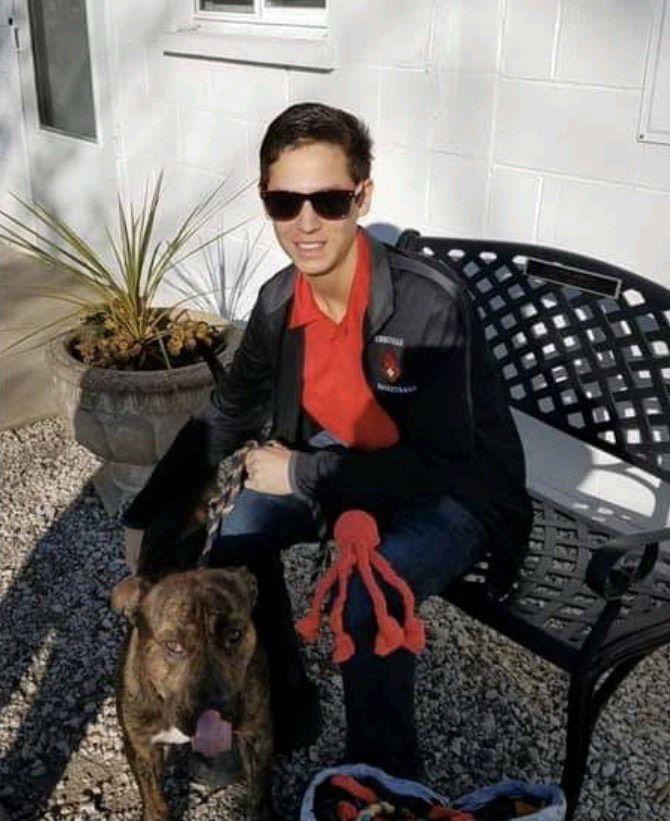 Chrisman
Family, Career and Community Leaders of America donated homemade dog toys to the Edgar County Animal Shelter. Pictured: Robbie Rollins, FCCLA president and state officer, who presented the toys. — Lyndsey Franz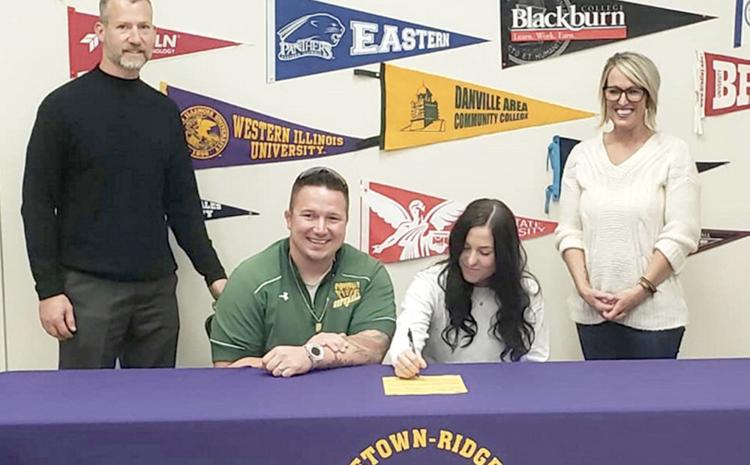 Georgetown-Ridge Farm
Taylor Stal signed to play softball at Danville Area Community College. Pictured left to right: Jeff Stal, Matt Cervantes, Taylor Stal and Valerie Stal. — Chelby Hall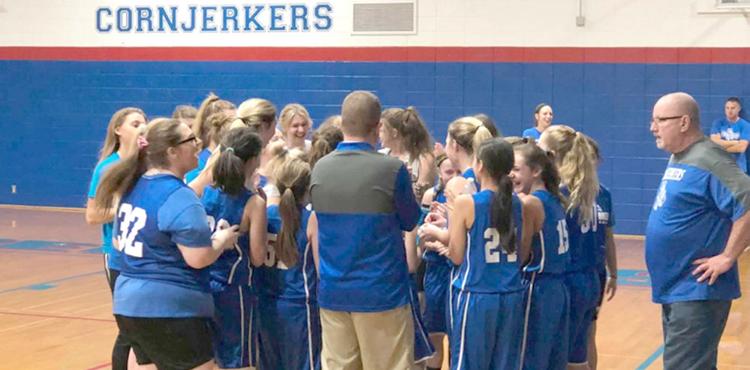 Hoopeston Area
The high school girls' basketball team provided mentoring leading up to the big game and thjen watched with enthusiasm as the seventh-graders won an IESA regional title for the first time in school history. Picture by Ginger Gonzalez. — Erin Anderson
Monticello
The Sages celebrated the spirit of Thanksgiving by hosting a food drive. Student Council held a competition between clubs to see who could collect the most food. In total, 445 pounds were collected. Pictured: Fruits of their labor in Amanda Allen's room. — Addison Wichus
St. Thomas More
At the annual Academic Letter Ceremony, students in grades 10-12 were awarded a varsity letter for persevering in the classroom and upholding a strong grade-point average. The National Honors Society officers (left to right): Ryan Pinto (president), Jack Aubry (vice president), Julia Tangen (secretary) and Noelle Schacht (historian) were joined by principal Sister M. Bridget Martin and counselor Mandy Pope in congratulating Abby Deptula (pictured) and other recipients. — Noelle Schacht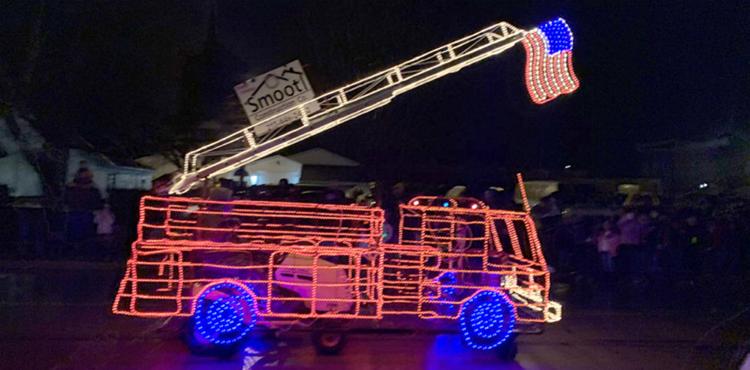 Salt Fork
Sunday's Catlin Parade of Lights includes help from the school's National Honor Society as well as clubs from the South and North campuses which submit trees or floats, Despite rainy and cold conditions, the community came out in force. — Autumn Lange