Farmers Feeding Families program
'It will be doing double good now': Parkland to join in Farmers Feeding Families program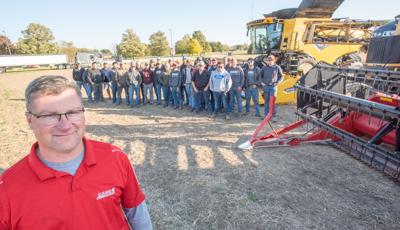 CHAMPAIGN — In the eight harvests since the start of Farmers Feeding Families in Champaign County, the program has provided an additional $219,539 in funding for area food pantries.
In 2021 alone, the program provided 14,000 meals through entities ranging from Eastern Illinois Foodbank to Family Service Meals on Wheels, Peace Meal, Community Service Center of Northern Champaign County and Feeding our Kids, according to Sue Grey, president and CEO of United Way of Champaign County.
Through an agreement reached Wednesday, Parkland ag students will also benefit through training.
Gordon Hedrick, Parkland's Ag Tech Department chairman, estimated 100 to 120 students a year will be involved in some facet of the program. The in-the-field aspect of the work will boost the level of training.
"It will be a great ... to get some learning opportunities for our students," Hedrick said. "Our precision-farming classes and diesel classes will do lab practicals in a real-world setting that can't be duplicated in our small-scale lab land.
"Our land lab is great for small-scale crop research. In some cases you need larger areas."
Grey broached the idea of Parkland's participation about a year ago.
Inputs will be donated by companies. Students will be in charge of contacting the input providers and will simulate grain marketing.
"In the spring they'll be involved in planting and maintaining input applications," Hedrick said. "Our applicator program actively operates sprayers. We're training people to be fertilizer applicators, and this would be a great place to have the ability to do this on a real-world scale."
A variety of the ag program students will be involved, ranging from precision agriculture to diesel mechanics students.
More than 80 acres will be farmed.
Grey credited rural Thomasboro farmer Pete Sage for starting the Farmers Feeding Families program.
He "came to us and made it happen," she said. "He said, 'No one in Champaign County should go hungry.'
"My take was, we're surrounded by food with corn and beans, and yet we have so many people with food insecurity."
Sage said he came up with the idea one year when commodity prices were high and revenues were good.
"There were people who were starving and food banks were not full. There had to be some way to give back to the community," Sage said.
He approached a church that owned 40 acres of farmland and asked if he could rent it. Sage said the rent amount was low, and he got the suppliers he used to donate the input.
"It helped people who were less fortunate eat, so that was a good thing," Sage said, noting he would like to think people would be as kind to his family if they ever needed it.
Sage said he is excited Parkland College will now be a part of the program.
"It's doing double good now," he said.
The bulk of the land, 80 acres, is owned by Unit 4 school district in north Champaign. Another 9 acres is located next to Litania Sports at 601 Mercury Drive, which is not charging rent.
"Once we pay expenses, we have to pay rent and crop insurance," Grey said. "All the inputs have been donated every year as well as all the labor."
Grey said Gifford State Bank has donated the proceeds from a golf outing the past two years, which has amounted to $28,000, to offset some of the rent. Also, Murray Wise Associates donated $2,500 toward expenses.
"Once we sell that grain, 100 percent goes right back into the community to serve programs in the county."