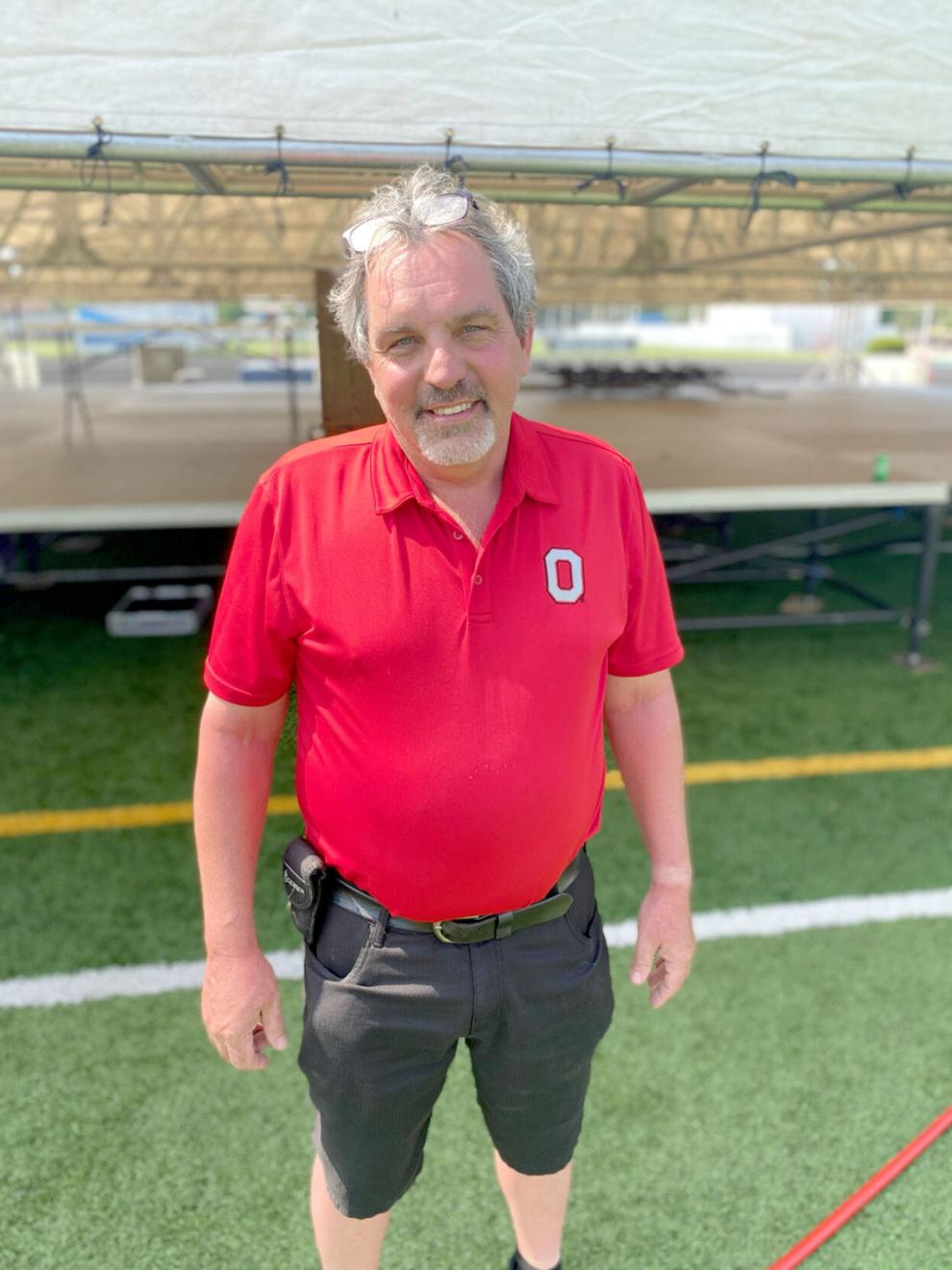 CHAMPAIGN — For many years, John Page watched his father, Keith, stage musicals and plays at Centennial High School. Little could the younger Page have known that years later he would be helping to stage a show of a different sort for the school.
Page's company, pagetech limited, is setting up the stage for both Centennial's (8 p.m.) and Champaign Central's (4) graduation exercises today at Centennial's Tommy Stewart Field.
"For years, I watched him doing shows at Centennial," John said. "Now, I've come full circle doing a show at his old high school."
Keith Page, who passed away in 2006, taught for nearly 20 years at Centennial and directed more than 100 shows there. He also was the weatherman for WICD Channel 15 television for more than 40 years.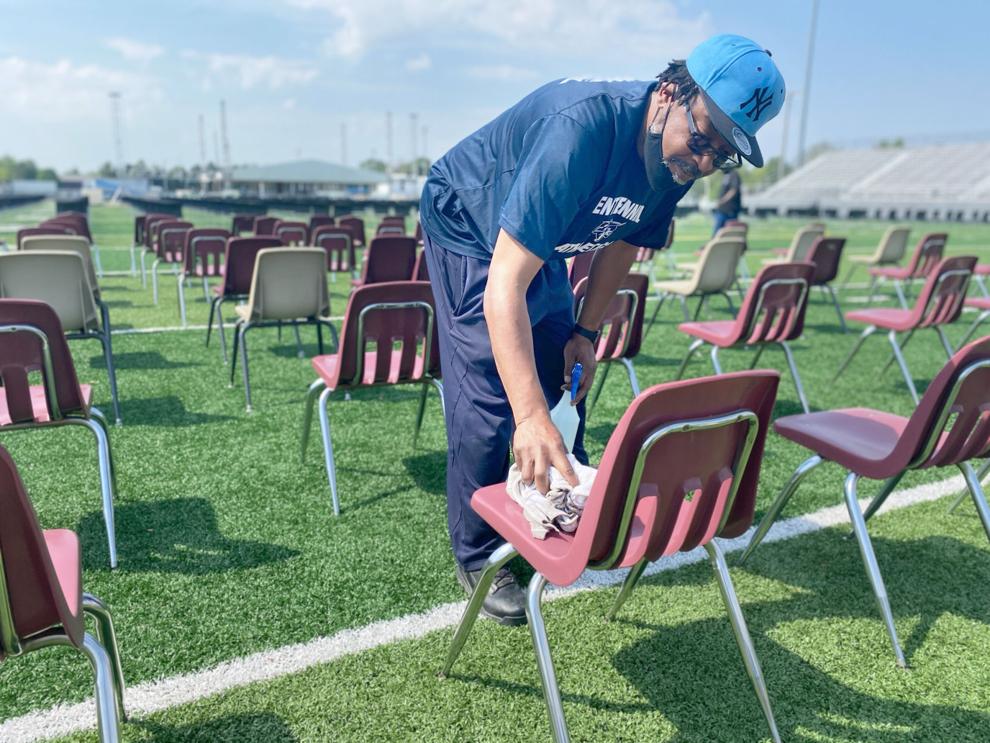 Work on the large stage at Tommy Stewart Field, which will hold 300 people, began Sunday night and continued Monday.
"This is the same stage we use for major concerts," Page said of his Columbus, Ohio-based business. The company's stages have hosted a variety of acts, from the Charlie Daniels Band to 38 Special and the Little River Band.
"Of course, summer festival season is our big outdoor side," Page said. "We do a lot of corporate stuff in ballrooms. Last week (they hosted events) in Orlando, Florida and Hershey, Pennsylvania. I'll be flying out to LA on Thursday to ... Santa Anita Raceway, where they run the Breeders Cup. They are doing a four-week festival there."
Central Principal Joe Williams said he has known Page all his life, and when the need for staging arose, he knew the man to call.
Like many area high schools, graduation will be different for Central and Centennial due to the pandemic. Central's is normally held at Krannert Center for the Performing Arts, Centennial's at State Farm Center.
Williams said Tommy Stewart Field was selected because it's the only large high school stadium in Champaign.
He said the graduation programs will be virtually the same as any other year's. Both will be live-streamed.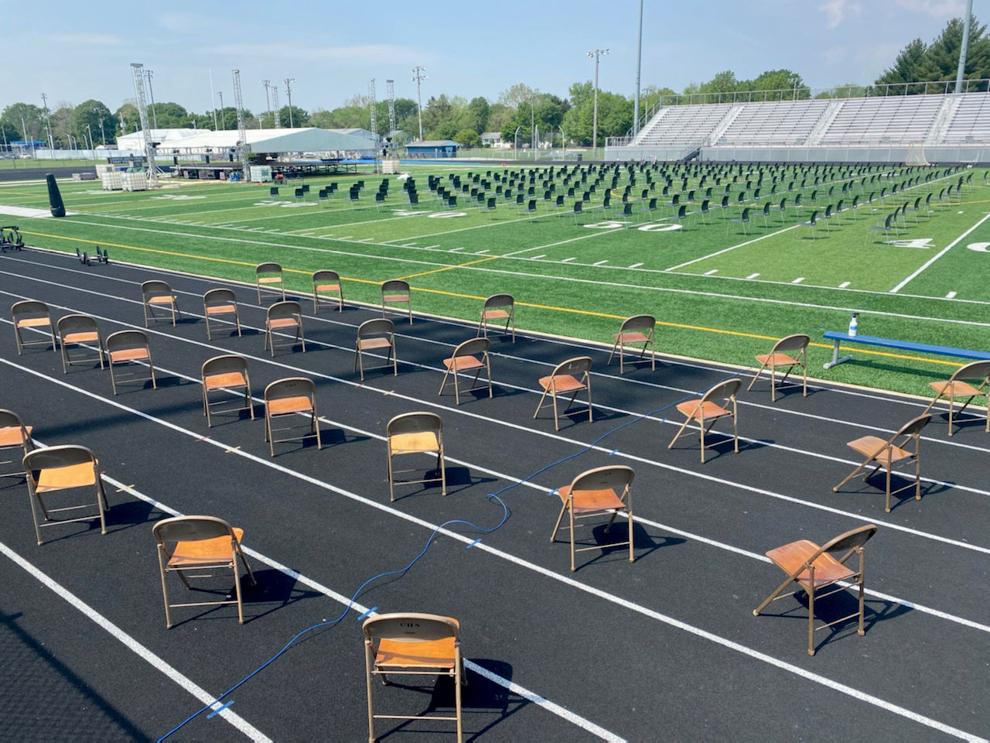 And should the weather turn bad today?
"If it's just rain, we will continue. If it's thunderstorming or high winds, then we'll have to cancel it. But we'll kind of see what tomorrow looks like," Williams said.
A roof will cover those on stage but not the audience.
"We do that because we don't want the participants baking in the sun," Page said.
Page seems to have caught the theatrical bug naturally. In addition to his father, his mother, Mary Ellen, directed plays at Unity Junior High.
The 62-year-old Page got started in the staging business as a stage hand at Assembly Hall in 1979, where he worked for 20 years. He remembers his first show: The Kinks. He eventually moved up to acting stage manager before being hired as technical director at Ohio State's Schottenstein Center in 1998. After five years, he started his own company.
Now, Page has 35 people working for him.
"I love it. I'm really blessed," said Page, who met wife Nancy at Ohio State's Value City Arena. "We have a sophomore son (Grayson) who is doing well in high school."
Page never tires of the work.
"It's interesting. We show up with a completely blank canvas, set up, do the show and tear it down and leave as if we were never there."