Top of the Morning, Feb. 27, 2021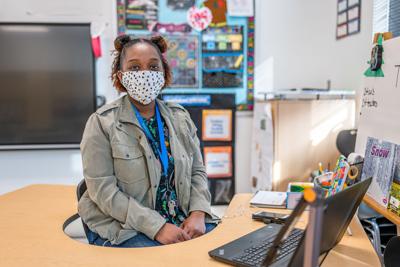 The environment at Dr. Howard was unusually sterile when school began last fall, kindergarten Dominique McCotter noticed.
Of course, all schools were cleaned with special care. But walking into a gleaming new school that students had never set foot in still felt different.
"The first quarter of the year was odd, because I just felt like it was very sterile," said McCotter, who spends half her time as a reading interventionist. "We really had to think about how we were going to receive kids in a warm environment."
For McCotter, this year has been a strange return to the classroom. She's spent her 12-year career as a teacher at Stratton and Booker T. Washington, a coach at Dr. Howard, Reading Recovery Teacher Leader, and a curriculum coordinator at the district level.
Her first year back in the classroom got a little bit better on Tuesday, when she found out she was named one of 32 statewide finalists for the Golden Apple Award for Excellence in Teaching. McCotter doesn't know who originally nominated her, but after finding out she was up for the award in October, she submitted an application, three letters of support, and a video of herself teaching.
If she wins, she'll receive a $5,000 reward and become a Fellow of the Golden Apple Academy of Educators.
McCotter was a Golden Apple Scholar as a student at Illinois State University, which meant she was given scholarships and attended a residency in Chicago, which involved working at a school in Little Village, receiving mentorship from teachers, and attending seminars. After studying at Illinois State, she went on to student teach in England before applying for a job at Unit 4 at an ISU job fair.
McCotter passes on credit to those around her for making her the educator she is as she strives to help students learn to read.
"What I feel like has made me a stronger teacher has been my colleagues," McCotter said. "I feel like I try to be an open listener to my students, to staff and colleagues. And I really have a passion for helping kids build an identity as a reader."
"What I feel like has made me a stronger teacher has been my colleagues. I feel like I try to be an open listener to my students, to staff and colleagues. And I really have a passion for helping kids build an identity as a reader."