Top of the Morning, Jan. 5, 2020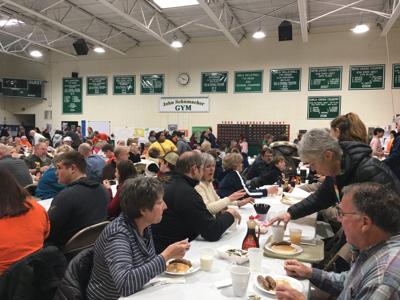 Before the much-anticipated dedication of the school's snazzy new gym and classrooms (Jan. 25), St. Thomas in Philo will open its doors for another community crowd-pleaser:
Its all-you-can-eat pancake-and-sausage breakfast on Jan. 19 (7 a.m. to 1 p.m., 311 E. Madison).
Held the third Sunday of January for the past 52 years, the scrumptious fundraiser feeds 1,200 or so who leave stuffed and happy.
"First thing, it's good eatin'. Second thing, you see friends you haven't seen in a while," said 93-year-old Alvin Decker, who 1) has been to every one and 2) holds the St. Thomas record for longest stretch with a child attending school (seven kids, 28 years). "The big thing, though, is that it helps the parish."
In Year 1, Decker remembers frying sausage in a single skillet: "We couldn't keep up back then."
Today, it takes an enthusiastic village — and about a dozen pigs — to pull off.
For the first time, the operation won't include Don Hewing, who for 52 years handled the sausage side of things. He's handed the reins to the younger crowd but still hopes to be in attendance.
Tickets are $8 for adults, $6 for seniors, $5 for youth (kindergartners and younger are free). Call 217-684-2309 for information.