Top of the Morning, May 23, 2020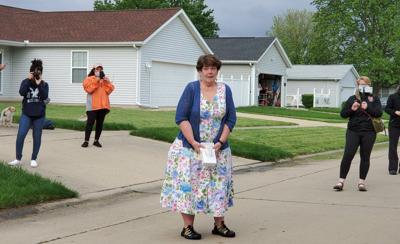 When Karen DeBauche was told to make sure she was home on Thursday evening, she had a feeling a parade celebrating her retirement was at hand.
What the Urbana Middle School band director didn't expect was a line of 150 to 200 cars of current and former students, parents and friends yelling out their windows, some playing instruments to celebrate the end of her 30-year career.
"Honestly, I never, ever expected this," DeBauche said. "I thought, 'OK, it'll probably be like 30 cars.' But as many as were there and as many people who took time out of their lives was amazing."
Congrats to Ms. DeBauche for her retirement! Thank you for your 30 years of service! We will miss you! pic.twitter.com/PLqbFICp9e

— Urbana Middle School (@UrbanaMiddle116) May 21, 2020
DeBauche never imagined she'd be a middle-school band director in the first place. She thought she'd teach clarinet at the college level. But quickly, she found her place and loved helping middle-school students develop during a transitional time in life.
"I got a job as an aide and I fell in love with it and said, 'Why wouldn't I do something I enjoy?'" she said. "You always do your best to try to make kids feel safe in your room. You always try to make kids feel appreciated in your room. And nobody's ever perfect, but you just try to make sure that they have a place that is home to them."
As Thursday indicated, she built a strong connection with her students.
DeBauche had planned a final concert at the middle school, where she'd invite mentors and honor them, and the school would pay tribute to her.
Instead, she was thrilled with the ending she received.
"All the endings we had planned couldn't happen, and that's really sad," she said. "This was better in a way, because it was so unexpected ... It was crazy. You feel so loved and appreciated like, 'Wow! Me?'"