Top of the Morning, Oct. 12, 2021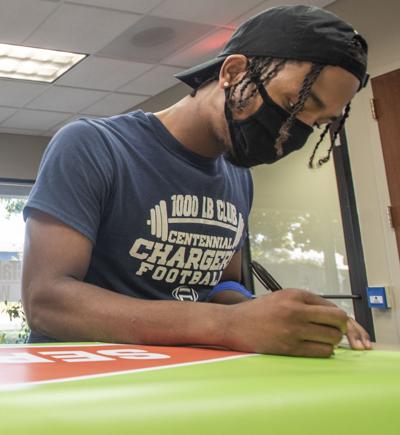 On Tuesdays, we'll introduce the high-achieving kids who make up Year 6 of High School Confidential (Fridays in The News-Gazette).
Next up: Centennial's Montez Dubose (Twitter: @Dubosemontez; Instagram: @_monteee._; and Snapchat: @Tez_dubose).
***
An accomplished student and athlete, Dubose saw his senior football season come to an end when he broke an ankle on Sept. 10. Surgery kept him out of school and at home for a stretch, but he plans to be on the sidelines when the Chargers meet rival Champaign Central in Week 9.
"The hardest part about getting injured has been being patient," he said. "I'm used to a fast-paced, on-the-go lifestyle with school, football and working two jobs.
"It (stinks) having to be out of school for a month when we just returned to in-person learning."
Another bummer: security checks introduced this school year at Centennial and Central.
"I hate that this is what our community has come to," he said. "Due to the ongoing violence in our school, this has become necessary for everyone's safety. I am hoping that we are able to implement programs to be able to build relationships with the security staff in the schools as well as more activities to bring us together as students and put an end to the violence.
"I want to help change the narrative of Centennial High School."
After college, Dubose hopes to land a job as a "human resource manager," he said. "I plan on diversifying the workplace and creating space for those with disabilities. I hope to bring inclusion to wherever I am at.
"I also want to be able to come and give back to my Champaign community."