Top of the Morning, Oct. 30, 2019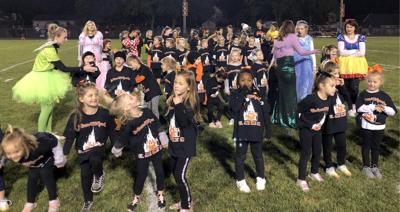 A chat with Fisher High grad (Class of '03) Tara Walters, now a teacher in the district as well as high school cheerleading coach, about Friday's fundraiser for St. Jude, during when cheerleaders dressed as Disney characters and members of a grade-school cheer camp performed together at halftime:
There were challenges of performing in costume, right?
"As the coach, it was odd to be at the rather chilly football game in a dress. We wanted to surprise the little ones with the costumes, and we pulled it off. The smiles and excitement on their faces were totally worth having an extra challenge throughout the game."
But it turned out OK?
"Chilly weather, costumes, 51 amazing little Bunnies who joined us on the field for a special halftime performance and a Bunny victory ... it was an amazing night."
Where did you get the idea?
We've done cheer clinics in the past, but over the last couple of years, we have turned them into more of a fundraiser for others. I'm also the adviser for our student section, The Carrot Crew, and I was talking between my cheer captains and my student section captains, and it just popped into my head to do a Disney theme.
How about the costumes?
At first, we were going to have them made, but we ended up that everyone either bought or made their own costumes (Amazon or Halloween stores). We had so much fun making a day out of it. We also had our hair done by the amazing ladies at TK Salon in Mahomet, (who) graciously donated their time to help our Disney transformation. Craig Hadden (Craig Hadden Photography) took pictures of the entire team.
Why St. Jude?
I'm a mom, special-education teacher and coach, so making the choice for St. Jude was simple: Any way to help children. We may be a smaller school in a smaller community, but we still feel we can make a difference.