The Great Outdoors, Oct. 27, 2019
Illini Bass Club Classic
Local bass fishing clubs are wrapping up their season-ending tournaments, including the Illini Bass Club, which closed out 2019 with a two-day outing at Mill Creek on Oct. 12 and Paris on Oct. 13.
This year's Classic winner was Tom Cavenaile, who had a two-day combined weight of 18.79 pounds. Second place was the regular season Angler of the Year, Vern Mayberry, with 16.92 pounds, and Jim Thomas snagged third with 13.48 pounds.
On day one at Mill Creek, Dylan Howard reeled in the Big Bass, weighing 3.93 pounds, and on day two at Paris, Gary Cockrell took Big Bass honors with a 4.04 pounder.
Rail trail trestle work underway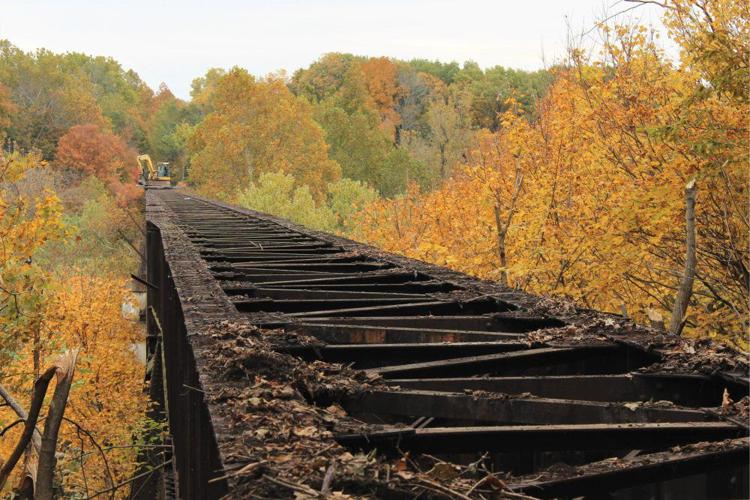 Crews have hit a high point, literally, in ongoing construction this week of the Kickapoo Rail Trail as state contractor Halverson Construction has started initial prep work on the railroad trestle that traverses the Middle Fork River east of Oakwood.
High above the river, crews have been removing the railroad ties from the steel framework of the trestle. The work on this section, which will continue next year, is just east of the new 2-mile section through Oakwood that was completed this year and is very close to officially opening, although people have already been enjoying the path that starts just west of Oakwood and continues to Grays Siding Road.
Halverson is working on the trestle section that terminates farther east at the Vermilion County Fairgrounds adjacent to Kickapoo State Park. For more information about the rail trail, its progress and continuing efforts to raise funds to complete the entire 24.5-mile length, visit onekrt.org.
Fall colors hike
The leaves throughout East Central Illinois have exploded with fall color this week and it's a great time to get outdoors, and enjoy the beauty. You can join a group at 2 p.m. today for a fall color hike in the Russell Duffin Woods Nature Preserve that's within Forest Glen Preserve, 20301 E 900 North Road, Westville.
Join Middlefork Audubon and the Illinois Native Plant Society outdoors enthusiasts as they hike through portions of Russell Duffin Woods to enjoy the changing fall colors. Russell Duffin is an amazing 200-acre forested nature preserve along the Vermilion River with huge oak and hickory trees in uplands and lots of beech, maple and tulip trees in the ravines that criss-cross the area. The trail features numerous long, steep slopes, and you will be rewarded on this outing with a stop at the observation tower, where you can climb to the top to get a great overview of the fall colors across the Vermilion River valley.
Meet at the Russell Duffin Woods parking lot at 2 p.m., which is the first parking lot to the right after entering the Forest Glen Preserve main entrance. In the event of rain, the hike will be canceled.