The Great Outdoors, Oct. 19, 2019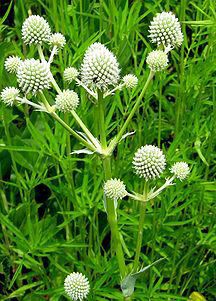 Running for nature
No, you won't be running with rattlesnakes, but I'm told that the spiky pods of the rattlesnake-master plant that's native to Illinois prairies can sound like a rattlesnake when they are disturbed by the wind. And that just may be how it got its name, according to Diane Wilhite, a member of Grand Prairie Friends, which is hosting its 22nd annual Rattlesnake Master Run for the Prairie at 9 a.m. Nov. 3, starting at the Race Street entrance to Meadowbrook Park in Urbana.
The 5K walk or run and 10K run is one of two annual fundraisers for Grand Prairie Friends, and all are welcome, from young to old, to serious runners and families. Funds raised support GPF, a volunteer-driven, not-for-profit, conservation organization and land trust that preserves and restores tallgrass prairie, woodlands and wetlands in East Central Illinois. Threatened pollinators, bats, birds and other wildlife thrive in these protected areas. And all GPF properties are open to the public to enjoy.
Master Run activities will include music from local artists, door prizes, food for runners and race awards. Race day entries will be accepted from 8 to 8:45 a.m. at the Garden Pavilion in Meadowbrook Park. Pre-registration is available at grandprairiefriends.org.
Wilhite said the Rattlesnake Master plant is a true tallgrass prairie plant is native to Illinois and surrounding Midwestern states. GPF sells Rattlesnake Master at its annual native plant sale in May, and it's available from nurseries that sell native plants. It attracts insects seeking nectar like native bees, flies, wasps, butterflies and moths, so it's an excellent choice for a gardener wanting to get into native plants, said Wilhite, adding that people are always asking how the plant got its name.
Pioneers, she explained, apparently thought the root was an antidote for rattlesnake bites, but that is not actually true. She said some have also said that the way the seed pods rattle when the flowers go to seed sounds like a rattler, and that has more merit. The plant is so fibrous that it did provide a primary material for ancient shoe construction for Midwestern Native Americans, Wilhite added.
The plant typically blooms in mid- to late summer, lasting about two months, featuring several prickly whitish green balls of flowers on the top branches covered by tiny white flowers. Whether in bloom or not, the balls themselves are beautiful and distinctive, she said.
Cleaning crew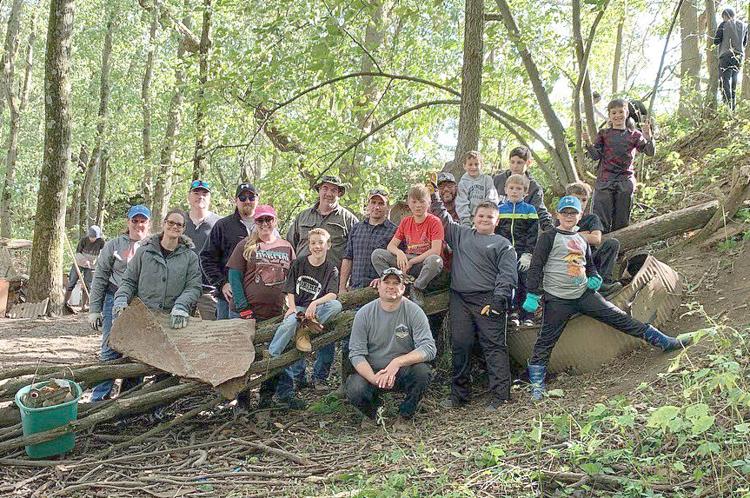 A group of more than 40 volunteers, including members of Boy Scouts Mahomet Troop 25 and employees of Champaign Outdoors, volunteered last weekend to clean up a legacy dump site next to the Point Pleasant Restoration area at Middle Fork River Forest Preserve near Penfield in northeastern Champaign County.
They removed an amazing five dump-truck loads of garbage that was then sorted by forest preserve district employees to separate recyclable items from trash.
New-moon hike
By Friday, the new moon will be just two days away, and according to the outdoors experts at the Homer Lake Interpretive Center at Homer Lake Forest Preserve, that makes it a perfect time to get outside and experience the wilderness in almost complete darkness. But this event starts indoors at 6 p.m. with a brief presentation in the interpretive center, 2573 S. Homer Lake Road, then moves outdoors to one of the trails, where hikers take in the sights and sounds of the night.
Recommended for ages 10 and older, because visibility will be low and talking will be at a minimum. Cost is $3 per person, and space is limited. Register by Thursday at ccfpd.org. For more information, call 217-896-2455.
Deer harvest update
Two weeks into Illinois' archery deer hunting season, harvest numbers are up statewide over last year at this point, according to totals released this week by the Illinois Department of Natural Resources' Division of Wildlife Resources. Through Oct. 14, Illinois archery deer hunters harvested a preliminary total of 10,167 deer compared to 7,349 for the same period last year. Harvest so far has been 69 percent does and 31 percent males, and the top five counties for archery harvest were Jefferson (290), Fulton (280), Pike (264), Macoupin (224) and Adams (217).
Harvest numbers were also up in the youth firearm season that was Oct. 12-14 with 3,775 harvested statewide compared to 1,659 last year. Harvest sex ratios for that season were 54 percent male and 46 percent female.
Local archery deer harvest numbers so far this season, compared to last year, are: Champaign County, 25, 14; Douglas, 11, 4; Ford, 9, 12; Piatt, 10, 6; Iroquois, 69, 49; and Vermilion, 155, 109.