Email questions/concerns/tips to news@news-gazette.com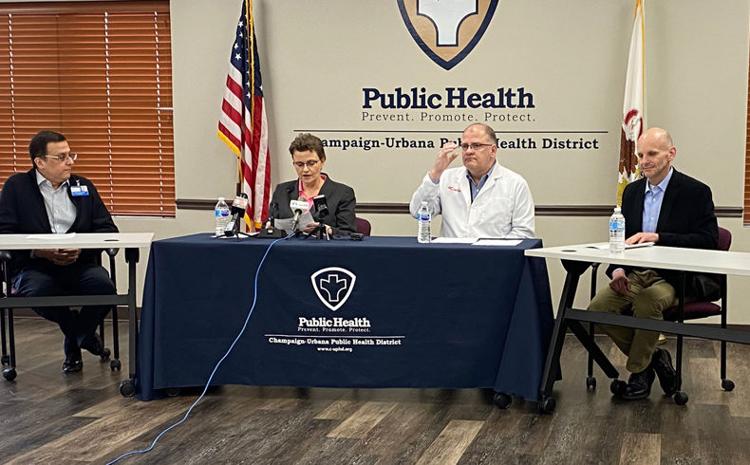 CHAMPAIGN — The first confirmed case of COVID-19 in Champaign County will likely be followed with others in the days ahead, a Champaign-Urbana Public Health District official warned Sunday afternoon.
District Administrator Julie Pryde said public health is waiting on results for more than 50 possible pending Champaign County cases, and those results should begin to be available this week.
Pryde and local medical providers gathered Sunday afternoon to announce the first confirmed Champaign County case — a Champaign County woman in her 50s who had been in contact with someone who had traveled to Italy.
Local health officials learned the woman tested positive for the novel coronavirus on Saturday night. She wasn't admitted to the hospital, but is home in isolation and recovering well, according to Dr. Robert Healy, Carle's chief quality officer.
Healy said the woman had been in touch with a Carle provider about 48 hours before she came to Carle's emergency room, and was tested there.
Pryde said the woman came to the hospital with a fever, cough and shortness of breath.
Further details, such as where the woman lives and works, aren't being disclosed.
Pryde said the public health district has been identifying and contacting everyone the woman has been in close contact with, and advising them on the next steps to take. Any close contacts of a confirmed case are asked to isolate themselves and get in touch with their doctors if they begin feeling ill, Pryde said.
Anyone with a confirmed case will need to remain in isolation until two COVID-19 tests come back negative, she said.
The woman is not a University of Illinois student, staff or faculty member, UI administrators said Sunday, adding: "C-UPHD has traced the recent activities of the individual and does not believe there is any link to being in a university facility or attending a university event."
Pryde and others continued to urge everyone to take precautions now, such as calling their doctors before coming to clinics, to avoid overwhelming the health system. Most people will be able to recover at home, they said.
"We are asking for the community's assistance, and we need people to take action now to reduce the number of cases at any one time so that our health system is not overwhelmed," Pryde said. "Continue to practice good preventive measures, stay home when you are sick and avoid crowded places."
She also assured the local community is prepared and working together. Preparations to handle this pandemic have been under way since early January, Pryde said.
Why the sudden rush to stores and hoarding of supplies that wiped the shelves clean in recent days? The health district has been people warning for weeks that it's a good idea to have two weeks worth of supplies on hand in the event that they get sick, and it's likely people didn't really start taking that seriously until they saw sports and other events being canceled, Pryde said.
"What you're seeing right now is people don't listen to public health," she said.
Rather than buying up and hoarding things that don't make sense, Healy urged patients to contact their pharmacies and make sure they have enough of the medications they take to last them, if they're unable to go out.
Pryde also urged those who have stocked up on groceries to now reach out to help their friends and neighbors.
"This is going to be a stressful and anxiety-producing time for many people," she said.
What's unknown at this time is how long this pandemic could last and how many cases are out there in the local community, Pryde said.
Champaign County is among five counties that reported a combined 29 new cases Sunday, according to the Illinois Department of Public Health. The others include Clinton, Sangamon, Whiteside and Winnebago counties.
"We are seeing the number of COVID-19 cases increase exponentially and in more locations across Illinois," IDPH Director Dr. Ngozi Ezike said. "At this point, it is best to assume that the coronavirus is circulating in your community and you should take the same precautions when interacting with other people that you would when interacting with someone who has tested positive for COVID-19.
"This may seem like an extreme step, but this is how we reduce the number of new cases and prevent the health care system from being overwhelmed."
Currently, IDPH is reporting 93 cases in 13 counties in Illinois.
According to the IDPH, cases have occurred in all age ranges and the number of cases that do not have a clear connection to travel or a known COVID-19 case is increasing.