Coronavirus updates | Six cases confirmed in central, southern Illinois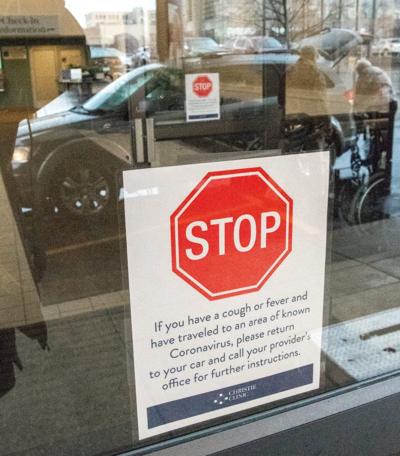 UPDATE, 8 P.M.
SPRINGFIELD — Health officials have confirmed two positive COVID-19 cases in Sangamon County.
The new cases were announced at a press conference Saturday evening attended by representatives from Memorial Health System, the Sangamon County Public Health Department, the Springfield Clinic, HSHS St. John's Hospital and Southern Illinois University School of Medicine.
Rajesh Govindaiah, chief medical officer of Memorial Health System, said one of the two cases is a woman from Florida who developed symptoms while visiting family in Springfield and was hospitalized Thursday. She is currently in isolation in the hospital's intensive care unit.
The second case is a Sangamon County resident, said Gail O'Neill, director of the Sangamon County Department of Public Health. They are currently isolated in their home. She did not give any other specifics about the patient.
---
UPDATE, 7 P.M.
CHAMPAIGN — Added to the local cancellations list Saturday: the Illinois Futbol Club's spring tournament, which organizers expected to draw 7,000 to 8,000 people to Champaign-Urbana over the May 1-3 weekend.
About 155 teams that had registered for the UI campus event were notified Saturday.
In a separate email to club members, IFC board President Skip Maier wrote: "This is disappointing for all of us, especially for the kids, and we are sad to have to take this action. The Board will be meeting again this coming week to make decisions about upcoming training schedules and other club events, and we will communicate any decisions to you as quickly as possible."
---
UPDATE, 3 P.M.
CHAMPAIGN — The Illinois Department of Public Health announced Saturday the first confirmed cases of COVID-19 in central Illinois, both men in their 70s, bringing the total number of confirmed cases in Illinois to 64.
One lives in Cumberland County, was tested at Sarah Bush Lincoln Health Center in Coles County and is self-quarantining at home. The other is from Woodford County.
Two residents of St. Clair County in southern Illinois have also tested positive. They are women in their 60s and 70s.
---
UPDATE, 2 P.M.
MATTOON — The Illinois Department  of Public Health has announced a confirmed case of COVID-19 in Cumberland County.
"IDPH notified us (Friday) evening that a person tested in our emergency room was positive for the virus," said Patty Peterson of Sarah Bush Lincoln Health Center in Coles County.
"This person resides in our 10-county service area and is self-quarantining," said Peterson, who declined to say the person's home county, sex or age. She was also unaware of when that person was seen at the hospital.
"Our emergency-room staff was aware the patient was arriving and so the patient was met in the parking lot and provided with personal protective equipment and brought into our ER through a back entrance," she said. "The patient was tested and went home the same day."
---
UPDATE, 1:15 p.m. Saturday
CHAMPAIGN — The Champaign Park District board voted unanimously Saturday to close all district facilities effective immediately through March 31.
However, the Leonhard Center, 2307 Sangamon Drive, C, will remain open for early voting in the primary election from 1 to 4 p.m. Sunday and 10 a.m. to 6 p.m. Monday and all day on Tuesday, Election Day.
The Hays Center, 1311 W. Church St., C, and the Douglass Center Annex, 804 N. Fifth St., C, will also be open Tuesday only for those who are voting.
The board gave Executive Director Joe Deluce authority to extend the closures after March 31 if necessary as long as he consults with board members. They also agreed all employees should be paid.
Meantime, the Savoy Recreation Center, 402 Graham Drive, is closing until further notice effective Sunday, said Director Brandon Martin. However, it's also a polling place and will remain open Tuesday for that purpose only.
"It's a really tough time. We've got a little bit of an older population. The virus makes them more vulnerable," Martin said.
Recreation Center staff are contacting about three dozen families whose children were signed up for kids camp during the Champaign school distrcit's intersession that was to start Monday so that they may make alternate arrangements.
The Urbana Park District on Friday canceled programs, events and rentals and closed buildings beginning Saturday and continuing, for now, through April 12.
---
Original story, published 8 a.m.:
What you need to know, courtesy editor Jeff D'Alessio:
— The number of confirmed COVID-19 cases statewide now stands at 46, up 14 from Thursday. Of the new cases, nine are in Chicago, four in Cook County and one in Lake County, affecting residents who range in age from 20s to 90s. No Illinoisan has died, and there have been no confirmed cases outside Chicagoland.
— Starting today, all masses at churches in the Catholic Diocese of Peoria are suspended, said Bishop Daniel Jenky, who added that funeral masses already scheduled can continue and baptisms should be limited to parents and godparents.
'These are perilous days, but certainly not unprecedented in human history,' said Jenky, whose diocese includes Champaign, Piatt, Vermilion, DeWitt and McLean counties. 'I urge you to be patient and faith-filled.'
— Canceled on the UI campus: All events at the Japan House, the April 5 Illini Veterans Memorial 5K Walk & Run and all performances for the remainder of the season, and tours through the end of the semester, at Krannert Center.
— It will be a slow arts scene locally for a while. Also called off Friday: April's Boneyard Arts Festival (to be rescheduled); all events at the Virginia Theatre until May 10 (including shows by Renee Elise Goldsberry of 'Hamilton' fame and Gordon Lightfoot); and three of State Farm Center's most anticipated dates (Justin Moore and Tracy Lawrence on March 28, 'The Color Purple' on April 9 and Nickelodeon's JoJo Siwa D.R.E.A.M. The Tour on April 19).
— Still a go: the Champaign County Republicans' 2020 Lincoln Day Dinner, set for Sunday at the Round Barn Banquet Center, where tables of six (instead of the usual eight) will be set up. In a letter, organizers wrote: 'Our anticipated attendance at this event is 150 people. This is well under the 250-person public event guideline announced by Governor (J.B.) Pritzker Thursday. In addition, our venue is spacious and there should be ample room to allow all attendees to use good social distancing practices.'
— Also still on, at least for now: Urbana's Market in the Square at Lincoln Square, today and on the five Saturdays that follow. Organizers said extra hand sanitizer, tissues and other supplies will be available for staff and participants.
— Both the Champaign and Urbana public libraries remain open but events and room bookings are suspended. Others canceling events and programs: the Champaign County Forest Preserve (through April 12), Parkland's Staerkel Planetarium (through April 5), UI Extension (including today's Danville Garden Day), and the Champaign and Urbana park districts (both through April 12).
— Until further notice, visitors are banned from Illinois prisons but phone calls and video visits will be expanded, the state Department of Corrections announced. Later Friday, the Illinois Gaming Board ordered all 10 casinos to suspend operations for 14 days starting Monday.