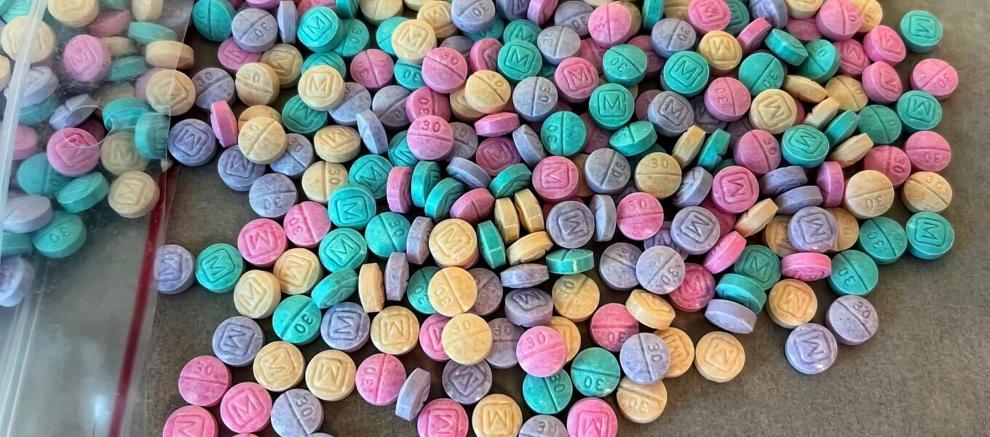 CHAMPAIGN — It's tasteless, odorless, and — when it's not being produced in rainbow colors to resemble candy — typically colorless. And it can kill the first time it enters the body.
Take it from Melissa Pappas, executive director of Rosecrance Central Illinois: Many people coming to her agency's substance-abuse treatment programs say they ended up in a hospital without even knowing they had the synthetic opioid drug fentanyl in their bodies.
And, Pappas said, "there are so many people we haven't had the pleasure of meeting and treating, because they have died."
In Champaign County alone, 22 of the 30 people who died of drug overdoses in the first six months of this year had either knowingly or unknowingly taken fentanyl, according to county Coroner Duane Northrup.
For the same six-month period last year, fentanyl was a factor in 14 of the county's 28 overdose deaths, Northrup said.
Often laced into other street drugs and into counterfeit pain pills in tiny and potentially lethal doses to increase potency, fentanyl has continued to be a growing factor in overdose deaths — so much so that Northrup said it's become rare in Champaign County that toxicology results for drug-overdose deaths don't include the presence of fentanyl.
For all of 2021, fentanyl was a factor in 41 of 69 drug overdose deaths in Champaign County, he said.
Toxicology reports that weren't available until this year confirmed that three men between ages 27 and 30 who were found dead in a Champaign home on Christmas morning 2021 had consumed fentanyl, cocaine and alcohol.
Northrup said it wasn't clear whether the fentanyl was laced into the cocaine, but the levels of both fentanyl and cocaine found in the men were high enough that either could have caused the deaths.
Some other factors to be aware of:
— Illinois is among 21 states where the new colored or "rainbow" fentanyl, in powdered or chalk-like form or in pills resembling the candy SweeTarts, has been seized, said Luis Agostini, spokesman at the U.S. Drug Enforcement Administration's Chicago Field Division.
The Illinois Department of Public Health recently warned accidental ingestion of rainbow fentanyl is a significant concern for children, due to its candy-like appearance and because the lethal fentanyl dose for a child is lower than that for an adult.
— The DEA and partner law-enforcement agencies seized 441,464 fentanyl pills, 15.8 pounds of fentanyl powder and 94 pounds of methamphetamine in Illinois, Indiana and Wisconsin between May 23 and Sept. 8.
— Nationally during that same time period, the amount of fentanyl taken off the streets by law enforcement is equivalent to more than 36 million lethal doses, the DEA said. Two Mexican cartels are responsible for most of the fentanyl coming into the U.S., the agency says.
Pappas said fentanyl addiction is treated like any other opioid drug addiction — though research shows that the highest rates of relapse are in people addicted to opioids, alcohol and benzodiazepines, such as Valium and Xanax.
The average length of stay in Rosecrance's inpatient addiction treatment program in Champaign is 24 days, with the focus on building a healthy support system, developing skills to identify triggers for drug abuse and connections to medical and psychiatric help as needed, she said.
With so much potential for a deadly dose of fentanyl to be taken unknowingly in another street drug, Pappas said the most important way for parents to protect their children is to talk to them.
"Talk to your kids. Open the dialogue in a compassionate, empathetic and nonjudgmental way," she urged. "This is a terrifying time for parents right now, and I know as a parent myself, it can be scary."
Specifically, Pappas advises parents to ask kids and teens questions about what they're hearing in school, be open about any of their own experiences with drugs and alcohol and invite kids to ask questions.
She also advises parents to be on the lookout for significant behavioral changes they see in their kids, such as a change in appetite and mood, spending more time in their rooms and sleeping more.
Hormones, or just a phase? Possibly, Pappas said, but "I think it's worth having the conversation."
Parents should also be aware of who their kids are spending time with and what they're seeing and posting on social media, she said.
According to the DEA, drug traffickers use social-media apps, including Snapchat, Facebook, Facebook Messenger, Instagram, TikTok and YouTube.
The sooner parents intervene and get their kids to treatment, the higher the chance they will succeed in recovery, Pappas said.
"As a parent, it can be incredibly scary, but we also have to prepare for this and not hope that it just goes away," she said.