Tom Kacich | A century later, same rules apply to stop spread of disease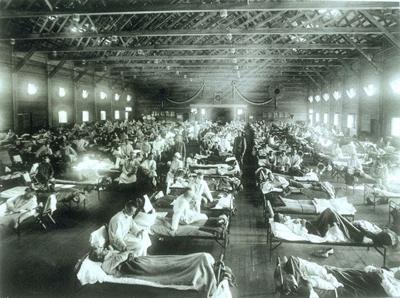 This isn't the first time that a global pandemic affected life in central Illinois, bringing quarantines, school closures, canceled sporting events, suspended church services and crowded health care facilities.
And the government's advice to citizens today is remarkably similar to what it was in 1918 and 1919, when the Spanish flu pandemic hit home.
"People should protect against droplet infection," was one piece of advice from the U.S. surgeon general at the time.
"Coughs and Sneezes Spread Diseases," was the government's motto.
"It is very important that every person who becomes sick with influenza should go home at once and go to bed. This will help keep away dangerous complications and will, at the same time, keep the patient from scattering the disease far and wide," said the guidance from Uncle Sam.
Local officials wisely recognized the need to discourage large gatherings and to isolate people, and to keep track of influenza victims.
"The State Board of Health rules require that every case of influenza must be reported immediately to the Health Department at the (Champaign) City Building, Bell phone number 4 by the physician or the patient," said a notice in the Champaign Daily News. "Sufferers from influenza shall be isolated until the attending physician pronounces him no longer afflicted. Both patient and nurse must wear a face mask of gauze.
"Other occupants of the premises must not attend public gatherings."
City rivalries
One Urbana family was placed under quarantine in mid-October and not released until Jan. 20, 1919.
The recently opened Chanute Field in Rantoul, full of young men training to fight in Europe, was placed under quarantine in September. It was lifted after a few weeks, then reinstated when the disease reappeared. After a second quarantine, no civilians were permitted on the base.
All movie theaters in Champaign were closed on Oct. 10 and remained that way for three weeks. Churches were limited to one service per Sunday, with no Sunday School or other classes. Large public funerals were banned.
Soda fountains could remain open so long as they served drinks in paper cups. Pool and billiard halls could stay open but only to sell cigars and tobacco. Dances were prohibited as well as public meetings.
The uncompromising enforcement of local quarantines did not go over well with the Urbana Daily Courier which noted on Nov. 6 that the state director of health had lifted restrictions in Champaign but not Urbana.
"Under this Solomonic decree the people of Urbana are privileged to go over to Champaign and crowd the theaters there, sitting indiscriminately alongside the purified Champaignites, but the disease-laden Urbanaites must not assemble in their own community, either to see a moving picture, attend a lecture, conduct a social gathering or do anything else that two or three gathered together in the name of law and religion are supposed to be able to do in a free and unmolested wilderness."
A day later the Urbana quarantine was lifted.
"Free at last! No more Sleepy Hollow stuff! Hoo-ray" the Courier jeered.
That same state director of public health decreed that college football games, including an Iowa-Illinois game at Illinois Field, be called off. An earlier game was played before a handful of fans — much like this year's Big Ten basketball tournament was supposed to be at one time.
On Oct. 14, Urbana schools were ordered closed, as well as the Urbana Free library. A day later, Champaign schools were closed. Both school districts reopened in early November.
Taking a toll
At one point more than 300 University of Illinois students were hospitalized. Dean of Men Thomas Arkle Clark estimated that there were another 300 "for whom it is neither wise nor desirable to attend classes." Eventually the deaths of 19 UI students were attributed to influenza. Sadly, the UI never closed nor cancelled classes.
In perhaps the most extreme example of fighting the flu, Champaign firemen "literally scrubbed the pavements in the business district of the city, removing all the germ-carrying dust that might convey infection to pedestrians," the Champaign Daily News reported. "Drastic action is also contemplated against all persons guilty of spitting upon the walks and in public places or in a manner so careless as to endanger the health of others."
The Spanish flu pandemic of 1918 and 1919 proved to be much more lethal than the COVID-19 has been so far. It killed about 50 million people worldwide, some 500,000 in the United States and at least 32,000 in Illinois. In Champaign Township, there were more deaths (310) than births (301) in 1918.
Tom Kacich is a columnist and the author of Tom's Mailbag at The News-Gazette. His column appears Sundays. His email is tkacich@news-gazette.com, and you can follow him on Twitter (@tkacich).