Between 2000 and 2018, 383,947 people who served in the U.S. military were diagnosed with traumatic brain injury, according to the Department of Defense. Ahead of a Friday forum on the topic at Carle — 'Making the Invisible Visible' — our PAUL WOOD spoke to the veterans affected, the caregivers who stand by their side and the UI researchers trying to learn more about a crippling injury that often goes unrecognized.
---
'This was not going to stop me'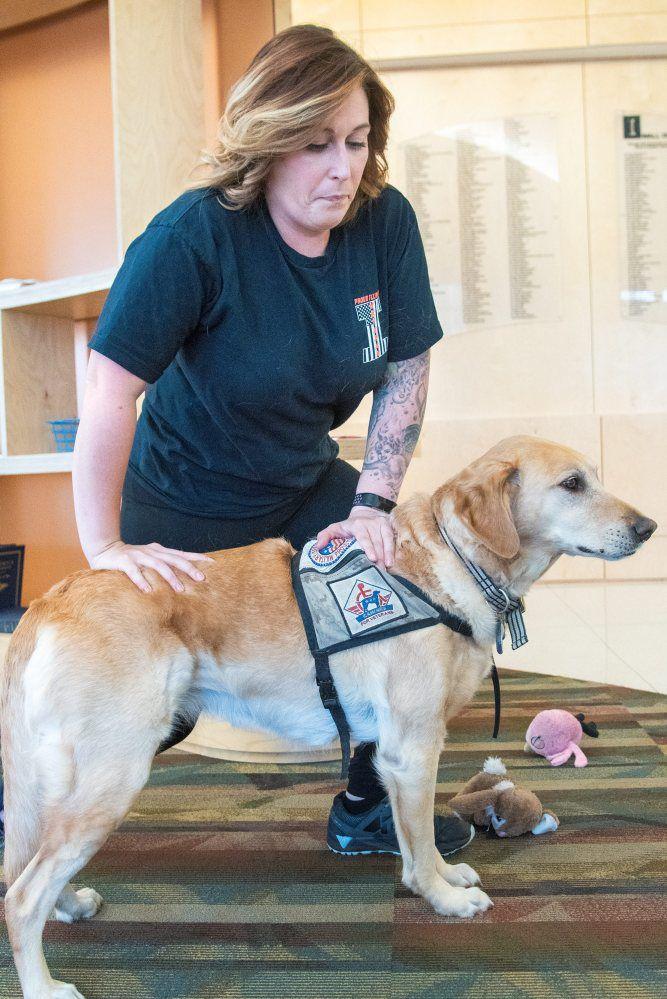 URBANA — Jeannette Tarqueno and Gaza are enjoying a moment of peace at the Chez Center for Veterans on the University of Illinois campus.
Gaza is her service dog.
"She has the run of the place," said Tarqueno, 35.
Among other things, Gaza helps with Tarqueno's balance, and with her peace of mind, including quiet time at Chez. After a traumatic brain injury, the chief gunner's mate can be overwhelmed by bright lights and loud noises, to the point where she wears sunglasses and earplugs at times.
Her injury is like a stroke, with aphasia, which is difficulty understanding or expressing speech. Eye muscle strain can make it difficult to focus. Driving is difficult at night or in bright lights.
But Tarqueno says that after eight years, she has recovered to the point where she can handle kinesiology classes at the University of Illinois.
The junior hopes to get an advanced degree to work in the adaptive sports industry. She has always been an athlete and competed in swimming and shooting in the 2012, 2013 and 2015 Warrior Games.
She wants to help wounded and ill service members, as well as work with people with disabilities.
Tarqueno grew up in the Chicago area, and enlisted in the Navy in 2002.
On Dec. 4, 2011, on board a ship deployed to the Persian Gulf, she was struck in the head with a 30-pound bracket from one deck above her.
"I suffered a traumatic brain injury and was losing blood to the left side of my brain," she said.
"I had to relearn to walk, talk and many other 'normal' activities that we take for granted. I was so positive that I was going to get better, and that this was not going to stop me. However, after five years of continued therapy and trying to adjust to my new life, I was medically retired in 2017."
Fifteen years in the service makes her a more mature student than most, and she jokes that she has her "senior moments," having the same trouble recalling words that her parents sometimes do.
Having family not far away has helped in a slow recovery.
"It has taken a long time, but I have learned to adjust, and now know what accommodations I need to ask for in order to be successful," she said.
And then Gaza, of course.
But the TBI still affects her.
"I have some cognitive impairments, balance problems, trauma-induced fibromyalgia, PTSD and a few other medical issues that I deal with, but I have come a long way since 2011," she said.
---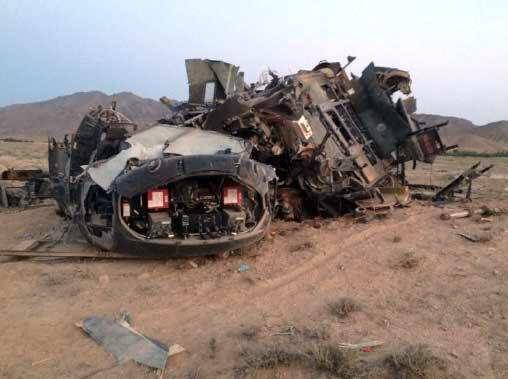 A veteran
'My social worker is helping out his patients a lot'
Nick Sullivan has faced different challenges than most University of Illinois students.
The former Army lieutenant was assigned to a dangerous post — Forward Operating Base Apache in Kandahar province, Afghanistan — in 2014.
It was during that service that his helicopter crashed on the Pakistan-Afghan border during a sandstorm, leaving him severely injured.
"I had a stroke and a traumatic brain injury, and because of that, the difficult things are aphasia (problems with processing speech) and my right hand," he said.
He also lost teeth and suffered a broken neck, a shattered jaw and a ruptured carotid artery.
But Sullivan has recovered greatly since the accident. There's a lot he can do now that was problematic before, he said.
"I just bought a house," Sullivan said. "Due to my only using one hand, my sister was helping out for a few months. She was doing construction in Colorado before that."
With his computer, "I can pay my checking account, mortgage, car bill and all the utilities and everything," he added.
A recurring problem is checking mail.
"Usually, I take a picture and then text it to my dad, mom and sister or a few friends, and then the people can tell me what the letter is about," Sullivan said.
Before his military service, he was in Army ROTC at the UI. He enjoyed taking part in the push-up brigade — where students in camouflage pants and T-shirts line up to do push-ups every time the Illini score in football.
The first time The News-Gazette interviewed him, in October 2014, Sullivan flipped a coin to start an Illini football game.
He had earned it. The helicopter crash had happened just five months prior.
Now, five years later, he'd like to see further improvement.
Going to speech therapy, especially at Walter Reed National Military Medical Center, proved helpful in the past, he said.
"When I was in Walter Reed, I was going to speech therapy four days out of the week," he said. "One other thing is that at Walter Reed or any military hospital, there's a lot of funding and research. Especially with occupational therapy and physical therapy."
After he was retired from the military in 2016, Sullivan returned to the UI for graduate studies and further speech therapy.
In Illinois, he has been going to Jesse Brown Veteran Affairs Medical Center in Chicago.
"I really like my doctor and my social worker. My doctor also suffered a stroke a few years ago, so we were relatable. My social worker is helping out his patients a lot," he said.
His grandmother was his caregiver while he was at Walter Reed, because he was having seizures.
More recently, her main role has been to take him out for dinner.
"It was actually pretty scary riding with her. I think the two terrifying moments in my entire life are the helicopter crash and her driving," he joked.
---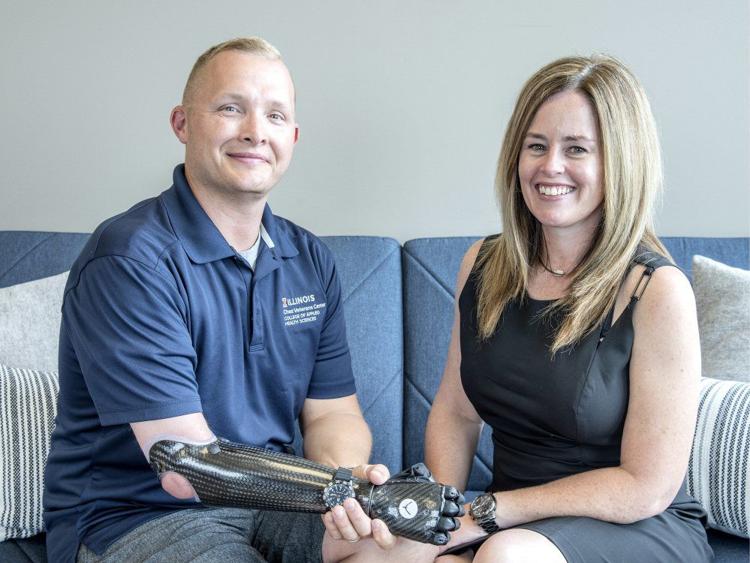 A caregiver
'People just don't understand the breadth of the impact of these TBIs'
Sometimes you have to push.
And push.
For Sgt. Garrett Anderson, it doesn't hurt that his wife is an attorney.
They married the summer before Centennial High graduate Sami Anderson went to law school in Michigan. Sgt. Anderson was in the National Guard.
In December 2004, Sgt. Anderson's unit was called up to serve in Iraq. The first five months of 2005 were at Fort Stewart in Georgia, and the next five in Baghdad.
An improvised explosive device ended his tour and left him with multiple traumatic injuries.
The explosion took much of the sergeant's arm, broke his jaw in seven places and caused a traumatic brain injury.
Sami Anderson joined him at Walter Reed, watching over him for months. She managed to attend a different law school while in Washington.
The sergeant's initial VA rating was 70 percent, despite multiple significant injuries, including the amputation of his dominant hand.
But the VA did not diagnose his traumatic brain injury and also ruled that his shrapnel wounds "were not combat-related."
Still, he had sensitivity to light, migraine headaches and other symptoms of TBI.
Finally, a private physician diagnosed his condition correctly.
In 2007, CNN medical correspondent Sanjay Gupta traveled to Illinois to interview two military veterans, Tyler Ziegel and Anderson, who had to fight hard with the Department of Veterans Affairs to get benefits for their severe war injuries.
Anderson shared with Gupta a document from piles of VA correspondence.
A VA official states in the letter that Anderson's shrapnel wounds are not related to his Army service. The administrator who signed that ruling cut his or her signature off the note.
"Sanjay Gupta saw the shrapnel in my head," Anderson said.
"We had to wage war with the VA," said his lawyer and advocate, who also happens to be his wife. They have two daughters.
Gupta's documentary helped. Since then, TBI became better known as "the signature wound of the conflict," Sami Anderson said.
Their oldest daughter affectionately refers to her dad as Dory, the fish from "Finding Nemo" who has memory issues. People can see a physical injury.
People can right away recognize the limitations of having only one arm.
But "traumatic brain injuries are hidden and not well-understood," Sami Anderson said.
A brain injury impacts every aspect of his daily living. Besides memory issues, his ability to organize things and information is diminished.
Although the severity differs, Anderson has a migraine every day, and because medications cause various side affects that make the symptoms of his TBI worse, he lives with the pain.
His wife said the brain injury is the most heartbreaking of his injuries.
"People just don't understand the breadth of the impact of these TBIs," she said.
Earlier this year, Garrett's heart stopped three different times. No cause was ever identified, but in the back of their minds, the Andersons wonder if it is somehow related to combat or his injuries. They have been told that the brain injury could get worse, or even cause other neurological diseases and conditions.
Now 42, the Bellflower sergeant has worked in politics and at Urbana's Chez Center for Veterans.
He has obtained a master's degree in rehabilitative counseling so that he can help other veterans.
---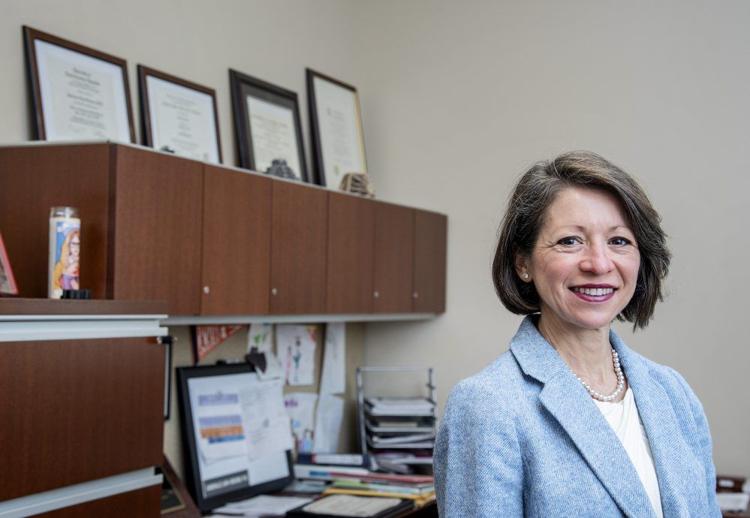 A professor
'We want to reduce their risk of developing long-term conditions in caregivers.'
For Sandraluz Lara-Cinisomo, "they all serve" has a special meaning.
When veterans have physical or psychological issues, it's often the families — usually the spouses — who have to work hard to support them.
"They have to make a lot of sacrifices and a lot of adjustments to make sure that their family member can deal with pressures," she said. "Caregivers need resources, because they've been serving a long time, and so it's time for us to serve them."
Lara-Cinisomo is an assistant professor in the University of Illinois' College of Applied Health Sciences who has researched several mental health issues.
She isn't a specialist in traumatic brain injuries, though she had four such veterans in her recent study. The Harvard and Columbia University alumna has also published papers on perinatal depression and the incidence — 1 in 5 — of mental illness issues in women.
She looked at informal caregivers.
"They're not paid to support the veteran, but are often related to the veteran, usually married. We recruited caregivers here in Champaign and in Danville. We randomly assigned them to participate in a mindfulness group that met for eight weeks, once a week for two hours," she said.
In her research published in Mindfulness, an academic journal on psychology, she used a randomized trial to test one type of intervention's efficacy at improving perceived stress, depressive symptoms, anxiety and worry, compared to "wait list" subjects who did not initially receive the experimental treatments.
"Mindfulness is a practice that requires a lot of introspection, and paying attention to your thoughts," she said. "You are trained to focus more on how you're feeling and reacting in that moment, and there is some meditation. That allows you to calm your reactivity to some things. It teaches you to be less judgmental of your own thoughts and feelings, trains you to be more observant of your environment, more present, taking less of an auto-response or robot approach to life."
In a sample of 23 caregivers of veterans, about half of them were assigned to the mindfulness group.
The work took place at Danville Area Community College and on the UI campus.
Subjects completed assessments before the intervention and after. Those in the mindfulness group kept home practice logs (specific home activities they were assigned for that week).
The other group was also assessed.
"What we found was that those who participated in the mindfulness group reported significantly less worry, less anxiety and less stress compared to those in the wait list," she said.
Numbers of military personnel serving have gone down drastically since the Vietnam era.
"One interesting thing about our sample is that they are older than the post-9/11 caregivers," she said.
"We had caregivers whose veterans were in the Vietnam and Korean wars. The average age of the veteran was about 70 and the average age of the caregiver was about 58. It was a predominately female and white sample," she said.
Therefore, "we can't generalize to all caregivers, but it helps point us in the right direction."
The researcher is hopeful after her initial work.
"A caregiver shared that even her veteran, who is her spouse, noticed the difference in her, and commented how she is less reactive to stress. She became more calm and he did, too," Lara-Cinisomo said.
"We know that high stress is associated with chronic health conditions, both psychological and physical.
"We want to reduce their risk of developing long-term conditions in caregivers."
---
The researchers
'Unfortunately, it is not a very specific injury. It's different for every person.'
The University of Illinois' Chez Center for Veterans has dropped "wounded" from its formal title, but continues to help those veterans, with a special program for those with traumatic brain injuries.
"Making the Invisible Visible: A Dialogue on Veteran Traumatic Brain Injury" will be from 8 a.m. to 3:30 p.m. Friday at Carle Foundation Hospital's Pollard Auditorium.
It will feature 14 speakers, each of whom has a different type expertise.
Jeni Hunniecutt, a veteran herself, is a visiting research specialist at the Chez Center.
She said "TBI is the signature wound for the post-9/11 generation."
Another organizer, Aaron Anderson, a postdoctoral fellow at the Beckman Institute and Carle, is working with an epilepsy specialist, Carle's Dr. Graham Huesmann.
"We saw that post-traumatic epilepsy, epilepsy from a TBI, has stayed constant from World War I at about 30 percent. So although it's a signature wound for post-9/11, it has happened throughout history," he said.
After an initial session, following a dinner seeking out volunteer caregivers, Hunniecutt and Anderson hope they'll have success with Chez's Veteran Engagement Team.
"We're looking for about eight veterans with TBI, and then about the same number of caregivers — whom we see as the major way the veterans get care and help them understand their problems," Hunniecutt said.
"Caregivers are also liaisons to help the veterans navigate the health care system after their injury," she added. "A younger person might have parents who help if they don't have a spouse, or somebody else who cares for them to help them through their injury care."
A community advisory group will coordinate veterans brain injury research on campus.
So it's very similar to the model of the cancer advocacy program on campus, Hunniecutt said. The idea is to have people who have this experience be TBI caregivers who can help guide researchers with their day-to-day experiences.
At this stage, team members have collected data and are sorting through it.
Anderson said that beyond the caregiver stage, researchers are working on potential therapies based on brain imaging.
"We have a special technique that we think will also improve detection of TBI, but we're early on in that research. Our MRI is imaging tissue stiffness," a measure of damage.
The team has access to the newest technology — a Magnetom 7 Tesla magnetic resonance imaging scanner. The UI is one of only six facilities nationwide to offer patients access to the highest magnetic field imaging strength commercially available.
Though invisible in many ways, "there's always a physical component to this type of injury, and to the mechanical damage," Anderson said.
TBI symptoms include motor dysfunctions, eye dysfunction and mood changes. The veterans may be more tired and depressed, have low energy levels and become more irritable, she said.
"Unfortunately, it is not a very specific injury. It's different for every person. That's the big challenge for researchers," Anderson said.
"Some of them are self-medicating," Hunniecutt said. "That's true for anybody who's stressed. The goal is for this work to go on indefinitely."