Top of the Morning, Dec. 29, 2019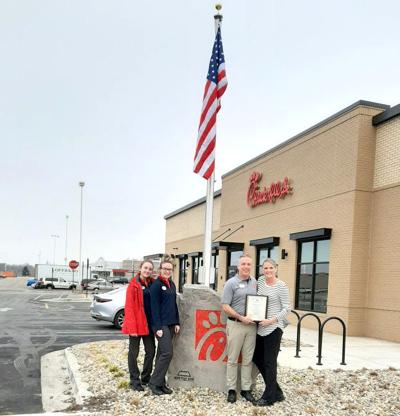 As owner Bob Williamson prepared to open the doors to Champaign's Chick-fil-A in October, he was given an American flag to fly in front of his store.
Only problem? "I thought to myself," the 24-year veteran of the U.S. Navy said, "'This isn't big enough.'"
Thanks to a sibling in the U.S. Air Force, Williamson went bigger — and better. The easy-to-spot flag waving along North Prospect has a history in that it was part of U.S. missions in and over Iraq.
"The flag is something that is super important to me," Williamson said. "It hits straight to the heart."
Chick-fil-A is January's recipient of Champaign American Legion Post 24's Certificate of Appreciation. Post 24's Chuck Zelinsky on Friday hand-delivered the plaque to recognize the restaurant's proper display of the American flag.
It's a family operation in which Bob, his wife Valerie and daughters Lexi and Mady play vital roles.
The family's military background also helps when it comes to Old Glory. Bob (six tours in Iraq) has battle-tested flags from overseas ready to raise once the current one becomes worn.
"Flags," he said, "are one thing I'm not short on."
Know of a business to nominate? Reach out to Chuck Zelinsky by email at mrchuckz@comcast.net.