Top of the Morning, June 2, 2021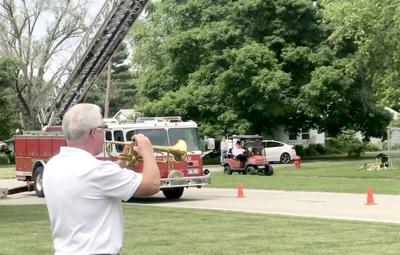 Jeff Brown jokingly blames a neighbor for the impressive crowd that gathered as he played taps at his home Monday in Sidell.
"She caught wind of what I was doing," the 61-year-old bugler said. "She announced it at church, at the grocery store, at the restaurant …"
News spread fast in the tiny Vermilion County village. By the time Brown stepped outside to take part in "Taps Across America," Sidell Fire and Rescue personnel had joined the ceremony with a rig that included an American flag hanging from its extended ladder.
"The fire truck was quite a surprise and nice to see," Brown said. "I was told: 'Do us good, Jeff.'"
The reception — honking and clapping — signaled that he did just that, the group wrapping things up by singing "God Bless America."
A son of a band director, Brown always has been big into music. Part of Bugles Across America, he has been called upon to play taps at a number of occasions. Leading up to Monday's solo performance, he teamed with Pat Rhode to perform at Memorial Day services in Sidell and Hume.
In 2020, he played taps at home because so many ceremonies were canceled due to the pandemic.
"There were only a few people there, nothing like yesterday," he said. "I'm hoping we can build it up even more next year. I just love playing it. It's an honor every time I do."