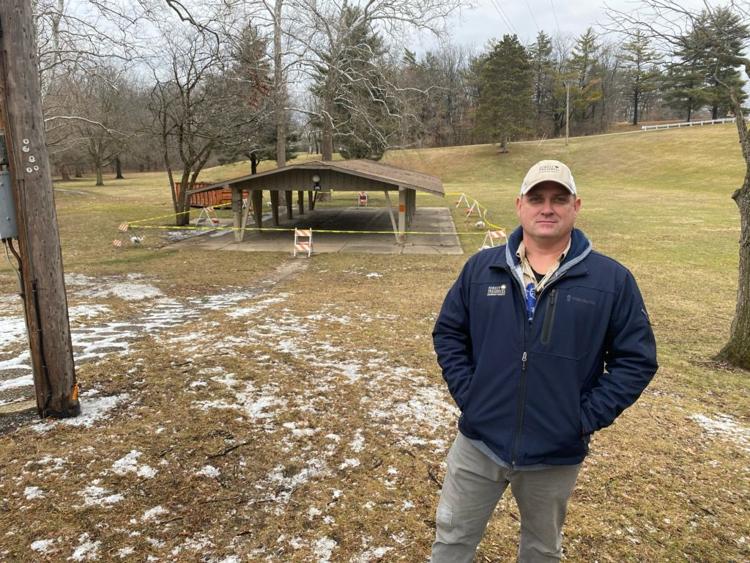 MAHOMET — More than 60 years after its construction, a popular pavilion at Lake of the Woods Forest Preserve is set to be removed.
The Swiss Valley shelter will be demolished due to age and other issues.
Mike Fry, construction manager for the Champaign County Forest Preserve District, said problems with standing water, location of bathroom facilities and accessibility are issues at the shelter, built in 1958.
"It's always been a popular pavilion," Fry said. "Previously, there was like almost a botanical-garden-type situation there. When it was originally built, there were some different architectural features. It was named Swiss Valley because of the design."
The shelter is near the Sangamon Valley River. During rainy seasons, when the river level is high, there can be several inches of water around the shelter.
Fry said silt deposits at the site have also been a problem.
All of that has contributed to the degradation of the structure.
The forest preserve district has made repairs to the shelter over the years to ensure safety. But each year, the scope of repairs has increased.
Fry said while the district has had some large groups rent the structure, the closest restrooms are about 200 yards away, and they are not equipped with running water. Parking is also quite a distance from the shelter.
"Nothing about that facility is ideal for accessibility," he said.
To offset loss of the shelter, the district is building another area — the peninsula area — on the west side of Lake of the Woods Road at Tin Cup Road. It will be equipped with two pavilions.
"There's also multiple picnic areas with concrete pads," Fry said. "Everything is fully accessible."
He said the new area is targeted for an early May completion. It is funded by 39 donations totaling close to $15,000, and a state Open Space Lands Acquisition and Development grant.
Fry said the plan is to take down the Swiss Valley structure next week.
"Everything is barricaded off," he said. "Our preparations are done. The big thing is we want the public to know so hopefully people will steer clear of the area. This time of year, technically, sledding is not allowed, but we know people do it around the area."