Tom Kacich | Playtime nearly over for iconic structure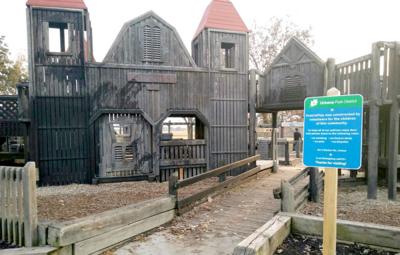 URBANA — Linda Tortorelli was there from the beginning when a group of parents with young children promoted the idea of designing and building a unique and imaginative play structure in Champaign-Urbana. The result was Prairie Play, a collection of wooden structures, stairs and towers with slides, ropes and swings. It's a place where kids have run, jumped and made believe for nearly 25 years, which is a lot longer than it was expected to last.
But the end of Prairie Play is approaching.
"When we built it, they told us it would only last 10 years or so. And what I really chuckle at is, at the time we were seeing if we could build it, we went to the Champaign Park District first; Hessel Park had some really old playground equipment," said Tortorelli, who was among the members of the informal group known as C-U Side-By-Side. "We thought that would be a great location but they had planned to revitalize that playground already and they weren't interested in this project. So we went to Urbana.
"Well, that refurbishment of Hessel was after ours and it's already gone. So I get a little chuckle out of all the naysayers at that time who thought it wouldn't last long."
Others were opposed to locating a playground in Meadowbrook Park, with claims that it was too close to Windsor Road or that it would scare off wildlife.
"There was so much opposition. It was crazy that people were opposed to a playground," she said with a laugh.
Although the playground has great sentimental value to Tortorelli — she has had photos taken with grandchildren at Prairie Play and said she still examines the collection of cement squares with handprints embedded in them — she recognizes that it's time to replace the play area.
"Time goes on and life changes and everything comes to an end at some point, right? I'm thrilled that it lasted this long," she said.
Tim Bartlett, the executive director of the Urbana Park District, said "we've certainly got our money's worth and our community's worth out of it."
'Not a lot of 25-year-old playgrounds out there'
Replacing Prairie Play is on the park district's five-year capital improvement cycle.
"We've replaced many, many boards on that structure, I'd say most of them. We do seal it every other year, which is what is recommended. That keeps it as weather-tight as possible but there is still rot that can occur," Bartlett said. "It also can happen to the poles and posts underground. We knew that going in."
Urbana has been in contact with other park districts that had had similar play structures.
"They warned us, 'You're going to hear from people. Some of them may be outraged,'" he recalled. "But what people don't realize is the amount of maintenance required after 20 years or so has gone by. There's not a lot of 25-year-old playgrounds out there."
Prairie Play is on schedule for replacement in 2021, he said.
"We want to create a window when we have funding and the time to focus. Right now, we are doing two or three other high-priority projects: Crystal Lake Park and our (proposed) health and wellness facility. My advice to the staff is that we have to carve out a big window here so we can think about this. I think everybody is committed to a super high-quality destination play experience. We're excited about what the future can hold."
It could be another wooden structure like the Robert Leathers-designed Prairie Play or it could be something entirely different, Bartlett said.
"We can go back and build another Leathers-type playground if that's what people want. But what we've learned about the existing Prairie Play is while it looks interesting and it has a huge presence and it has an iconic look, the play value is really diminished compared to what's out there today," he said. "Playground stuff like all equipment and everything in parks and recreation continues to advance. We know we can outdo that in terms of the number of different types of play.
"And when you look at accessibility — is it built for everybody to access? — it really isn't. Anybody with any sort of mobility or sensory or any kind of special needs, it's pretty minimal. We can improve that for all the populations who visit there."
'Kids have to have some sense of excitement'
Nancy Delcomyn, an Urbana parks commissioner, wants to see a replacement that is just as spectacular as Prairie Play was in 1995.
"It's such a beloved space that what we replace it with has to be something that's as interesting to people and as different as that was," she said.
She said she's intrigued by the designs of a Danish architectural firm called Monstrum that "makes huge wooden structures and tilted houses and falling-over ships."
"In some ways, I think we've really dumbed it down and that every playground is like every other playground; it's just a different color," she said. "Kids have to have some sense of excitement, some little sense of danger, some way to test themselves."
She wants community members to be involved in the planning of whatever replaces Prairie Play.
"I think that people are so invested in that and I think they're going to want something that makes their heart as happy as the original did. I think people will help us build something as cool as that," she said.
Bartlett wants community involvement, too, although it's not likely to match Prairie Play's development, which not only included fundraising and design but construction.
"We had 1,400 volunteers that I oversaw in a six-day period to build essentially the main structure that you see there today," said Bartlett, who then was the park district's planning and development director. "We spent a few weeks with our staff finishing it up and we made a few modifications over the years but it was a big community build event. We had a lot of fraternities, sororities, service clubs and big groups sign up and come out to help."
Linda Tortorelli was among those who helped build Prairie Play and she wants to be there when it's razed — for a very important reason.
"I think I'm the only one who knows where the time capsule is buried. I got to secretly bury that (with local builder Carl Hill)," she said. "He let me bury it. I need to let Tim (Bartlett) know where it is. He may not even remember that there is one."
Tom Kacich's column appears on Sundays. He can be reached at kacich@news-gazette.com.