Top of the Morning, March 31, 2021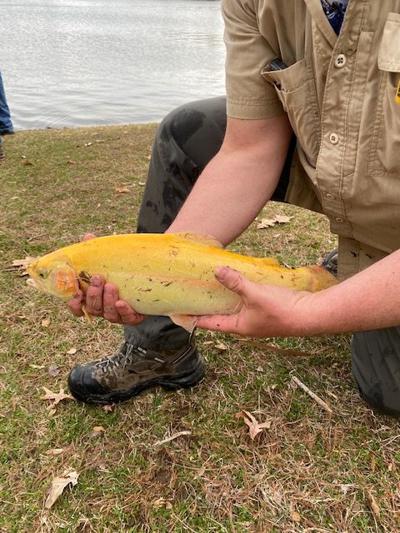 It's like Willy Wonka's golden ticket — but with gills.
When spring trout season opens statewide Saturday, those casting lines at Lake of the Woods will be hoping to land a "golden trout" that was part of last week's stocking process. Champaign County Forest Preserve District employee Lisa Sprinkle said there are about a dozen Palomino trout up for grabs.
Anglers who reel one in are asked to share a photo with Sprinkle at lsprinkle@ccfpd.org and will receive a gift package from the district.
Not that the early-arriving crew needs much convincing to give trout — not common in these parts — a try. Gates open at 5 a.m. at 57 spots in Illinois, including Champaign's Kaufman Lake, Kickapoo State Recreation Area's Clear Lake and Dewitt County's Weldon Springs State Park.
"Our water temperatures only make them available early in the year," CCFPD's Mike Fry said. "They are prized for their tasty flesh."
Any advice?
"The number-one way to catch a trout is to get a line in the water," Fry said. "They are aggressive feeders that will eat everything from crayfish to corn. You can't catch them from your living room, but you can catch them (here)."