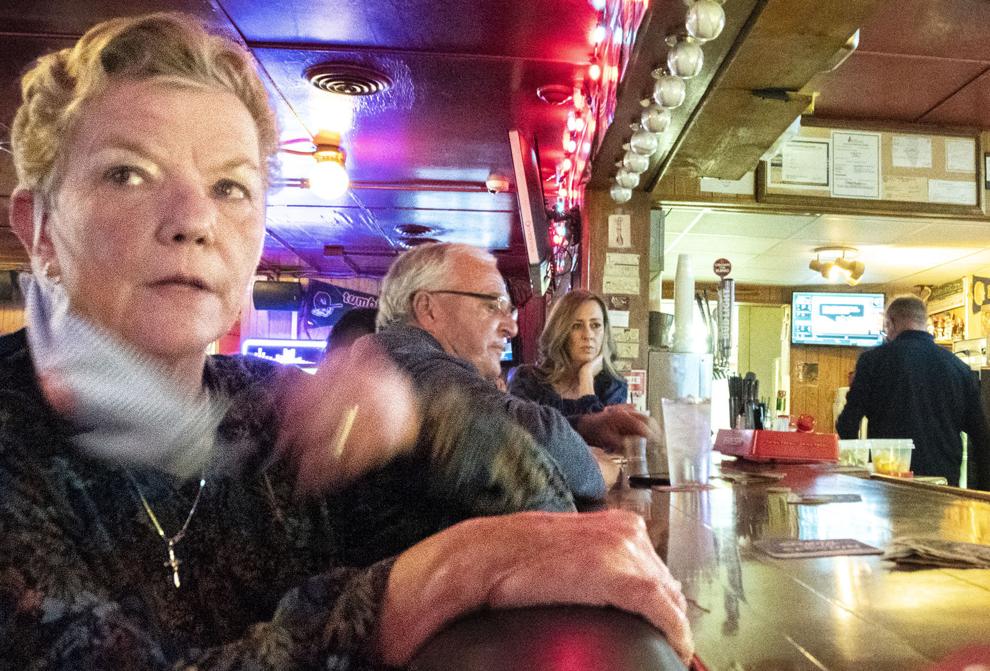 CHAMPAIGN — Al Mitchell was at Tumble Inn Tavern a couple of weeks ago when owner Toby Herges reached across the bar to grab his hand.
He thanked Mitchell "for giving me 20 more years" to live. He got to see his children grow up — 20 more years to be with his wife, Christine, and the rest of his family. And 20 more years to be at one of his favorite places on Earth, Tumble Inn.
Mr. Herges, who died Friday at age 54, knew he didn't have long before a brain tumor would take his life. It might have happened two decades before that if Mitchell hadn't suggested he try treatment at Mayo Clinic.
Mr. Herges celebrated life and was a big fan of people — and people seconded that emotion. They will celebrate his life from 1 to 4 this afternoon at the tavern that he ran for so long.
Night manager Tom Paul explained the situation.
"Toby's family and wife want to have it where Toby can 'buy' people drinks," he said. "They wanted to block off a period of time where they want to serve people what they normally drink and not take money."
Paul said he knows people won't take advantage of the situation because they love the family. They'll limit their number of drinks and won't order something expensive that they don't normally have.
Even people who don't frequent the bar are welcome, Paul said. That's the kind of guy Mr. Herges was.
"Christine said, 'I just want to do something Toby would do,'" Paul said. If Mr. Herges didn't know someone, "he'd still buy them a drink. If they do come by, by happenstance, Toby wouldn't begrudge that person coming in."
Paul and fellow Tumble Inn employee Carla Almli got emotional talking about their boss and friend. He was an easy guy to love.
"It was awesome" working with him, Almli said. "He was truly an inspiration, even though he's 13 years younger than me.
"He was always so positive about everything. I can't say enough good about Tobe."
Paul said Mr. Herges taught all of his bartenders that they were there to listen to their customers, not to spill out their own troubles.
"He was like, 'I'm going to get to know as much as I can about (customers). We're here to listen to their problems, not burden them with our problems,'" Paul said.
Mr. Herges practiced what he preached. People marveled at his attitude. If anyone had a right to complain, it was him. Diagnosed with a brain tumor, he was told it was inoperable and he had only a few months to live.
Mitchell, the certified public accountant for Mr. Herges and his parents, Anthony and Barbara, remembers sitting down with them and their attorney in 2000 after the diagnosis. They were trying to decide the future of the tavern.
"I asked him if he had gotten another opinion" on the tumor being inoperable, Mitchell said.
"Toby said, 'I don't think there's any reason to do that.'
"I said, 'It can't hurt to get another opinion. You could go to Mayo Clinic because that's where I had been for the pituitary tumor I had.'"
Mr. Herges took his advice and had successful neurosurgery. Mitchell said the doctor removed more brain matter than he had ever taken from anyone. But it didn't affect what kind of a guy he was.
Almli said Mr. Herges was diagnosed with the brain tumor shortly after she started at Tumble Inn.
"I can't think of anyone who would have a bad thing to say about Toby," she said. "Unless maybe he tossed them out of the bar.
"He's just always been so very kind to all of us. Not many harsh words would ever come out of his mouth."
Several years after the surgery, the tumor returned. This time it truly was inoperable, Mitchell said. But he was open to any experimental treatment Mayo wanted to try.
Paul said he used to tell people there is no way he could have gone through what Mr. Herges did and kept a positive attitude.
"When he couldn't walk, he said, 'I'll rehab it and learn how to walk,"' he said. "After the first surgery, he lost vision out of his left eye. He could still drive, but he would have to cock his head to an extent. He still played golf. He could barely walk and could barely hit the ball."
Paul said Mr. Herges attended church every day at St. Matthew Catholic Church in Champaign.
Despite all of his troubles, "He never blamed God, never said, 'Why me?'" Paul said. "He was thankful for the things he had."
Mr. Herges and his wife have four children — Macey Kate, Mallory, Tobin and Tate.
Visitation was Monday evening at Morgan Memorial Home, Savoy. A funeral Mass will be at 10 a.m. today at St. Matthew. Burial will follow in Mt. Hope Cemetery, Champaign.
Mr. Herges, like all of those in his family, was an avid St. Louis Cardinals baseball fan. He and his family loved playing the sport as well.
And when one member of the family was playing, they all showed up, sometimes in the uniform of the team their loved one was wearing.
Paul said Mr. Herges was enrolled at Delta State University and was a member of the university's baseball team when he got the call that he was needed to come home and begin running Tumble Inn, which was started in 1947 by his grandfather, Al, and later operated by his father.
"Toby loved the Tumble Inn," Paul said. "He had pride the Tumble Inn would be a success because his grandpa started it with his grandmother."
Paul said he always told his boss and friend that he was another George Bailey from "It's a Wonderful Life" and didn't realize how many people's lives he had touched.
That will become evident when friends and family celebrate his life for three hours this afternoon.