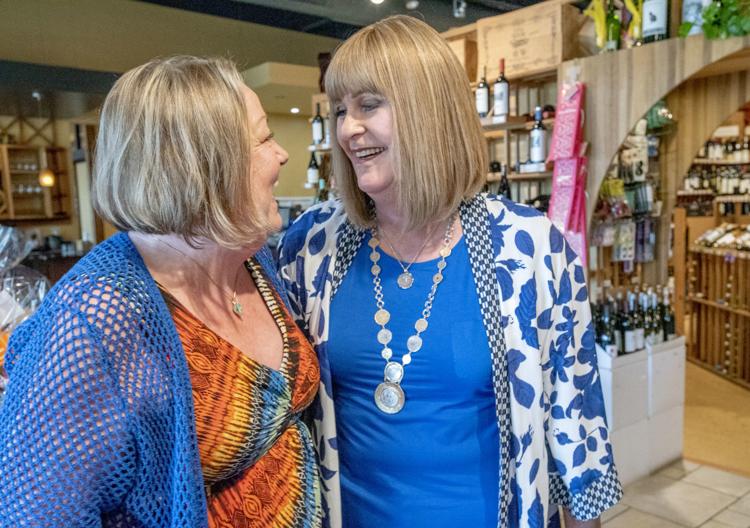 CHAMPAIGN — As far back as she can remember, Michelle Yarbrough knew she was a woman who'd been born with a male body.
As a child, she secretly dressed in her mom's clothes, but, afraid of embarrassing her parents, she tried to do as a school counselor told her: Grow up and be a man.
She went on trying to be a man most of her adult years.
But two near-death experiences in her 60s made her rethink what she wanted the rest of her life to be.
So early last year, the former Mark Yarbrough emerged publicly as Michelle Yarbrough.
Still the owner/president of a Champaign business, Sun Singer Wine & Spirits, and still married to Jackie, her wife of 46 years, she's happy to be truly herself at last.
"I'm just happy to be me," she said.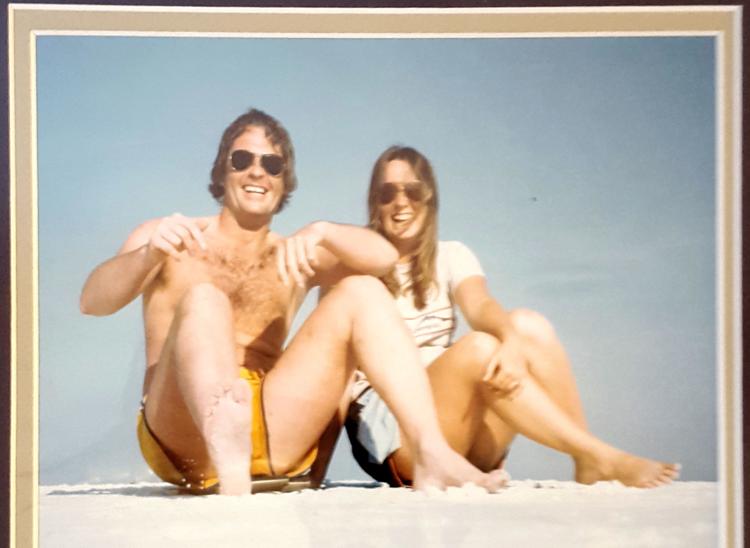 'I was macho man'
As Mark, Michelle Yarbrough grew up with two siblings, a son of the former University Asphalt owner Roger Yarbrough.
Before Mark and Jackie opened Sun Singer together 22 years ago — first in Monticello, then relocating it to Champaign — Mark spent 30 years working in the family asphalt business.
"As Mark, I was macho man," Michelle recalled.
Mark and Jackie met and began dating when they were at Centennial High School together and got married young — Jackie was just 20, Mark 21.
Following the advice of a counselor before the wedding, Mark leveled with Jackie about his issues with gender confusion.
Her reaction was they'd work through it and, "I still love you," Jackie recalled.
After the wedding, the Yarbroughs went on with their lives, a man-woman couple, and Mark went on hiding the woman inside, having learned well how to cover since childhood.
"I covered so well," Michelle recalled. "I had to cover. My dad was a big-time contractor."
The Yarbroughs' lives took a turn when Michelle, still Mark at the time, collapsed with heart failure at the couple's home in 2016.
A former veterinary technician at the University of Illinois, Jackie knew what to do and revived her spouse.
The following year, Mark fell from a 12-foot ladder cleaning out a gutter and broke four ribs in his back, and two weeks later had emergency surgery for bleeding in his lungs.
"At that point, I started reassessing my life," Michelle said.
She again sought help from a counselor, who diagnosed her and sent her to a doctor specializing in transgender care.
She remembers the relief she felt when she began taking hormones in the fall of 2017, even before she took the first pill.
"The world was off my shoulders," she said.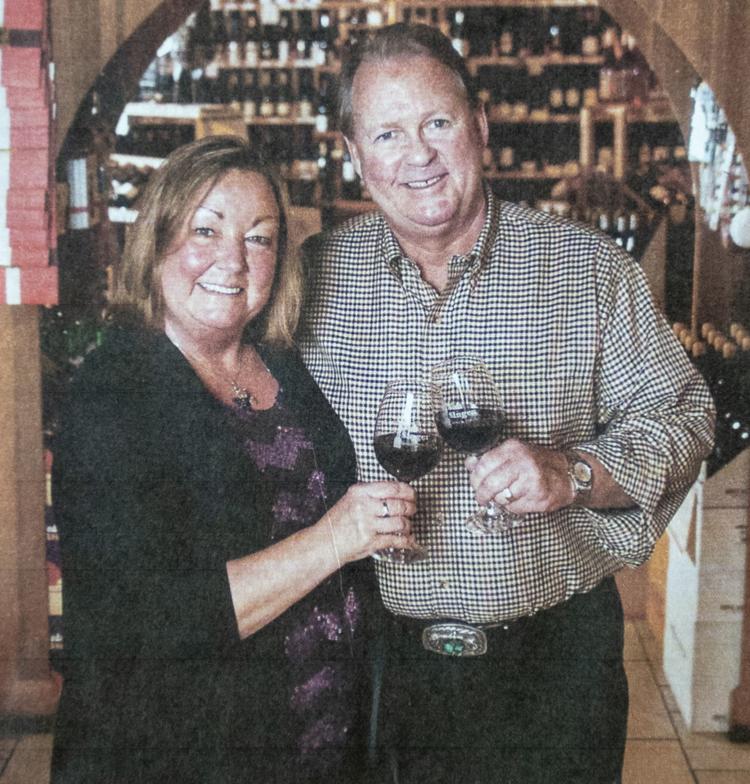 'We found a way'
Jackie recalled the Mark-to-Michelle transition period as a bit overwhelming and frightening for her and a rough time in their marriage. And, she admits, she was angry.
"What is going to happen to our marriage?" she recalled thinking. "What's going to happen to the business?"
She began undergoing counseling herself, she said.
Michelle said she moved out of their home in August 2018, but was in her own place for less than a day.
Jackie had an accident herself that evening, falling in the bathroom, hitting her head and bleeding profusely, and Michelle came back home.
It was still challenging, Jackie said, "but we found a way to continue."
"We decided, collectively, we were going to surmount this issue," Michelle said.
The couple reached an agreement. Mark would begin living as Michelle and they'd keep no secrets from each other.
And, Jackie said with a grin, she told her clothes-loving spouse, "if you buy something for yourself, you buy something for moi."
Michelle said she chose her new name based on the name she'd always had for herself, from the Beatles song "Michelle," and the couple threw a big coming-out party for Michelle in January 2019.
At 67, Michelle is now both different from the person she married and the same, Jackie Yarbrough said.
Different are the women's clothes, the wigs and the makeup that are now part of Michelle's appearance.
Hormone therapy has also given the former Mark more feminine curves, and voice training has softened what was once a deep, gruff voice.
Still the same in her longtime spouse, Jackie said, are the sense of humor and the loving kindness.
And Michelle's hobbies haven't changed, the couple said. She still enjoys golf, NASCAR and shopping.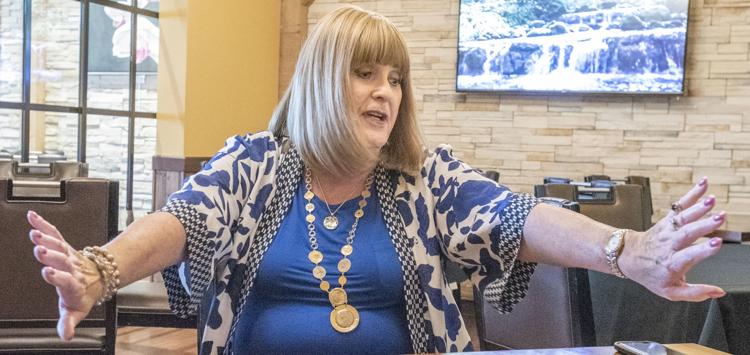 'Didn't happen overnight'
Jeff Cross of Urbana, Michelle's close friend since high school, said the two of them went boating and camping together when they were younger, worked in construction together, and once, for a summer after high school, shared a house together.
The transition to Michelle took him by surprise, he said, and it's taken him some time to adjust.
In fact, Cross said, he still often calls his friend Mark.
"It was hard for me to adjust," Cross said. "It didn't happen overnight."
Still, Cross said, "he's the same old guy he always was — I mean, person."
And, Cross said, his friend is happy.
"If he's happy, I don't care," he said.
Michelle's coming out wasn't a surprise to everyone.
She learned she'd already been in the rumor mill in the local community, and another friend told her he'd figured it out 25 years ago, she said.
Employees, customers, friends and both her and Jackie's families have all been caring and supportive, Michelle said.
Many friends have asked her to explain her transition, have accepted her as she is and have told her she's still the same person they've always known.
Has she gotten any negative reactions from anyone?
Nope, she said, joking, "because they remember who I was, and they know I'd punch them in the nose."
'Love can overcome anything'
In becoming free to live as her true self, Michelle said, she's discovered she has a voice to share her experience with others.
To those who might be secretly grappling with transgender issues, she advised, love yourself and accept yourself as you are.
People will accept you as you are, she said, "but you have to be truthful with yourself."
Jackie further advises finding a good counselor and know you don't have to go it alone.
"Don't feel like a lone ranger, because you're not a lone ranger," she said. "You just have to seek others."
Comfortable with herself as she is, Michelle said, she didn't undergo gender-reassignment surgery. That's partly also because of her age and the fact that she'd already undergone many surgeries for medical conditions.
For those who confuse being a transgender person with being gay, Michelle said, know it's not the same thing.
"I've never been attracted to men in my life," she said.
And to her wife, she adds, "I've only been attracted to you."
As she talks to and about her spouse, Jackie still slips up on pronouns at times, and refers to Michelle as "he."
Michelle said she understands Jackie is trying.
Jackie continues to be her "bestie" and the love of her life, Michelle said.
"Love can overcome anything," Jackie said. "That I know for sure."