Top of the Morning, July 31, 2020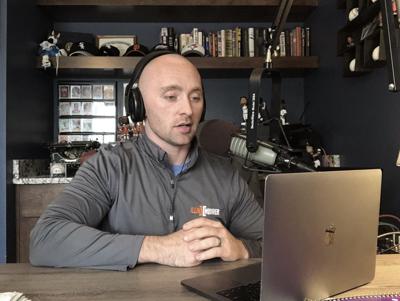 After almost a decade on the air, Jeremy Werner is signing off from Champaign-Urbana's ESPN radio (93.5-FM). His last show is scheduled for 9 to 11 a.m. today.
Jeremy and wife Tiffany have two young children, Torin, 4, and Lilly, 11/2. Besides his daily show, Werner also runs the 247 Sports' Illinois-centric website, IlliniInquirer.
"On top of everything I do for 247, it's two hours of doing radio, and then I invest hours into preparing for radio," Werner said. "Working 15-, 16-hour days is kind of a drag. It leads to lost sleep or divided time when you want to be focused on the family.
"It just got to the point where time was my most important currency right now. I just felt like it was a good time to step away from radio."
Werner, a University of Illinois grad and former News-Gazette recruiting contributor, will continue with 247 Sports.
Werner's first radio show was on Dec. 6, 2010. He met co-host Lon Tay that day, and they went on the air together.
For the first seven years, Werner broadcast the shows from C-U. He moved to Clifton in 2013 and made the drive to the station until 2017.
After Torin arrived, Werner talked to station owner Stevie Jay about broadcasting from home. Jay agreed to the arrangement, and "The Jeremy Werner Show" was born.
"I'll miss it," Werner said. "There's something about natural conversation when it comes to radio. You have two hours. You get to explore. You get to go different places with it."
Werner has been working with Austin Burklund the past three years.
"I can't thank people enough just for tuning in and supporting us, "Werner said. "People welcomed me with open arms. Hopefully, I helped their days, gave them some entertainment, gave them some information."
SATURDAY ON WDWS
Werner (10:15 a.m.) is part of a lineup devoted to remembering Lou Henson on "Saturday SportsTalk" on WDWS 1400-AM. Among those scheduled to chat with co-hosts Steve Kelly and Loren Tate:
Mary Henson (9 a.m.), Mark Coomes (9:15), Dan Dakich (9:30), Kendall Gill (9:45), Norm Stewart (10) and Rod Cardinal (10:30).