Top of the Morning, June 5, 2020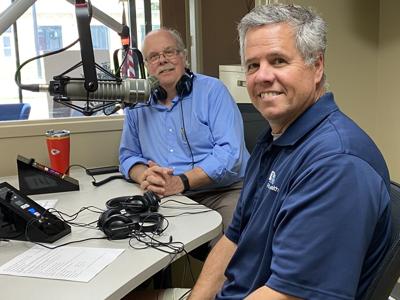 Paul Ruedi is branching out.
The longtime host of WDWS' "On the Money" debuts his new show, "52 Minutes," at 11 a.m. Saturday on WDWS. Each week, Ruedi will spend most of an hour chatting with one person from the community. The first guest is "Mike in the Morning" host and station general manager Mike Haile.
"I'm just naturally inquisitive about people's backgrounds," Ruedi said. "We all get to see where people are right now, but we really don't know much about how they got to be where they are. Not just career, but how they behave, how they act and their career. So often, I hear interview shows that are just focused on the here and the now. I'm trying to bridge that gap and look at their life journey from 'Where did you grow up? How did you grow up? Who influenced you?
"It's centered around a much deeper dive of what makes people tick."
Ruedi is putting together a list of potential subjects. In a community like Champaign-Urbana, he has plenty to consider.
"I'm going to try to do not just the obvious people in town," Ruedi said. "There are a lot of people who are doing some powerful things in the community that maybe most people don't know. I'm going to be rather eclectic."
El Toro owner Victor Fuentes will be an upcoming guest.
"The part I know of his story is really quite interesting," Ruedi said.
The name of show corresponds to the estimated length of each episode.
The CEO of Ruedi Wealth has been on the radio for 30 years on the second and fourth Tuesday of each month.
"I'll bet I haven't missed five shows in that 30 years," Ruedi said.In February, Ruedi was talking with Haile about starting an hourlong interview show.
"It was just randomly good timing," Ruedi said.Ruedi is fielding suggestions for possible guests.
"Usually, everyone runs to the obvious, the Shahid Khans or the Jim Liautauds. In this community, some of the more interesting people are in the background," he said.
Ruedi's show follows popular "Saturday SportsTalk" with Steve Kelly and Loren Tate.