Day 1 of recreational marijuana: 'You can tell this is what the citizens want'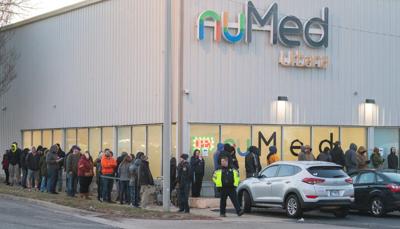 Weed questions? Tom's Mailbag is here to help
CHAMPAIGN — The lines outside in the cold were long, but hundreds of customers waiting at Champaign-Urbana dispensaries to be among the first in the state to buy legal weed were high on excitement.
"I have been looking forward to it for a long time," said 29-year-old Landon Stark of Urbana, one of the first in line at NuMed Urbana before the sun rose on New Year's Day.
Both NuMed Urbana and Sunnyside dispensary in Champaign opened at 6 a.m. Wednesday — the first day recreational pot sales became legal in Illinois — and customers were lined up outside many hours in advance.
NuMed's parking lot was full at 5:30 a.m., and outside Sunnyside, about 500 people stood in lines winding around two parking lots. As the first groups made their way inside, fellow customers cheered.
Sunnyside's owner, Cresco Labs, hired security to direct traffic and lined up extra parking lots to accommodate a crowd, but even before Sunnyside opened customers were resorting to parking in nearby restaurant lots on South Neil Street.
The first in line at Sunnyside, 28-year-old Nathan Guevara of Bloomington, earned his spot by arriving the evening before with a lawn chair, a blanket and snacks and waiting all night.
His mood as he stood at Sunnyside's counter for his order: "Very excited," he said.
Guevara said he made the trip to Sunnyside alone, but enjoyed the wait with fellow customers.
"We made a night of it," he said. "It was fun."
Sunnyside had employee "runners" outdoors helping customers fill out order sheets in line, and NuMed employees were giving customers arriving in the parking lot price lists and numbers to enter the sales area once it opened.
NuMed's Agent in Charge Luis Manuel Viveros-Balderas said he checked in the first customer waiting for the opening at 10:42 p.m. New Year's Eve.
Stark was 34th in line at NuMed and planned to take home some edibles, he said.
Local attorney and Champaign city council member Tom Bruno was one of the earliest customers at Sunnyside. He bought some gummies, he said, and was planning to enjoy some of them later while he watched football.
Bruno said Sunnyside's owner has been a good corporate citizen, and clearly legalizing recreational marijuana sales was a popular decision.
"You can tell this is what the citizens want," he said.
Nick Lemoine, national purchasing manager for Cresco Labs, said purchases of cannabis flower were limited to 7 grams per customer at Sunnyside on New Year's Day, and would continue to be limited for the first few weeks of January so everyone would have a chance to buy some. Other products were in good supply, and several hours after the opening inventory remained good, he said.
With sales of medical marijuana in Illinois continuing to grow last year, the cannabis flower shortage was expected to be a statewide issue as legalized recreational sales began. But suppliers were expanding, Lemoine said, and he expected limits to ease up later this month and into the first quarter of the year.
Lemoine said he was on hand for the start of recreational sales in Nevada and Colorado, and the crowd waiting outside Sunnyside Champaign exceeded the company's expectations.
"Everyone is in an ecstatic mood," he said.
Sunnyside had set up barricades expecting to find about 350 people in line, and found many more waiting, Lemoine said.
Guevara said his purchase of one gram of flower and 500 milligrams to vape set him back $95. His plans for New Year's Day were to go home and get some sleep, then maybe enjoy some of his Sunnyside purchase later, he said.
Fellow early morning customer Jonathan Perry, 28, of Homer, said he was a bit disappointed when he looked at the price list he was handed at NuMed, but he hopes to see prices go down as Illinois' new recreational marijuana business rolls along.
Marijuana helps him with depression, Perry said, but he hasn't gotten to smoke it much.
"I love marijuana," he said.
While marijuana sales are now legal, some of the first customers in Champaign definitely didn't want their names made public.
"I'm a teacher," one of them said as she stood waiting to make a purchase at Sunnyside.