CHAMPAIGN — U.S. Rep. Rodney Davis said Friday that he opposes a bill introduced the day before by Illinois Sen. Dick Durbin that would allow Amtrak to sue the freight railroads it blames for its delays.
Only the U.S. Justice Department can sue the freight railroads, which are required by law to give Amtrak the right of way; Amtrak's inspector general report said 60 percent of delays were due to freight interference.
"I think it's a premature step right now," Davis said. "At this point, I want to try and solve the problem without going to litigation. When litigation becomes involved, it will prolong the final solution."
Just 6 percent of northbound Illini and 17 percent of southbound Saluki Amtrak trains that run between Chicago and Carbondale arrived on time last fiscal year, according to Amtrak.
Davis, R-Taylorville, spoke Friday at the Illinois Terminal after a meeting with stakeholders to find solutions to improve the on-time performance of Chicago-Carbondale corridor.
"This is a problem that's begging for solutions," Davis said.
But it didn't sound like the meeting — which was closed to the press — led to any solutions.
Davis suggested that the well-respected Rail Transportation and Engineering Center at the University of Illinois could come up with some answers.
"Get students engaged in solving this problem," he said. "Help us solve the problem. … If we can find a way to assist in solving this problem, when it comes to either scheduling … or be it helping to solve the contaminant problems. Let's all get engaged in finding a solution. If you think you have one, let us know."
At Friday's meeting, representatives from Amtrak and Canadian National were present, as well as several officials from communities along Amtrak's routes such as Mattoon, Effingham, Carbondale and Centralia.
Derrick James, a senior manager of government relations, called the Illinois–Carbondale corridor "the worst performing route in the system."
"We need to be able to work corroboratively with our freight railroad partner, Canadian National, to make sure that they're dispatching passenger trains with priority, like other railroads do," he said.
"We're hopeful that the pressure that comes from the community, and that comes from your delegation in Washington, helps us come to some agreement on how we can make sure that these trains move over the railroad on time," James said.
CN's representative did not participate in the news conference after the meeting, and asked on Thursday about Durbin's bill, CN referred The News-Gazette to the Association of American Railroads, which has yet to return a request for comment.
Visit Champaign County President Jayne DeLuce said the meeting wasn't too useful.
"It's a repeat of the things we heard already," she said. "It's nice to have Canadian National and Amtrak at the same table, but we're looking for what the answers are, not just re-emphasizing what the issues are. We already know the issues."
Laura Weis, president of the Champaign County Chamber of Commerce, said the meeting was "a great starting point."
"Amtrak and CN have been in the room together, but we've not had them in the room together with us," she said. "And I think that having the other communities represented here this morning showed them that this is not just a Champaign County issue."
Speaking on behalf of Champaign County First, a group of local economic development leaders that visits with elected officials, Weis said the organization hasn't yet discussed Durbin's bill.
"We're happy to see action," she said. "Obviously, we recognize the importance of freight. It's just as important to move your goods and your products, but this is a vital piece of the community."
Talking points
Davis touched on a number of topics during Friday's visit to C-U. Among them: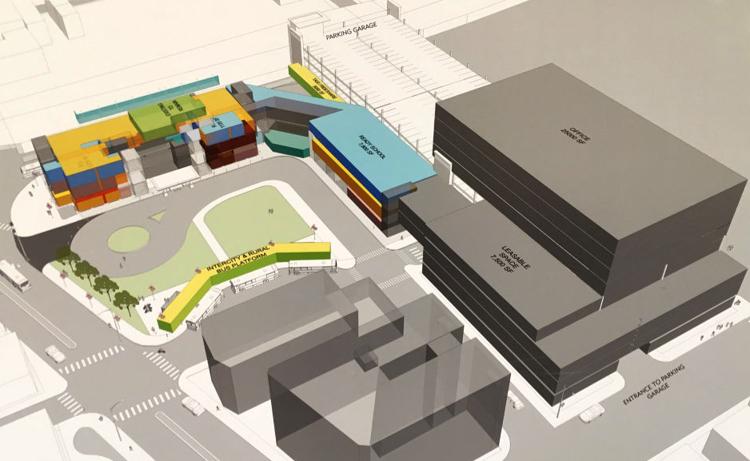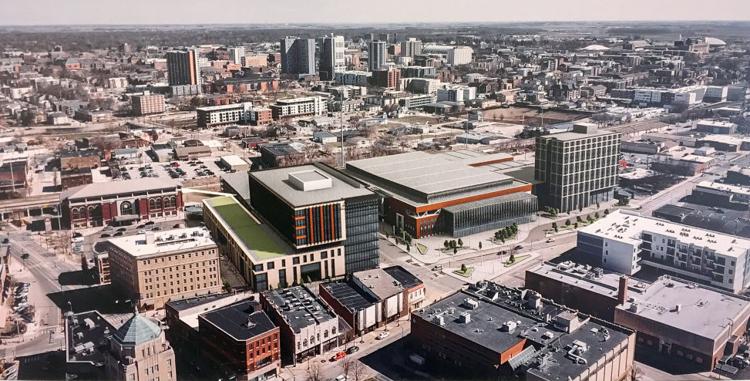 — The Illinois Terminal expansion grant. The meeting wasn't planned to coincide with this week's announcement of a $17 million federal grant to help MTD expand the Illinois Terminal, but Davis took advantage of the timing.
"If I believed in conspiracies, I would say this was planned so that we could announce it here today," he said. "But unfortunately, it's all coincidence."
Davis wrote a letter in support of the expansion, which is a central part of the $250 million downtown project known as The Yards and said he urged the Department of Transportation to give the project a grant.
"These grant programs are very competitive," Davis said. "I think it's going to allow this terminal expansion to be one that will be a bright and shiny spot, that as Mayor (Deb) Feinen said, will transform downtown Champaign and the city of Champaign."
The $17 million grant will cover most of the $25 million MTD had been planning to spend on the terminal expansion.
The Yards' developer, Hans Grotelueschen, said the grant helps provide some clarity about the project as his group tries to reach agreements with the MTD and city of Champaign.
"We've known that MTD was a financial partner of ours," he said. "What's changed is that we have the beginning of clarity to the details."
— Impeachment hearings. Davis has been speaking out against the ongoing impeachment inquiry against President Donald Trump. After two weeks of public testimony, he said he still opposes it.
"They are going to impeach President Trump in the House. He's not going to be convicted in the Senate," Davis said Friday. "All we get out of it is more division, more political partisanship and less done when it comes to addressing the issues."