Tom Kacich | More than just students propelling local Dems in elections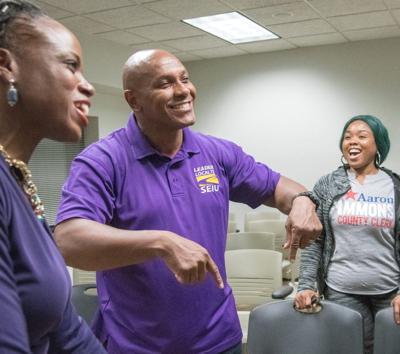 Give Tom's Mailbag a try by clicking here
There's a misconception in the community that Champaign-Urbana's switch from marginally Republican to solidly Democratic is only because of supposedly great numbers of University of Illinois students turning out in local elections and swamping the votes of townies.
Not so.
The evolution in partisanship has been going on for decades — the last Republican presidential candidate to win the city of Champaign was Ronald Reagan in 1984; the last GOP presidential candidate to win Urbana was Reagan in 1980 — but it has accelerated since 2000 and reached its zenith (or nadir) in the last two elections.
That's when, in 2016, Donald Trump got just 11,621 votes in Champaign-Urbana — 25 percent of the vote — or about 5,000 fewer than George W. Bush posted in C-U in 2004 (and about 8,500 fewer than Reagan in 1984).
And in 2018, the Republican losses extended to unprecedented defeats in every countywide race, from sheriff to county executive. The strongest GOP showing was by Gordy Hulten, the Republican candidate for county executive, who ended up with 47 percent of the vote.
But he — and other Republican candidates — were leveled in Champaign-Urbana. Hulten won just five of the 62 precincts in Champaign-Urbana.
This was far more than a big campus turnout overwhelming the rest of town, yet that perception persists on social media and elsewhere.
"I agree that the anti-Trump movement certainly contributed to the voting, but in my mind the single biggest factor in deciding the countywide offices was the voting of temporary residents in the form of U of I students," was the emailed message I got from a reader last month in response to a column about whether the local Republican Party could recover from the 2016 and 2018 election debacles.
"In looking at the (Rodney) Davis-(Betsy)Londrigan (congressional race) results in particular. If my memory serves me correctly, Londrigan only won three of 18 counties in the district and all three were home to universities," the reader continued. "The Democratic Party did a tremendous job in using fear of Trump to recruit young people on college campuses.
"I personally believe that unless a student establishes year-round residency in a county that they should be required to vote in their actual county of legal full-time residence. While some students may stay in Champaign County after graduation, the vast majority move on, leaving the citizens who actually live their lives here with officeholders not the choice of a majority of those citizens."
College students have the right to vote here; that has been established by state laws and court rulings. But that is irrelevant to this issue. It's not just the college students who are voting against Republicans in Champaign-Urbana.
Trump lost every single precinct in Champaign-Urbana in 2016 — from the campus area to the most traditionally Republican precincts in southwest Champaign, such as City of Champaign 38, generally south of Windsor Road and west of Mattis Avenue, where Trump was defeated by Hillary Clinton, 721-430. Four years earlier in the same precinct, Mitt Romney defeated Barack Obama, 557-548.
Trump's unpopularity that year affected the rest of the GOP ticket in Champaign-Urbana. Incumbent U.S. Sen. Mark Kirk also failed to carry a single local precinct. Republican state comptroller candidate Leslie Munger won just five of the 62 precincts.
In 2018, the Republican rout continued. Bruce Rauner, running for a second term as governor, lost every precinct in Champaign-Urbana. So did the GOP candidates for secretary of state, state comptroller, state treasurer and Congress.
Erika Harold, the Republican nominee for attorney general — and a Champaign County native — won five urban precincts.
And among the five Republican countywide candidates in 2018, they won just seven C-U precincts out of a possible total of 310.
As bad as things were for Republicans in Champaign-Urbana, they were much better in most of the rest of the county. Trump, for example, won 46 of the 56 precincts outside the city. And in 2018, Harold won all but three of the precincts outside of the city.
But most of the county's voters live in Champaign-Urbana, a community — not just UI students — that has become increasingly Democratic, particularly under Trump.
Delegate slates set
Although 13 Democratic presidential candidates have filed to be listed on Illinois' March 17 primary ballot, fewer than half are running delegate slates in East Central Illinois.
In the 13th Congressional District that includes Champaign-Urbana, 22 delegates representing five presidential contenders are listed. The local delegate candidates and their candidate affiliations are:
— Mark Robert Maddock (Champaign): Joe Biden.
— Teresa Brennan and Khaled Messai (Urbana) and Gabriela Romero (Champaign): Andrew Yang.
— Mike Frerichs (Champaign): Elizabeth Warren.
— Carol Ammons and Allan Axelrod (Urbana) and Brian Wilens (Champaign): Bernie Sanders.
— Carol McClaine and John Bergee (Champaign) and Anne Heilies (Urbana): Amy Klobuchar.
In the 15th Congressional District that includes Danville, Rantoul, Tuscola and other parts of southeastern Illinois, nine delegates representing three presidential contenders are listed.
They include:
— Germaine Light (Danville): Sanders.
— Cynthia Cunningham (St. Joseph), Samuel Reiss (Sidney) and Rachel Smith-Bolton (Mahomet): Warren.
Among the presidential candidates who don't have delegate slates in either congressional district are Pete Buttigieg, Michael Bloomberg, Tom Steyer, Cory Booker and Tulsi Gabbard.
Tom Kacich is a columnist and the author of Tom's Mailbag at The News-Gazette. His column appears Sundays. His email is tkacich@news-gazette.com, and you can follow him on Twitter (@tkacich).