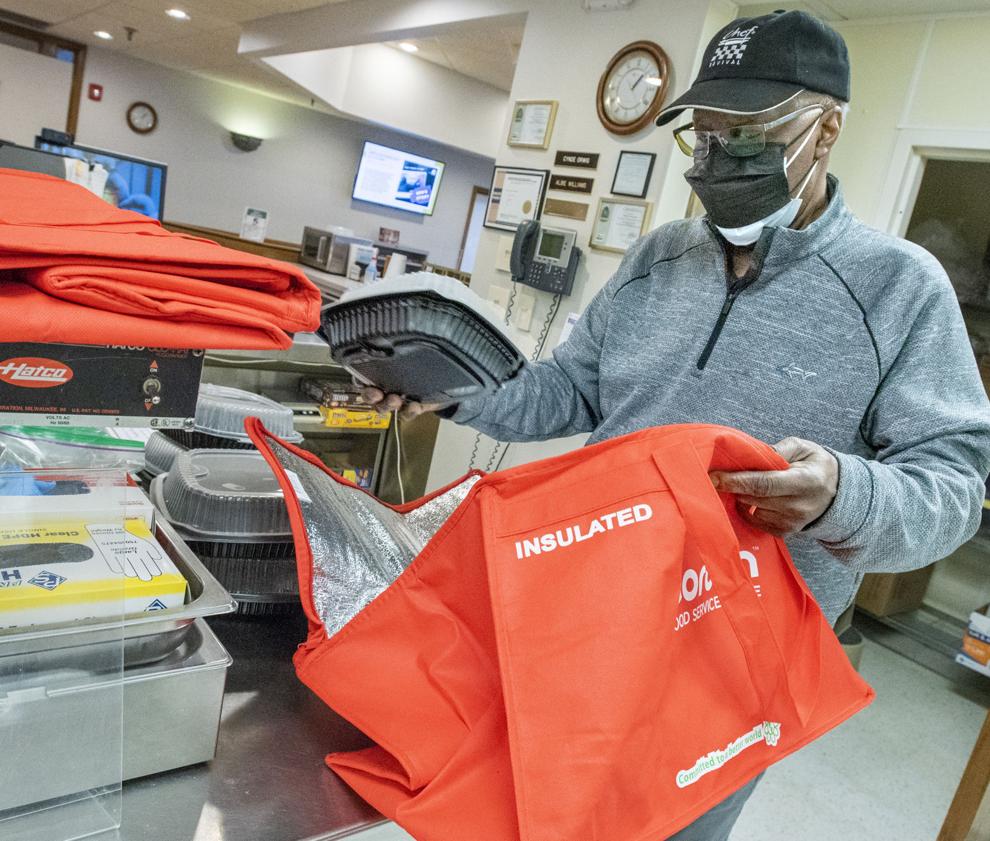 CHAMPAIGN — Out of tragedy can come good.
Men, women and families in the C-U at Home transitional program are receiving hot meals from Champaign's Human Kinetics employees as a way to give back to the community.
Human Kinetics CEO Skip Maier said the idea for the HK Café in the Community program came about last spring, after many employees "were bothered and disturbed by the events after the killing of George Floyd (in Minneapolis) and the civil unrest that followed."
"A large group got together to figure out ways how we as a company, as employees, could make some contributions back to our community and to help address the issues that were brought to light," Maier said.
The company's cafeteria, which before the pandemic fed about 150 employees a day, had been operating on a drastically scaled-down basis since the lockdown when the idea surfaced that the it could be used to cook meals to provide to those in need.
Maier spoke with Albert "Albie" Williams, the retired manager of the company's food program who still works part-time, about the possibility.
"He was very excited," Maier said.
Every Tuesday around 5 p.m. since early December, Maier and others have delivered hot meals to C-U at Home residents.
"They all love the meals. It's always a big meal, a hot meal," said Steven Harper, housing and outreach coordinator for C-U at Home's men's shelter.
The number of people in the agencys family, prison transitional, recovery and women's housing facilities fluctuates between 10 and 15.
Maier said he believes the HK Cafe in the Community program will continue well after the pandemic subsides. He said employees want to continue to reach out.
And the company would like to do more.
Maier said he has been "reaching out to a few organizations that could potentially receive the food service.
For many years, Human Kinetics hosted the annual Not Your Average Joe 5K and 10K run/walk. All of the funds were donated to women's and homeless shelters.
But Maier said Human Kinetics had to end the program.
"We have really been looking for a way HK employees could get behind a project to help the community," Maier said.
Williams said the company wanted "to be involved in helping those who are challenged with finding a home and living out on the streets."