CHAMPAIGN — Around 25 years ago, Ron Estes was on the receiving end of a Christmas food basket, the meaning of which had a lasting impact on him.
This year, the 46-year-old Philo man wanted to show his own daughters and the other 4-H children he leads that being a cheerful giver to those who have hit a "rough patch" can feel just as good as being on the receiving end.
"My dad was a self-employed builder and he got sick and we didn't have an income," Estes recalled. "I was college-age and I dropped out of school and worked.
"Around Christmas, the Fisher town cop and one of the guys who worked for the city showed up at our door and handed us a basket full of food. It was a total surprise. It was emotional, very emotional. In my mind, we weren't that bad off but obviously someone in the community felt like we could use a hand," Estes said.
The food basket for the Esteses came from the Fraternal Order of Police Illini Lodge 17.
For more than 30 years, the lodge has delivered to folks who need a hand enough food to feed a family all day on Christmas.
Included in the lodge's membership are active and retired deputies and officers from the Champaign and Ford County sheriff's offices and the Paxton, Gibson City, University of Illinois, Mahomet and Rantoul police departments. There are also a handful of Champaign police officers in the lodge.
"We are the benevolent side of the FOP. There's labor that does contracts and discipline (issues). We are the officers trying to engage with the community, give back to the community and build the relationships between working officers and community members," said John Wright, a UI police officer who is the current FOP Illini Lodge president.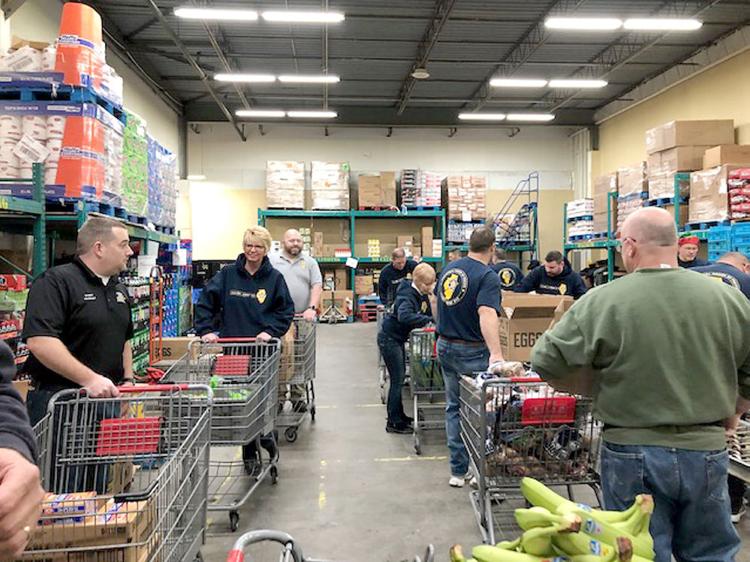 Estes, a father of two who now works in the agriculture industry, said he always remembered that kindness and wanted to somehow repay it.
Through his friendship with Bill Ward, a Mahomet police officer and FOP treasurer who lives just outside Philo, Estes decided this would be the year.
Earlier this month, he invited Ward to speak to the children in the Philo 4-H Friends that he leads about the annual food basket project. Estes shared with the children, ranging in age from 8 to 18, his own experience.
"I told the kids that sometimes people go through a rough patch in life and they just need a little something extra. I told them that this was an important thing to me and why. I said sometimes you do things in life without any expectation of getting something back, any gratitude or credit. You may see someone you know and they may be going through a rough patch and you just don't talk about it," Estes said.
The result of that talk is that 11 families from the 4-H group agreed to help distribute 15 boxes of food to folks in the southern part of Champaign County. Estes' wife Kelly, a 4-H Cloverbuds leader, and his daughters Kaylee, 9, and Ashlyn, 6, wanted to be a part of the effort.
On Friday, about 20 volunteers began at 5:30 a.m. assembling 370 boxes of food — baskets sounds nicer — at the ValuCheck on Glenn Park Drive in Champaign, then loaded them onto trailers for distribution later.
Wright said store manager Andy Burwell has worked with the FOP for years to keep the food prices low and to give the volunteers the space to pack them early on the appointed distribution day.
"We're all back there in his warehouse. We're in the way," Wright said of the happy work.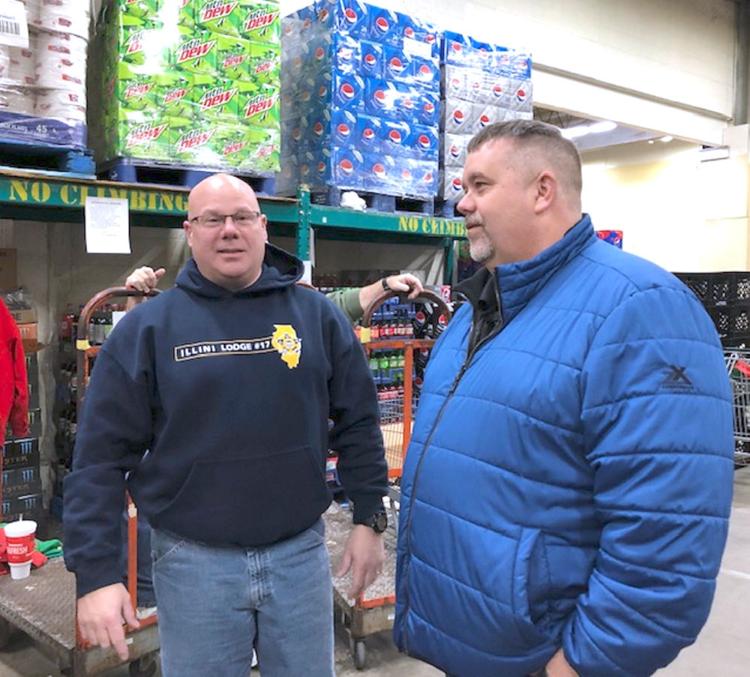 The ingredients include ham, eggs, milk, rolls, green beans, carrots, celery, potatoes, bananas, Jello, bread and cookies.
"We're thinking breakfast, dinner and a leftover sandwich. Basically, Christmas Day you're going to eat well," Wright said.