Top of the Morning, Oct. 9, 2021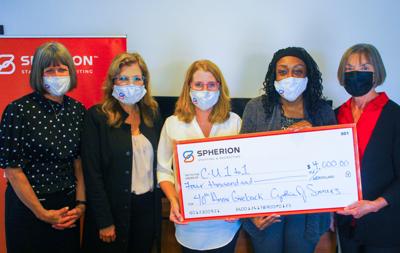 Every day leading up to the 40th anniversary celebration at Savoy-based Spherion Staffing Services, Cindy Somers and the staff at Spherion Staffing Servicesexcitedly checked the poll they put up on social media to see which organization was leading in the race to win a $4,000 donation.
"It was fun; we were looking daily," Somers said. "In the beginning, one went up in the lead, and slowly but surely, the others caught up. In the end, it was a separation of like 30 votes."
Somers and her family have personal ties to two of the three organizations in the poll.
Her father, Penn Nelson, who founded Spherion, was a member of the board of Don Moyer Boys and Girls Club, and the company was a founding member of the CU One to One Mentoring Foundation Board.
In the end, CU One to One Mentoring took home the top $4,000 prize, with Don Moyer Boys and Girls Club and The Good Samaritan Inn, a soup kitchen and job training center in Decatur, taking a $1,000 award.
"These are organizations that have a long history with me and with my dad, the founder of our organization," Somers said. "I think we just feel like we wouldn't be in this business for this long if the community didn't support our business and if we didn't support our community."