United Way report: More than a third of Illinoisans can't cover basic survival budget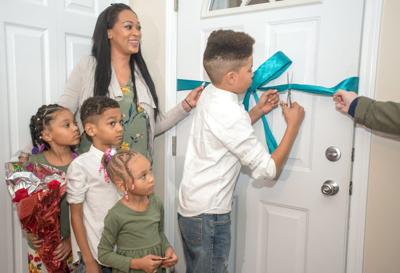 CHAMPAIGN — You know working adults like these, but you probably don't see their struggles.
They wait on you in stores and restaurants. They work in offices, child care centers and clinics. And they don't earn enough to cover a bare-bones household budget, let alone a car repair or vacation.
These are the people living in Illinois' "ALICE" households — asset-limited, income-constrained and employed.
And, along with those living in poverty, their numbers have grown since the Great Recession as wages have failed to keep up with rising expenses and employment trends have shifted.
A lengthy United Way of Illinois report released Wednesday takes a deep look at these struggling, often overlooked households with earnings above the federal poverty level but still below the threshold of a basic survival budget of $57,144 for a family of four and $19,212 for a single adult.
"Despite recent reports of overall improvement in employment and gains in median income, the economic recovery in Illinois since the end of the Great Recession in 2010 has been uneven," researchers wrote. "Many families continue to face challenges because of low wages, little to no savings and the increasing cost of basic household goods."
Researchers found 36 percent of Illinois households didn't earn enough to cover that basic survival budget in 2017, the most recent year for which data was available. That included 12 percent of households at or below the poverty level and another 24 percent above the poverty line but still below the survival budget thresholds.
While Illinois households in the ALICE category earned significantly more than the federal poverty level of $24,600 for a family of four and $12,060 for a single adult, they still didn't earn enough to cover the cost of housing, child care, food, transportation, health care and technology, researchers found.
Why are so many working Illinois adults unable to quite make ends meet with a job — even in two-income households?
From 2007 to 2017, the cost of a basic family survival budget has grown by 38 percent, driven largely by increases in the costs of housing, health care and child care — plus the addition of a basic smartphone plan to the family budget, according to the report.
Meanwhile, Illinois has been dominated by low-wage jobs, with 56 percent of all jobs in the state paying less than $20 an hour — and more than half of those jobs paying less than $15 an hour.
Sue Grey, president and CEO of the United Way of Champaign County and board chair of the United Way of Illinois, called the report a starting point for the community to come together and begin addressing these issues.
"We have a lot of work to do," she said.
Struggling and employed
Tiffini Young of Rantoul is a 36-year-old mother of four, the only wage-earner in her five-member household and a certified medical assistant for Carle.
Her $15.84 hourly wage puts her family squarely in the ALICE category.
Young has worked to get ahead, taking a certification course through Carle and seeing her hourly wage rise from the $10.75 an hour she earned five years ago. She's also a second-year Parkland College student applying to get into the nursing program.
To help her and her kids survive, Young receives a variety of assistance, but still, she said, "It's hard."
She's been living in public housing at a cost to her of about $315 a month, and she'll be paying a $500 monthly mortgage for the Habitat for Humanity home she's moving into in Urbana.
She also receives assistance from programs that help pick up the cost of day care and food, though, she said, the $200 a month she gets through the state's Supplemental Nutrition Assistance Program covers food costs for just two weeks a month.
"At times, it can be a struggle," Young said. "I really budget myself."
Survival verses stable
While the basic survival budget includes a 10 percent miscellaneous category to help pay for cost overruns in the six basic categories of housing, child care, food, transportation, health care and technology, that won't stretch to cover emergencies, gifts or occasional treats.
"The miscellaneous category is not enough to purchase cable service or cover automotive or appliance repairs. There is no room in the household survival budget for a financial indulgence such as dinner at a restaurant, holiday gifts or a new television — something that many financially secure households take for granted," the report states.
Nor does it leave room for emergency savings, leaving families vulnerable to unexpected expenses.
Grey said she was struck by the distinction in the report between what it costs in Illinois to survive and what it takes to support a more economically stable household.
To support and sustain what would be considered an economically viable household in the state, it takes a household income of $94,848 a year for a family of four and $33,720 for a single adult, researchers found.
That's 66 percent higher than the household survival budget and 20 percent more than the Illinois annual median family income of $79,168, according to the report.
Grey said she views the report as an opportunity for change, and she hopes to begin that discussion with community leaders later this month.
Mary Noel Stefan, the United Way of Champaign County's director of marketing and engagement, said this research puts a face on those struggling families in the ALICE category — workers who provide vital services in the community — and that's important.The impact on working adults who don't earn enough to survive also has a ripple effect on the entire community and its economy, Stefan said.
"I think everyone has a stake in helping ALICE families succeed," she said.