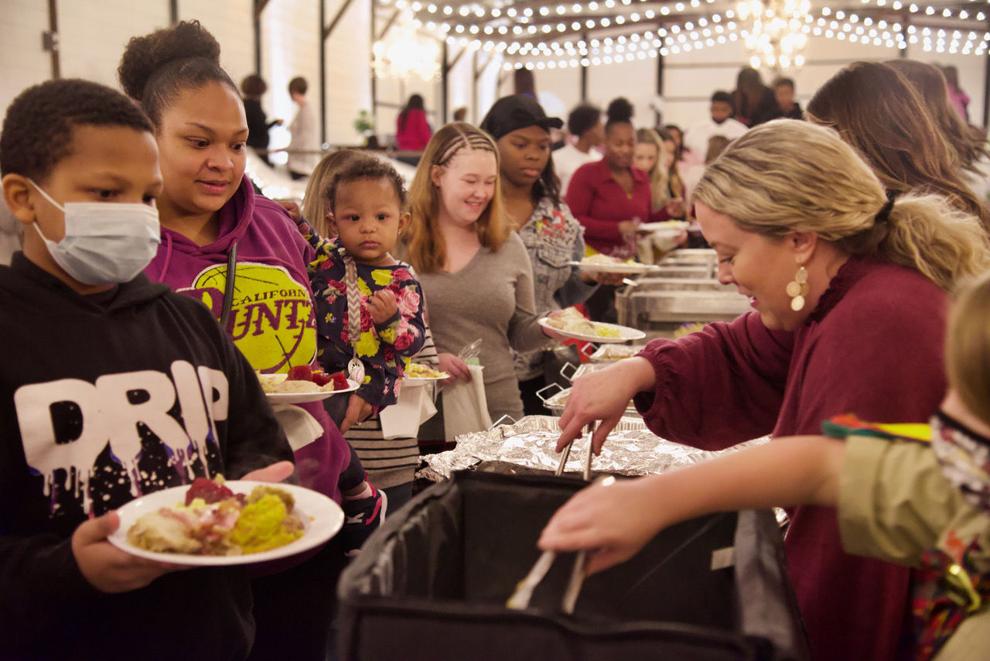 URBANA — Shawna Durst was 15 when she learned she was pregnant.
"I was scared," she said. "I didn't think I could be the best mom. I didn't know what to do."
Now 29, the Urbana resident was able to graduate from high school and works as a manager at Sam's Club while raising five "healthy, caring, respectful, responsible" kids, she said. Her oldest, Mia, is in middle school.
Is it easy? Definitely not. Work-life balance isn't really a concept these days.
"I really don't have time. It's either work or my kids," she said.
But Durst has soldiered on, seeking all the local resources she can to help her family. She made a visit to Young Lives' Thanksgiving event Thursday at Hudson Farm in Urbana.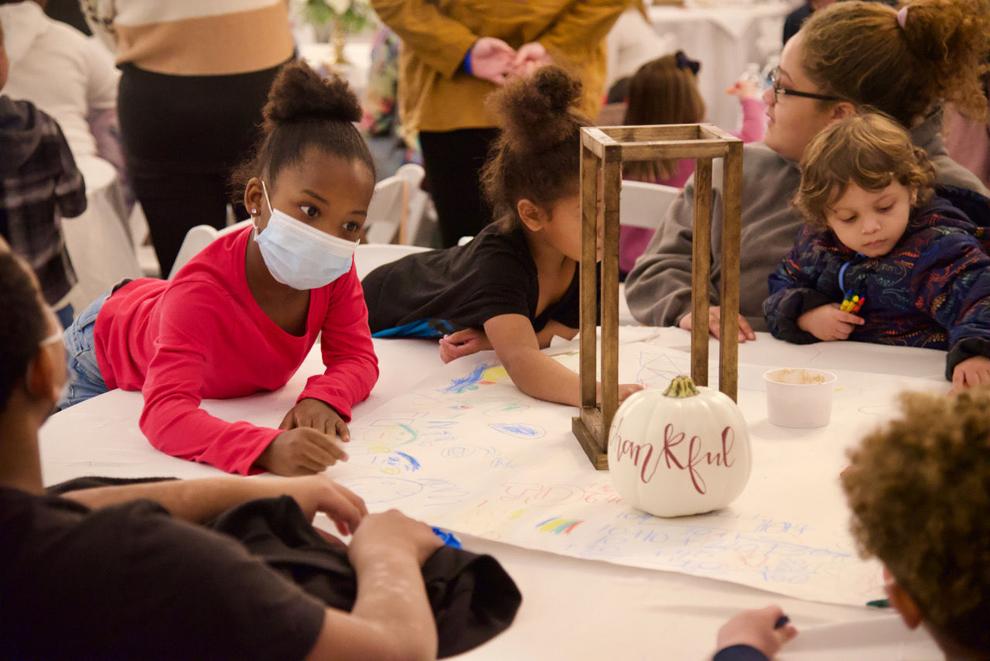 Young Lives, a national ministry group and resource hub for teen moms, has been around in Champaign for 12 years. Durst was part of the very first cohort in town.
On Thursday evening, about 40 young mothers and their families, all current or active members of the program, received catered Thanksgiving dinners and a gift basket, featuring an air fryer, crock pot and enough food to cook a holiday meal at home, all provided by local sponsors.
Nicole Gorman, owner of the Above Able boutique in St. Joseph, helped finance over $4,000 worth of the baskets.
"She's really the catalyst tonight," said Young Lives Director Erin Watson. "She built a community of women that believe in other women, and empower you to be the women and moms we're supposed to be. It became a real showcase of love."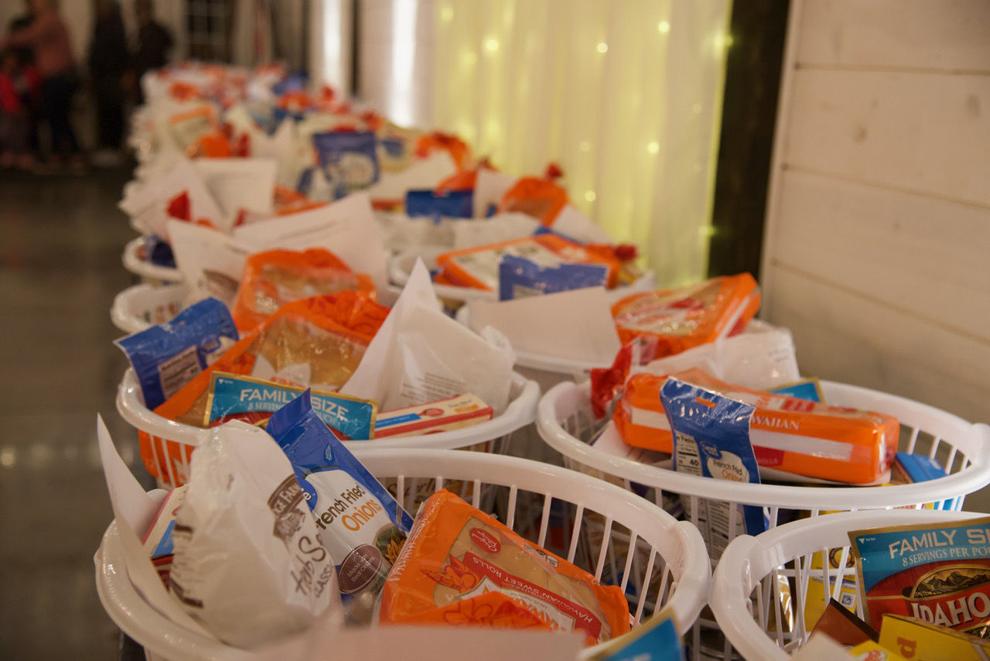 Also chipping in for the hot meals: Yoder's Kitchen in Arthur, Mansfield's Smokin' Wet BBQ, Fisher's Main Street Cookies and Cream and Champaign's Texas Roadhouse, Pan and Cake Catering and The B.E.S.T. Meal.
Kristin Darling, a professional photographer, took pictures for the families.
For many mothers who appeared at the event, Young Lives was the first organization to offer assistance during their pregnancy, or a community of women in a similar situation.
Tiwan White, 23, was six months pregnant with her daughter when she was introduced to the program at 16 years old. It provided a respite from the judgments that came with her age.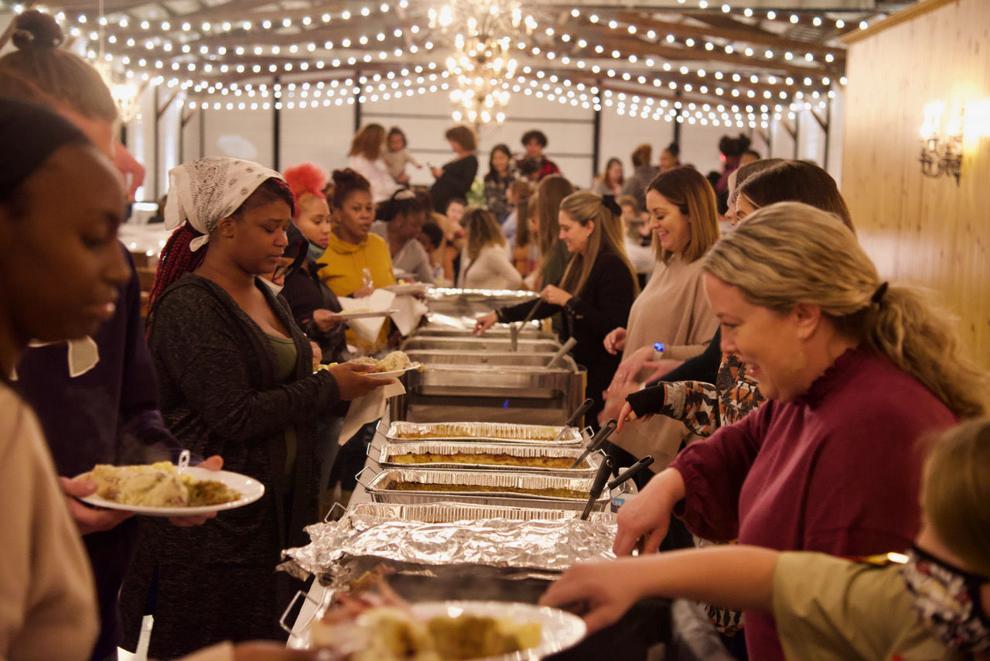 "I wouldn't say I was embarrassed, just ashamed," White said. "I wanted to be better than my mom — she had me when she was young and I didn't want that same thing for myself."
Through the group's twice-monthly meetings, she built deeper relationships with other young mothers or mothers-to-be, including Gigi Williams, 22, of Champaign.
"It felt good to have a safe space where everybody had kids or was pregnant. Walking in a high school pregnant is hard and awkward," Williams said. "Our kids being in the same age group brought us closer."
Mothers "graduate" from the program at 20 years old. Before that, at each meeting, they're provided free meals, child care, mentorship and life-skills training.
And the support goes beyond the program as well.
"They still call and check on me: 'What you have going on today? Are you working? Do you need me to be a job referral or a reference?'" said Jasmine Brown, 29, of Champaign. "It's not just what they offer, it's having someone you can call at any time."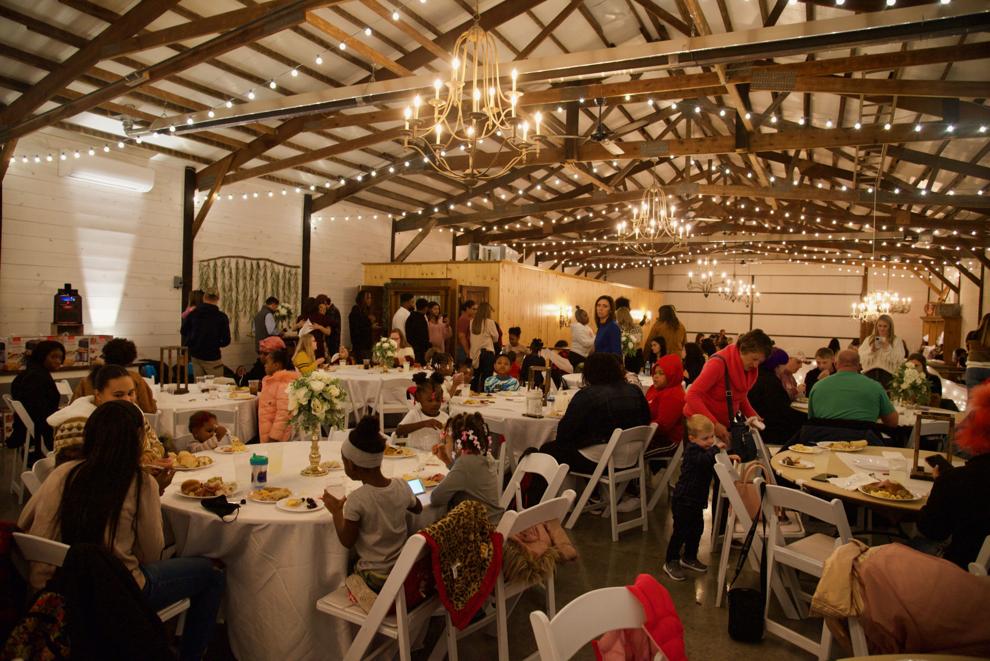 Many young mothers lean on family and other community resources for support. Durst credits the Health Beginnings program at Carle for helping her with housing, light bills, water bills and clothing.
Shaniya Howard, 21, of Urbana has found "everything" about motherhood to be surprising.
"How fast they grow, how fast they learn, how they learn," she said.
Or when she saw her daughter, Sa'Nylah, helping to care for her younger son.
"She's like a second mom," Howard said.
For White, it's the mood swings. How a toddler can go from "fine to depressed and crying in minutes."
She didn't take long to think of the advice she'd give to other young mothers.
"Don't give up," White said.
"That's it. When you're young, you think you don't have nothing besides your kids — I'm young too, right?" Howard chimed in. "You have to learn to prioritize a lot."
And in an era with media that sensationalizes teen mom, the stigma can be hard to fight.
"You can be stronger than what they think of us, and you can grow from being a teen mom, you can have that baby and still graduate, still go to college with that child, because there's a lot of resources out there to help you," Durst said.