1-on-1 with UI chancellor: Vaccine persuasion, college athletics, equity initiatives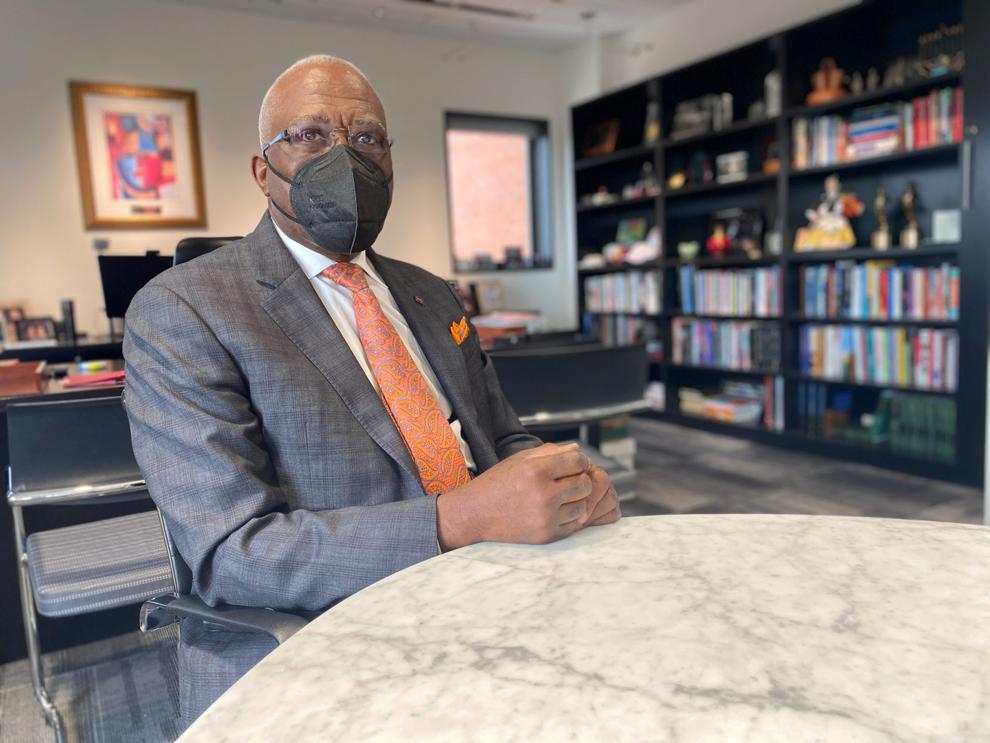 Ahead of his five-year anniversary as University of Illinois chancellor, Robert Jones is feeling "relaxed and recharged."
Coming off a hectic year handling a 50,000-student campus during a pandemic, Jones took his first couple weeks off "in God-knows-when," with a pleasant trip to St. Bart's island with his wife, Lynn.
Ahead of the Monday's start of the semester, Jones sat down with The News-Gazette's Ethan Simmons to talk all things UI: new traditions, diversity initiatives and how he's handling COVID-19 conversations, with vaccines in tow and cases increasing around the country.
In the current mix of mask requirements and recommendations, where do you like to wear your mask?
I'm not sure there's any place anyone likes to wear them.
It was disappointing to have to require mask-wearing indoors. I pretty much wear mine any time I get up from this desk and walk around this building and head around the campus.
I will take it off if I'm outside and not near anybody. If somebody approaches me, I'll put it on.
The biggest hassle is taking this thing off and my glasses come with it sometimes. I just carry it on my sleeve — like getting out the car yesterday, I was asking "Where's my mask?" And it was just on my arm.
(Laughs). It'll protect me against the arm variant.
You've encouraged tens of thousands of students and staff at the university to get vaccinated. Have you persuaded anyone in your personal life to get the shot?
I had to convince a few unnamed members of my family that if they wanted to see me again, they had to be vaccinated.
It was not that they didn't think it was important; you know, young people sometimes get busy and procrastinate and don't want to get it. Old people, too.
I had to use my heavy-handed, fatherly approach to let them know how important it is to be vaccinated, and I think we're almost 100 percent in the family now. We're getting pretty close.
They don't want to get my wife (a retired radiologist) started on it, because they know they'll get a knowledge-based lecture from her. It's hard to say no to Lynn.
Lynn did a wonderful job at a virtual family reunion talking about COVID-19. She had everybody on the edge of their seat explaining the mRNA versions, the traditional way of making vaccines. I just waved like I was on "Hollywood Squares."
My daughter's a physician, so we're pretty well covered on medical advice.
This is a bit of a pivot, but with the year starting up we're thinking about new traditions. Have you listened to the new 'Illini Anthem' hip-hop track?
I have heard it, I like it and that's one of the things that shows a very healthy university environment. The best traditions are those that come organically.
I was very excited that Barry Houser of the Marching Illini, the School of Music director and these two young men came together to produce something that I think is going to help advance our new traditions.
The university needs new traditions to keep our students feeling a sense of belonging, as well as keeping our alums feeling connected and excited about the university, whether they're on campus or not.
I watched the whole podcast they did (while) on vacation, and I really enjoyed it. As Barry was saying, it'll be interesting to see how it actually sounds when the marching band plays. I predict it'll sound absolutely amazing.
Well, that means a lot. You have a musical background, don't you?
I've been known to hum a few tunes outside of the bathroom. (Jones was a tenor in the Minneapolis-based Grammy-winning soul choir Sounds of Blackness.)
Speaking of athletics, what do you think of the initial rollout of all the name, image, and likeness deals that Illini athletes have been able to pull off?
We fundamentally believe at this university that our student-athletes are students first and athletes second.
We also have a strong belief in equity, making sure those students who generate the excitement — and I'll be candid about it, the revenue that supports our student-athletics program — have the right to benefit personally if they can, by using their own name, image and likeness.
You're going to see that Illinois' NIL legislation is the model for other states across the country. We continue to work on a policy to make sure the athletes who generate revenue from their name, image and likeness understand the guardrails. Because we don't want them to get in trouble or be taken advantage of.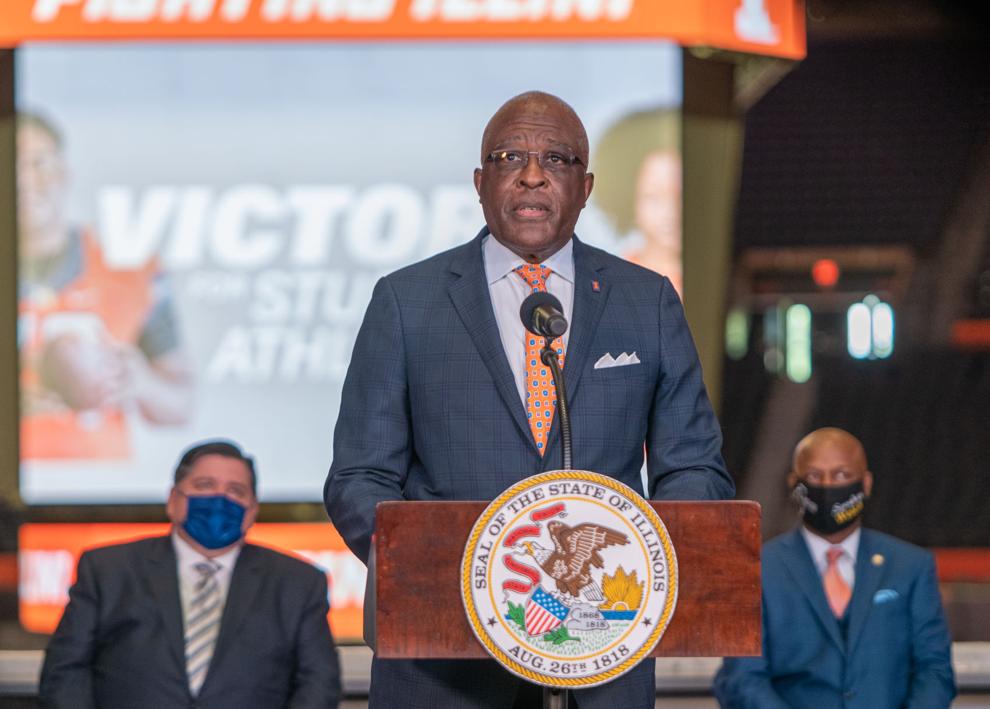 For detractors of NIL who say it'll ruin college athletics or play into student greed, what do you have to say?
I have to refute the notion that our student-athletes are greedy; the only thing they're greedy about is to win.
Student-athletes have needs like any other college student. I can tell you, NIL is not going to end the traditional collegiate model. Those who think that are a bit misinformed.
It's just like anything else in life: you set up principles and guidelines and statutes that are not meant to live a lifetime, in very few cases does that happen. NIL is the congruent with the times we're in.
Another athletics issue that's been on the back burner during COVID-19 is a school mascot. Has there been any progress on that front?
We started out with the critical conversations around Native American imagery ... the first time since the issue came about that there was opportunity for folks of all different perspectives to share their thoughts on the issue.
Those conversations evolved into a special committee responsible for the recommendations regarding not only mascots specifically, but Native American imagery writ large.
To get to the mascot piece, organically, there's a group of students who've been floating ideas all the way from an otter to a kingfisher.
The kingfisher idea seems to be getting some foothold, gaining a bit of momentum. I've talked to the students that have been working on this and told them that it has to go through the process we laid out in the report I mentioned.
There's a section in there that deals with the formal process for vetting and deciding whether or not a mascot is in the best interest of the university, and then deciding what that mascot would be.
(At this time, the kingfisher advocates have not entered the formalized mascot process.)
There's been significant progress in diversifying your staff, especially in the top leadership of the university. How big of a priority has that been?
I made it very clear when I started here five years ago that equity and diversity was at the core of my leadership.
When I started as an assistant professor in 1978 at the University of Minnesota, I was the only African American scientist in biological side of things, and definitely the only one in agricultural science. I went around the country to find more Black students to enter into STEM careers.
I hadn't done it before, but it carried for the rest of my 34 years there.
My first real administrative job was in an equity and diversity office, making sure Black professors were promoted and tenured.
I created the first chief diversity officer at Minnesota and elevated the position here at the U of I to vice chancellor.
I'm glad you noticed that, because I'm very proud of the fact that we have one of the most diverse administrations of any of our peers across this country. It's not happenstance; it was strategic and intentional. And we've only just begun.
How do you plan to translate that diversification success to the student and faculty side?
We've got a lot more work to do on the faculty side, but we're making good progress on the student side.
This Illinois Scholars program, as we're calling it, is a version of the New York Educational Opportunity program.
We were so excited about it, we decided to fund it ourselves. This'll be our third cohort this year, and these students have a very, very high retention rate.
There's a lot of push for us to bring the diversity of our student body up to par with the representation of these groups in the state. Well, it's hard to go from about 8 percent African American up to the 14, 15 percent in the state, unless you're going to be doing something different.
We recruit a group of students who may not be as college ready as the average student that we admit in the fall, but the research and the data shows that if they have a certain grade point average and a certain set of skills, how about you bring them in for six to eight weeks before the semester starts?
We put them through an intensive summer bridge program. And I can tell you at (the University of) Albany (where Jones was president), those students had a higher graduation rate than typical students — one or two percentage points, but it was higher. And they went on to very, very productive careers.
We know we can replicate it — if you can do this for a small group of 25 students, I can do it for 40. I can do it for 100. At New York, I did 225 of these kids a year.
That's going to be our next big effort. We've got Illinois Promise and the Illinois Commitment; the third iteration of the three-legged stool, if you will, will be the Illinois Scholars program.
And it's not just about underrepresented people, Black or Brown people.
I walked over to the bookstore a couple times on Monday. I can tell you, five years ago, if I had asked those groups of students where they were from, every one of them would say they were north of I-80.
I was absolutely blown away the degree to which we're hearing from more students all the way from Carbondale to East St. Louis and every point in between.
Here's a little throwback. How serious was the talk of you being a "potential pick" for President Joe Biden's Secretary of Education last December?
I was informed that my name had been thrown into the hat for consideration, but the first time I heard about it was through a news article.
They wrote a story about potential candidates for the job and to my surprise, my name was on the list.
So, did you have any conversations?
I told them I'd be happy to help them with diversity and equity side, but really none whatsoever.
You're coming up on five years in the job. Congratulations; not every chancellor has lasted that long.
(Laughs) Oh, really?
Sure enough. And we're wondering, when you look at those five years, what are the accomplishments you're proudest of beyond the university's response to COVID-19?
Well, it's hard to know where to start, but I'm very proud of how we've moved the DEI (Diversity, Equity and Inclusion) agenda to make sure people understand it's not at the margins of what we care about at this university. It's at the absolute core.
I'm very, very proud of bringing greater focus on this amazing university. I'll just put it this way: It represents excellence at a massive scale. And a lot of folks don't realize that.
And part of the problem is we've been too modest. We haven't tooted our own horn because people perceive it to be bragging. But my philosophy is it's not bragging if it's true; it's just the facts.
You can drive to Chicago now on any different freeway, and long before you get there, you'll see something about the university.
The other accomplishment I'm proud of is we set the most ambitious fundraising goal in the history of the university, and we exceeded it 18 months ahead of schedule.
We raised $2.25 billion by the first of March, when the goal wasn't until June of next year.
(We) inherited responsibility for implementing the Carle Illinois College of Medicine — very glad we got the first level of accreditation for students to be recruited and that this year, we'll be welcoming more than 60 students.
For the record-big freshman class arriving on campus, any spots you'd suggest as must-visits?
The Quad is definitely the heart and soul of this campus, but if they get the chance, they should see Allerton Park (near Monticello), which is an asset that far too many of our students don't know about.