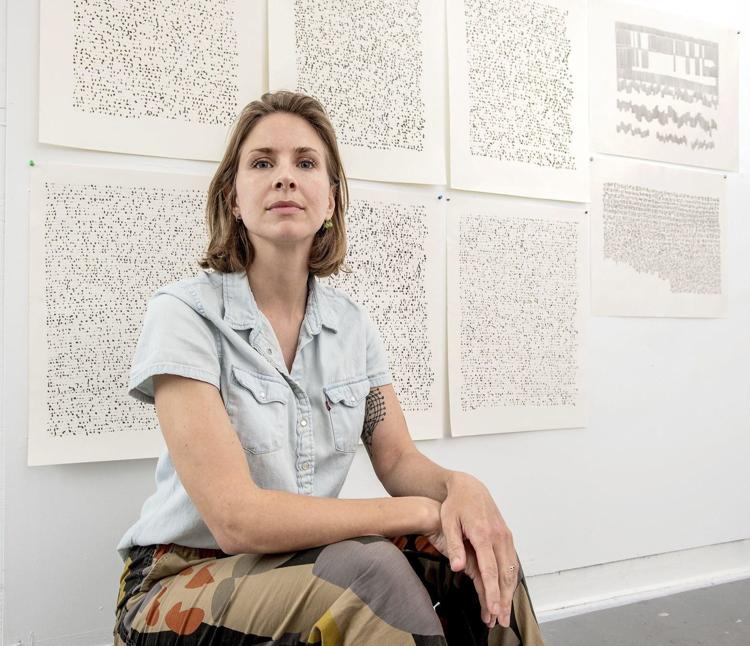 URBANA — When Liza Sylvestre opens up a video call, she has specific challenges she has to consider.
The quality of the video is especially important, and a transcription service that's only 90 percent correct, she says, is like building a wheelchair ramp that comes up short of the 10th stair.
For Sylvestre, though, dealing with challenges related to her profound hearing loss never stop. The coronavirus pandemic, she thinks, has been an opportunity for others to experience some of the challenges she goes through every day.
"It's been interesting to observe how these Zoom meetings give people this feeling of hearing less, which is, nothing is running quite smoothly and we're all frustrated and it's not this instant communication that we're used to," she said. "I think that's actually a really good learning tool for everyone kind of having an experience of maybe having to exist with a hearing loss on a day-in and day-out basis."
For years, Sylvestre has used art to show how others see the world. While pursuing her master's degree at the University of Illinois, her projects included one where she wrote diary entries but blacked out the sounds she couldn't hear with her cochlear implants. In another project, she shined a light on her face as she spoke to signify where she looked when reading lips. She moved from drawing to multimedia, including photo and video and other forms.
Now, she'll apply that ability to use art in her new role as Krannert Art Museum's curator of academic programs. In that role, Sylvestre will connect various departments across campus with the museum to use in their instruction.
"It's an opportunity for me to look at things in an intersectional way," she said. "One of the really interesting things is using my understanding of what access is and reaching out to people through that understanding. So, if I were to partner with someone in psychology … then we could use their interests and look at the collection of KAM through their lens and use art as a way of talking about psychology in a really different kind of way."
The position is common at universities, museum director Jon Seydl said, but is a first for Krannert. Sylvestre's perspective, after working on projects across disciplines at Minnesota, where she received her undergraduate degree, makes her uniquely positioned to look at art in different ways, he said.
"She brings that rigor in the way that artists always bring," he said. "They can really look at things from not just an academic point of view but have a deeper understanding of a collection. Then, her work on non-normative visitors, institutional critique, looking into ways that the museum can serve audiences that art museums have not historically paid much attention to, and then thinking about how she can bring that work into the work of connecting faculty and students."
The pandemic will likely cause more hurdles for Sylvestre when the museum opens this fall. Face masks have been an issue, because they keep her from being able to read lips. She has a stack of about 60 clear masks to hand to people during meetings. Those will dwindle quickly, though, so she hopes the university will provide more.
She doesn't shy away from her disability. Rather, she's out to challenge others to see art and the world through different lenses.
"I'm interested in access in more of what would be understood as universal design," she said, "which is really thinking about who art is being made for and how the presentation of that artwork allows some people and not others to experience it in different varying degrees. I'm interested, instead of slapping on accessibility modes, really thinking about the conception of things from the get-go."