Beyond the Boardroom: UI Vice Chancellor and Provost Designate Bill Bernhard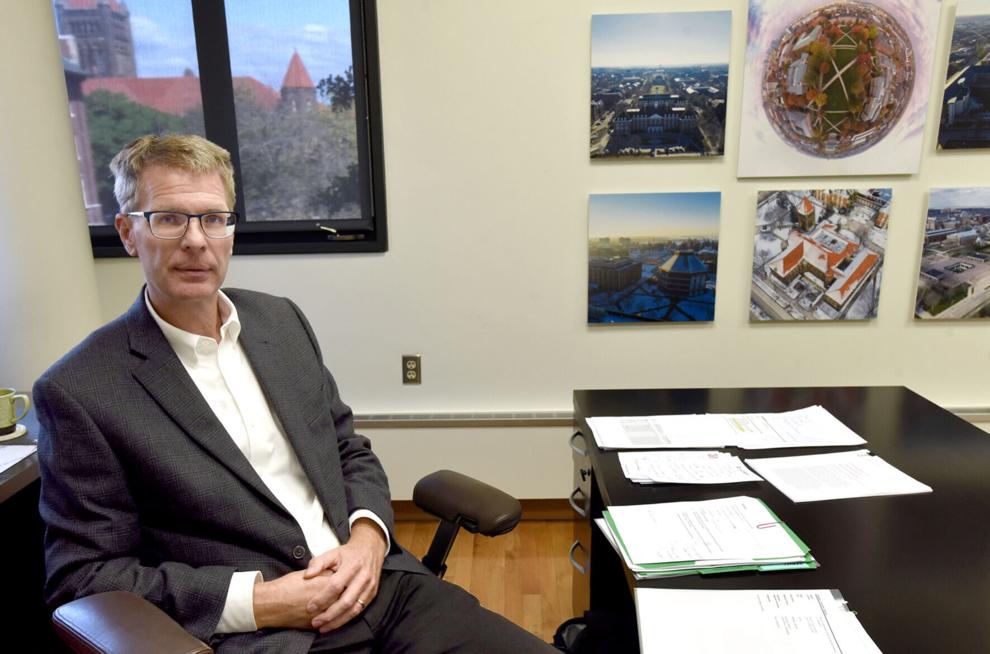 BILL BERNHARD's ascent in academic administration — from UI department head to associate provost to executive vice provost to, just last month, interim vice chancellor for academic affairs and provost designate — has not been accompanied by any sort of spike in self-splurging.
Asked in what ways he's frugal, one of our go-tos in this space every Sunday, Bernhard replied: "My wife thought this was a funny question. Let's just say we still live in the first house we purchased 25 years ago — why would we move, we have great neighbors; my car has 110,000 miles on it — as long as the AC works, it's good; and I still wear sport coats that I purchased in college — they'll eventually be fashionable again."
A political scientist with a funny bone, Bernhard has called C-U home since 1997 after a youth spent in Georgia; Knoxville and Nashville, Tenn.; Columbus, Ohio; Williamsburg, Va.; and Flagstaff, Ariz., where his family lived when he graduated from high school.
"My mom was a teacher and my dad worked in institutional food service — you'll note that most of these locations are connected to a university," he says. "My appreciation for college towns was one reason I went into academia. And it's one reason why I have chosen to make C-U my home for 25 years."
A Cornell grad who earned his master's and Ph.D. from Duke, Bernhard and wife Jen, the UI's Donald Biggar Willett professor in electrical and computer engineering, have two kids — a Carleton College senior and Champaign Central junior.
He took time to answer questions from Editor Jeff D'Alessio in the 146th installment of our weekly speed read spotlighting leaders of organizations big and small.
---
On my office walls, you'll find … three lovely pictures of the central Illinois landscape. When I first started working in the office, I left the walls bare except for the Post-it notes I would use for reminders, to-do lists, etc.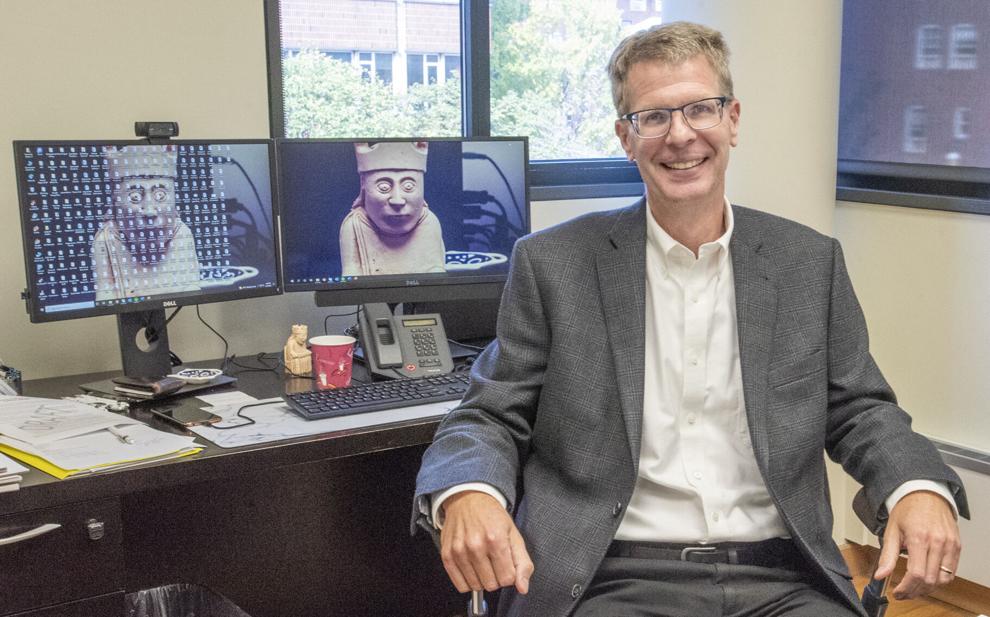 My assistant didn't like it, thought it looked unprofessional and sloppy. So one Monday, I arrived at the office to find that the Post-it notes were gone and replaced by these pictures. I am grateful for her initiative.
My philosophy on meetings is … they should have a purpose. They should start and finish on schedule to respect everyone's time. At the end, there should be a clear summary of who is responsible for each action item moving forward.
The hardest thing about being a leader is … being present. There are many demands and it is easy to be distracted. Giving full attention to the topic at hand can be difficult, especially if I've had too much caffeine.
The three adjectives I hope my staff would use to describe me are … kind, wise and clever.
My favorite moments in this job happen … well, it is always a thrill when someone — anyone — laughs at one of my jokes. Even just a chuckle.
But the most rewarding moments come when you're able to help someone achieve their goals and fulfill their potential. It happens in many ways, both big and small. The satisfaction from that never gets old.
I can't live without my … family, of course. But everyone in the office knows that I am fussy about my tea in the morning.
Has to be an English breakfast tea prepared with simmering water. Never boiled.
As far as my professional role model goes … when a professor chooses to take an administrative role, there is usually some gentle teasing from faculty peers — "You're going to the dark side!" But in these roles, you have an opportunity to learn about how the university works, the role of higher education in society and what makes an effective academic leader.
I have been fortunate to work with some excellent leaders over the years, who have taught me many lessons about how to work with people and move the institution forward. Pete Nardulli, my first department head; Ruth Watkins, who was dean when I was a department head and Andreas Cangellaris, who just stepped down as provost, come to mind as exceptionally influential.
My one unbreakable rule of the workplace is … the provost's office is a great team of individuals, all dedicated to serving the campus. There is a culture of working together and helping each other in that mission. You have to buy into that culture.
I wind down after work by … spending time with family; attending my children's activities — swimming soccer, swimming, tennis — and reading detective novels.
When it comes to the last luxury in which I indulged … my wife thought this was an even funnier question. Although last summer, the family took a trip to Philadelphia. Philly is an absolutely amazing place for food: terrific restaurants, markets, street food.
In between meals, I vaguely recall seeing the Liberty Bell. But it was really about the food.
The most beneficial college class I took was … The Art of Africa, Oceania, and Meso-America. It was one of my distribution requirements as an undergraduate at Cornell University. What I learned from the class was how to enjoy a museum — a skill that has made traveling all over the world more fun and informative.
Hint: Don't stay at the museum all day.
I'm up and at 'em every day by … 6:30 — whether I set the alarm clock or not. I miss sleeping late on the weekends.
My exercise routine consists of … walking about four to five miles a day. I try to take a short walk at lunch time. And each evening, my wife and I walk through the neighborhood. We have worn down a path in the sidewalk.
As for the worst job I ever had … my first two jobs as a teen were dishwasher and custodian. I enjoyed them since I worked with decent, hard-working, fun people, so there were lots of laughs.
My worst job was being a waiter at an upscale restaurant, early in college. For a variety of reasons, I was terrible at it. Perhaps the biggest issue was that I don't drink coffee — never developed the taste for it. So I never thought to offer people coffee after dinner or to refill their cups automatically.
My tips suffered accordingly.
On a 1-to-10 scale, the impact of the pandemic has been … complicated. Personally, it has been difficult to stay connected with family and friends. Professionally, it's been exhausting for everyone to adjust to the situation.
But I am proud of the university's response. It shows how much the university can accomplish when faculty, staff and students work together.