Tipping off today: A weekly series looking at how the NCAA's new name/image/likeness rules are playing out locally.
Have a story you'd like us to tell? Email Ethan Simmons at esimmons@news-gazette.com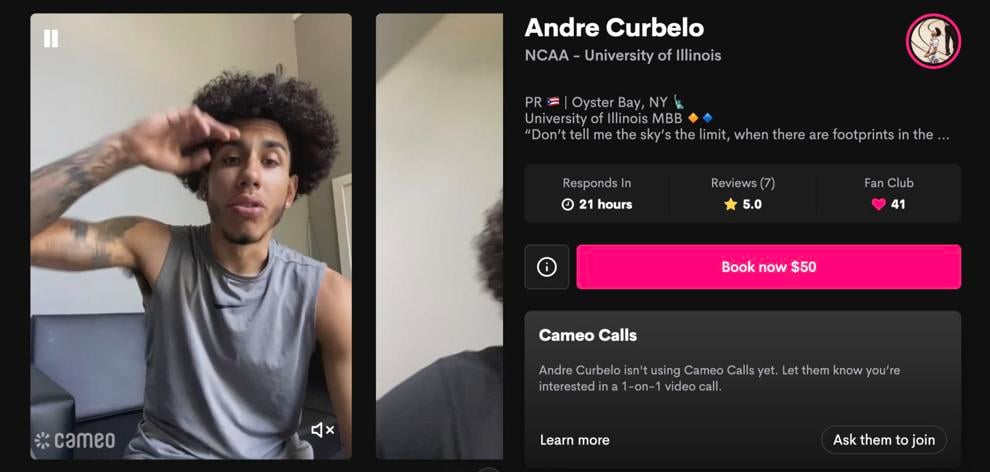 CHAMPAIGN — Reid O'Brien's present for his 17th birthday was impossible just a few weeks ago.
The morning of July 9, O'Brien, of Quincy, opened his phone to a thoughtful birthday message from Illini point guard Andre Curbelo, dressed in a Puerto Rico polo in front of his bedside poster of Kobe Bryant, Michael Jordan and LeBron James.
"I'm a really big Illini fan, so it meant a lot for me getting that message — especially because it was from Curbelo, who's my favorite player," O'Brien said.
His dad, Don, paid for Curbelo's message, which was filled with words of encouragement. Like scores of other NCAA athletes, Curbelo is offering video appearances through the Cameo app.
In Curbelo's case, they start at $50 a pop.
After the Illinois Legislature's new name/image/likeness legislation for college athletes took effect at the start of July — and the NCAA's gave its blessing nationally — some of those athletes are seeing their first returns.
To help navigate the new arena, the University of Illinois athletic department hired its own legal point guard: Kam Cox, a securities lawyer who has worked with the athletics programs at Vanderbilt, Rutgers and Auburn.
"As (Athletic Director) Josh (Whitman) says, this is the biggest athletic policy change that's happened since the introduction of athletic scholarships," Cox said. "We can really mesh the interests together of the athletes and the local communities they operate in."
Cox can't consult or comment on whether athletes should accept specific endorsement contracts, and he can't play matchmaker between businesses and students.
Instead, he's an educator. He can answer questions and tackle gray areas for curious student-athletes and potential partners.
Two weeks in, he's impressed with the level of creativity these student-athletes have displayed in finding business deals.
Curbelo's Cameo birthday wish? That's "exactly" the type of creation Cox and the university are here to encourage.
"Because, did we get a benefit out of that? I mean, not really, but 'Belo did, and the kid did, and that's great, and that's exactly why I like showing up and doing this every day," Cox said.
O'Brien is a student-athlete himself; he plays point guard for Quincy High School. After hearing the Big Ten Sixth Man of the Year tell him to "dream big" ahead of his junior season, he knows just how special these ventures can be.
"It meant a lot to me hearing that from him," O'Brien said. "I think it's great for Illinois athletes to profit off the new NIL rule and I believe that it should have been allowed a lot earlier."