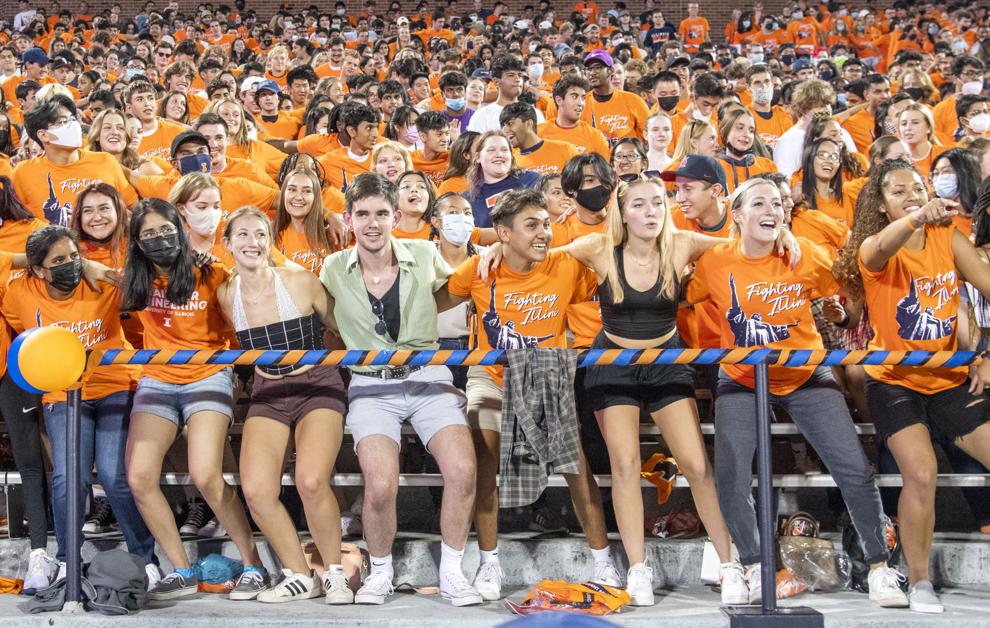 CHAMPAIGN — A brand-new Illinois musical tradition made its Memorial Stadium debut Thursday night to thousands of roaring freshmen.
Minutes after bellowing out some of their first I-L-Ls and I-N-Is, students bobbed along to "Illini Anthem," a hip-hop collab with the live Marching Illini and the song's creative duo: UI Professor Lamont Holden and local rapper and UI master's student Jarrel Young.
Despite a couple verses with quieted microphones, the pair closed out strong with the volume turned up and the record-sized incoming class jumping, clapping and screaming along.
"It seems like everyone got pretty into it," said student attendee Jermiah Burtlow.
"At first I was a little confused, but I think they made it work," said freshman Kassandra Estrella.
The same hordes of new students who attended Thursday's Sights and Sounds event, which introduced them to classic UI traditions, are putting the university's housing system to the test.
Last academic year, about 67 percent of available room spots in housing were filled. This year, housing marketing director Mari Anne Brocker Curry is expecting to operate around 100 percent capacity.
According to an internal UI Housing report, 6,811 students had moved into University Housing rooms as of Thursday morning, while another 2,700 were yet to check in to their halls.
About 40 percent of all students set to live in UI housing this year have reserved spots in the 11 halls of the Ikenberry Commons area on campus, just south of Gregory Drive.
As of Thursday morning, more than 70 percent of those students had moved in.
Northbrook natives Charlie Martin and Kevin Chen, both incoming freshmen, made the journey on a "hectic" Wednesday to settle in at Hopkins Hall.
Martin is shacking up a few hundred meters away from the site of a childhood soccer tourney he participated in nearly a decade ago.
First, the pair had to go through the centralized check-in at State Farm Center, where unvaccinated students get a saliva test and are offered a shot of the vaccine.
"The online steps that they have on the emails and stuff were really helpful. It was pretty easy and smooth," Chen said Thursday. "The U of I seems more professional, I'd say, compared to the other campuses I visited."
The COVID-19 protocols that exist on campus, mainly indoor masking, are easy for them at this point.
"We were used to it — our high school had the same type of precautions last year," Martin said.
Sophomore Meredith Okwuedei might miss some aspects of her more restricted freshman year, like the regular twice-a-week saliva tests. (Vaccinated students don't have to test anymore.)
"It was basic, it was really routine," she said. "It kind of made me feel good, like I was on schedule with everything."
This week, she's serving as an I-Guide, helping with student move-in. Seeing this many people back on campus is "overwhelming."
"I didn't see this many people last year on campus in general, so this week has been pretty weird," Okwuedei said.
She's been yelled at by one parent so far, but other than that, "everybody's nice."
"I think this year should be good. I just hope everyone follows what they're supposed to follow," she said.