University of Illinois
Longtime ushers happy to be back at State Farm Center
Three longtime ushers happy to be back at State Farm Center after 1-year hiatus. Our Anthony Zilis tells their story: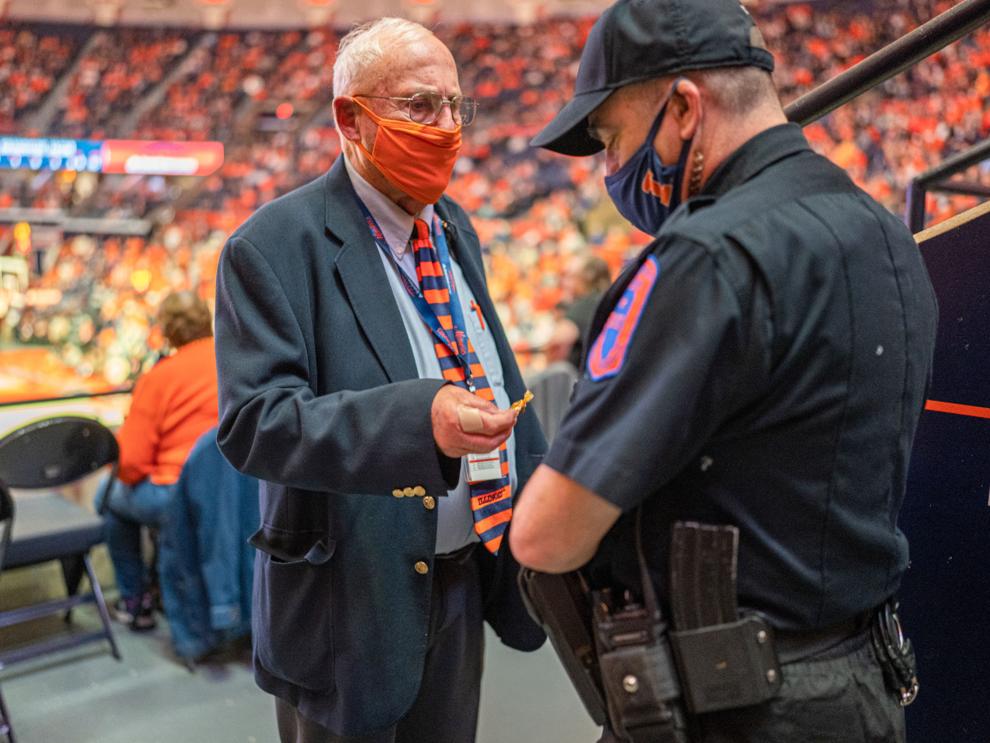 Ted Swanson
Early in the second half of Illinois' exhibition game against Indiana University of Pennsylvania on Oct. 29, Ted Swanson weaved his way through the aisle between 'A' section and 'B' section. As he passes by, he warned each usher, many of them University of Illinois students new to the job, to clear people out of the aisle and to keep away themselves at the coming timeout.
In a matter of minutes, a cheerleader will come barreling down the aisle with a massive flag, after all.
"Don't be afraid to yell," the 49-year veteran of the job tells one young usher.
After leaning in to speak with a UI police officer about what was to happen, he reached into his pocket and pulled out a Werther's butterscotch candy and handed it to him.
"To be around me, you have to be sweet," he said with a smile.
Showing fellow ushers and other arena personnel the ropes is especially important this year. Last year, of course, games were played in front of empty arenas. Those ushers that were around before the one-year hiatus had to shake off some rust, and plenty of them had never worked the job before at all.
Nearly a half-century ago, Swanson was one of those young ushers.
In 1972, Swanson simply wanted to see his friend, sharp-shooting Denny Graff, from his hometown of Gibson City, play in the state tournament.
"I was young and couldn't afford to buy a ticket," he said, "so I had to find a way to get in to watch him play. And I volunteered one weekend, got in and watched the high school basketball, and the guy over me was getting paid, and I thought, 'I wonder how you get a job like that.' I've been on the payroll ever since."
After scoring 59 points in the super-sectional and the state quarterfinal, "The Gibson City Bomber," came to play at Illinois. Swanson outlasted him by 44 years and is still going strong.
Swanson also latched on as an usher at Memorial Stadium. He quickly worked his way up the ladder to eventually become the head of the football ushers because of a skill that's highly important in college athletics.
"I was a good recruiter," he said. "Back then, no one got paid except for the one who recruited (other ushers), and I was good at getting the kids to come out."
During his time as an usher, Swanson has seen plenty of success, including Lou Henson's entire 21-year run as head coach, but he doesn't pick out one year as the most scintillating.
"Everything's exciting when I'm around sports fans," he said. "Those guys need just as much support in the down years as they do when they're doing good, but when they're having (a difficult year), they work just as hard as those guys who are superstars. Some ballplayers are just better than others."
Aside from a break each year when he heads to Florida to stay with his sister, Swanson still works consistently, and the diehard Illini fan, who records every game to watch uninterrupted, didn't take last year's hiatus kindly.
"When I had to watch it on TV? It was for the birds," he said. "I couldn't do anything but sit at home and keep my nose clean."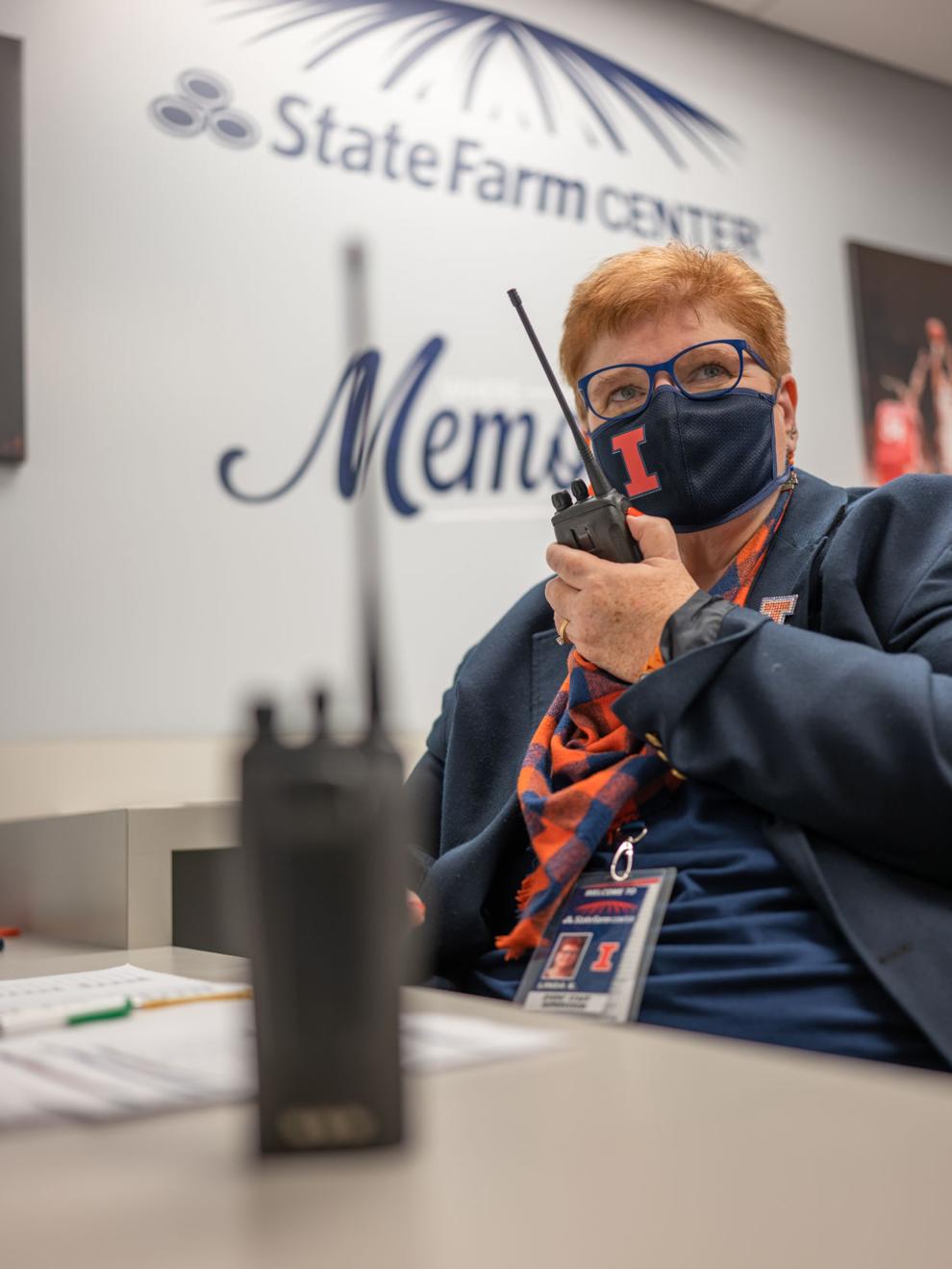 Linda Knox
Every so often from her seat inside the guest services booth at State Farm Center, just to the right of the west entrance to the arena, Linda Knox hears a roar from the crowd. Or, if she's lucky, she'll hear play-by-play announcer Brian Barnhart's voice on the radio foretelling a big play that's about to happen.
That's when Knox knows she can abandon her post, where she keeps several walkie-talkies, maps, and all of the items people have turned into the lost and found, for a few seconds to peek her head into the arena
"Being inside and just hearing the crowd roaring is just amazing," Knox said.
For most of her time as an usher, Knox didn't have to run out of an office to see what was happening on the court. During her favorite season in 1988-89, she stood on the floor and watched the Flyin' Illini team with one eye. For Knox, there was a science to watching the game and keeping an eye on the crowd and other ushers, which she did as a supervisor.
"I would show (the new ushers), 'Okay, you can stand here, and you can still watch, but you can still look around and observe the crowd,'" Knox said. "It was really exciting. I would get really involved watching it, and I was like, 'I know I've got to watch the people around me.'"
Knox began working at what was then Assembly Hall when she was 16 years old, taking tickets along with her father, Champaign-Urbana Theatre Company co-founder Leonard Doyle. When she was 18, the self-described "people person," was promoted to supervisor, overseeing other ticket-takers.
After years of working inside the arena, Knox began manning the new Guest Services office in 2016, when the major renovation of the State Farm Center was completed. Knox enjoys the job, where she constantly sees friends who she met at the arena, many of whom tap on her window to say hello. She's grown fond of the EMS workers who occupy the other section of the guest services office, and she has photos of them up on her wall along with photos of Garth Brooks and Elton John performing at the arena and an action shot of former Illini Deron Williams.
Last year, of course, was difficult for Knox after growing to love her evenings at State Farm Center, although there was one perk to not working.
"I did like to be able to watch the basketball games on TV," she said. "Because when I'm in here, I don't really get to see the basketball team. I can tell one of these (EMS) guys I'm going to take a break and to go in and watch the game for a couple minutes, and I'll step in. That was nice, but not being able to interact was hard."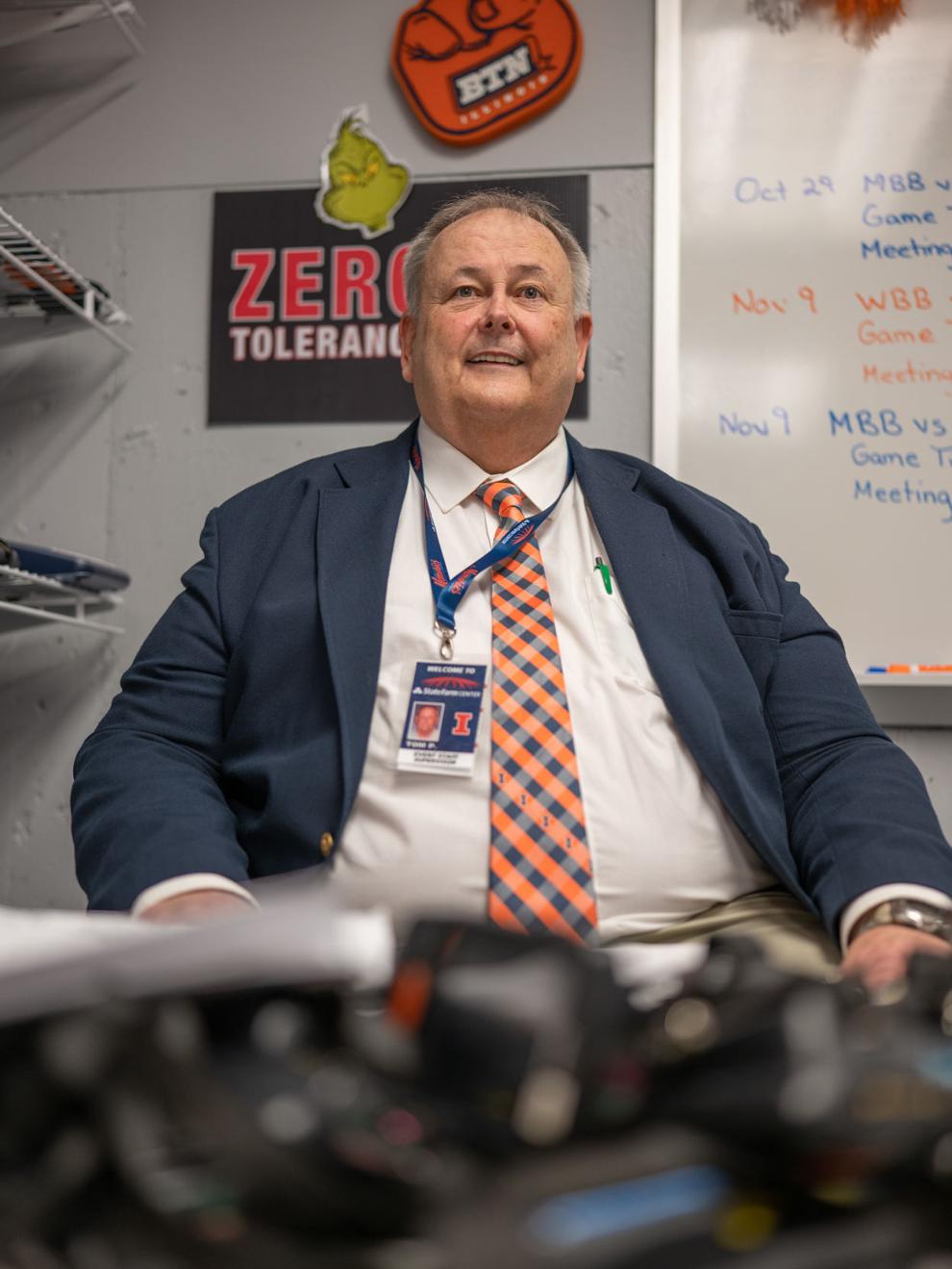 Tom Plackett
Generally, Tom Plackett works every single event at State Farm Center, including men's and women's basketball games and concerts. That includes nights where the snow comes down in droves and ice forms on the roads, even though he has to drive from Paxton.
"In the past, I've heard from my bosses, 'If you come here, I'll fire you,'" the longtime usher said.
Over his three decades at State Farm Center, Plackett has built his specialty working the ticketing gates, where he's become a supervisor. Luckily, he considers himself a patient person. After all, he's had to deal with his fair share of agitated customers.
"I would say I usually satisfy everyone," Plackett said. "I try to help them, and I go with them to the ticket office. And usually between the two of us, we can help them."
Luckily, Whitney Houston was a patient person as well when she performed at then-Assembly Hall in 1991. Back then, some ushers also doubled as the arena's security guards, and when Houston tried to get to her dressing room, Plackett wouldn't let her in, because he didn't believe it was her. Luckily, Houston handled the situation with grace, and she even gave Plackett a shoutout onstage.
Aside from a few other interactions with stardom, Plackett generally witnesses the excitement from the outside, and he likes it that way. He missed that opportunity last year, when fans weren't allowed in the arena and only a few select employees worked.
"I got the taste of being retired from here," he said. "It was fun being able to watch, but it's more exciting being here … You get the excitement, and you get to live through the customers' eyes. You get to hear the fans be excited. It's fun to hear them."
Plackett and the rest of the State Farm Center staff, of course, returned for the Illinois men's basketball team's exhibition opener against St. Francis. With plenty of new employees, the learning curve was steep, he said, but by the second game on Oct. 29, Plackett said he was back in the swing of things.
"It was first night chaos," he said. "It was pretty much remembering what you're supposed to do. Second game back, I remember everything."