One-on-one with Josh Whitman: 'There are real lives involved in what we do'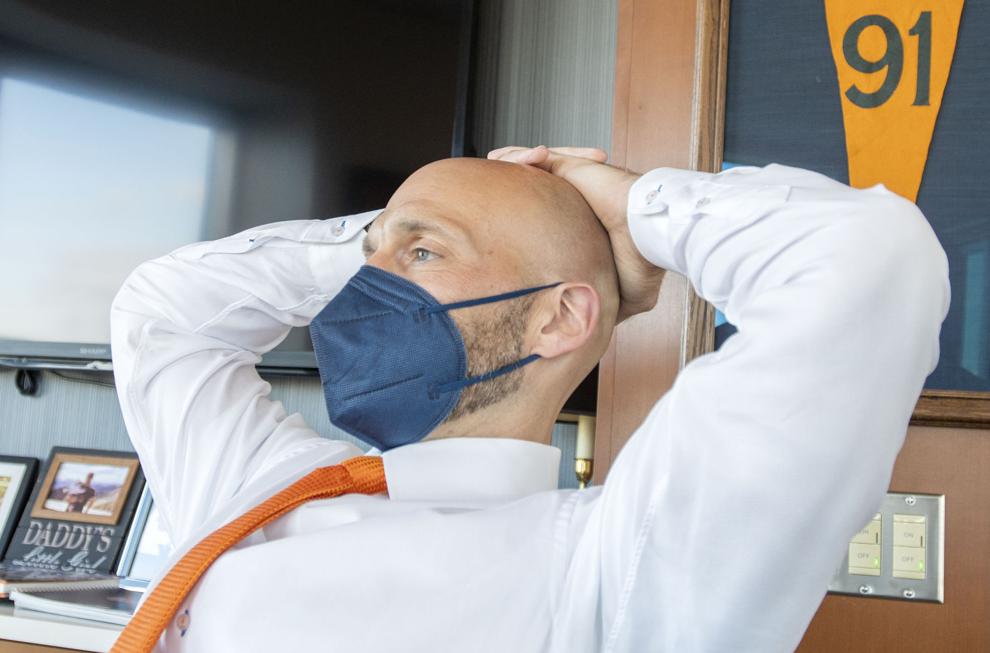 Eight days before Christmas, in a room with no cameras rolling or constituents cheering, Gov. J.B. Pritzker signed into law HB 3136, making it legal across the Land of Lincoln to place in-person bets on games involving Illinois college teams.
What comes next is one of Josh Whitman's biggest worries.
"A lot of people who can gamble live amongst our student-athletes, the people they're gambling on. That seems fraught with risk," the Illinois athletic director said during a wide-ranging, one-on-one interview with The News-Gazette on Thursday.
"Our student-athletes don't live in mansions and have security teams around them when they're walking across campus to class and interacting with people," Whitman says. "We have students who work for our teams who see every day who's playing well, who's not, who's hurt, who's not, who's maybe being benched, who's not, what the trick play was.
"They see all that. Then they go back to their frat houses or their sororities or their dormitories or their apartments and they share it with their friends. That information has value.
"And, probably most importantly, the subjects of the bets were at the high school prom last year. They're 18, 19, 20 years old. In our state, you have to be 21 years old to place a bet. They're not even old enough to bet themselves, and we're betting on them."
Whitman was among the most vocal critics of the push to lift the betting ban on state college teams as it moved from the Illinois House to the Senate to the governor's desk. Between team buses and Twitter feeds, he has seen enough evidence to recognize the toll the measure could take on players' mental health, which he says "has never been more fragile."
"I work every day in this space," he says. "I see what's happening on social media around our student-athletes, and it worries me. And a lot of that negative traffic is becoming increasingly focused on gambling. With the advent of social media, fans now have a direct line of communication to our students that they never had before.
"I have been on more buses than I can count, and you get on after a hard loss and every student-athlete is on there with their face buried in their phone, scrolling through, reading all the things, good and bad, that people have said about them over the course of a game. That's a lot.
"They're kids. They're working through a really intense period of growth and maturation and they've got incredible pressure and now they feel like they can come at them on social media in a way that I think is really unhealthy.
"And that was happening before legalized gambling. Now, you add onto that somebody may have lost 500 bucks or 1,000 bucks because somebody missed a shot or dropped a pass or missed a kick. It's like throwing lighter fluid on the fire."
Here's more of what Whitman had to say during an hourlong interview with The News-Gazette.
Former football coach Ron Zook used to say he'd bring his phone into the shower for fear of missing a call. As you approach your six-year anniversary next month, have you found it's like that in your job? Can you ever just leave it at the office?
No. I just don't think that's reasonable at this point. I can certainly try to compartmentalize my life and my time, but the reality is, if an emergency happens, it doesn't really matter what I'm doing in my personal life.
I was thinking about some of the moments that we've gone through, and there are good ones and bad ones. Unfortunately, sometimes the hard ones stick in your mind more. The three worst calls I've ever gotten weren't when I was sitting at my desk at 1 o'clock in the afternoon.
The first one was when Francis Edelen, our wrestler, was hit by a car and killed. I got that call at 2 o'clock in the morning and I had to call Jim Heffernan, our wrestling coach, and give him the news that one of his wrestlers had passed away. That was a really, really difficult moment and experience I'd never had before.
The other two both involved (Illini football star) Bobby Roundtree. I was in Kentucky with my family. We'd just come out of a Dairy Queen. I'd given my daughter, truly, her first ice cream cone and Lovie (Smith) called and told me about Bobby's accident. It just completely changed everything.
And then just this summer, I was on vacation with my wife. We were in the airport, getting ready to fly home, and I got a text from Warren Hood, our deputy athletic director, telling me that Bobby had died. You just instantly transitioned in a way from vacation into work, and you realize that there are real lives involved in what we do, and real feelings, emotions. I found myself just sobbing in the airport.
Those situations were all examples of work sort of crashing into personal time. What am I supposed to do, say "I'm on vacation. I'm not going to deal with this"? No.
If you're fortunate enough to be in a position like this, you have to accept that there are going to be moments where this thing intrudes into your personal life, and that's part of the expectation.
This week, we'll enter Month 23 of the COVID-19 era, with no end in sight. What has the pandemic kept your department from achieving?
It's an interesting question: What does the universe without the pandemic look like? I think in the context of Illinois athletics, it really is an interesting question to ponder.
Does football go to a bowl game in 2020? We had an experienced team, we had a favorable schedule. How would that have changed that program's future?
What happens to basketball in the spring of 2020? We had a team that was peaking at the right time and was poised for a deep run in both the conference and the NCAA tournaments. If that had happened, would Ayo (Dosunmu) have come back?
If Ayo doesn't come back, then what happens to all of last season, that team's success and the great memories we created?
If the pandemic never happened, would you have added varsity hockey by now?
I think if not for the pandemic, we would have green-lighted that project at some point in the spring of 2020. That was certainly one of the things that changed because of the pandemic and something we're now in the process of re-evaluating.
From the beginning, that project has been a priority because of its implications for a number of our existing sports — specifically volleyball, wrestling, gymnastics. We owe them clarity on what that future direction is going to look like.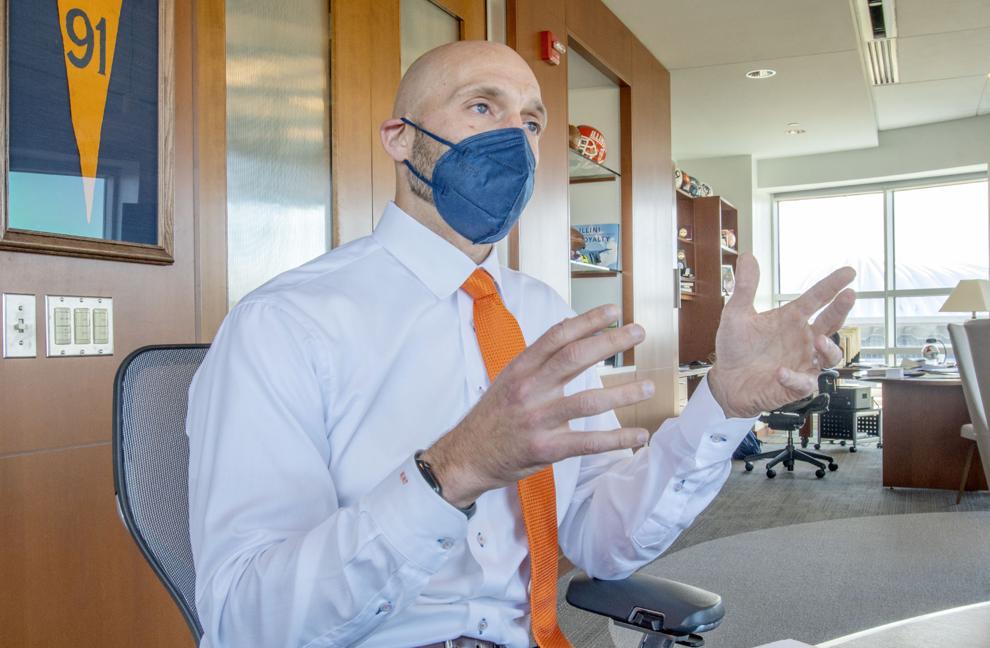 What would you say to those who criticize athletics as getting preferential treatment, compared to other campus units, when it comes to pandemic spending?
I do take issue with the characterization of preferential treatment. During the pandemic, I think you'd be hard-pressed to find any unit on campus that instituted more austerity measures to navigate the financial implications of COVID on their operation.
Last year, we cut over $17 million in spending from our budget. Of the 87 staff members who make more than $80,000, 86 of them volunteered to return significant portions of their hard-earned salaries to the university. That's remarkable. Nobody else on campus did that.
We eliminated positions, left vacancies unfilled and dramatically changed our operation. The end result was a positive in a very negative circumstance. Ultimately, we posted the second-lowest pandemic-caused net loss of any school in the Big Ten, and we're proud of that.
On the capital-projects side, again, I don't agree with the concept of preferential treatment. There are defined policies for how money is spent when it comes to capital projects at the university. We have always followed, and continue to follow, those policies.
Capital projects exist on a continuum — they have a long life cycle. I think it's very convenient to look at the world "in pandemic" or "out of the pandemic," but the reality is that our projects started, in many cases, long before the pandemic began.
As an example, we started the Ubben (Basketball Complex renovation and expansion) project in May of 2018, nearly two full years before the pandemic. By the time the pandemic arrived, we had two years of work, two years of fundraising, two years of planning and preparation in place, and all of that would have been wasted had we halted the project prematurely.
Not to mention, by continuing to push through, it allows us now to realize savings of both time and money. Restarting the project would have added months if not years to the total project timeline, and in terms of costs, the escalation we are seeing today is 20 to 30 percent above where we were two years ago.
Lastly, and importantly, we have not yet accessed any loan funding for the Ubben project. To date, every dollar of that project has been paid with other revenue sources; the loan proceeds have been approved, but we have not yet needed any of it because of the availability of fundraised dollars.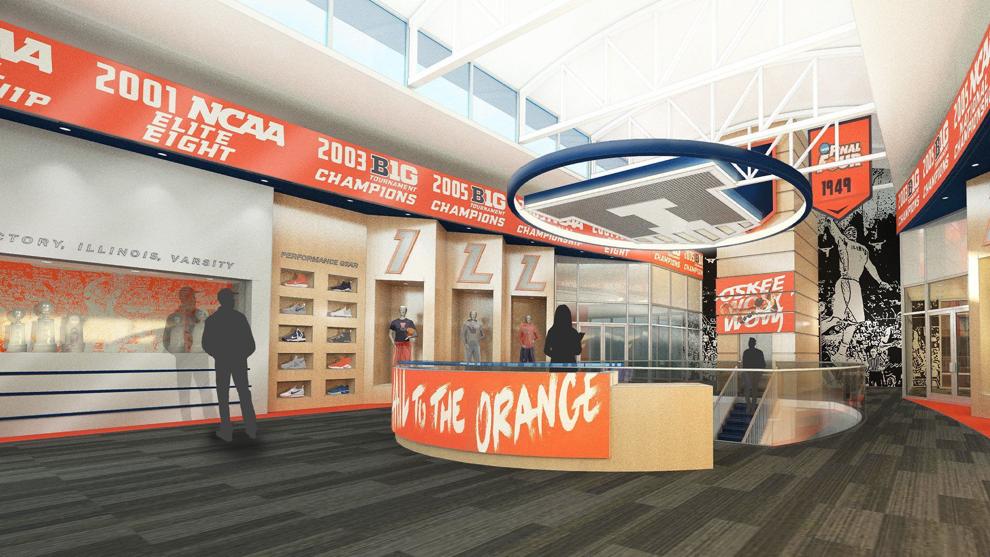 For us non-finance majors: What doesn't everyone know that they should about the model of borrowing and debt to pay for big infrastructure projects?
Any business utilizes debt as a tool to address current needs with future revenue. That's essentially what we've done — we use debt to match up the timing of our expenses with our future revenue streams, including fundraising commitments, media agreements and conference distributions.
There are two kinds of debt that we utilize in the athletic program. One, we use internal loans provided by the University of Illinois System. Second, we obtain external financing through the public bond market, which is helpful for some of our larger projects.
Our ability to obtain financing, and our interest in such financing, is a function of two things — one is risk and the second is cost. Any financing body, whether it be the university or an outside third party, is loaning us money for one reason: to have their money repaid, along with interest — not interest only, as some would suggest.
Any lender's risk is that they loan us money that we cannot repay. Thus, any lender — again, whether it be the university or a third party — is conducting an independent evaluation of our ability to make good on the promises that we've made to them to pay in the future. If they don't believe in our ability to do that, then they won't loan us the money. We are seen as an extremely low-risk borrower because of our unblemished record of payment and our strong future revenue projections.
The second consideration is cost. The reality is, accessing capital has never been cheaper than it is right now. Across the country, businesses are taking advantage of the low-cost resources to move forward their strategic priorities. Our athletic program is doing the same thing.
How much do you weigh the financial impact of letting someone go before their contract's up and having to pay a hefty buyout, plus the salary of their successor?
(Editor's note: Late Friday afternoon, football coach Bret Bielema announced that offensive coordinator Tony Petersen had been dismissed, one year into a three-year contract that paid him $750,000 annually).
The finances are always important. We're always working with our coaches to understand and evaluate financial implications of any decision they may be interested in making relative to their program, including on their staff.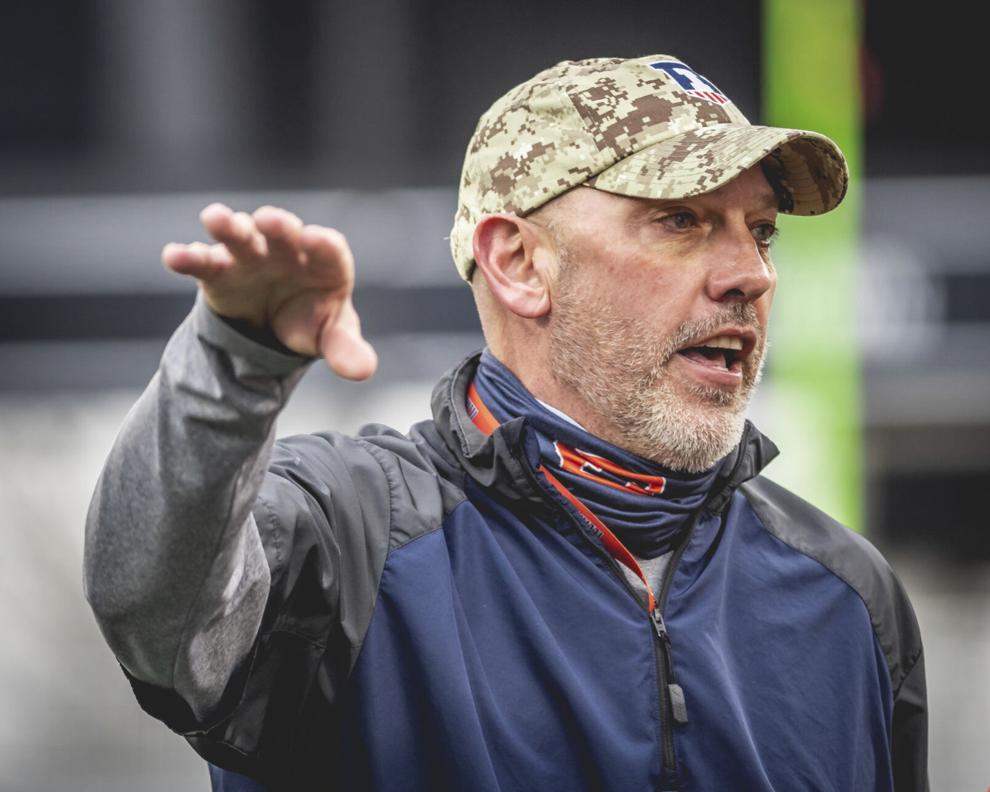 This would be one of those cases where someone in another unit on campus might say: 'We don't get rid of people after one year with two left on their contract.' Your response?
As every unit is on campus, we are constantly looking to advance our programs, and we have to make judgments every day about how to allocate our resources in the best manner to accomplish those goals. Sometimes with us, as with anywhere, that requires personnel change.
When those decisions are being considered, whether it's in athletics or whether it's in one of our academic units, costs are certainly part of the discussion. And at the end of the day, after comparing the benefits and costs, tangible and intangible, we've always made the decision that we believe to be in the best interests of the athletic program and the university.
In recent weeks, college football coaches have signed contracts worth a reported $110 million (USC) and $95 million (LSU). Is there ever talk among your peers about capping salaries?
For every LSU or USC contract, there's a Washington, a Texas Tech or a Virginia Tech that are still within the range of what we've seen here over the last five or six years — those $3.5 or $4.5 million contracts. Just a reminder: Even though there are some big numbers, those don't define how every school is approaching these expenses.
Cost escalation is certainly a topic of discussion amongst athletic directors and leaders in our industry, and that's true in coaching salaries, that's true in facilities, that's true in scholarships. Every part of our business is costing more money than it ever has.
As we continue to move into what I would call the new era of college athletics, there are so many factors that are coming into play in those discussions, and trying to understand and address how to more effectively manage our costs is a more important part of those discussions.
That said, understand that, especially when it comes to people's salaries and compensation, there are legal limits on what kinds of conversations we can have. We can't get in a room and everybody sit around a table and say 'Hey, we're all gonna cap our coaches' salaries at this level.' That's collusion. That's against antitrust laws.
So as much as people would like perhaps to see an artificial limit on some of these salaries, right now, there's not a legal vehicle that would allow us to do that.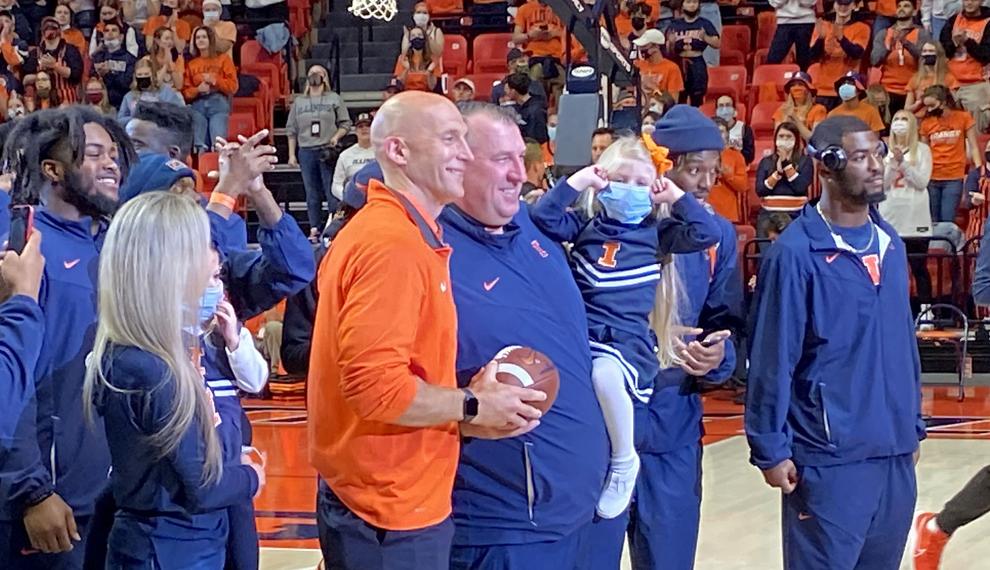 We occasionally hear fans say about Illinois football: If we could only do what Wisconsin did (under Barry Alvarez) and transform a program that didn't win much into one that does. What's keeping Illinois from taking a big step like that?
My answer to that is we are, but it isn't a big step, and it wasn't a big step at Wisconsin, either. It was a series of small, hard, gritty steps that resulted in them advancing their program dramatically forward from where it was at one point in time.
That is exactly what we're doing. We're in the midst of those daily, hard decisions; those daily, hard conversations; those daily, hard, grind-it-out moments that ultimately are going to yield success.
We have great alignment with our university administration, with a board of trustees, president, chancellor and athletic director who have a shared vision for where we want this athletic program to go.
We have seen a strong uptick in resources, thanks to the generosity of our many donors and the tireless work of our fundraising staff. We have made tremendous improvements to our infrastructure and our facilities. We have hired great people and identified dynamic leaders and head coaches. We have built a strong culture. Our fans are energized and engaged.
And now, look what has happened in basketball, which has been the Big Ten's most successful program over the last three years. And it's happening in football as well, with the progress we saw in Coach Bielema's first year.
When you played here, newspapers and TV made up press row. Today, it's a mix of websites and a newspaper and TV station or two. Plus, there's the emergence of your own news-breaking outlet, FightingIllini.com. Is the new media landscape for better or worse?
When I was playing, we had to wait for somebody from The News-Gazette or the television station to come tell our story. Now, through all of the different outlets that are available, all the different digital media, the good thing is we as an athletic program have a chance to tell our own story.
We can more directly engage with fans and our consumers. Our student-athletes have the same opportunities, which is new and evolving.
The challenge is that there are so many different sources of that information now, so we're seeing a glut of misinformation that gets inserted into the market. Sometimes, that misinformation can be harmless and inconsequential; there are other times when that misinformation can be really challenging for us as an athletic program.
What we're seeing is that there's a premium now on being first, not being right, with no accountability for being wrong. That is a challenge.
Another aspect of the new media world is TV's influence on what time — or now, even day of the week — college football games kick off. Does start time make a difference in attendance? If you weren't in the 11 a.m. Saturday slot, might more people turn out?
I think it does matter, and that's a part of the college football story that hasn't been talked about a lot.
We've made a lot of decisions for the benefit of television that have, in some ways, cannibalized the in-person opportunity.
It's not just the start time itself; it's also the advance notice that we provide. In some cases, we won't find out a start time until 10 days before the game; in some cases, it's even less — six days. It's hard for people, if we really want them to have a full football experience, to make plans when they don't know until six days before the game whether it's going to be at 2:30 or 11 o'clock in the morning.
As we work into our next round of media negotiations, I'm hopeful we can bring some level of balance back that returns some predictability to the game-time conversation.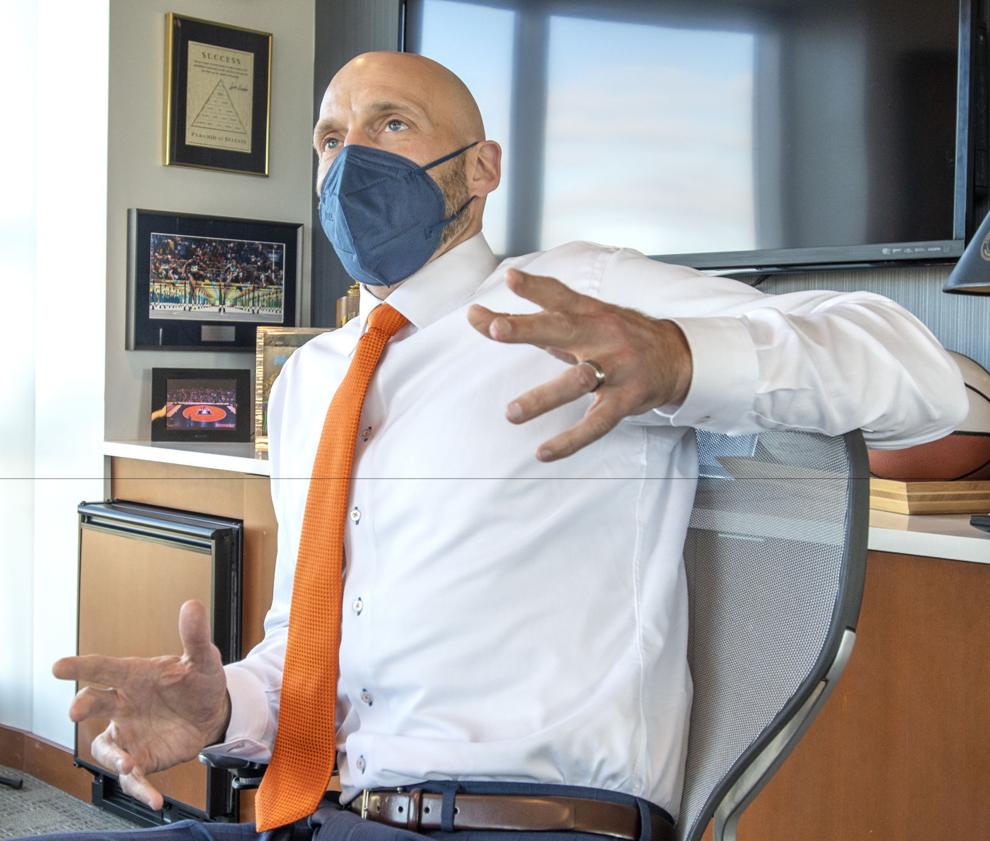 What would you say is the ideal kickoff time?
Oh, I don't know — any time from 1 to 2:30 probably. When I played, we played a lot of 1 o'clock games, which was a lot of fun. I think 2:30's a lot of fun.
I think 11 o'clock's a lot of fun. I love college football, so I'm probably not the right person to ask.
But I understand some of the challenges of the 11 o'clock kick, and we've been in fewer of those games the last couple years, which has been nice.