Rabbi: Illini great knows 'what he did was unacceptable'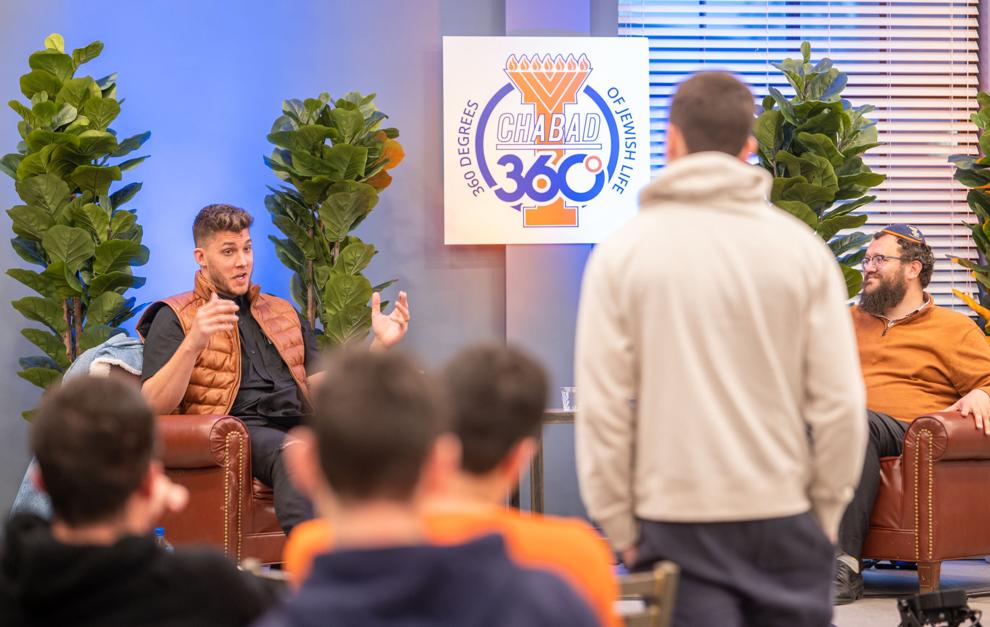 CHAMPAIGN — Meyers Leonard sat alone in his Miami home one day last spring and thought about ending his life.
He and his wife, Elle, agreed she needed to leave Miami for her family's home in Illinois after receiving online threats of death and sexual assault. He urged his older brother to leave town as well.
"I'll be honest: I thank God I didn't have a gun in the house that day, if you know what I mean," Leonard said Monday afternoon as he sat in front of a group of students and a camera broadcasting his visit to others at Illini Chabad on the University of Illinois campus.
After a career spent building up goodwill around the NBA for his team-first attitude and work in the communities in which he played, Portland and Miami, the former Illinois basketball star found himself at the center of a social-media firestorm.
The topic was Leonard's use of an anti-Semitic slur on a livestream of the video game Call of Duty. As Deon Thomas watched the news unfold, along with the outright condemnation and attacks on Leonard's character, he quickly felt like he understood what happened.
The all-time Illinois basketball leading scorer's wife is Israeli, and he, himself, practices Judaism and is a dual citizen of Israel and the United States.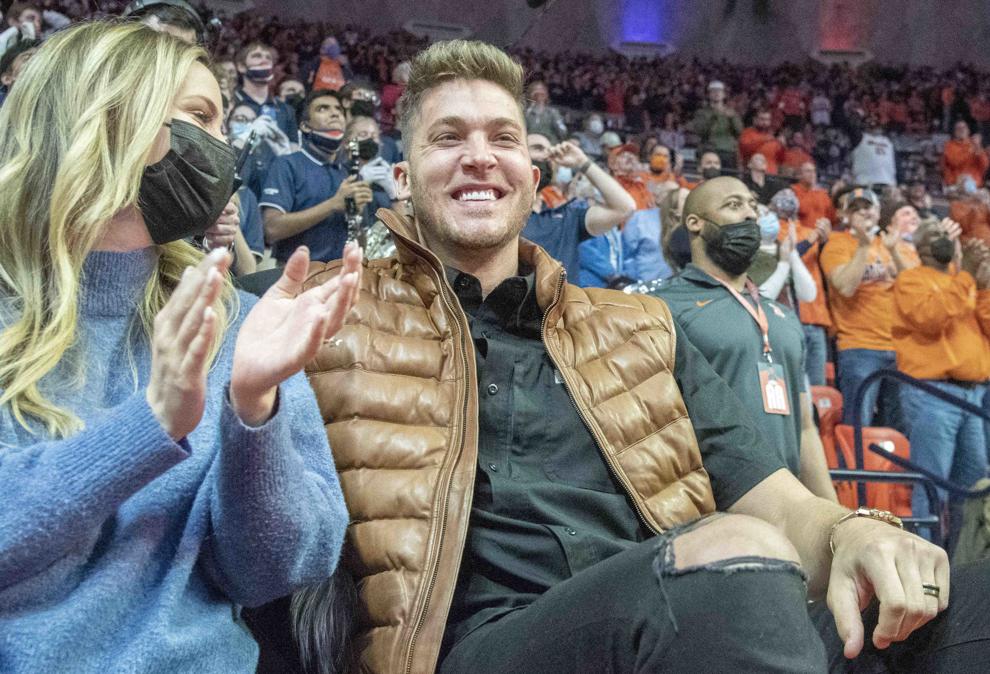 Thomas knew Leonard from his playing days at Illinois, and he knows video-game culture from watching his daughter play.
"Him being 28, 29 years old, that word doesn't fly around unless you're part of some skinhead group," Thomas said. "But I've been in the living room and listened to my daughter play video games, and some of the stuff these people that are playing them say is foul and ridiculous.
"Was I offended? No, but I know my wife would have been. They way I look at it, it's the same thing as when people use the N-word. It's not a word that should be said, used, any of the above. But when you look at it, how often do you see people use words and they don't know what they mean? And I think that was the web that he got stuck in."
Leonard says he didn't know the meaning of the word and was simply repeating a vulgar term he'd heard others say while playing the game online. But he didn't use that to excuse his mistake.
Instead, he was quickly referred to Rabbi Pinny Andrusier, who leads the Chabad of Southwest Broward and has a close relationship with the Miami Heat. Andrusier also happened to be Thomas' rabbi when the current Illini radio analyst lived in Florida.
After long conversations, Andrusier invited Leonard to his home for dinner. He had invited a group of people that included Holocaust survivors and Jewish children who looked up to Leonard and could teach him about the effect of his words.
During Passover last April, Leonard and Andrusier delivered 500 packages of matzah, wine and food to Holocaust survivors and other older adults.
"The second side of the story is that he really regrets what he did," Andrusier said. "His second side of the story is not, 'You heard wrong.' He never goes that route. He said, 'Yeah, I messed up, but I didn't realize I was targeting the Jews, and the minute I did, I started trying to do whatever I can to make it up.' Then he started sitting down with rabbis, learning that what he did was unacceptable."
The aspect that made Andrusier realize Leonard was completely genuine was that Leonard would not let him post anything on social media about their activities together.
"When something like that happens, there's no clear step forward, so it was a mixture of, honestly, what felt right, genuinely, in his heart," Elle Leonard said. "And that's why all of the work for months and months and months was behind the scenes.
"Nothing that he did was a requirement of the NBA. Not one thing. So, it was all from friends of his saying, 'Hey, this is a good dude.' It was organic."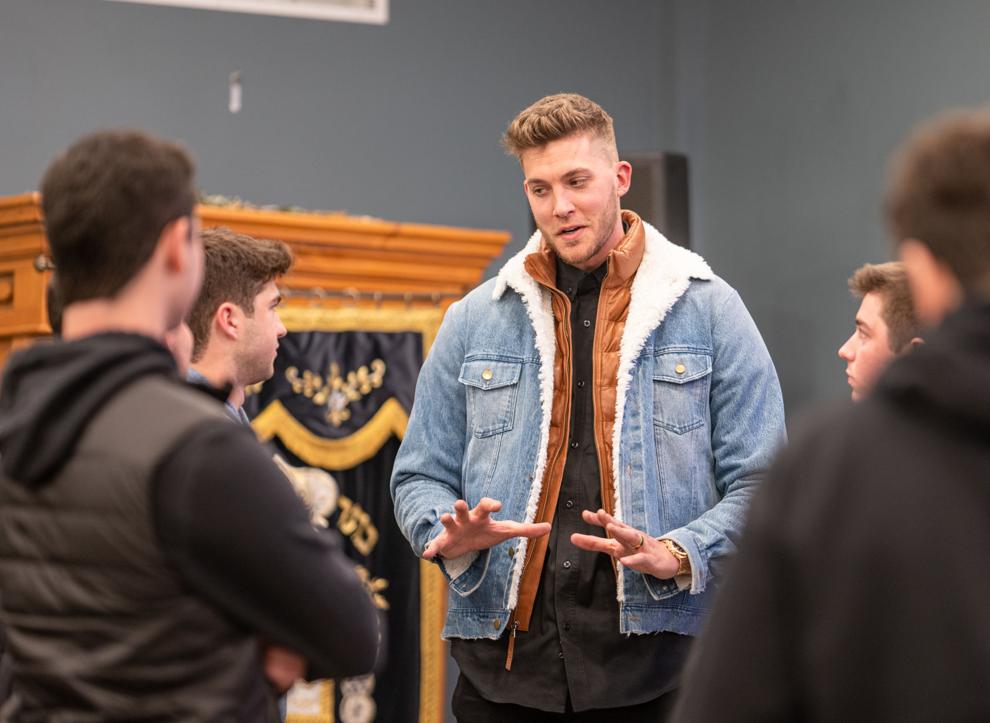 This week, Leonard returned to State Farm Center for a basketball game for the first time since he played for the Illini during the 2011-12 season, and he and his wife were honored during Monday's Purdue game for making a $500,000 donation to the Ubben Basketball Complex renovation project.
But during his trip, he made sure to set up a meeting at Illini Chabad. The appearance lasted two hours, beginning with casual conversation before holding a more formal event attended by Chancellor Robert Jones, who spoke about the importance of acceptance and compassion for others, as well as learning from mistakes.
Leonard's wide-ranging question-and-answer session included thoughts about his career, which he says is only on pause because of an ankle surgery that went bad, but it mostly focused on his mistakes.
At one point, Chabad Rabbi Dovid Tiechtel mentioned Leonard may need to leave, but Leonard brushed him off, saying the visit was too important to leave before all questions were taken from students.
He spoke about his struggle with mental health, and how it took the worst moment of his life to address childhood trauma, which included the death of his father when he was 6 years old, through Eye Movement Desensitization and Reprocessing (EMDR) therapy.
"I seek love because of trauma from my childhood, and so often, we run from asking for help," he said. "I'm a pretty tough basketball player, I feel like, but from the inside, no sir. I was dying, literally."
Leonard mentioned to the students at Illini Chabad that he understood people had every right to be upset with him. And, he said, he realized they may have been wondering what he was up to while he built inroads with Jewish communities and learned about the culture and religion away from cameras and social media.
Andrusier saw him put in the work, though, and he thinks he'll be able to make a the world a better, kinder place because of his reaction to his mistake.
"Sometimes, even adults, we're not sensitive in what we say to others, and he could be a true emissary, ambassador to impart that message," Andrusier said. "And of course, now that he's learned and discovered who the Jewish people are — I'm telling you, he's a bright kid, but his ignorance on this topic was there — he can help take a stand and be a leader in trying to end hate and anti-Semitism."