UI at 150 & Beyond: 'I am forever grateful'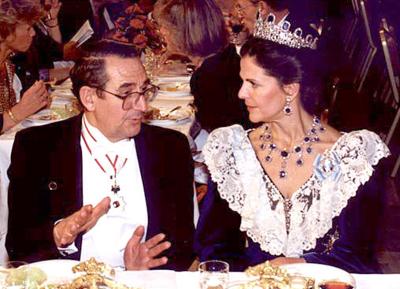 Among the 1,954 former students and faculty featured on our 'UI at 150 & Beyond' website: E.J. COREY, whose road to Harvard — and a Nobel Prize — began in Champaign-Urbana.
Across from Noyes Laboratory in the 1950s stood The Farwell, a coffee shop that became a favorite hangout for "the best chemistry faculty in the world," says one of them, 1990 Nobel Prize winner E.J. Corey.
"I spent a lot of time there with my wonderful colleagues — sadly now all deceased — discussing everything under the sun," says the chemist credited with advancing the science of organic synthesis.
Now 91 and a professor emeritus at Harvard, Corey can still remember his old haunts six decades later — from Wheat´s Steak House in Urbana ("where one could get a great filet mignon, shrimp cocktail and a good drink for less than $10," he says) to Lombardi´s Spaghetti House in Champaign ("imagine a large pizza for $1.50") and the old Tea Garden ("the only Chinese restaurant within miles and as good as any anywhere.")
Corey gave a shoutout to the UI in his Nobel acceptance speech, recalling how he arrived in C-U at age 22, just after finishing his doctoral work at MIT:
"I joined the University of Illinois at Urbana-Champaign as an instructor in chemistry under the distinguished chemists Roger Adams and Carl S. Marvel. I am forever grateful to them for giving me such a splendid opportunity, as well as for their help and friendship over many years."