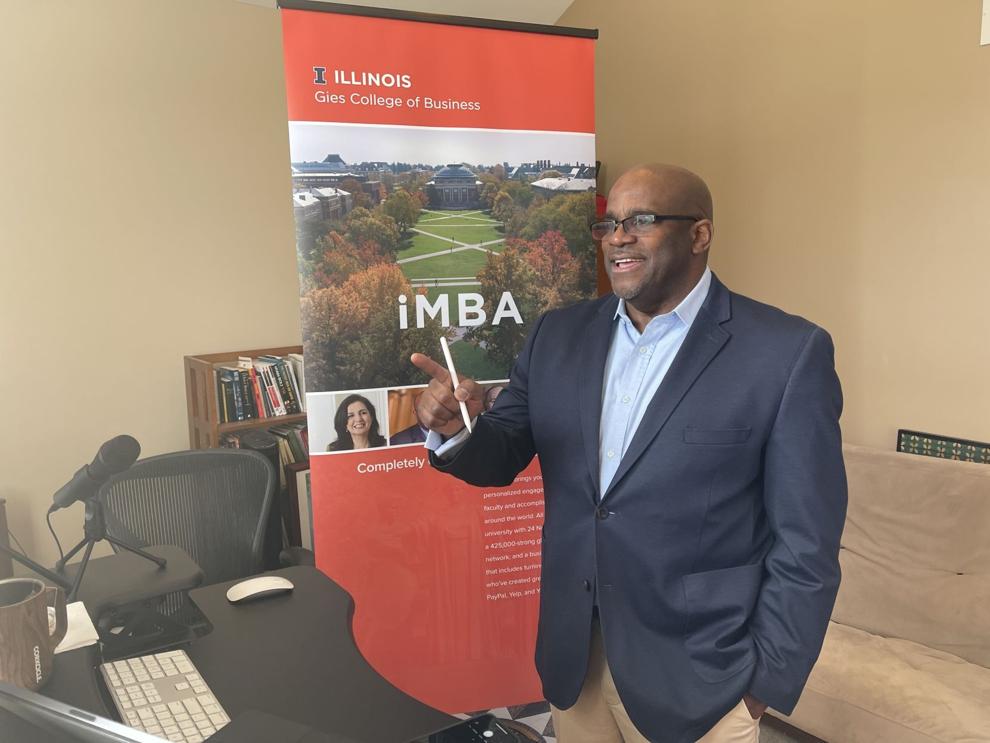 CHAMPAIGN — The University of Illinois' Gies College of Business is one of several universities partnering with Google to provide online, asynchronous professional certification programs.
For $30, adult learners will get access to the Professional Success Skills Certificate from Gies, with business management courses taught by several faculty members.
The certificate, announced Friday, contains 71 hours of coursework between four noncredit classes, with no degree or professional experience required to enroll.
The program is hosted on Coursera, and is meant to be paired with any of the four technical certificates in the professional learning platform "Grow with Google."
If students complete both a Google certificate and the Gies addition, they'll be awarded dual badge of completion from Google and Gies Business, to help them stand out in the job market.
"Before today, Grow with Google hadn't partnered with academic institutions," said Brooke Elliott, associate dean in the Gies College of Business. "The education industry has been disrupted."
The UI is part of the first wave of academic entities to partner with the Grow with Google team. Purdue Global, Northeastern, Arizona State and the State University of New York system are other early adopters.
Grow with Google was founded in 2017, with a host of online tech certificates targeted at adults who were looking to "reskill" or "upskill" — adding digital proficiency to keep up with their chosen profession or pursue a new one.
The Google platform currently hosts classes in IT support, user experience design, Android development, project management and data analytics — more than 5 million users have completed at least one certificate. The typical time for completion ranges between three to six months.
The UI's new partnership stemmed from one of its own Google connections. Kevin Hartman, vice president of analytics at Google, teaches courses in a couple of Gies' degree specialization tracks.
Through Hartman, Elliott connected with the company and asked if they'd be interested in partnering to provide a more comprehensive business education, and instill learners with an additional competitive edge, she said.
"My pitch to Google was: That's great if learners have those technical skills, but if they want to succeed and if they want to grow past that entry-level position, they need broader business skills," Elliott said. "You can pair the business skills with the technical skills, and we believe it puts them in a better position to succeed."
The Gies certificate courses will draw from some modules and content within its existing library of digital courses, along with newly recorded teaching material from the UI's business professors. Elizabeth Luckman, Jeff Loewenstein, Hayden Noel, Patricia Werhane, Jack Goncalo and Geoffrey Love are a few of the Gies faculty whose modules are in the certificate program.
Courses will offer lessons in organizational decision-making, problem-solving, working in teams and leadership, among others, Elliott said.
Gies already has a sizable digital footprint of educational offerings. Beyond its all-online iMBA program, which enrolls about 5,000 students every year, Gies has released a number of business classes on the Coursera platform since 2014, which more than 3.2 million users have completed to date, Elliott said.
"The scale and scope is just tremendous, and that's just out of the Gies College," she said.
This doesn't mean the college is drifting away from "credit-bearing offerings," or the classic degree track education, Elliott said. It's a matter of reaching a broader audience.
"There is an even larger set of individuals all around the globe who don't demand that credit-bearing content," she said. "They don't demand a degree, it's not what they need — they need a skill to get a new opportunity now."
And Gies believes partnering with industry leaders who've had experience in that space is the best way forward, she said.
"I do think the academic institutions that start to partner with these for-profit institutions like Google, like IBM, like Amazon, they've all moved into the education space. We can do really cool and innovative things together that come back and allow us back at Illinois to deliver on our mission as a land-grant institution," Elliott said.