MAHOMET — Mahomet-Seymour school board member Ken Keefe announced Monday that he has resigned from the district's Parent Teacher Organization after it issued a statement on Facebook asking him to do so and saying it cut all ties to his credit-card processing company.
PTO leaders said they only learned Friday that the company, Fund For Us, which was used to handle credit-card payments for the annual Dawg Walk fundraiser last year, is owned by Keefe, who works as a software developer at the University of Illinois.
"What the PTO posted was correct," Keefe said about the Facebook post. "There was a very serious communication error between the board and myself. I take complete blame for that."
Keefe, elected to the school board in April, has also made headlines by accusing past school boards, which included some current members, of violations of the Illinois Open Meetings Act. Both situations were discussed in a contentious school board meeting Aug. 19.
Keefe told The News-Gazette on Monday that he offered to resign from the PTO the day after that school board meeting, and PTO President Ashley Webber confirmed that timing, saying Keefe sent an email Aug. 20 asking if PTO leaders wanted him to resign.
But it wasn't until Friday, in a one-on-one phone conversation with Keefe, that Webber learned that Fund For Us was Keefe's company.
"This came out of left field Friday. None of us knew this," she said today. Within three hours, PTO leaders asked Keefe to resign.
"It wasn't something that we sat on very long once we had the information in front of us," Webber said. PTO officials did wait to make an announcement, she added, until after consulting district Superintendent Lindsey Hall.
"We felt it was important to let the school administration know prior to releasing that" statement, Webber said.
In its own statement issued Monday afternoon, the district said it was made aware that morning of "Ken Keefe's alleged financial dealings with the Mahomet-Seymour PTO and its fundraising activities."
"The School District is in the process of obtaining related facts and will review any implications as they may relate to Mr. Keefe's position as an elected member of our Board of Education," said the release, issued by Hall. "The Mahomet-Seymour PTO has a long history of positive support of our K-5 schools, students and parents. We appreciate its efforts to communicate with our constituents and parents regarding this situation."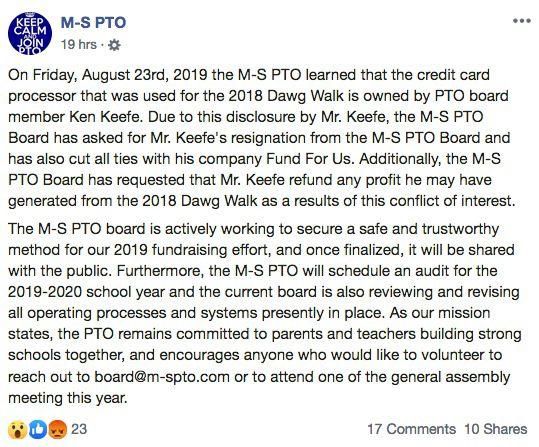 In addition to asking for Keefe's resignation from the PTO board and announcing it has cut all ties with his company, the organization's Facebook post also says that it "has requested that Mr. Keefe refund any profit he may have generated from the 2018 Dawg Walk as a result of this conflict of interest.
"The M-S PTO Board is actively working to secure a safe and trustworthy method for our 2019 fundraising effort, and once finalized, it will be shared with the public," it said. "Furthermore, the M-S PTO will schedule an audit for the 2019-2020 school year, and the current board is also reviewing and revising all operating processes and systems presently in place."
Keefe said the issue came to light after he offered his resignation from the PTO.
"I offered my resignation about a week ago in order to avoid the appearance of a conflict of interest, and I brought up … I own this website, and that was the first time we started connecting these dots," he said. "I will be stepping down and completely separating from the PTO. I hope there is no lasting harm done to the PTO or the Dawg Walk due to this."
Keefe said he believed PTO leaders knew that Fund For Us was his company.
"I thought they knew up until this weekend, and they didn't know up until this weekend, and all of the pieces kind of came together at the same time," he said. "I thought that they knew back when we did the Dawg Walk in 2018. This was a big communication mistake on my part."
He said he doesn't believe he did anything wrong.
"I looked at my business as any other vendor that we use," Keefe said. "We use local places to buy T-shirts, and we use local places to buy food, and this was a local place that provided exactly the type of web database, web processing that we need. … No, I don't think there was anything (wrong) in that regard. The only thing that was improper was that the board was not aware, and I didn't do a better job of asking the board to make a formal decision to use my business."
The 2018 Dawg Walk was the first time the fundraiser broke the six-figure mark, bringing in a total of $106,657, as The News-Gazette reported last year. Keefe said he will refund the estimated less than $2,000 that his company earned from Dawg Walk transactions.
"I am still working on what that figure would be exactly. After (the PTO) made that request, (I said) that I would honor that since they didn't seem to know the terms of our relationship," he said. "So if it helps make them feel whole, then I'm going to do that."
Webber said PTO leaders are still working to determine that figure, as well, and the details surrounding how Keefe might refund the organization.
Keefe said more than half of what the PTO paid for credit-card processing went to Stripe, an online processing company, while his company is "a portal for getting donations and then keeping track of data for those donations."
"I've put an incredible amount of time and work into developing this platform and in building this business, and I feel that I provided a great service to the PTO," Keefe said. "Really, my only regret is that it wasn't clear to the PTO what the terms of the arrangement were."
He said he has no intention of resigning from the school board because of the issues related to the PTO.
"These are two separate entities. I'm not planning to make any moves on the school board," he said. "I don't think that this warrants any changes on my plans on the school board."
The PTO's next open meeting is scheduled for 6 p.m. Sept. 12 in the conference room at Middletown Prairie Elementary School.