Meeting Minutes: What's making news around the area
Couldn't make it to your city, village or school board meeting this week? Here's the third installment of our new weekly feature — a quick look at some of the votes taken, promotions celebrated and deals struck around the area.
Have something you'd like to see in next week's feature? Drop Jeff a line at jdalessio@news-gazette.com.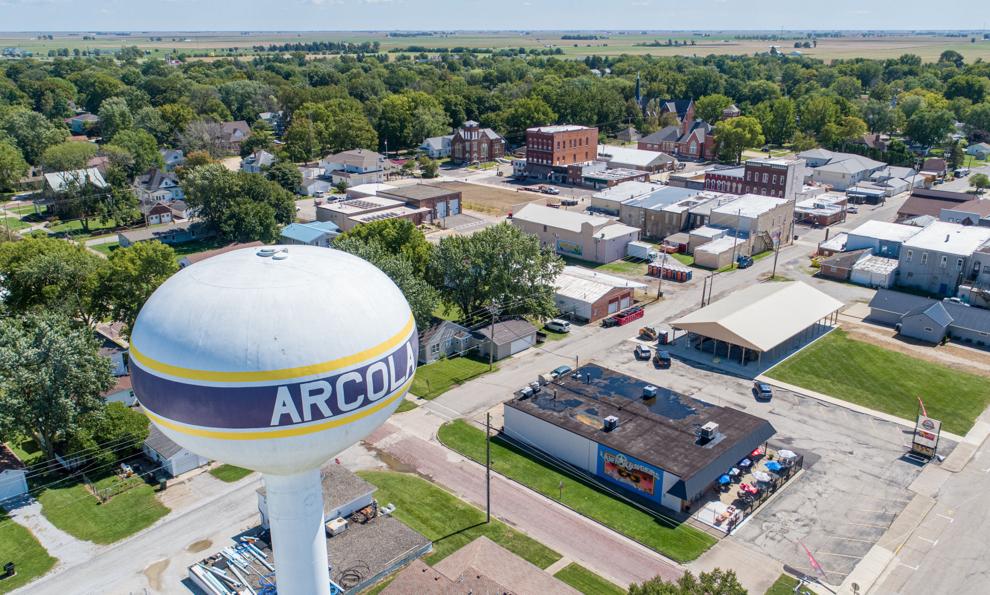 CITY OF ARCOLA
More energy-­efficient street lights are coming to Arcola next week, courtesy Ameren. In a process that's scheduled to start Monday and wrap up by Thursday, the company will sub out around 70 old-style bulbs with LED lights, said to last three times longer, use less than half the energy and improve nighttime visibility.
Also happening quickly: the replacement of roughly 1,000 feet of water main on Ridge and Third streets after city council members this week approved a $77,670 contract with Marshall-based B&T Drainage. Construction could be finished as early as next week, City Administrator Bill Wagoner says.
---
VILLAGE OF ARTHUR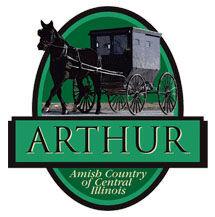 Appointed at this week's village board meeting: Matt Bernius as mayor pro-tem, Michael Goodman as police chief, Erica Carter as comptroller and Arthur's Crossman Law Office as village attorney.
---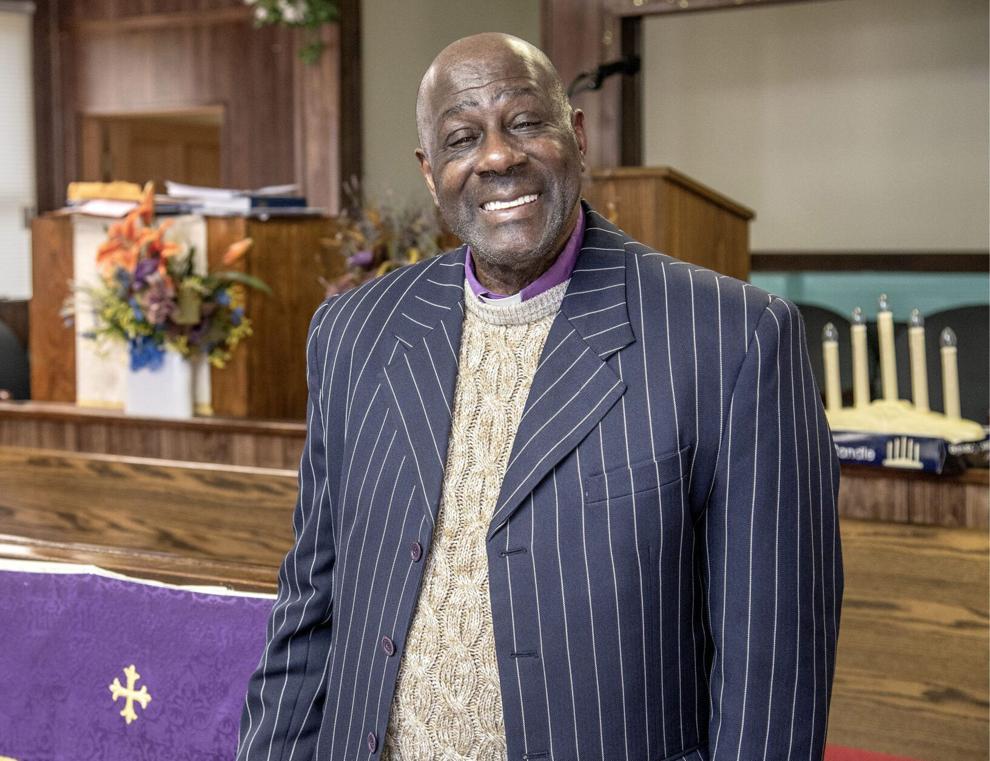 CITY OF CHAMPAIGN
A seventh local faith leader is getting a Champaign street named in his honor, with city council members approving the designation for Bishop King James Underwood, the 32‑year senior pastor at New Free Will Baptist Church.
For the next 10 years, Grove Street between Wright and Sixth streets — where the church he founded stands — will be known as "Bishop King James Underwood Street."
The idea came from Underwood's daughter, Janet Ross, who told council members this week: "He built his church by hand, by himself practically. I think that took a lot of faith and a lot of nerve."
Added wife and associate minister, the Rev. Evelyn Underwood: "He deserves this honorary street sign, because he's given his life to everyone."
The native Mississippian joins an all-star list of Champaign religious leaders who've received similar salutes since the honorary-street-name program was launched in 2000.
The list: the Rev. Lundy Savage (2011), the Revs. Arthur Burks and W.B. Keaton (both in 2013), the Rev. Edward T. McGhee (2014), Rabbi Ben Frankel (2018) and the Rev. Robert L. Perry Jr. (2018).
---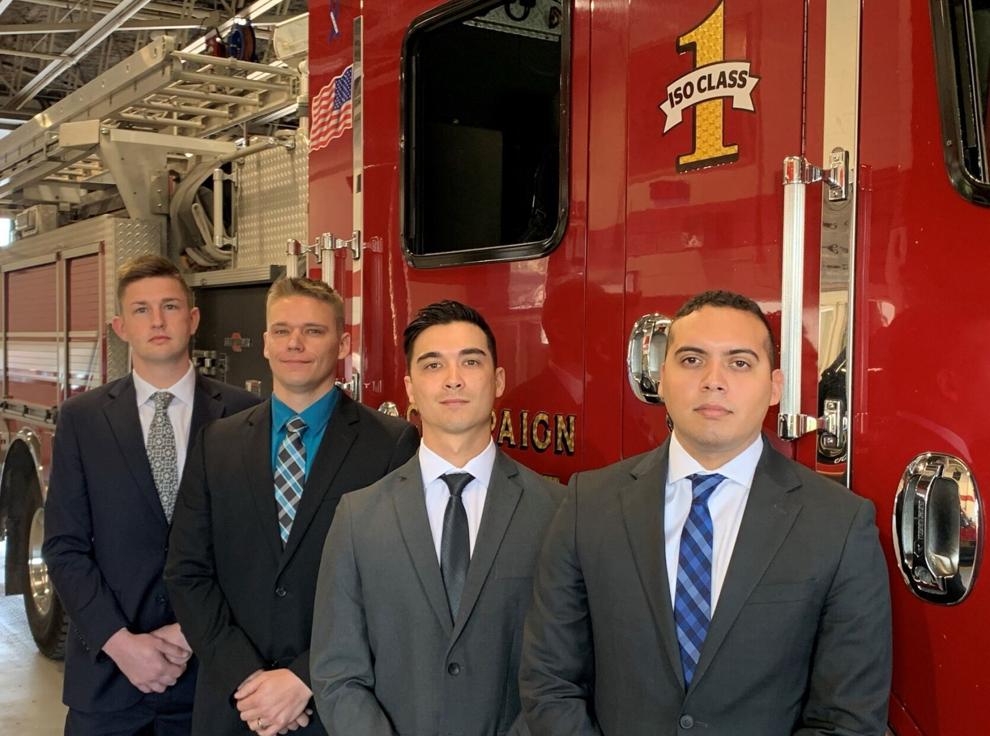 CHAMPAIGN FIRE
The department officially welcomed four new firefighters, who are off to the Illinois Fire Service Institute for training on Monday. Sworn in by the city clerk: David Cochrane, Grant Hale, Shawn Kautz and Mateo Rodriguez.
---
CHAMPAIGN PUBLIC LIBRARY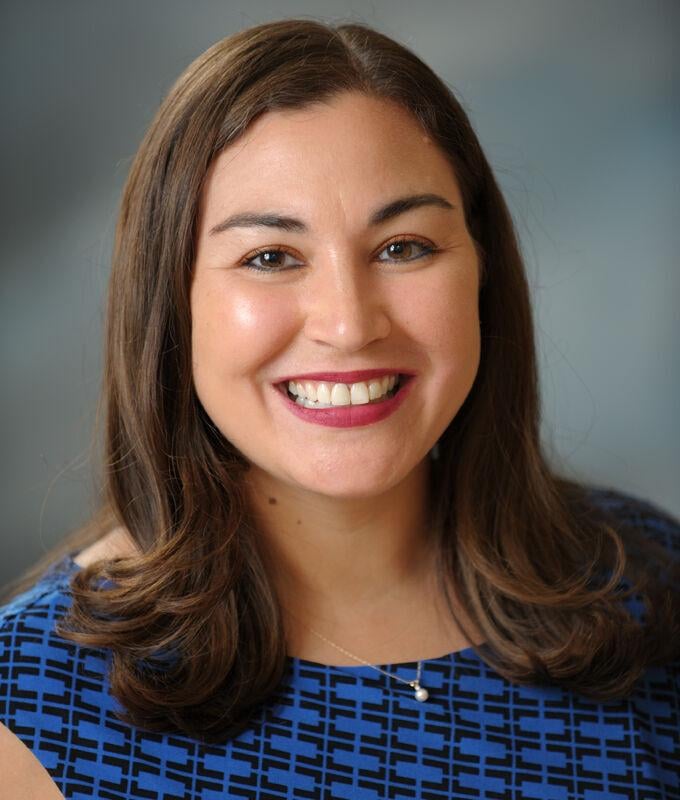 The city council signed off on Mayor Deb Feinen's appointment of Chaya Sandler to the library board seat previously held by the late Craig Rost. The move took effect immediately, and for good reason — the process of finding a successor for retiring library Director Donna Pittman ramps up starting today, when the board is due to review internal applications and schedule interviews.
---
CITY OF DANVILLE
"If you decide to go out to eat after fasting, make sure to tip your servers well," Mayor Rickey Williams Jr. reminded all in attendance for this week's city council meeting, held on the eve of his requested day of fasting and praying from sunrise (5:44 a.m.) to sunset (7:49 p.m.).
The most-talked-about topic of this week's council meeting was devoted to Danville Tennis Center representatives' request for a chunk of the city's federal coronavirus relief funding — to fix all sorts of problems, including "significant cracking" on the outdoor courts, an HVAC system on its last legs and a leaky roof.
---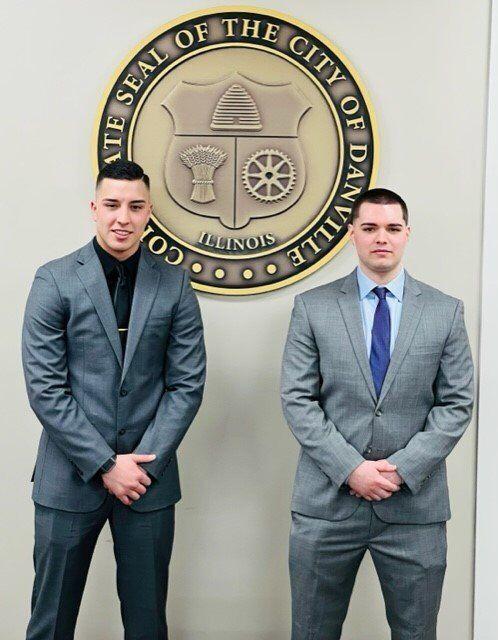 DANVILLE POLICE
Another week, another two new officers sworn in and ready to report for duty following 14 weeks at the University of Illinois Police Training Institute.
Jeffery Thompson and Tyler Sentelle were officially welcomed to the department this week.
---
DANVILLE SCHOOLS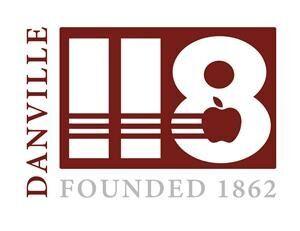 The school board approved a three-year collective bargaining agreement with custodial staff that includes longevity bonuses (range: from $250 for under 10 years to $2,000 for over 20) and 5 percent increases in the salary schedule each year. Also OK'd: a one-year contract with Danville's longtime bus service, First Student.
---
FARMER CITY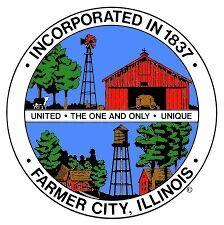 With the debris from February's fire cleared, the city council began discussions on the design of the new garage for the street department. The hope is that a contractor can be chosen in June, the work can begin in July or August and the project can be completed by year's end.
---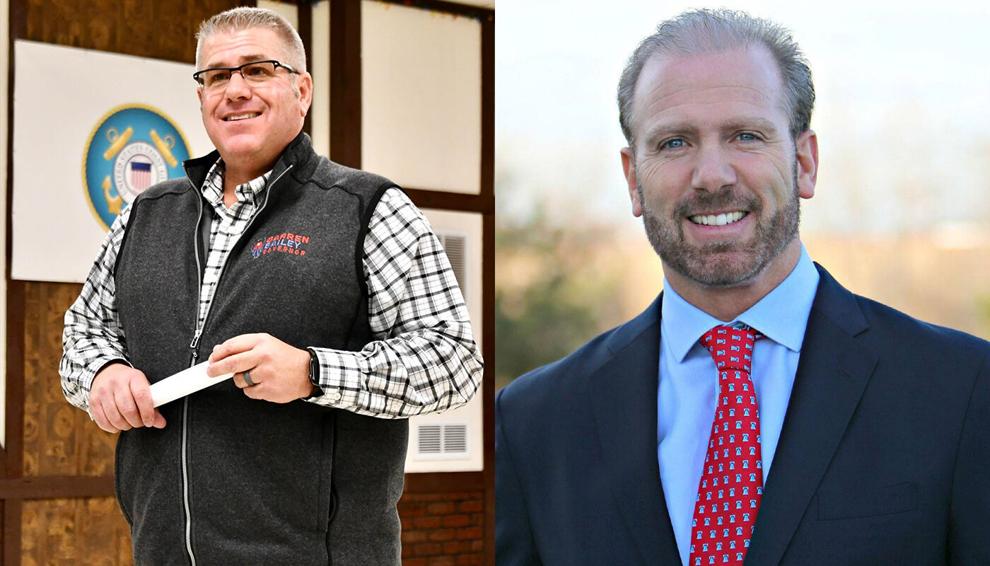 FORD COUNTY REPUBLICANS
Count Darren Bailey and Gary Rabine in for next month's annual Lincoln Day dinner, central committee Chair Jeff Orr told his fellow Ford County Republicans.
Every GOP candidate for governor has been invited to the June 9 event at Gibson City's Kruse Center (tickets: $35), with Paul Schimpf and Jesse Sullivan indicating they'll send their lieutenant-governor running mates.
---
CITY OF LeROY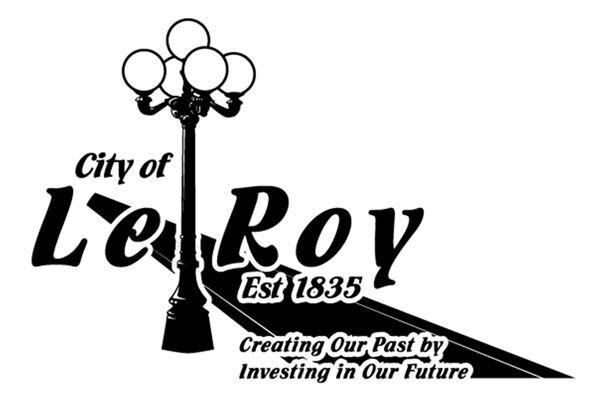 The opening act for the centennial celebration of the Kiwanis Park bandstand will be the LeRoy High concert band, which will take the stage at 6 p.m. next Friday, Mayor Steve Dean announced.
---
VILLAGE OF MAHOMET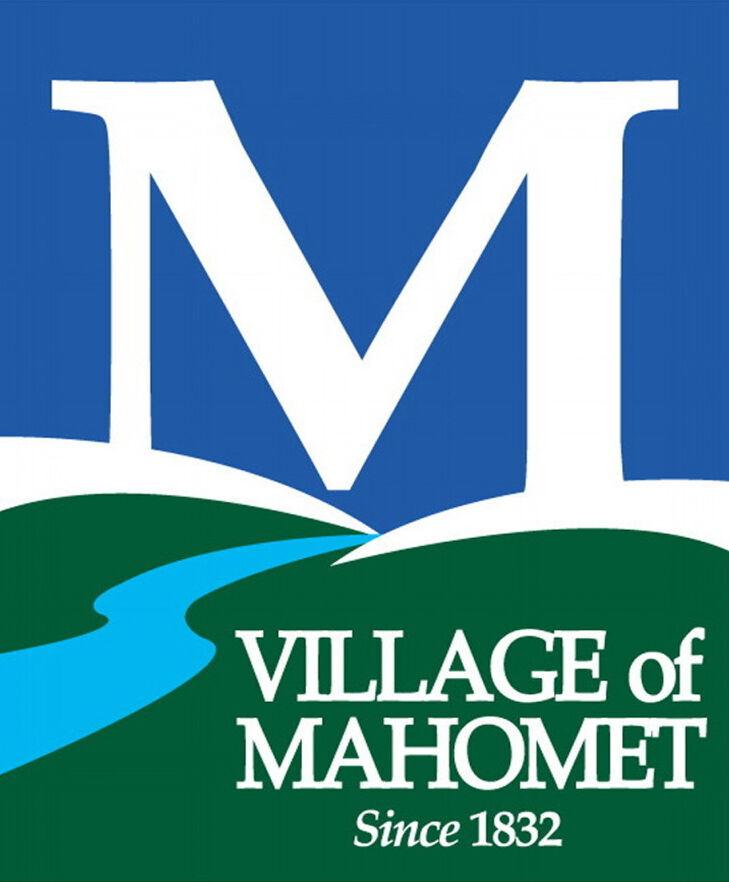 The Planning and Zoning Commission voted Robert DeAtley as its new chair, succeeding Jay Roloff, who resigned after 14 years. DeAtley, who's served since 2014, will lead a group that last month added two newcomers appointed by Village President Sean Widener: Philip Schaefer and Mandi Simeone.
---
MAHOMET-SEYMOUR SCHOOLS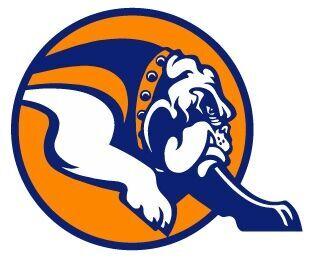 A new leader will occupy the superintendent's seat in July, but the school board leadership team will remain the same after all three current office-holders were the only ones nominated for election this week: Max McComb as board president (a role he's held since 2015), Jeremy Henrichs as vice president and Ken Keefe as secretary.
That was followed by a discussion about future facilities — "mainly focused on how fast we can start building if our bond passes on June 28," outgoing Superintendent Lindsey Hall said, "and what do we do if it doesn't pass?"
---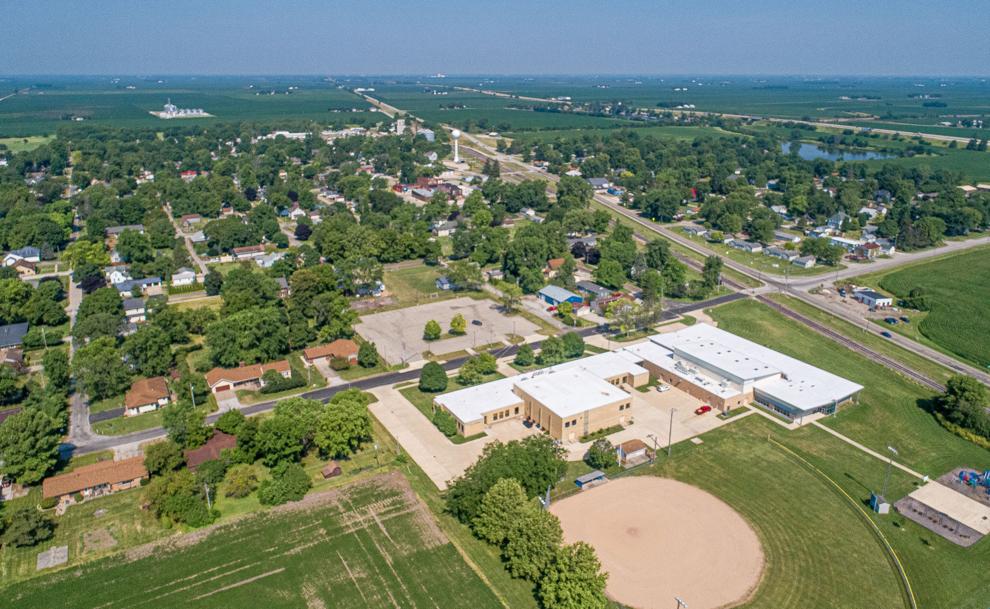 VILLAGE OF MANSFIELD
Count on seeing more non-traditional vehicles motoring around the Piatt County community of 928 this summer, now that the village has tweaked its golf-cart ordinance.
In addition to adding safety elements — now required: turn signals and slow-moving-­vehicle signs — "the updated version allows more types of vehicles on the village streets, not just your traditional golf cart," says Trustee Jessica Bartley, who organized the updates. She expects more permits being handed out than the 50 from a year ago.
---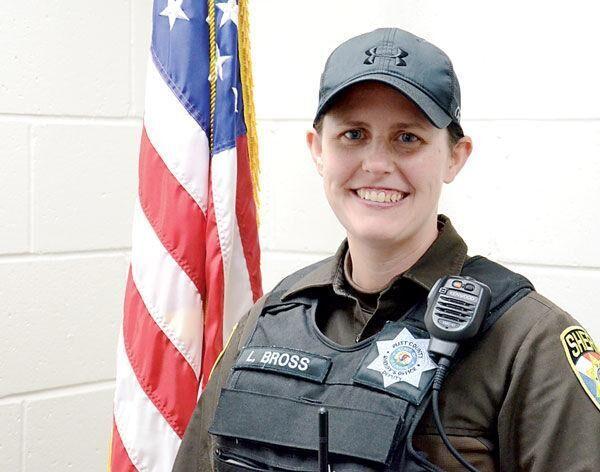 MONTICELLO SCHOOLS
Safety may not be the concern it is in other districts but the $27,000 Monticello invests in having a Piatt County sheriff's deputy in its schools two days a week is money well spent, outgoing Superintendent Vic Zimmerman says.
School resource officers like the one Piatt County's four districts have shared in Lindsey Bross are valuable for two reasons, Zimmerman said: "One, to improve the safety of the school, and the second is to build relationships with students. However, in Piatt County, those are switched. The primary goal is to build relationships. ... Our main focus with the SRO program is to have a presence in the school and she has developed some awesome relationships."
Monticello renewed its portion of the deal, picking up 40 percent of the tab since it — as the county's largest district — gets the officer for one more day a week than Bement, Cerro Gordo and DeLand-Weldon.
---
VILLAGE OF RANTOUL
A split village board nonetheless moved to next week's regular agenda an item on whether to ask for voters if Rantoul should create a cannabis-­dispensary license. If it does ultimately make it to an election ballot, it would solely be an advisory question seeking residents' guidance, Village Administrator Scott Eisenhauer said.
---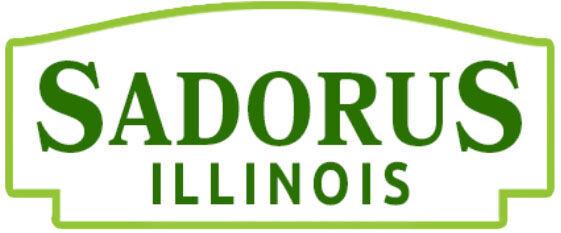 VILLAGE OF SADORUS
Coming up: Village President Ted Myhre's appointment of longtime Sadorus resident Ken Gaines to a vacated trustee seat, water-line replacements along Front Street (May), a town-wide cleanup day (proposed for June) and the car show with the C-U Sundowners Club (Aug. 20).
---

VILLAGE OF ST. JOSEPH
While taking care of village business in the weeks ahead — priority No. 1: picking which projects to fund with its federal pandemic relief money — officials will also be planning St. Joseph's 150th birthday bash, set for Aug. 11-13.
"Be looking for the event schedule coming up soon," Mayor Tami Fruhling-Voges says.
---

VILLAGE OF SIDNEY
Southeast Champaign County is about to get greener, with village board members this week approving the cost of planting 20 new trees on Sidney easements.
---
VILLAGE OF THOMASBORO
Village board members signed off on edits to the nuisance chapter of Thomasboro's ordinance book.
Among the things that qualify as nuisances in the Champaign County village: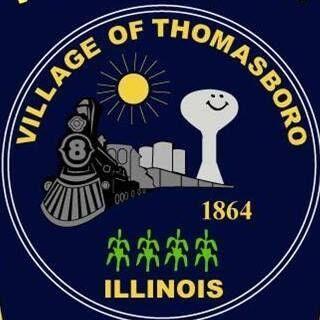 — Weeds, defined as "any growth of vegetation, to include grasses, shrubs, bushes and trees, over eight inches tall," and "unkempt" property, including the prohibited "natural prairie landscaping."
Penalty: If the owner doesn't fix the problem within 10 days of being told via letter that the property is in violation, and the village has to cut the weeds itself, the owner will be charged a rate of $100 an hour.
— Inoperable motor vehicles "not garaged within an enclosed permanent building," including those without registration stickers or plates.
Penalty: $150 fine for first offense, $350 for subsequent offenses.
— Noise, including vehicles without mufflers, the squealing of vehicle tires, construction noise between 10 p.m. and 7 a.m., private parties with "unreasonable" noise that lead to multiple police complaints and amplified sound that can be heard at the boundary line of a property or 75 or more feet from a vehicle.
Penalty: $150 for first offense, $350 for subsequent offenses.
---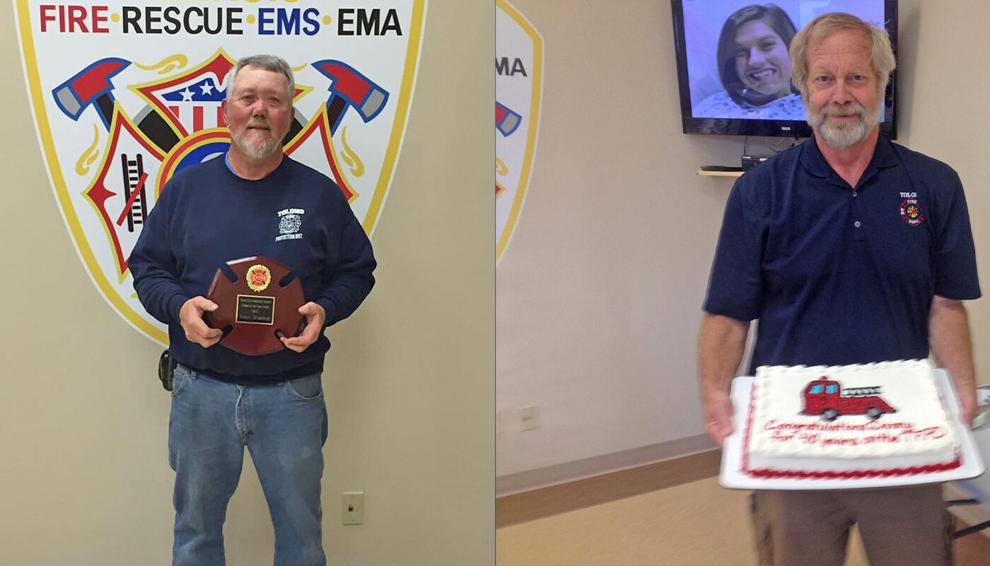 VILLAGE OF TOLONO
Mayor Rob Murphy proclaimed May 15 as Damian Donberger and Denny Davis Day, in honor of the retiring duo, who've given 40-plus years of service to the Tolono Fire Protection District. The big day will include a reception from 3 to 5 p.m. at the main fire station.
At the same meeting, the village board also signed off on an intergovernmental agreement with the Tolono Park District. It calls for the village to take over mowing the parks, preparing the ball field for games and other minor maintenance.
---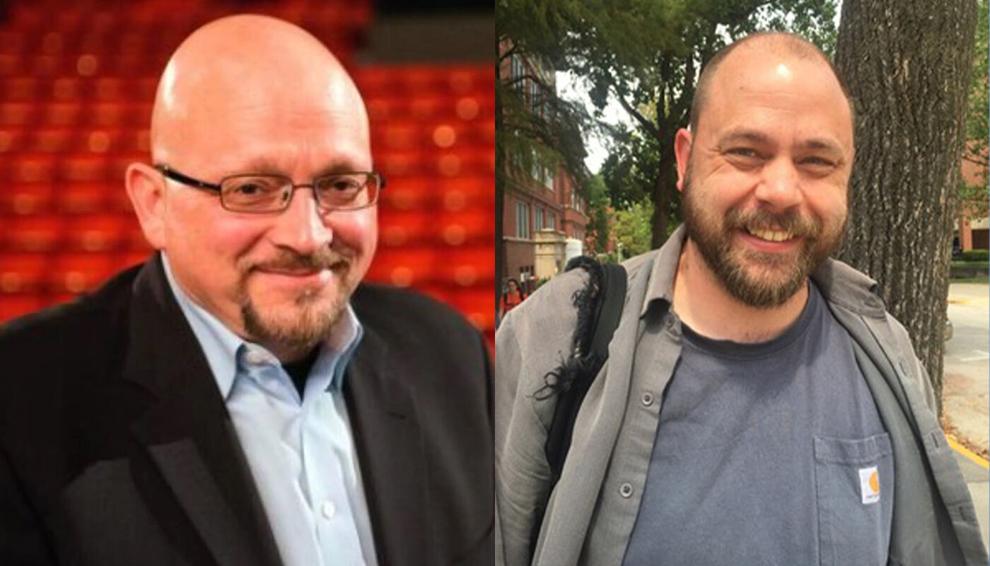 UNIVERSITY OF ILLINOIS
Elected this week to lead the Senate in 2022-23: Chair Jeffrey Eric Jenkins, a professor of theater studies (and contributing N-G critic), and Vice Chair Charles Roseman, an associate professor of anthropology and evolution, ecology and behavior.
---
CITY OF URBANA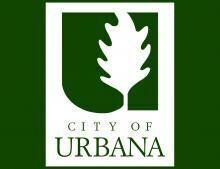 COVID-19 continues to take a bite out of Urbana's fiscal 2022 budget, with $85,126 in virus-related overtime paid out to the fire department in the past year alone.
That led to city council members signing off on a second amendment to the department's budget — this week, for $130,094 due to "an unusual amount" of projected OT tied to a combination of the pandemic, "several" duty injuries and light duty assignments.
The department is averaging about $30,000 in OT pay every two weeks, putting the annual total at upwards of $300,000, with the "vast majority" needed to maintain required minimum staffing. The addition of two firefighters per shift starting next week should help bring those numbers down, council members were assured.
---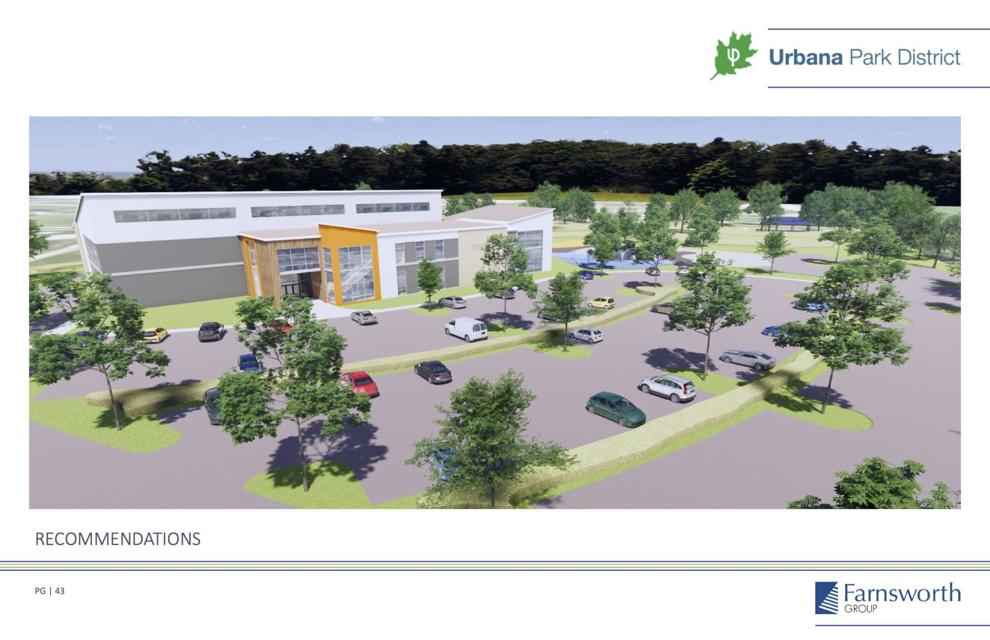 URBANA PARKS
Good news on the fundraising front: The park district's campaign for a health and wellness facility to be built in Prairie Park has generated more than $1.8 million in donations and pledges from 250-plus individual donors.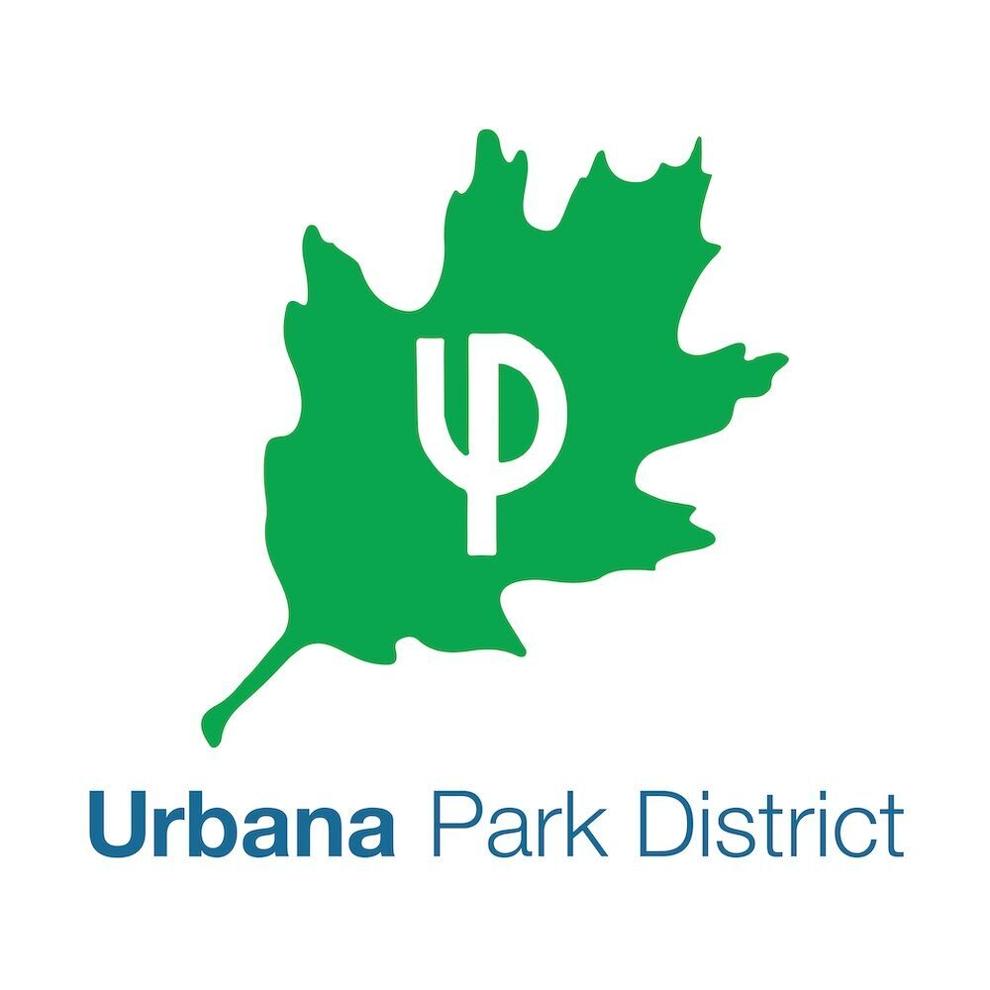 "Given the challenging bidding environment in these COVID-affected times," park board Chair Michael Walker says, "we are continuing to seek funding to assure we obtain a facility that will well serve the needs of Urbana for all-weather indoor recreation space."
Also up for discussion at this week's meeting: fundraising efforts for the Blair Park tennis courts and pavilion and the upcoming replacement project for what Walker calls "the popular but aging" Prairie Play playground in Meadowbrook Park.
---
CITY OF WATSEKA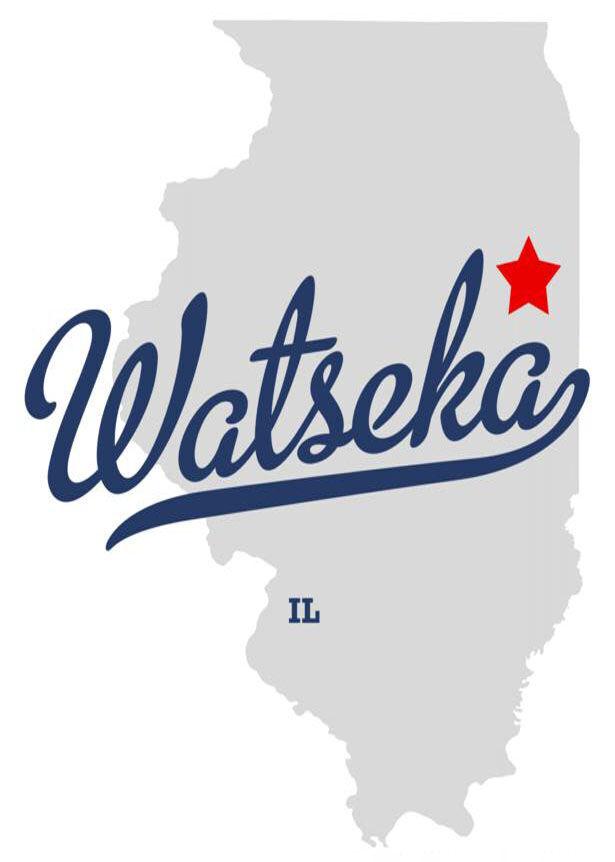 The question of the month among city council members: Should food trucks be regulated?
"I think we should either create a license for them or stop it completely," said Alderman Dennis Cahoe, kicking off a debate that included support on both sides of the issue. No action was taken and the discussion was ultimately tabled.