My Campus: Grainger College of Engineering's Jenny Amos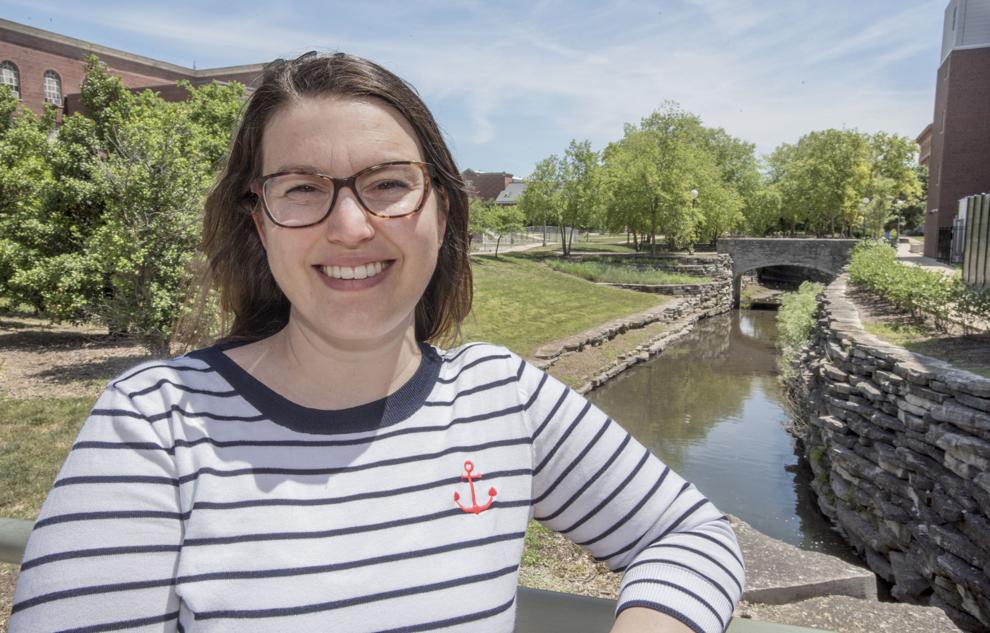 Of all the honors bestowed upon her since joining the UI faculty — Campus Award for Excellence in Undergraduate Teaching, Chancellors Public Engagement Award, Outstanding Academic Advisor, among others — it's one named after a special someone that's nearest and dearest to JENNY AMOS.
"I have been fortunate to have many successes in my career, but one that stands out in my memory was my recent recognition as a Laura Hahn Faculty Fellow," says the teaching associate professor of bioengineering.
"Laura served as the director of the Academy of Excellence in Engineering Education — known in Grainger land as AE3 — and she was a main gathering point and advocate for excellence in teaching and engineering education research in Grainger.
"She passed away a couple of years ago after a battle with cancer and the college created an endowed faculty fellow program in her name. I found out I had been named a Laura Hahn Faculty Fellow one afternoon when I was in Everitt Lab and instantly erupted into tears. Laura also has family ties to the Everitt family, so it was even more special that it was in the Everitt Lab building."
Amos has called C-U home since 2009, a year after earning her Ph.D. in chemical engineering from the University of South Carolina. The Grainger College of Engineering award winner took us on a guided virtual tour of some of her favorite places and spaces in the latest edition of My Campus.
---
Where I'd take a newcomer I wanted to impress
I am very proud of Everitt Lab. We have some really special spaces for research, gathering and teaching.
One of my favorite is 1302 Everitt and the connecting atrium. I love teaching in the 120-seat active learning classroom, where students have their own white boards, screens and plenty of table space to collaborate and solve problems.
Everitt Lab also has such history as one of the oldest engineering buildings that was home to many great minds.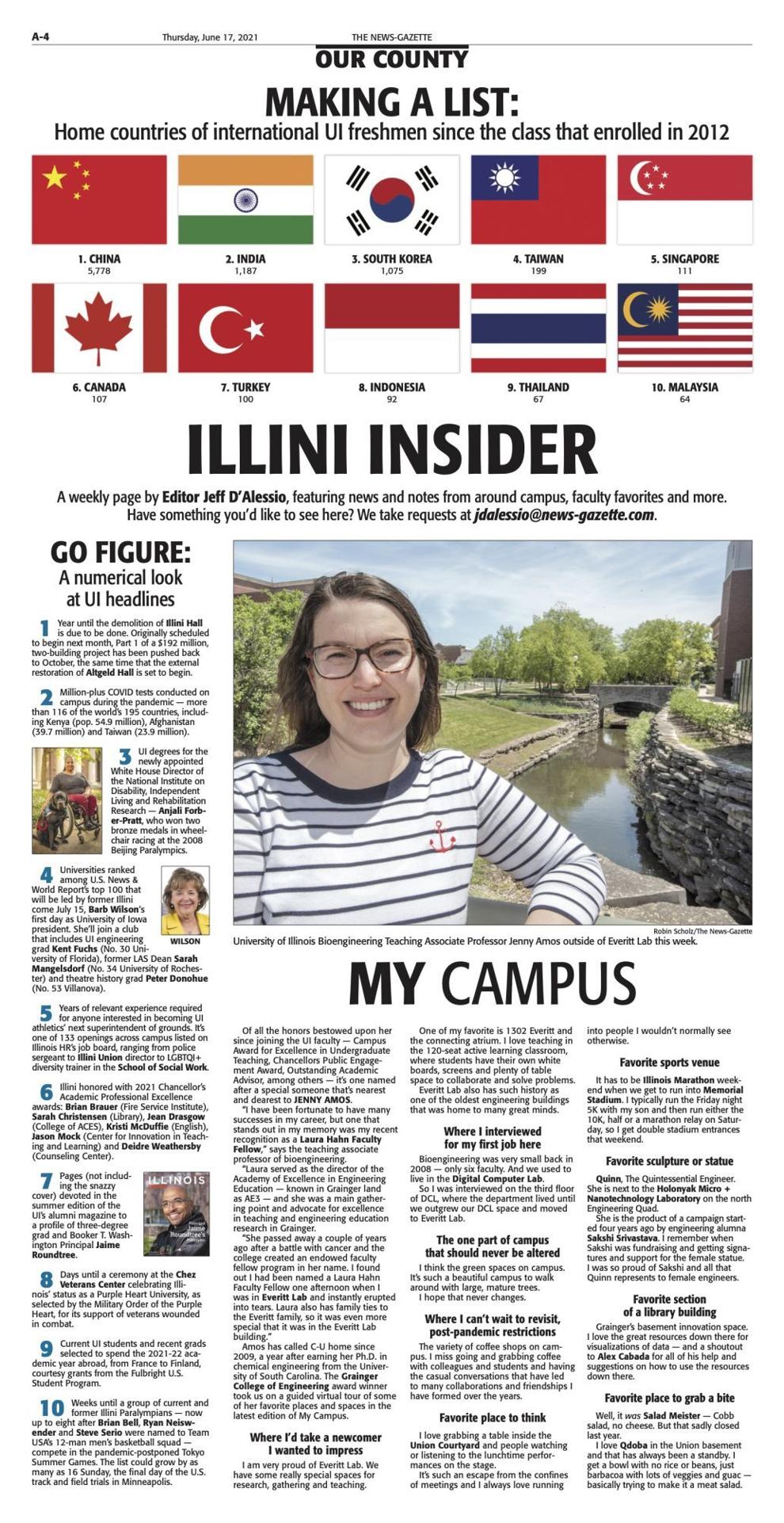 Where I interviewed for my first job here
Bioengineering was very small back in 2008 — only six faculty. And we used to live in the Digital Computer Lab.
So I was interviewed on the third floor of DCL, where the department lived until we outgrew our DCL space and moved to Everitt Lab.
The one part of campus that should never be altered
I think the green spaces on campus. It's such a beautiful campus to walk around with large, mature trees.
I hope that never changes.
Where I can't wait to revisit, post-pandemic restrictions
The variety of coffee shops on campus. I miss going and grabbing coffee with colleagues and students and having the casual conversations that have led to many collaborations and friendships I have formed over the years.
Favorite place to think
I love grabbing a table inside the Union Courtyard and people watching or listening to the lunchtime performances on the stage.
It's such an escape from the confines of meetings and I always love running into people I wouldn't normally see otherwise.
Favorite sports venue
It has to be Illinois Marathon weekend when we get to run into Memorial Stadium. I typically run the Friday night 5K with my son and then run either the 10K, half or a marathon relay on Saturday, so I get double stadium entrances that weekend.
Favorite sculpture or statue
Quinn, The Quintessential Engineer. She is next to the Holonyak Micro + Nanotechnology Laboratory on the north Engineering Quad.
She is the product of a campaign started four years ago by engineering alumna Sakshi Srivastava. I remember when Sakshi was fundraising and getting signatures and support for the female statue. I was so proud of Sakshi and all that Quinn represents to female engineers.
Favorite section of a library building
Grainger's basement innovation space. I love the great resources down there for visualizations of data — and a shoutout to Alex Cabada for all of his help and suggestions on how to use the resources down there.
Favorite place to grab a bite
Well, it was Salad Meister — Cobb salad, no cheese. But that sadly closed last year.
I love Qdoba in the Union basement and that has always been a standby. I get a bowl with no rice or beans, just barbacoa with lots of veggies and guac — basically trying to make it a meat salad.