Name Dropping | Danville's Hulvey 'blown away' by award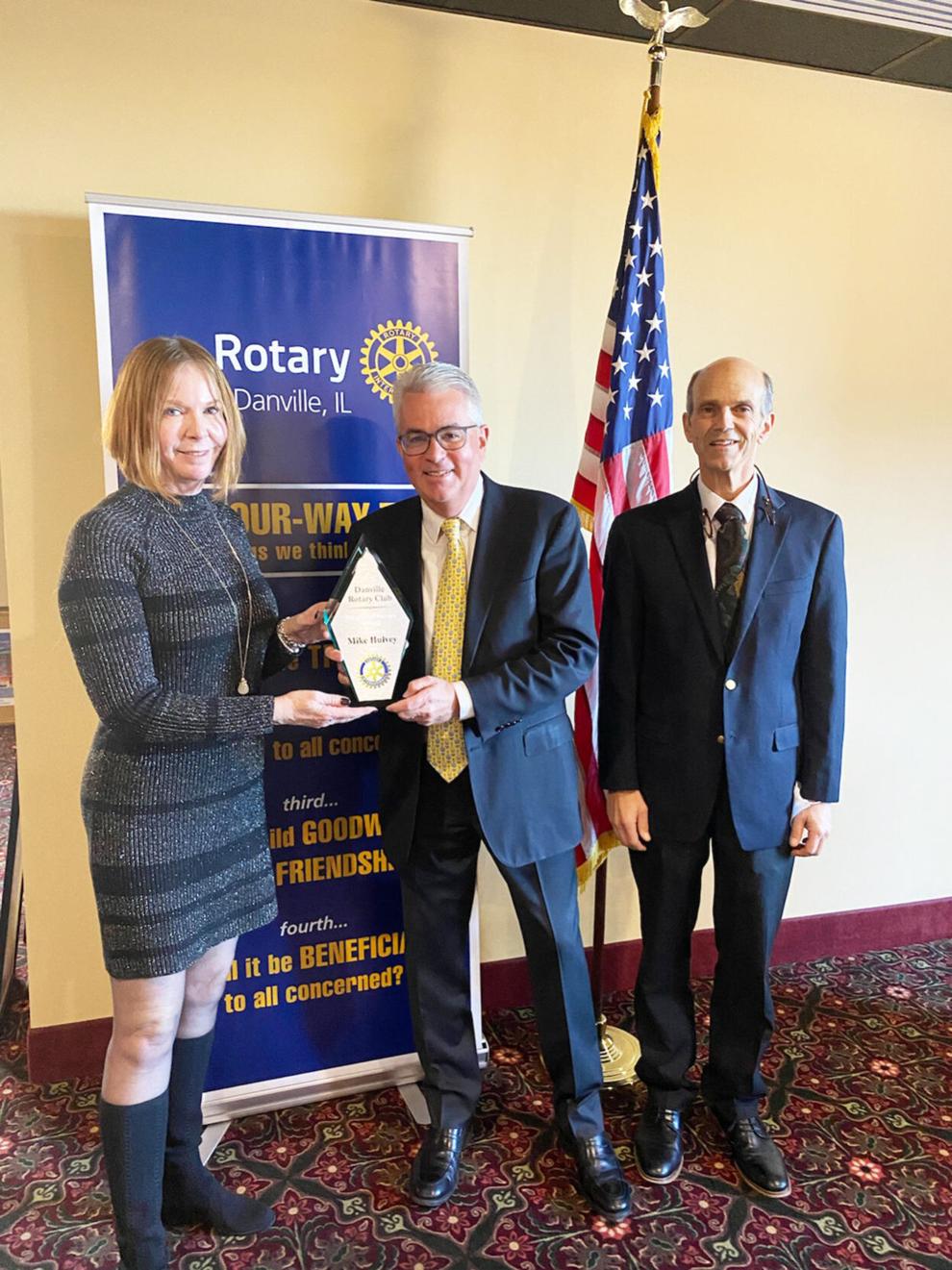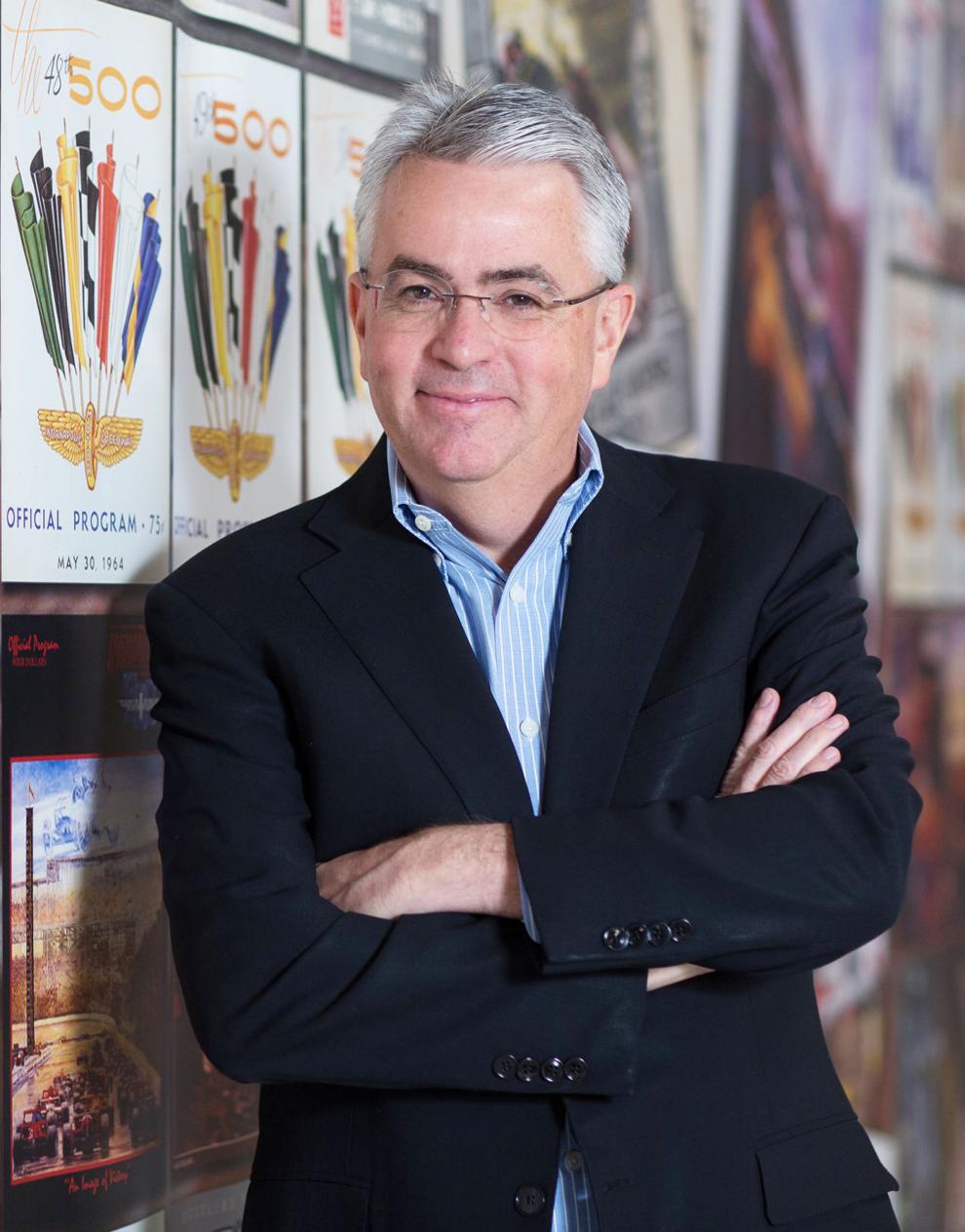 The sun must've been shining when Mike Hulvey entered the world. He's one of those people who seems to know how to make lemonade out of any lemon situation.
"I was born with it," Hulvey said of a naturally positive attitude. "My birthday was March 4th. It is the only command in the calendar. And my blood type is B-positive."
He said he tells people they have a choice of attitude and how they can help their community.
"It comes somewhat naturally," he said. "It doesn't mean you don't have bad days, but you need to find the good" in things.
"March forth and be positive" — Hulvey joked he will have it on his tombstone.
Attitude plus action have taken Hulvey a long way. On Monday, the chief operating office for Neuhoff Communications was recognized as the Danville Noon Rotary Vocational Service Award recipient — selected from among seven nominees. It's Rotary's highest award.
He also received the Paul Harris Fellow Award. The list of prior winners is an impressive one that includes astronaut Joe Tanner, Illinois Supreme Court Justice Rita Garman, world-renowned ophthalmologist David Dillman and industrial business owner and philanthropist Lou Mervis.
Hulvey said he was "blown away" by the news he had been selected.
"When you go from Lou Mervis to Judge Garman and Joe Tanner, that's among Vermilion County's Mt. Rushmore for sure," he said. "Just to be on the tour bus headed for the monument is a real honor for sure."
More than 70 Rotarians, plus members of Hulvey's family and friends, were on hand for the presentation.
Danville Mayor Rickey Williams Jr. credited Hulvey for his selfless service to the community.
State Rep. Mike Marron (R-Fithian) and State Sen. Scott Bennett (D-Champaign) issued proclamations praising Hulvey for his generous support of civic causes.
Hulvey credited his parents and Mervis for inspiring him in his career successes and in his championing the STEP Up Vermilion County initiative. He has also served as a community board member for Presence United Samaritans Medical Center, has served as co-director for the NJCAA men's national basketball tournament the past 26 years and teaches a sports broadcasting class during summers at Danville Area Community College.
Amy Brown, head of the award committee, said the club presents the award annually to a community member who epitomizes the Rotary ideal of service in demonstrating outstanding achievement in his or her profession.
"In selecting Mike Hulvey, the committee couldn't have selected a worthier recipient," Brown said.
Hulvey, who lives in Danville with his wife, Julie, said life is slowly returning to its prepandemic routine.
"Before the pandemic I was in the car a lot more to our various radio stations in Lafayette, Danville, Champaign, Bloomington, Decatur and Springfield."
He worked primarily from Danville during the pandemic and looks forward to getting out more.
"Honestly, I really enjoy meeting people and being engaged," he said. "I really enjoy central Illinois and west-central Indiana."
An employee of Neuhoff since 1992, Hulvey continues to lend his broadcast talents to a number of radio shows.
In his early days with the company, the Neuhoff family operated television stations in Idaho, which meant regular trips to that state for Hulvey.
"Driving to Springfield is a lot easier than flying to Idaho. It was beautiful country though," he said.
As chief operating officer, he said his job is to support the markets and radio stations.
"Whatever our team needs, I want to be there to support them," Hulvey said.
Neuhoff Communications reaches an audience of more than a million people in Illinois and Indiana. It has 20 radio stations as well as 16 music-and-entertainment websites.
Hulvey is also active in the broadcast industry, serving as the board chair of the national radio advertising bureau. Hulvey also serves on the boards of the national and state broadcasters associations.
In his downtime, Hulvey and his family root for the Indianapolis Colts. He has been a Colts season ticket-holder for more than 20 years.
"We've made Colts games a family experience for a long time," he said. "Our 7-year-old granddaughter went to her first game."
The Hulveys' two daughters live in Indianapolis, and their two sons live in Champaign-Urbana.
A native of Bloomington, Hulvey attended Danville High School.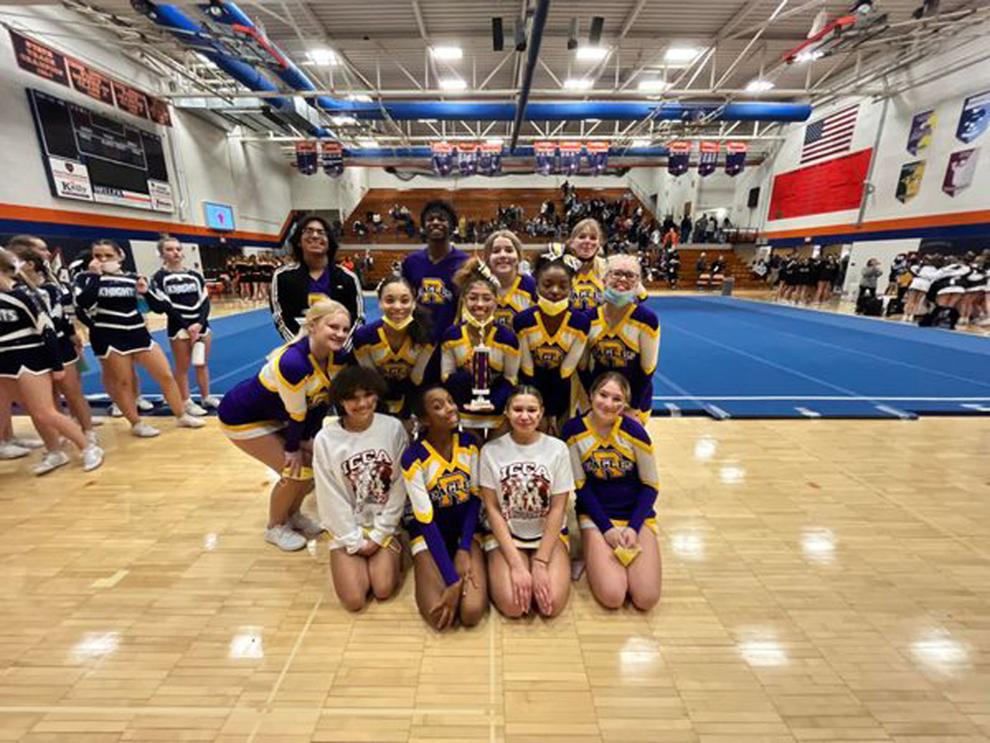 Rantoul cheerleading earns a second
Rantoul Township High School's cheerleading squad came home with a second-place finish in the medium varsity division Dec. 4 in competition at Pontiac.
"We worked through nerves, made last-minute switches and gave it our all," head coach Liz Dietz said.
"Bringing home a trophy feels great, but the experience and memories will last forever. We're building a legacy and sure are proud to be Eagles."
Members of the squad are David Gutierrez, Janya Holmes, Titina Rodriguz, Nylashae Shedd-Johnson, Hannah Benton, Marin Leng, Taylor Mennenga, Danica Wrobel, Tyler Young, Siera Chipman, Chloe Clements, Kennedy Hedrick, Katelyn Graham, Adrianna Cobb and TeShyah Spinks. Assistant coach is Laura Fondia.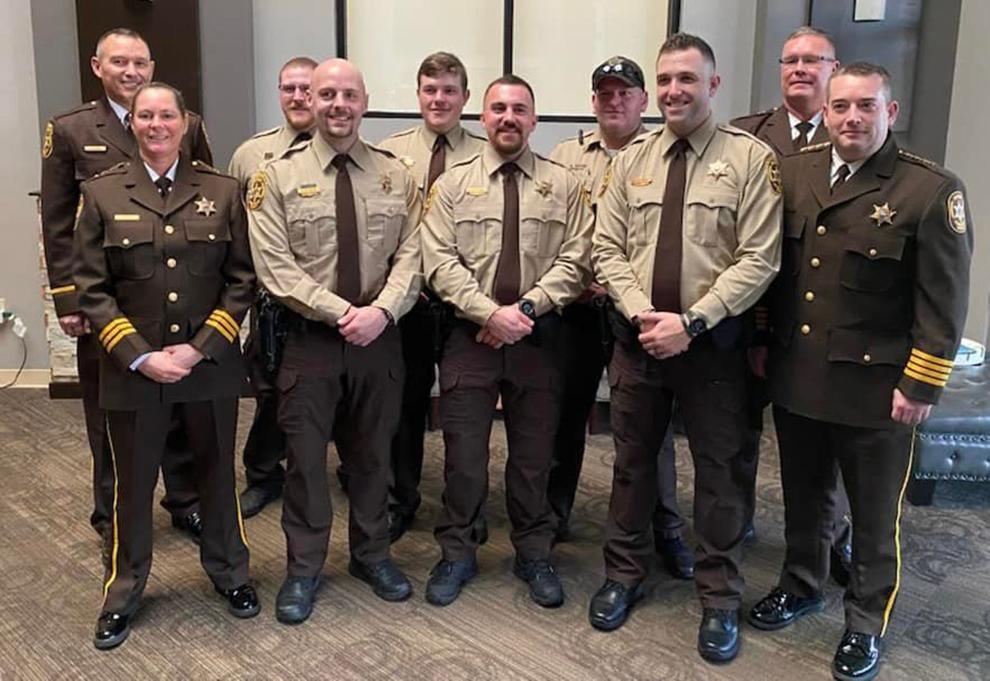 Three with sheriff's office complete PTI
The ranks of the Champaign County Sheriff's Office is increasing by three deputies.
Deputies Zachary Johnson, Brian Plotner and Matthew Stuckey have graduated from the 14-week Police Training Institute.
The new hires will now ride with a field training officer for six months.
Fifty-four people comprise the sheriff's office staff.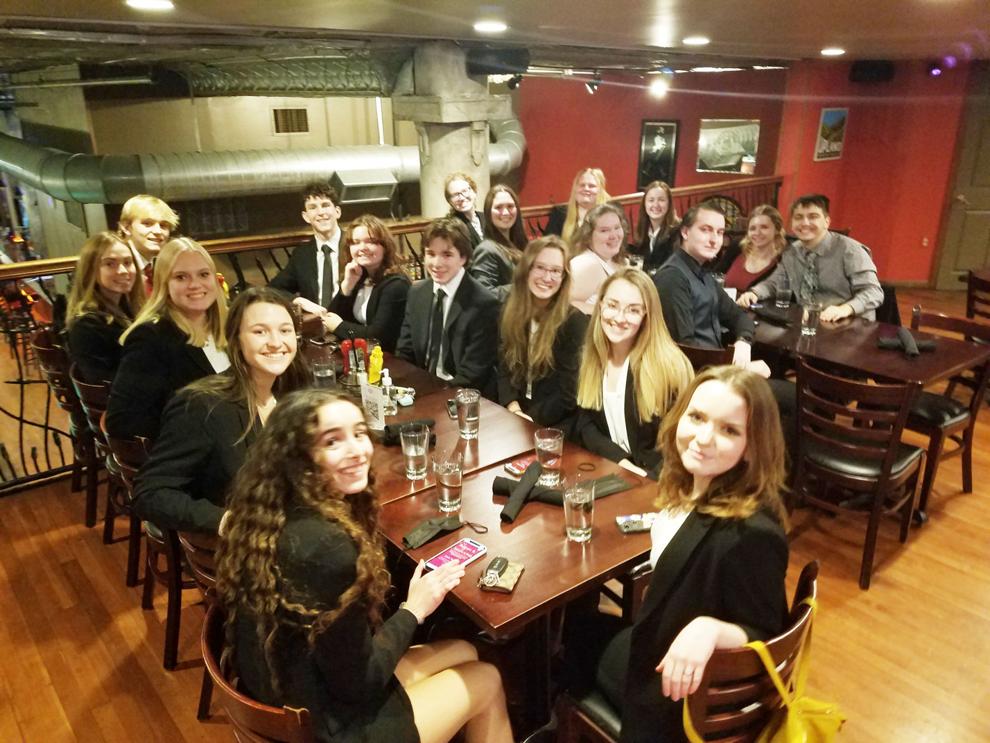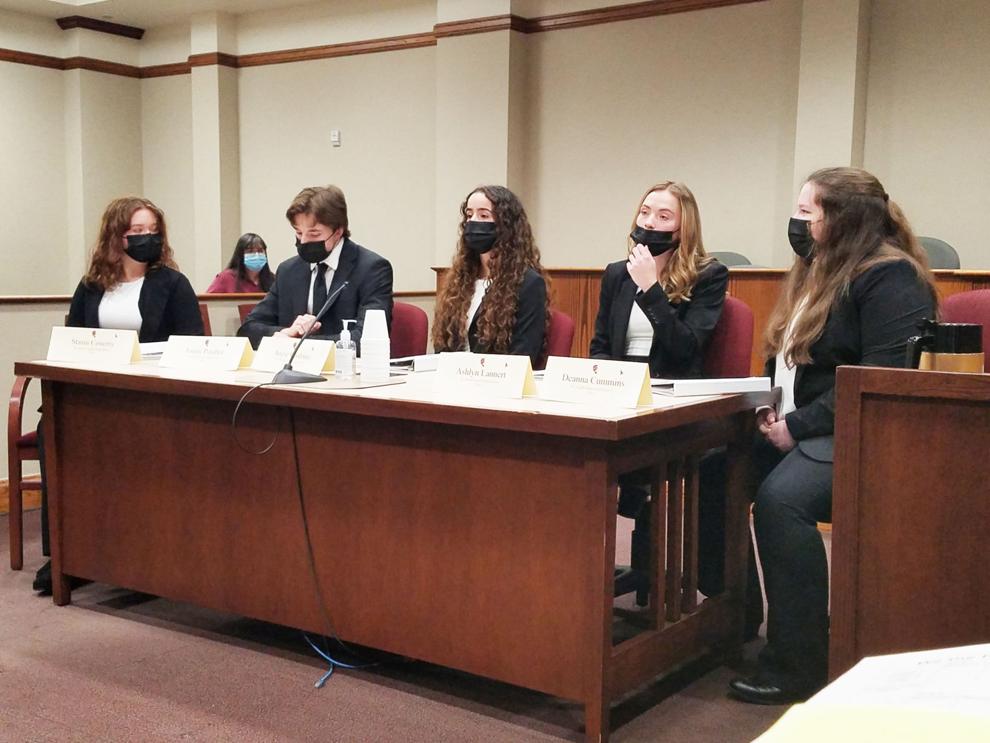 SJ-O team training for first in state
Members of the St. Joseph-Ogden High School constitution team are dreaming of a first-place finish in state competition.
The team prepared for the Jan. 6 event with a dress rehearsal at the Champaign County Courthouse that included several area court judges.
"I greatly appreciate their service and dedication to civic education as they engage in conversations about constitutional principles with my students," instructor Marshall Schacht said.
He said he feels the dress rehearsal gave the students a feel for the event and the competition in Chicago. SJ-O is participating in the Illinois State Finals for the sixth time "and hope to finally break through after five straight second-place finishes," Schacht said.
In four of those years, the team advanced to the national finals as the Illinois wild card entry.
"After last year's virtual competitions, we loved being in person again," Schacht said. "We are hopeful that we have the opportunity to return to D.C. in April."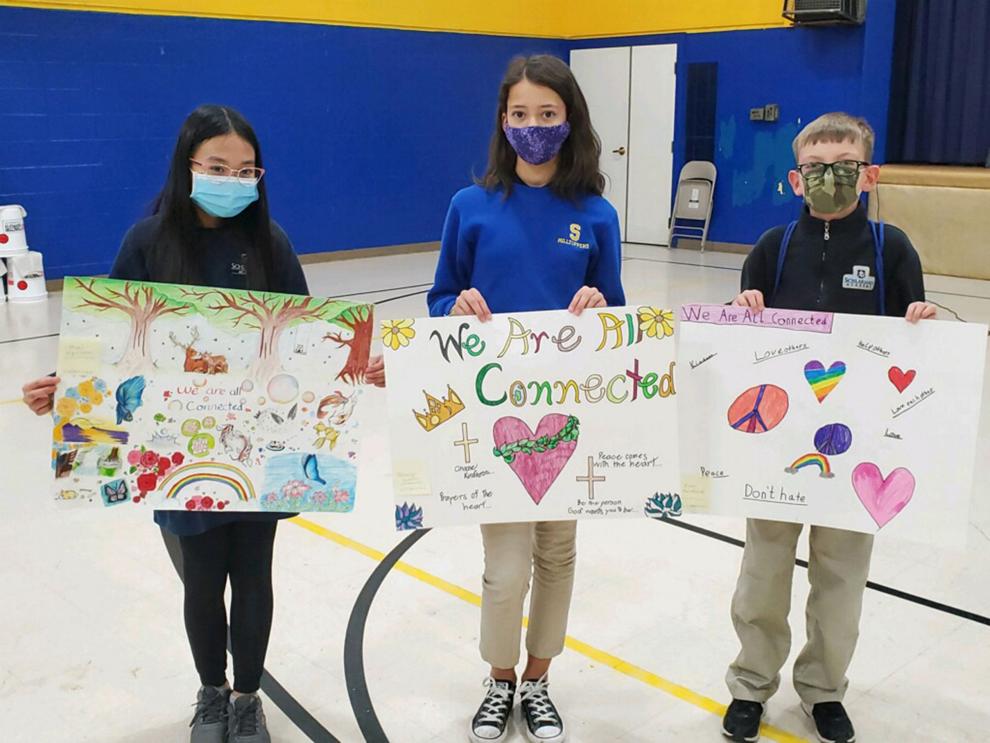 Danville Lions Club honors young artists
Young artists at Schlarman Academy's south campus were honored by the Danville Lions Club Dec. 14.
A $100 check was presented to Mai Nguyen, 11, a fifth-grader, as the local winner of the club's peace poster contest.
Her poster showed wildlife, fish, plants, butterflies and other creatures living in harmony.
Also recognized were runners up Jocelyn Wear and Evan Canfield, both 11.
Students ages 11-13 were asked to create a poster via drawing or painting to express their feelings about the importance of peace, tolerance and international understanding. This year's theme was "We are all connected."
Several Danville schools, as well as the Boys & Girl Club and Danville Art League, were invited to participate. Honorable mention went to Simone Modest, a sixth-grader who attends the Boys & Girls Club.
Kim initiated into honor society
Champaign native Gina Kim was recently initiated into the Grove City College Circle of Omicron Delta Kappa, the national leadership honor society.
The society welcomed more than 1,100 new initiates from 41 universities in November.
Students initiated must be sophomores, juniors, seniors or graduate/professional students in the top 35 percent of their class, demonstrate leadership experience in at least one of the five pillars and embrace the ODK ideals. Fewer than 5 percent of students on a campus are invited to join annually. Omicron Delta Kapp Society was founded Dec. 3, 1914 in Lexington, Va.
St. Thomas More student takes act on road
Abigail Deptula, a high school student at St. Thomas More in Champaign, was one of more than 600 high school cheerleaders and dancers from across the country who represented the camp brands of Varsity Spirit in the Varsity Spirit Pearl Harbor Memorial Parade in Honolulu Dec. 4-8.
Deptula performed with the Varsity Spirit All-Americans in an exclusive performance prior to the opening ceremony of the parade and then was part of the parade before thousands of fans lining the streets of Waikiki Beach. The trip marked the 80th anniversary of the attack on Pearl Harbor Dec. 7, 1941.
Deptula said she was honored to be selected "and for the opportunity to honor our nation's military, specifically those who were a part of the history of Pearl Harbor. ... As I stood looking out at Pearl Harbor, I felt as though I was carrying with me the memory of my own family who served in the various branches of the military during World War II."
She said she couldn't wait to see the Pacific Ocean.
Dave Hinton is editor of The News-Gazette's 'Our County' section. He can be reached at dhinton@news-gazette.com or 217-249-2404.