Nick Holonyak Jr.: 'The world will be a dimmer place without his light of inspiration and genius'
You don't need to know the difference between optoelectronics and microelectronics to appreciate the impact Nick Holonyak Jr. had on science and society alike.
The display on your smartphone, the exit sign at the end of the hallway, the headlights you flick on when it gets dark, the video screen showing Chase Brown's touchdown runs at Memorial Stadium — all use technology pioneered by the Illini icon who, as Chancellor Robert Jones put it Sunday, "quite literally led everyone to see the world in a new and better way."
News of the pioneering professor's passing Sunday at age 93 spread fast and wide, with colleagues and former students eager to share their memories of the engineer who developed the first practical visible-spectrum LED.
We reached out to some of those who knew Professor Holonyak best. These are their stories.
RUSSELL DUPUIS, a former grad student of Holonyak's, shared the 2002 National Medal of Technology with his mentor. Winner of the Grainger College of Engineering's 2004 Alumni Award for Distinguished Service, he's now a professor of electrical and computer engineering at Georgia Tech.
"The words 'pioneer' and 'visionary' are often overused in this era but I believe that both of these terms can be accurately applied to Professor Nick Holonyak Jr.
"Professor Holonyak, fondly called just 'Nick' by his 60 UIUC Ph.D. graduate students, was not only a very innovative and hard-working scientist and engineer, but also a role model for his students for his perseverance, his ability to create new and exciting results from a small laboratory with not a lot of advanced equipment, and his concern for making sure that the graduate students got adequate credit for their work.
"I had the good fortune to take a junior-level undergraduate class on Quantum Electronics from him at UIUC. I was lucky enough to join his research group in graduate school and spend most of my professional career in this field.
"Additionally, I was able to have a very production research collaboration with Nick for a period after I graduated. Nick's pioneering work in semiconductor materials and devices underpins much of the internet, lighting, telecom, visual displays, as well as the face-recognition systems — e.g. 'Face ID' — and new high-efficiency power device technologies being developed today.
"Many of Nick's Ph.D. students have gone into academia so Nick's legacy continues to expand into the current generation of Ph.D. students. It is quite likely that his contributions will continue to create value and improve the lives of many people on this planet. He will be missed greatly by those who knew him."
Grainger Engineering Hall of Famer DON SCIFRES, who studied under Holonyak, became universally known for his achievements in semiconductor laser research and development.
"Nick always told his students to work on the tough real-world problems that make a difference in the world. Then he worked side by side with us in the lab to demonstrate how to solve such problems.
"The problems he impacted included the LED — he is known as the 'Father of the LED' — and many inventions which contributed to semiconductor lasers being used in fiber-optic communications networks around the world.
"I personally used one of Nick's key laser inventions to enable a company that I and another of Nick's students founded to become one of the highest-value companies on the NASDAQ stock market in the year 2000.
"Nick certainly lived up to his teachings by solving problems that make the world a far better place today."
FRED KISH, a 2011 Grainger College of Engineering Distinguished Alumni Award recipient, is among the former Holonyak grad students who went on to big things himself — leading the commercialization of the highest-efficiency red-orange-yellow visible LEDs at Hewlett-Packard.
"Nick was a treasure to not only the scientific community, but also the world. His work impacted and touched much of humanity. LED lighting has transformed the way we live, and this can all be traced back to the work of Nick.
"Beyond his many scientific accomplishments, he educated many generations of students who themselves have had a profound impact , due in many ways to his teachings. He was fundamentally grounded in the strong belief that we are here to make the world a better place, and he lived that with every ounce of his being.
"Today, the world lost a great scientist, and foremost a great man."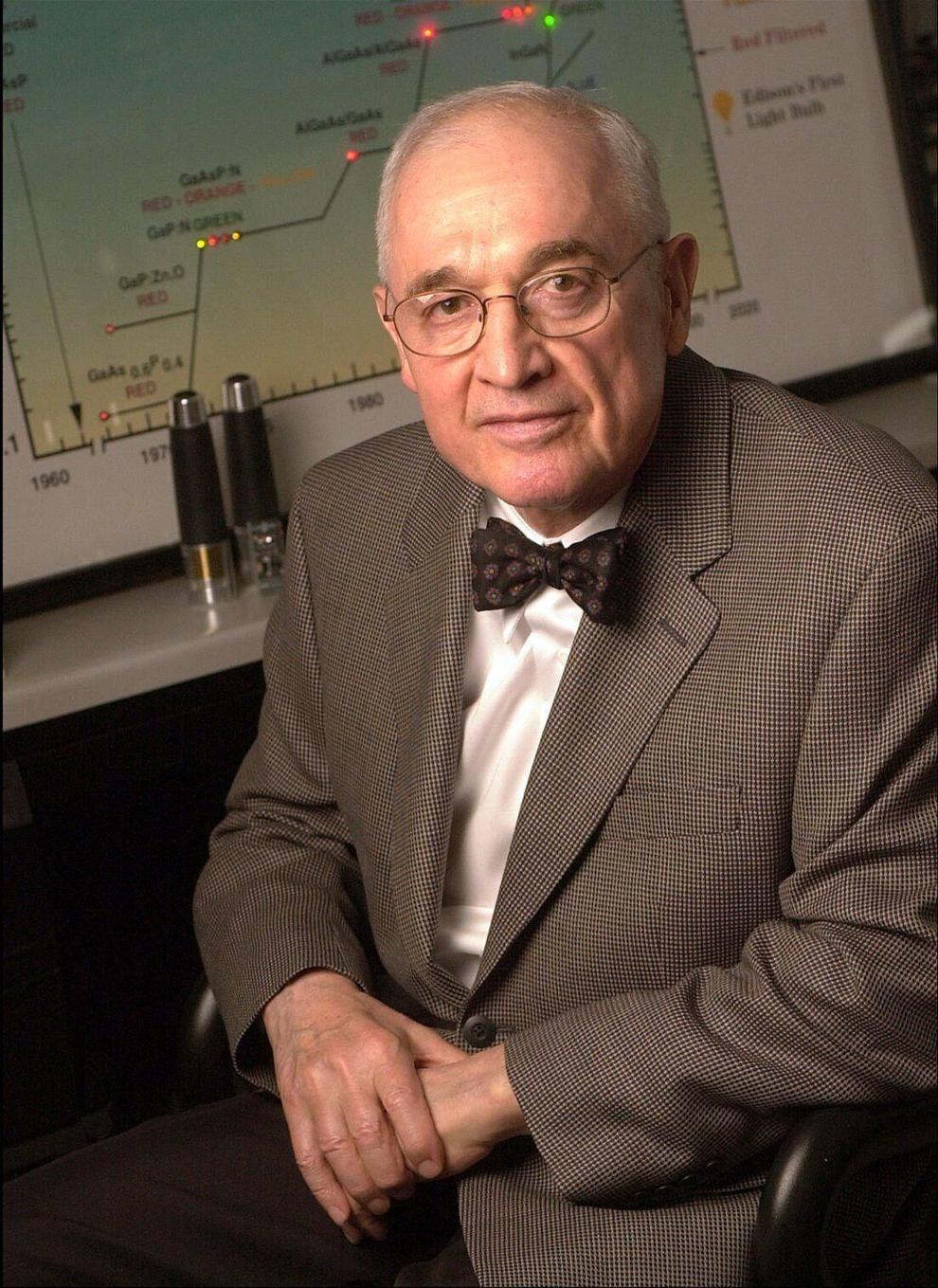 STAN IKENBERRY was the UI's 14th — and longest-serving — president, a frequent host of one of the faculty's biggest stars.
"Nick Holonyak was an 'Illinois great,' a studied humble man who took pride in his basement office and yet along with John Bardeen symbolized the legacy of excellence in science and engineering at the University of Illinois.
"Nick changed the world, literally. A great conversationalist, he was in my office many times, always on a mission, always with a message. I will miss him greatly. His legacy will live on for generations."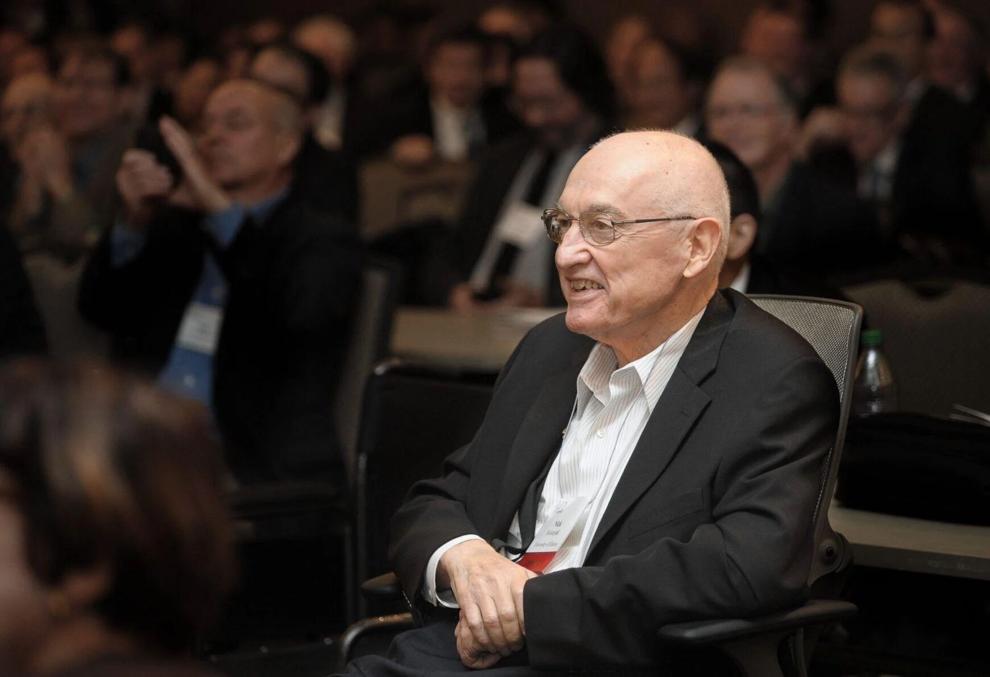 Grainger College of Engineering Professor JOHN DALLESASSE, who as a grad student was chosen to study under Holonyak, now reports to work at the Holonyak Micro & Nanotechnology Lab.
"Nick was a friend, mentor and source of inspiration. When I came to UIUC as a first-generation college student in the early '80s, I knew I enjoyed math, science and engineering but didn't know about the world of thought and the great doers and thinkers who created or helped to create all of the things that we interact with on a daily basis.  
"When I first met Professor Holonyak, it was when I took his class on the quantum nature of semiconductors. I was enthralled, and thrilled when he decided to take me on as one of his graduate students. Nick changed my life, creating unique opportunities I would never have had otherwise.  
"The impact of Professor Holonyak cannot be overstated, as he has changed all of our lives in ways that few appreciate. His pioneering work at Bell Labs led to the creation of devices that ultimately enabled wall dimmers and motor speed control (silicon-controlled rectifiers or SCRs).
"His work at GE on semiconductor lasers led to the first visible-spectrum semiconductor laser and the fundamental understanding that semiconductors could be used to create the ultimate lamp — the light-emitting diode or LED.  
"This is the green technology that will light our homes for years to come. The fundamental work by he and his students at UIUC have created technologies that enable fiber-optic communications, data interconnects in data centers, and even allow the iPhone facial recognition to work.  
"The world will be a dimmer place without his light of inspiration and genius."
Working alongside Holonyak in 2004, MILTON FENG co-created the first transistor laser. He went on to become the UI's Nick Holonyak Chair Emeritus Professor of Electrical and Computer Engineering.
"I am so grateful to have been a graduate student in his ECE class in 1975. At the University of Illinois, I eyewitnessed his research work toward the major invention on quantum-well laser in 1977 in the lab.
"Nowadays, every LED and semiconductor laser incorporates Nick's quantum well. And the Holonyak LED replaced the Edison lamp! 
"Similar to John Bardeen and the transistor, Nick's invention of the LED and laser have impacted our daily life profoundly. He is a world treasure and a great human being."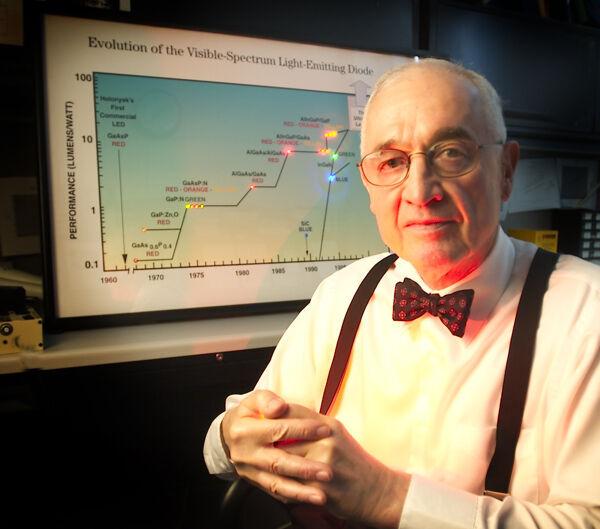 BRIAN CUNNINGHAM is the UI's Intel Alumni Endowed Chair of Electrical and Computer Engineering and a former mentee of Holonyak's.
"I was fortunate to be co-mentored by Nick during my time as a Ph.D. student at Illinois in the late 1980s. Nick shared coffee hour every day with the students, where he would tell us about how the great scientists of his time came to understand new physics principles that led to the invention of the transistor, semiconductor lasers and LEDs that emitted visible light.  
"Nick was especially fond of his mentor, John Bardeen, and Nick would tell us students about the thought processes that made him such a uniquely insightful person."