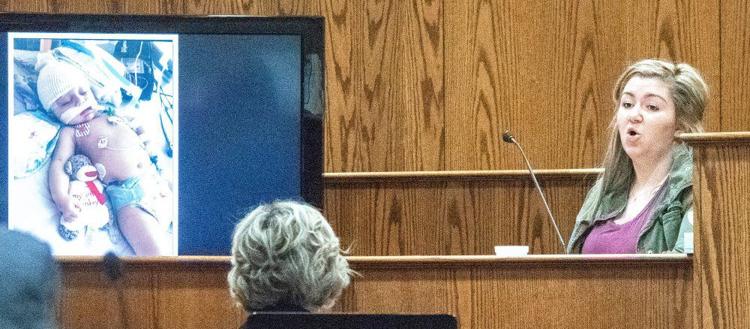 URBANA — A Champaign County judge Monday sentenced a Tolono woman who admitted she was responsible for harm to an infant in her care more than two years ago to 31 / 2 years in prison.
After hearing about the crippling injuries suffered by the then-6-month-old child in October 2017, Judge Roger Webber called the case of Michele Reed "one of the most difficult" he's presided over.
The 43-year-old Reed choked back tears throughout the hearing, eventually getting to tell the judge: "I'm not a monster."
"I have cried every single day since October 13th, 2017, for Lailan," Reed continued. "My tears and heartache will never stop for him. I care. I have tried to pray for specific needs as I was given updates on his condition. I will never stop caring about him ever."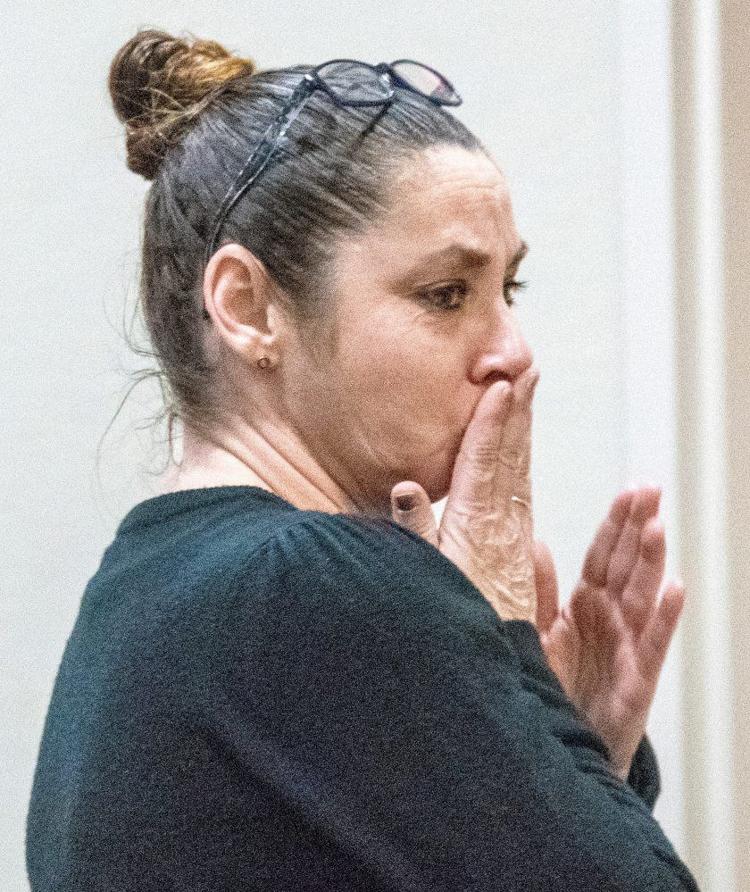 That statement was in stark contrast to 30 minutes on the stand by the mother of now-2-year-old Lailan, Jessica Adams. The 24 year-old gave descriptions of dozens of photos detailing the boy's recovery, saying Lailan has developmental delays and cannot walk, talk or feed himself.
"Lailan will be living a life sentence because of what the adult that was caring for him and supposed to be protecting him did," Adams said. "Shaking a baby and throwing them is such a malicious act, and no time will ever be enough.
"Michele, you determined Lailan's future for him. An innocent baby who had no voice, you were supposed to protect and love him. And instead you disabled him for the rest of his life."
Reed's attorney, assistant public defender Dan Taylor, asked for probation, while assistant state's attorney Lindsey Clark asked for prosecutors' recommended cap of seven years. The maximum Reed could have received for the Class 3 felony was 10 years.
Reed had entered an Alford plea in mid-November to aggravated battery, admitting that the state had enough evidence to persuade a jury she was guilty of harming the child while still proclaiming her innocence. She was given credit on her sentence for 553 days spent in jail.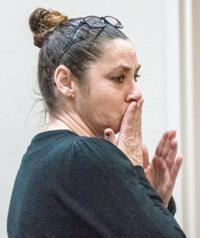 The penalties for that crime were significantly less than the six to 30 years in prison she could have received had she been convicted of the more serious aggravated battery to a child with which she was initially charged.
Laying out the facts for Webber at the time of the plea, Clark said the baby was at Reed's home day care on Oct. 13, 2017, when Reed called 911 to report that he was suffering from a medical emergency.
He was not alert and had bleeding under his skull upon arrival at Carle.
"Dr. (Brent) Reifsteck from Carle Hospital indicated that there was also retinal bleeding in both eyes, which he believed was indicative of multiple back-and-forth movements, such as being shaken and thrown."
Reed initially denied to Tolono police that she caused the injury. Later, she told police she picked up the crying baby but could not get him to calm down.
"She then told the officer that she became frustrated, shook him and threw him into the corner of the couch," Clark said. "She then left the room, and when she came back, she found him unresponsive on the couch."